Real McCoys: Complete Season 1, The
Other // Unrated // July 24, 2007
List Price: $39.98 [Buy now and save at Amazon]
---
Want you to meet the family,
Known as the Real McCoys.
That's Grandpappy Amos, the head of the clan,
He roars like a lion but he's gentle as a lamb.
And now here's Luke who beams with joy
Since he made Kate Mrs. Luke McCoy.
From West Virginny they came to stay,
In sunny Cali-forn-i-ay!
Oh Grandpappy Amos and the girls and the boys,
Of the family known as the Real McCoys!
With the continuing, decades-long success in syndication and on video and DVD of The Andy Griffith Show, it's easy to assume that seminal show was the kick-off point for the famed "rural sitcom" explosion that dominated the national ratings over on CBS for over a decade during the 1960s. With country-oriented series like Green Acres, Petticoat Junction, and of course, monster hit The Beverly Hillbillies (the last two strangely low-profile on the DVD front) ruling the Nielsen roost during their original runs, and The Andy Griffith Show growing more in critical stature every year it's been out of production, few people seem to talk about the little sitcom/big success over on perennially third-placed ABC that really jumped-started the rural trend in TV comedies: The Real McCoys.
Premiering in 1957 on ABC, The Real McCoys told the story of the McCoy family, headed up by Grampa Amos McCoy (Walter Brennan), a crotchety, blustering old grump who inherited a ranch in the famed California San Fernando Valley. Moving his family cross-country from Smokey Corners, West Virginia, the McCoys set up housekeeping in the dilapidated ranch house, with grandson Luke (Richard Crenna), his pretty young bride Kate (Kathy Nolan), Luke's teenage sister Hassie (Lydia Reed) and Luke's young brother Little Luke (Michael Winkleman). Helping out on the ranch is Pepino (Tony Martinez), a Mexican ranch hand who proves to be a humorous and kind addition to the McCoy family. Not being a true sitcom unless wacky neighbors are included in the mix, The Real McCoys featured equally scrappy old codger George MacMichael (Andy Clyde), who was forever getting into petty squabbles with Grampa, and Flora MacMichael (the delightful Madge Blake), George's spinster sister who was constantly on the assault to make Grampa her husband. And much like the later The Andy Griffith Show, the McCoys' humorous homespun trials and tribulations stemmed not only from the farcical possibilities inherent in the rural framework, but more importantly in the universal themes of domestic comedies in general, with many stories focusing on generational friction and innocuous marital discord that could be found in any sitcom, regardless of their setting.
Created by native New Yorkers Irving and Norman Pincus, The Real McCoys was shopped around to all the networks, to little encouragement (NBC initially green-lighted it, then dropped their option). The prevailing thought was that the American public, perfectly happy with either sophisticated comedy variety series like The Jackie Gleason Show and The Red Skelton Show, or upscale, middle-class domestic comedies like Father Knows Best or The Adventures of Ozzie and Harriet, didn't wanted to watch "hillbillies" on TV - except for maybe, as the snooty New York network brass termed them, those "yokels in fly-over country." But it shouldn't have surprised anyone when The Real McCoys debuted strongly in 1957 (it finished 30th for the year in the Nielsen's), gathering momentum all year long to arrive in the Top Ten during its sophomore season. Essentially dumped by ABC opposite once strong but now declining drama anthology Climax over on CBS (26th for the previous season), and dominant Dragnet over on NBC (11th the season prior) on Thursday nights at 8:30pm, The Real McCoys garnered solid gains and kept the pressure up, eventually knocking Dragnet out of the Top Thirty (a big fall from 11th), and knocking critical darling Climax out of the ring altogether (it was canceled at the end of the 1957-58 season). By years' end, The Real McCoys was one of only five ABC series in the Nielsen Top Thirty.
Contrary to the dim viewed held by the network execs, rural shows were already primed to be the dominant genre on television, particularly when you include westerns into that rural definition. The programming staples of early TV, such as anthology series, radio-to-TV crossovers, and game shows, were starting to show their age, and the wide open spaces of the West increasingly called to a surge of suburban viewers. As well, they longed to see their own lifestyles reflected back to them, hence the popularity of the domestic sitcom. Rural TV comedy, far from only popular "in the sticks," (Universal's immensely profitable, long-running Ma & Pa Kettle film series had just ended in 1957) would prove to be a nostalgic return to "simpler times" (i.e.: fantasy) for many suburban viewers who could still remember living in such areas only a few years before. But more importantly to their eventual popularity, rural comedies like The Real McCoys were written first as universal comedies of manners and farcical situations (mixed with elements of tenderhearted drama), with the corn ladled on afterwards as atmosphere.
Irving Pincus' conception and structuring of The Real McCoys is really no different than Father Knows Best or The Danny Thomas Show; only the terminology, the accents, and the costumes differ. Typical of network sitcoms from this time period, the elements that stand out most for The Real McCoys aren't so much the rural underpinnings of the show, but the expert scriptwriting and polished acting of the individual episodes. It may sound like a dopey cornpone comedy to the uninitiated, with plots about fishing contests, and egg price wars, and hunting rifles filling this first season. But there is consistent, quality writing for The Real McCoys, mixing genuine laughs (that always come organically from the story) with surprisingly heart-felt drama. Having my sensibilities blunted by today's harsh, confrontational, combative, smart-ass TV comedy, I'm always amazed at the genuine warmth and caring that are the hallmarks of network comedies like The Real McCoys from this time period. An episode like A Question of Discipline, where Grampa takes over raising Hassie and Little Luke, would be pitched for slapstick guffaws and phoney, condescending bathos in a modern sitcom, but watching this fifty year old story, you almost get a lump in your throat from the subtle emotions that Brennan's Grampa goes through when he realizes he's the wrong kind of primary influence on the kids. And most welcome, too, is Brennan as the main protagonist; how often do we see anything on TV today that has to do with aging, with older people feeling useful, with older patriarchs and their shifting influence in a family (main elements in many episodes of this first season)?
Brennan, the star of the show, was considered one of the greatest character actors in Hollywood history (the only actor to ever win three Best Supporting Actor Oscars in the history of the Academy), and it's easy to see why here. All bluster and whining cussedness, Brennan knows exactly when to turn soft-hearted in his eyes, and when to lower his voice a pitch, to show not meanness, but suppressed tenderness. He's really a marvel here, and without his presence, I'm not sure The Real McCoys would have worked. Having the toughest role in the series, soon-to-be movie star Richard Crenna walks a very thin line between being the series' leading man, and the series' leading comedic goof. Alternating between the characteristics of "aw shucks" country awkwardness and sensitive married lead, Crenna pulls off the constant switch effortlessly, making the viewer wonder when he's going to say something dumb, or when he's going to be tender and understanding with Kate (he more than holds his own with legend Brennan, in their scenes together). Nolan, a fresh-faced beauty, is equally delightful as the chirpy-voiced, sensitive Kate. I'm not sure if it's possible for today's angst-ridden, irony-filled actresses to pull off "sweet," but Nolan does so smoothly. Her scenes with Crenna, as the newly married couple try and navigate not only their new lives together, but raising a family and dealing with ornery Grampa, are charmingly simple and direct. And the child actors, Reed and Winkleman, are refreshingly without guile and smart-aleckiness; they seem to be real kids, not jaded automatons spoon-fed inappropriately adult one-liners. Martinez, Blake and Clyde round out the cast, and they're simply marvelous in their supporting roles; that's one of the things I miss most about vintage TV: the level of performance that could be found in even the smallest roles, in even the most minor series.
Now, after that build-up, the inevitable let-down. The episodes included in this Infinity/SFM Entertainment The Real McCoys: Complete Season 1 release, as loyal fans of the show no doubt already know, are the edited syndicated versions that showed up on TNN a couple of years ago. Clued in to this fact a couple of weeks ago by vintage TV lover Bob Huggins, I was prepared for this letdown, so it didn't hit me all at once when I put the first disc in. What can I say, then, about this development, other than edited vintage TV shows on disc continues to be a source of great consternation to fans and critics. SFM Entertainment, in a statement on their webpage, maintains that their main goal was to provide the best possible elements of the show, with the best digital clarity, and those happened to be these edited syndicated versions. Evidently, according to the company, the fuller versions were deemed as potentially "unacceptable" to buyers.
While the transfers for The Real McCoys: Complete Season 1 do look nice, I suspect that most fans and collectors of vintage TV like myself, would prefer the complete episodes, uncut, regardless of their image quality. Is deteriorating film elements the real reason those longer cuts weren't used? Or is it simply a matter of economics, where the releasing company didn't want to spend the money to obtain the longer cuts, or to fix them up? Maybe it wouldn't have paid to fix them up, considering that The Real McCoys: Complete Season 1 might not be a sales leader like say, a Star Wars title. It's all guesswork for the consumer, ultimately. I've recommended DVD box sets that were minimally edited (Gomer Pyle, U.S.M.C. Second Season) and told readers to skip many others. It's a case by case situation. Do we lay down the gauntlet to releasing companies and studios, telling them we're not going to buy their product unless they do it right, or do we compromise, and enjoy a good show from our childhood (Hey! I'm not that old for this one; I saw The Real McCoys in reruns)? It's up to you, the consumer. Frankly, considering what an enjoyable show The Real McCoys: Complete Season 1 is, and how many new viewers might not get the chance to experience it any other way, and that fact that acceptable original run-length masters may not exist (it is, after all, fifty years old), I'm going to recommend the box set, with the caveat that if this kind of editing bothers you, don't buy the set and send an email telling the releasing company how you feel.
Here are the 39, 22-and-a-half-minute episodes of the five-disc box set The Real McCoys: Complete Season 1 , as described on their slimcases:
DISC ONE

Californy, Here We Come
In the premiere episode in the series, The McCoys arrive from Smokey Corners, West Virginia, to their new ranch in the San Fernando Valley, which Grampa Amos McCoy has inherited from his brother, Ben McCoy.
The Egg War
The McCoys start a roadside egg stand and, inadvertently, an egg war with their neighbor Harry Poulson.
Kate's Dress
The male McCoys try to outwit the female members by using money in the cookie jar to buy a shotgun rather than a dress for Kate to attend the PTA meeting.
Gramps Sells His Gun
The McCoys find themselves in trouble when they need $150 to meet a mortgage payment. They discover their only valuable asset is a rifle handed down to Grampa by his Great Grandfather.
A Question of Discipline
Grampa McCoy takes over the supervision of Hassie and Little Luke when, after getting bad grades in school, Kate starts to discipline them.
You Can't Cheat an Honest Man
Grampa thinks he's made a sharp business deal when he sells some useless farm land, until he finds out the freeway is going through that part of their land.
Luke Gets His Freedom
Grampa thinks Luke is henpecked by Kate so Luke decides to prove Grampa wrong.
Grampa's Date
Luke and Kate urge Grampa to invite Flora MacMichael as his date to attend the Valley Ranchers annual fall dance and box supper.
DISC TWO

The Fishing Contest
Grampa McCoy and archrival, George MacMichael, enter a fishing contest. With the discovery that California fish are elusive if not intelligent, Grampa thinks of cheating.
It's a Woman's World
A neighbor of the McCoys asks for their support in her race for a seat on the City Council. When he learns it is necessary to read write in order to vote, he tries various subterfuges to pass the reading test.
The Bigger They Are
Grampa finds a stranger beating his time with Flora MacMichael, and takes his revenge on Flora's apple tree.
Gambling is a Sin
Grampa and Luke invite their minister to the house for dinner to help Kate get on a church committee. Problem is, Grampa has given a billboard salesman permission to use the barn roof for an advertisement for a gambling house in Las Vegas.
Let's Be Buddies
Grampa is disgusted with his friend, George MacMichael, when George caters to the head of the local lodge, of which he wished to become a member.
Grampa and the Driver's License
Grampa must secure a California driver's license. He fails the eye test and is told he must get glasses and wear them when driving.
The Lady's Man
Luke becomes jealous when a photographer for a national magazine comes to their ranch to use Kate as a model and is over-attentive to Kate from Luke's viewpoint.
Luke's Mother-in-Law
When Kate's mother visits the McCoys, Grampa warns Luke to look for trouble. When Mother Purvis starts catering to Luke and criticizing everything Kate does, Grampa is baffled.
DISC THREE

The Matchmaker
A hunting dog wanders onto the McCoy ranch and when the owner, Joe Johnson, appears to claim him, Grampa tries to make a trade with him for the dog.
The Goodys Come to Town
The McCoys are visited by Frank Goody and his attractive daughter from Smokey Corners, West Virginia. When Elvira starts playing up to Luke, Kate becomes jealous.
Little Luke's Education
When Little Luke gets into a fight with his schoolmates after they call him a "hillbilly," the entire McCoy family becomes involved.
Time to Retire
When Luke and Kate learn that their mailman, Mr. Perkins, is retiring at the insistence of his children, they decided Grampa should take things easy. Grampa feels he is not needed on the ranch and so he pretends to be ill.
Grampa's Proposal
When Grampa McCoy learns Flora MacMichael is contemplating marriage with an old childhood sweetheart, he proceeds to break up the romance.
The Honeymoon
When Luke and Kate celebrate their second wedding anniversary, Grampa realizes they never had a honeymoon. He uses the money in the cookie jar to send them on a two-day honeymoon at a swank hotel.
Once There Was a Traveling Saleswoman
When Luke is approached by a very attractive and persuasive saleswoman, he shortly realizes that he has signed up for a swimming pool.
My Favorite Uncle
Kate's favorite Uncle Dave visits the McCoys and fascinates all members of the family with his tall tales of adventure and his exploits in big business, everyone except Grampa.
DISC FOUR

Grampa's Birthday
When Grampa thinks the family has forgotten his birthday, he feels they no longer love him and decides to run away.
New Doctor in Town
Grampa comes down with a cold and Luke and Kate insist he see the young new doctor in town. Grampa feels his own old-fashioned remedies are better than the new-fangled ideas.
For Love or Money
Pepino asks the McCoys for a raise and when they cannot afford to pay him more, George MacMichael offers him a job to prove to Pepino that he would be unhappy working for anyone but the McCoys.
Kate's Career
When Grampa finds out Kate has been doing alterations for friends and is being paid for it, he insists Luke tell her to stop as none of the McCoy women have ever worked.
When a Fellow Needs a Friend
When someone pushes Grampa's car in front of a fire plug and he is given a ticket, he insists he will appear in court and contest the matter.
It Pays To Be Poor
The McCoys invite the Brewsters, a wealthy couple from New York, to be their guests for a few days when their expensive foreign car breaks down in front of the ranch.
The Life of the Party
Luke and Kate invite some friends of their own age in for a party and Grampa insists on remaining home to help entertain them, not realizing he is intruding.
Three is a Crowd
Grampa is very disgusted with his crony George MacMichael, when he learns George is courting a widow in town.
The New Look
When production on the McCoy ranch falls off, Luke wants Grampa to use more modern methods. Grampa rebels.
DISC FIVE

The Volunteer Fire Department
When the local fire department seeks volunteers, Grampa tries to join, only to learn they will not take him because of his age. Grampa becomes determined to prove his ability.
You Can't Always Be a Hero
Grampa is very proud of the fact that Little Luke apes him in all his ways, until he realizes the boy has picked up his bad habits as well as the good ones.
The Homely Boy
Hassie has drawn the name of the homely boy in the class to be her escort to the class dance. When she refuses to see him or even go to the dance with him, the entire McCoy family goes to work on changing her mind.
Her Flaming Youth
Grampa is disgusted with Flora MacMichael when she shows him a picture taken in her youth in some rather scanty attire, until he finds out the head of the Women's Auxiliary is using the picture to have Flora expelled from the lodge.
The Corn Eating Contest
Grampa wagers the McCoy's prize-laying hen that Little Luke will win the corn eating contest. When Grampa and the McCoy family meet Mac Maginnis' son, Billy, who is twice the size of Little Luke, they feel sure Little Luke hasn't a chance.
You're Never Too Old
Luke and Kate join a young people recreation group and suggest Grampa join the "Young Old Timers." He refuses, saying they are all old fuddy-duddies with no family interests. After being left consistently alone, he has a change of heart.
The DVD:
The Video:
The full screen video image for The Real McCoys: Complete Season 1 is not bad, considering the age of materials. Grain is everywhere, as well as some scratches and dirt, but overall, a fairly good image.
The Audio:
The English mono mix accurately reflexes the original broadcast presentation. That theme song seems a little low on the levels, though. There are no subtitles or close-captioning options.
The Extras:
There are no extras for The Real McCoys: Complete Season 1.
Final Thoughts:
The Real McCoys: Complete Season 1 is such a warm-hearted, engaging comedy/drama, and such an important milestone in TV sitcom history, that I'm going to recommend you buy the The Real McCoys: Complete Season 1 box set, even though the episodes included are the edited syndicated versions. Trust me; as a fervent fan of vintage TV, I understand the dilemma faced by consumers and edited programs on DVD. But this may be the only way The Real McCoys can be seen, so....
---
Paul Mavis is an internationally published film and television historian, a member of the Online Film Critics Society, and the author of The Espionage Filmography.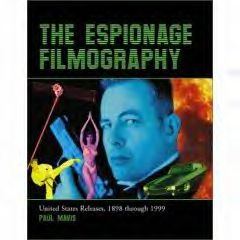 ---
C O N T E N T

---
V I D E O

---
A U D I O

---
E X T R A S

---
R E P L A Y

---
A D V I C E
Recommended
---
E - M A I L
this review to a friend
Sponsored Links
Sponsored Links