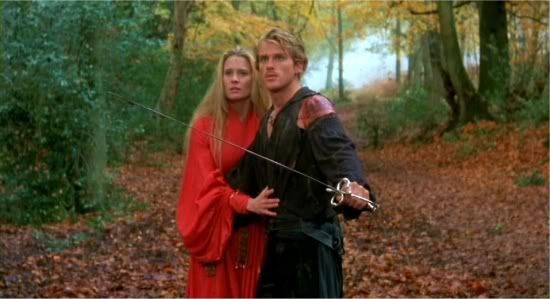 With memorable films like This Is Spinal Tap and Stand By Me already under his belt, director Rob Reiner continued his winning streak with The Princess Bride (1987), a timeless tale of love, revenge and one-liners. More than just another cult classic from the decade of excess, this "fractured fairytale" packs quite a punch: boasting strong performances, great music and a brisk pace, it's just as entertaining and energetic 20 years later.
Our story revolves around the budding romance between beautiful Buttercup (Robin Wright, in her screen debut) and dashing Westley (Cary Elwes), as told by a grandfather (Peter Falk) to his sick grandson (Fred Savage) in modern times. The tale is deceptively simple and linear, much like a traditional fairy tale: colorful characters abound, danger lurks at every turn and heroism overcomes extreme odds. Wright and Elwes carry most of the weight and warmth here, but it's our motley supporting cast that remains equally memorable. From the lovable, late Andre the Giant to Spinal Tap's own Christopher Guest, the pitch-perfect casting of The Princess Bride ensures that each and every character stands out without fighting for attention.
Like several other entries in Reiner's back catalog, The Princess Bride carefully balances the warmth of a "chick flick" with plenty of action and suspense for uncouth, hairy cavemen, resulting in what might be the ultimate date movie. A razor-sharp script keeps the film's many confrontations brimming with energy, even when they're played completely for laughs. Memorable quotes are tossed out left and right, whether it's during a dangerous battle of wits or Inigo Montoya's revenged-fueled duel to the death. The obvious chemistry between our two leads sparks the story's confident center, though: this is undoubtedly a love story above all else, so it's good to know that The Princess Bride has the heart to back everything up.
Even so, the film's breezy pace is what keeps everything flowing so smoothly: this is obviously an abridged tale, unlike the thick book that Falk's character cracks open. Based on the story by William Goldman (who also wrote the screenplay, and would later collaborate with Reiner on Misery), our adventure is lean and dynamic, leaving room for plenty of character development without bogging us down with too much information. Clever visual gags and slapstick remind us that The Princess Bride never takes itself too seriously, yet it's obviously in love with the genre it lampoons. All too often, satire beats us over the head with reminders that it's all one big joke; here, the humor is simply another extension of a timeless, straightforward story. In short, Reiner's film succeeds without even trying hard.
Amazingly enough, this 20th Anniversary Edition marks The Princess Bride's fourth DVD release in seven years, not that it really needed another. The second attempt (2001's Special Edition) was strong for its time, though last year's dual release of the "Dread Pirate" and "Buttercup" editions showed modest improvements all around. This time around, we're treated to a mildly improved transfer, spiffy packaging...and that's about it, really. The brand-new bonus features are nothing to write home about, but what's worse is the omission of all previous extras; instead of an all-encompassing definitive release, we're treated to a half-hearted attempt that fans probably shouldn't bother with. Let's take a closer look, shall we?
Video & Audio Quality
Presented in its original 1.85:1 aspect ratio and enhanced for 16x9 displays, The Princess Bride looks excellent from start to finish. The warm color palette is bold and bright during outdoor sequences, especially the crisp reds of Buttercup's robe. Flesh tones appear natural, black levels are solid and image detail is strong in most cases. Though owners of last year's dual "Dread Pirate" and "Buttercup" editions won't notice a huge upgrade, this is still the best visual presentation we've seen yet.
The film's Dolby Digital 5.1 and 2.0 mixes (also available in French and Spanish 2.0 dubs) are satisfying overall, which seem to be identical to those found on previous releases. Dialogue is crisp and clear, while the film's excellent soundtrack never fights for attention. Surround activity is limited for the most part, but that's to be expected in this case. English and Spanish subtitles, as well as Closed Caption support, are included during the main feature only.
Menu Design, Presentation & Packaging

Seen above, the animated menu designs are basic and easy to navigate. The 98-minute main feature has been divided into 28 chapters, while no obvious layer change was detected during playback. This one-disc release is housed in a standard black keepcase; also included is a matching slipcover and a double-sided story booklet. The attractive cover art (complete with an ambigram-styled logo) deserves special mention, though it's a shame that the actual bonus features aren't nearly as detailed. Speaking of which...

Bonus Features

Previous releases---namely, the 2001 Special Edition and last year's two-disc packages---have included multiple commentaries, detailed featurettes and much more (check out the different lists here). Sadly, none of these have been ported over; instead, we're greeted with a few short retrospective pieces and a crummy commercial. The latter, entitled "True Love and High Adventure: The Official Princess Bride DVD Game", is a promotion for the as-yet-incomplete game found at www.princessbridegame.com. It's barely enough to be considered an afterthought, let alone the bonus feature listed first on the packaging.

Next up is a trio of new featurettes, leading off with "The Princess Bride: Untold Tales" (9:07). Featuring comments from most of the cast (save for Cary Elwes and Wallace Shawn), this is a decent little retrospective that runs much too short. "The Art of Fencing" (7:08) is hosted by sword wizard Robert Goodwin, who details some of the film's weaponry and the history behind it. Our last tidbit, "Fairytales and Folklore" (9:16), features comments from author Jack Zipes, who compares and contrasts The Princess Bride with several genre classics.

Bonus features are presented in a clumsy mix of 1.33:1, anamorphic and non-enhanced widescreen formats. None include optional subtitles or Closed Captions. The featurettes aren't bad in their own right, but it's hard not to be sorely disappointed with MGM's lackluster effort here. Even the trailer is missing in action. Boo! Boo!! BOO!!!
A certified 1980s classic, The Princess Bride remains a timeless "fractured fairytale" that's easy to get lost in. Featuring terrific performances, perfect casting and strong direction from Rob Reiner, there's hardly a dull moment from start to finish. Unfortunately, MGM's fourth DVD release in less than seven years comes up short: the technical presentation is solid enough, but the total disregard for earlier special features really kills this one. Overall, 2006's "Dread Pirate" and "Buttercup" two-disc packages remain the versions to beat...so any way you slice it, there's very little to get excited about here. The slightly improved transfer and limited new extras may intrigue die-hard fans, but there's certainly not enough here to warrant a purchase. Rent It.
---
Randy Miller III is an affable office monkey based in Harrisburg, PA. He also does freelance graphic design projects and works in a local gallery. When he's not doing that, he enjoys slacking off, second-guessing himself and writing things in third person.
---