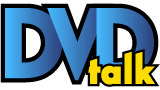 Trimark // PG-13 // October 9, 2001
List Price: $14.99 [Buy now and save at Amazon]
---
Short Takes


This sucker slithers far better than the CGI-addled Python that followed. Things get a little TOO aggressive in a lab researching aggressive behavior when a spazzed-out scientist mixes the wrong chemicals and gets blow'd sky high. Out of the inferno, a genetically engineered cobra/rattler hybrid named Seth slips silently into the countryside to feast and GROW into a 30-foot menace. Sure enough, woodland varmints don't satiate Seth's drug-enhanced craving for carnage and the big guy soon eyes the residents of Fillmore. Waving the six-inch FANG he fished from a venom-disfigured corpse, Doc Kagen (writer/director Scott Hillenbrand) demands the mayor (Hoyt Axton) cancel their annual beer festival, but he refuses. Sound familiar? Pat Morita is the fella they bring in to karate chop the beast into submission. Well, not exactly, but that'd be more effective than his baffling plan to lure Seth with a boom box and nab him with great big metal tongs. CineSchlockers won't believe the hilarious cameo by Big Gay Erik Estrata. No breasts. 13 corpses. Strip hide 'n' seek. Hypodermic closeups. Gratuitous urination. Cobra cam. Behold the chicken-fried lyrics of Axton's "Seth is the Devil" that begins the final credits. Recommended.

1998, 93 minutes, Widescreen (1.85:1), Commentary, Featurette, Trailers


Also available in the Creature Features boxed set with Crocodile, Octopus and Spiders.


G. Noel Gross is a Dallas graphic designer and avowed Drive-In Mutant who specializes in scribbling B-movie reviews. Noel is inspired by Joe Bob Briggs and his gospel of blood, breasts and beasts.
---
C O N T E N T

---
V I D E O

---
A U D I O

---
E X T R A S

---
R E P L A Y

---
A D V I C E
Recommended
---
E - M A I L
this review to a friend
Sponsored Links
Sponsored Links