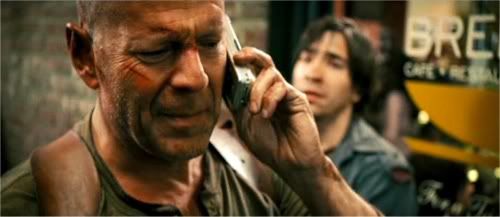 Continuing the franchise 12 years after the last installment, Len Wiseman's Live Free or Die Hard (2007) is a potent action film in its own right. Our protagonist, John McClane (Bruce Willis) has barreled through hostage situations, airline takeovers, puzzle-obsessed terrorists and more over the years, dishing out plenty of pain and one-liners in the process. Live Free or Die Hard doesn't change the formula much, but it's undoubtedly a different beast than its three predecessors. Like 1995's Die Hard With A Vengeance, the landscape remains open for our hero: he's not confined to one building, but we can't help but pine for closer quarters.
Our world has changed enough in the last decade to understand that action films must adapt with the times. The old "computer hacker" bit has been done to death in recent years, but it's here where Live Free or Die Hard attempts to center the action: a ruthless computer whiz named Thomas Gabriel (Timothy Olyphant) has taken over most of America's computerized systems, causing buckets of chaos nationwide. McClane, in the meantime, is holding his own whiz kid in custody: Matt Farrell (Justin Long), who soon finds himself in deep water once McClane takes action. Like the 1995 installment, Live Free or Die Hard finds itself in "buddy" territory soon enough---but instead of a charismatic racist like Samuel L. Jackson's Zeus, we've now got a generation gap to keep things interesting. Willis and Long manage to establish a fairly amusing rapport early on, and it's this dynamic that keeps things rolling through a few rough patches.
A great action movie can always be measured by the bad guy(s), and it's here where Live Free or Die Hard can't help but fall short. Timothy Olyphant is miscast as Gabriel---and as our own Brian Orndorf stated bluntly in his theatrical review, he comes across more like "a Starbucks manager on a particularly itchy morning shift". Gabriel's evil intentions lay dormant during most of the film; we're simply expected to believe that he's causing trouble just because he's pissed off and knows how to use a computer. One could argue, however, that this makes it easier than ever to root for McClane and company: we simply want to see Gabriel put in his place. In any case, Live Free or Die Hard still manages to pack a punch without compelling opposition for our heroes.
We've been spoiled by weekly television epics like 24, so it's no surprise that Live Free or Die Hard falls into similar territory at times. The action is brisk and non-stop: baddies are dispatched violently, car chases come fast and furious and explosions abound. McClane has almost become a caricature of the tough, wisecracking cop we first met in 1988---and there are still traces of mortality at times, but the danger doesn't feel quite as dangerous anymore. We could almost substitute Jack Bauer himself in John McClane's role---and let's be honest, it really wouldn't change much. Still, there's a lot to like here: from the stylishly shot action sequences to the razor-sharp editing and effective comic relief, there's enough Die Hard here to feel like it's not just a part of the franchise, but a truly worthy successor to the orignal.
Presented on DVD by Fox, Live Free or Die Hard arrives in a variety of fashions. This unrated, two-disc package gives fans what they should've gotten at the theater: more f-bombs and blood, which have been a hallmark of the franchise for nearly two decades (NOTE: both cuts are included on Disc 1). The story hasn't changed one bit, but it's good to know that such an unwarranted marketing decision has been reversed for the DVD release. Aside from that, fans have plenty to look forward to here, including a solid technical presentation and a host of decent bonus features. Let's take a closer look, shall we?
Quality Control Department
Video & Audio Quality
Presented in its original 2.35:1 aspect ratio and enhanced for 16x9 displays, Die Hard looks as good as expected for a new, big-budget blockbuster. The film's stylized, gritty color palette holds up nicely, image detail is excellent and black levels are rock solid. This being a Fox screener copy, there are moments of heavy pixellation (and the occasional studio watermark) which prevent a proper score from being awarded. Should a final copy be made available, the ratings will be adjusted accordingly.
Screener or not, the audio treatment is impressive on all counts. Presented in Dolby Digital 5.1 (with optional French and Spanish 2.0 dubs), Live Free or Die Hard boasts clear dialogue, strong directional effects and plenty of rear channel and subwoofer activity. The score rarely fights for attention, ensuring that this dynamic mix will please casual fans and audiophiles alike. Optional English and Spanish subtitles are included during the main feature only.
Menu Design, Presentation & Packaging

Seen above, the animated menu designs are basic and easy to navigate. The 128-minute unrated main feature has been divided into 36 chapters, while no obvious layer change was detected during playback. The packaging was not included with this screener copy, but I'd imagine we'll get a two-disc keepcase and a few promotional inserts.

Bonus Features

It's good to see a strong, two-disc package right out of the gate, as Live Free or Die Hard arrives with plenty of goodies attached. The lone extra on Disc 1 is a feature-length Audio Commentary with star Bruce Willis, director Len Wiseman and editor Nicholas de Toth (NOTE: the same commentary plays during both cuts). This is a satisfying track for the most part, featuring plenty of production stories, filming techniques and the constraints of shooting an R-rated film that would eventually become PG-13. De Toth's comments are especially interesting for this reason, but all three participants get a solid amount of speaking time during this entertaining session.

The centerpiece of Disc 2 is "Analog Hero in a Digital World: The Making of Live Free or Die Hard" (1:37:14, below left). This feature-length documentary is a fairly promotional but detailed affair, covering the story origins, franchise history, casting, stunts, editing, visual effects, sound mixing and music...in short, a little something for everyone. Divided into 10 sections (with a handy "Play All" option, of course), "Analog Hero" covers a lot of ground in just over an hour and a half. This and the audio commentary are almost more than enough by themselves, but there's still more to go.
Also here is "Yippee Ki Yay MotherF*****!" (22:37, above right), a casual chat with Kevin Smith and Bruce Willis, who discuss the star's career while simply hanging out on the Fox lot. This laid-back interview doesn't include a mountain of brand-new information, but the candid atmosphere really stands in good contrast to everything else.
The next three extras aren't quite as engaging: first up is a Music Video for "Die Hard" by Guyz Nite (4:31), which basically summarizes the franchise---complete with Willis' catchphrase---in rowdy rock fashion. Accompanying the music video is "Behind-the-Scenes with Guyz Nite" (5:48), which will probably only be of interest to fans of the band. Bringing up the rear is the odd "Fox Movie Channel Presents: Fox Legacy" (6:19), a brief, promotional-type recap of the franchise which doesn't really add much.
Closing things out is the film's Theatrical Trailer (2:21), as well as a few Previews for current and upcoming Fox releases. All bonus features are presented in 1.33:1 and anamorphic widescreen formats, though none include optional subtitles or Closed Caption support. Even though a few of the minor extras don't quite fit in, there's plenty to dig through here after the main feature is over. The only head-scratcher (aside from the lack of deleted scenes) is a gag reel; it's mentioned in the commentary but seems to be MIA.
Final Thoughts
Easily on par with the third installment but still trailing behind the original, Live Free or Die Hard is undoubtedly a better film than most fans were expecting. Still, some will argue that John McClane's character might as well be Jack Bauer or The Terminator at this point: our "everyman" protagonist has gradually morphed into a seemingly indestructible force, making this more a collection of over-the-top stunt sequences than a halfway-believable story. On the other hand, it's an eye-popping action spectacle...so things could be worse, right? Fox's two-disc, unrated DVD release pairs both versions of the film with a strong technical presentation (screener issues notwithstanding) and a host of bonus features, earning this release high marks overall. From top to bottom, Live Free or Die Hard is a solid package that action fans should enjoy digging through. Highly Recommended.
DVD Talk Review Link:
Other Die Hard Releases
---
Randy Miller III is an affable office monkey based in Harrisburg, PA. He also does freelance graphic design projects and works in a local gallery. When he's not doing that, he enjoys slacking off, second-guessing himself and writing things in third person.
---