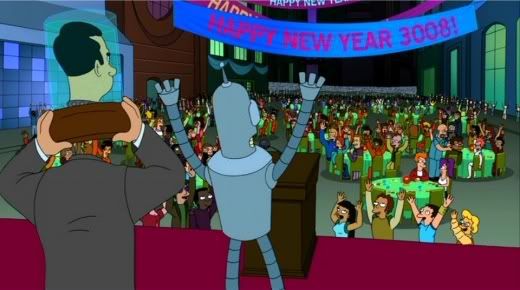 It wasn't the first Fox series to be canceled too early (and it certainly won't be the last), but the demise of Matt Groening's Futurama proved to be slow and steady. Not in quality, of course: this tale of a man frozen for a millennium only got funnier as the series progressed, though network support dwindled during its four-year lifespan. As the Simpsons machine rolled on, Futurama's timeslot was shuffled around; for a time, the series' broadcast directly followed Groening's most famous creation, but it didn't last long. The series was eventually cancelled in August of 2003, though subsequent DVD releases (broken into four "volumes", due to the erratic broadcast schedule) reinforced Futurama's rabid fanbase.
As creations like Fox's own Family Guy would prove, strong DVD sales make executives take notice. Groening approached the studio in 2006 with a proposal to create a new direct-to-DVD Futurama film, paving the way for rumors about a proper weekly revival for the series. It'll happen, sort of: Groening and company plan to release four full-length Futurama films on disc, slightly reformatting them into 16 half-hour episodes to be aired on Comedy Central at a later date. In the meantime, the network will air classic episodes of Futurama in 2008, after The Cartoon Network's contract expires. "Good news, everyone!", indeed.
Bender's Big Score is the first of these four films---and luckily, it's a strong outing that should rekindle interest in the series quickly. It actually feels more like a movie than, say, Stewie Griffin: The Untold Story, though the formula for success hasn't changed much. The series' bold blend of hand-drawn animation and CGI has returned, as well as the original voice actors and other members of the creative team. Futurama's penchant for slapstick, satire and surrealism returns in spades, resulting in a colorful concoction of comedy that fans will enjoy settling back into.
As far as plots go, Bender's Big Score occasionally attempts to cram a bit too much stuff into its brisk 89-minute lifespan. This time around, Planet Express has to deal with a curious group of alien nudists...who just so happen to enjoy scamming hapless victims online. After Bender falls under their control via a downloaded virus, he's ordered back in time to pillage history's most valuable artifacts. Meanwhile, the secret to time travel is discovered on Fry's rump and Leela meets a potential "Mr. Right". Sandwiched in-between are plenty of time travel gags, jabs at Fox's cancellation of the series, a few clever musical numbers and a decapitation. Luckily, Bender's Big Score manages to balance everything quite nicely, especially as the film progresses. Those new to the series should get caught up with the four DVD volumes first, but Bender's Big Score stands fairly well on its own two feet. If nothing else, it's a solid return to form that fans will certainly enjoy.
Though a handful of Futurama episodes have reached higher peaks, Bender's Big Score is anything but a disappointment. Fox's one-disc package is only pricey when compared to the dense series volumes, but it's still a no-brainer that fans shouldn't mind shelling out for. Boasting a solid technical presentation and a handful of entertaining bonus features, there's plenty for Futurama disciples to dig through. Here's the bottom line: Bender's Big Score is worth the wait...and there's more where that came from. Let's take a closer look, shall we?
Video & Audio Quality
It always seemed odd that Futurama was never framed for widescreen during its televised run; after all, even the futuristic TVs watched by Fry and company were typically 16x9. Therefore, it's especially nice to see Bender's Big Score framed and presented in 1.78:1 format and enhanced for widescreen displays. The film's vivid color palette looks bold and bright, image detail is strong and black levels are rock solid. This being a Fox "Special Screening Copy", moderate amounts of compression artifacts and the studio's watermark appear sporadically, preventing a proper visual rating from being awarded. Should a final copy be sent over, this section will most certainly be updated.
The film's Dolby Digital 5.1 soundtrack is lively and active, though not much more so than the original series. In any case, the dialogue is clean and clear, music cues are typically strong and a few clever directional effects can be heard along the way. English, Spanish and French subtitles have been included during the main feature, while Closed Captioning support is also provided.
Menu Design, Presentation & Packaging

Seen above, the animated menu designs are basic and easy to navigate. The 89-minute main feature has been divided into 12 chapters, while no obvious layer change was detected during playback. The packaging was not made available with this screener copy, but this one-disc release will most likely be housed in a standard black keepcase.

Bonus Features

The Futurama boxed sets have always come loaded with plenty of great extras; in fact, I've listened to and enjoyed each of the 73 audio commentaries (!) from all four volumes. Bender's Big Score follows suit with a generous handful of choice tidbits, leading off with a feature-length Audio Commentary by creator Matt Groening, director Dwayne Carey-Hill, writers David X. Cohen & Ken Keeler, producer Claudia Katz and voice actors Billy West, John DiMaggio & Phil LaMarr. This is as entertaining and laid-back as expected, though we hear plenty of interesting production tidbits along the way. Cohen and Groening have always been great at providing plenty of background information and trivia, while the voice actors occasionally step into character just for fun. In a nutshell, those familiar with Futurama commentaries should know exactly what to expect.

Up next is the "Futurama Returns!" Live Comic Book Reading (8:51, below left) from San Diego's Comic-Con International, in which the film's voice actors narrate the story for our listening enjoyment. The visual presentation of this extra leaves a bit to be desired, as the static page galleries are small and difficult to follow along with. A more precise panel-by-panel breakdown (or an alternate viewing angle with the table read) would have been preferable, but this is still nice to have.

Also here is a very special episode of "Everybody Loves Hypno-Toad" (22:03, below left), in which our favorite amphibian demonstrates why his is the most popular show of the future. Between commercial breaks and the occasional product shill, Hypno-Toad simply does what he does best: makes us believe. Seriously, though: "Everybody Loves Hypno-Toad" is occasionally amusing on the whole, but it's essentially a one-trick pony that's best in small doses.

Up next is a trio of Deleted Storyboard Scenes (3 clips, 3:36 total), including "Monte Carlo", "Robot Mafia" and "Limbo Contest". The first scene is especially interesting, but these represent minor character moments and a few gags that didn't quite make the cut. Again, these are nothing of major interest but still nice to have.
We're also treated to "A Terrifying Message from Al Gore" (1:24, above right), which served as an online promo for Gore's environmental documentary, An Inconvenient Truth. This clever short, which stars the former Vice President's animated likeness and Bender, also includes optional video commentary with Gore, Matt Groening and David X. Cohen. The animation isn't quite up to Futurama's usual standards, but it's great to see Gore being such a good sport about the whole thing.
The next curious inclusion, "Bite My Shiny Metal X" (26:03), is actually a lecture by Dr. Sarah Greenwald about the advanced math ideas and in-jokes frequently featured in Futurama. This is obviously only directed towards select audiences; anyone who never got past Calculus in high school will probably be left scratching their heads (but there's pretty pictures!).
The rest of the extras are brief, production-related tidbits, including a few 3-D Model Galleries, a First Draft of the Script for Bender's Big Score and a series of Character Design Sketches. This will be of interest to those who enjoy seeing projects as they develop, especially the script and sketches. Closing things out is a Comic-Con Promo (4:55), which serves as a quasi-trailer or highlight reel for the main feature. All bonus features are presented in 1.33:1 and anamorphic widescreen when appropriate; unfortunately, no optional subtitles or Closed Caption support are included.

If you're a Futurama fan in the least, there's no doubt that Bender's Big Score will be yours on release day. Thankfully, it's a solid return to form that fans can enjoy many times over: with interesting new characters, layers of clever gags and plenty of heart, it'll certainly remind fans of the good old days...in the year 3000. Those completely new to the series should get caught up first, but Bender's Big Score is still accessible enough for rookie fans to understand. Fox's DVD presentation (screener issues aside) pairs the film with a solid technical presentation and a handful of entertaining bonus features. From top to bottom, Bender's Big Score is a satisfying release that fans will devour on sight. Firmly Recommended to all self-respecting meatbags!
---

---