List Price: $34.99 [Buy now and save at Amazon]
---
The Movie: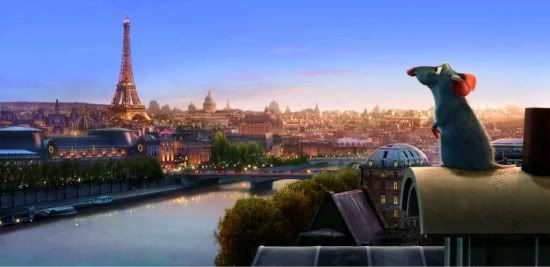 I hate it when a movie comes out in February and the quote I see on the ads for it is "The best movie of the year!". How anyone can know that 10 months worth of cinematic releases won't offer one selection better is beyond me. But when I saw the first teaser trailer for Ratatouille, Pixar's 2007 release, I got a little tingle in my bones that I couldn't shake. The idea of Patton Oswalt playing a rat whose tastes are so discerning that he only eats gourmet food seemed like a stroke of genius. The film was released in the summer of '07 and exceeded all the expectations I had for it. Since its release, it's been my favorite movie of the year. And with 2008 looming over us, I can safely say it: Ratatouille is the best film of the year.
Remy (Patton Oswalt) has a sharply tuned sense of taste and smell. He loves fine cuisine, and wants to learn how to cook like the best French chefs. He's in the right place (Paris), but there's just one little problem. He's a rat. He's given the opportunity of a lifetime when he literally falls into Gusteau's, a gourmet restaurant that has hit on hard times. Remy manages to save a soup spoiled by the new garbage boy, Linguini (Lou Romano). Everyone thinks Linguini made it, and it's the most popular dish they've had in years. Linguini knows he can't cook, and Remy knows he'll never have another opportunity to have his culinary talents appreciated. The two forge a desperate alliance that succeeds beyond their wildest dreams, but draws suspicion from Gusteau's current head chef, Skinner (Ian Holm), and a notoriously ill-tempered food critic, Anton Ego (Peter O'Toole).
Ratatouille is a triumph of imagination. Jan Pinkava conceived of the original idea and pitched it to Pixar. Things seemed to flounder when the project began to degenerate into a standard-issue Disney made for DVD movie, and it might have been scrapped all together. Enter Brad Bird. The animation veteran (he was a major contributor to The Simpsons as well as the writer/director of The Iron Giant) first collaborated with Pixar on the critically acclaimed superhero adventure The Incredibles. As that film was winding down, John Lasseter asked Bird to step in on Ratatouille. Bird took to the material and rewrote the script, keeping the same premise but changing much of the story's structure. The finished product is a new pinnacle for both Pixar and Brad Bird.
As with all of Pixar's films, Ratatouille is a winning combination of humor, heart, and state of the art computer animation. Even for a studio whose catalog consists of living toys, talking cars, crusading bugs, horny snowmen, and neurotic fish, Ratatouille is still the most bizarrely unique story they've ever told. It's a testament to Brad Bird's writing ability that a movie that should have creeped out audiences everywhere (rats in the kitchen? Might as well make a film about cockroaches) is thoroughly enchanting. It's also to his credit that that a computer animated film, the most meticulously planned of all the cinematic art forms, often feels completely spontaneous and organic. The story unfolds so naturally that it practically seduces the audience into following Bird's lead, wherever he may go.
The picture has a sharp sense of humor, bouncing back and forth between classic cartoon caricatures and more situational comedy. Patton Oswalt is the flat-out perfect voice for Remy. He's passionate and unafraid, and has a matter-of-fact way about him that makes the most outlandish statements seem to make sense. The other voice talents are considerable, from Peter O'Toole as Ego (who gives one of the best film monologues I've heard in a very, very long time) to Ian Holm as Skinner. Bird makes an unconventional choice with the film's love interest, Colette, casting Janeane Garofalo and having her play the role completely straight, and with the best French accent she could muster. I had no clue Garofolo did the voice until I saw her name in the credits. Lou Romano, last seen playing Snotrod in Cars, is also perfectly cast as Linguini, the perpetually awkward and put upon garbage boy turned chef.
The animation is so detailed and fluid that it makes older Pixar releases look like amateur hour. Remy and his family have thousands of individual strands of hair, ears that move in a realistic manner, and so much more. They even have Remy's chest rise and fall as he breaths, a wonderful little touch that is barely noticeable, but goes a long way towards selling the reality of the character. The humans are expressive and the skin tones/hair certainly look impressive, but Bird bucks the current trend of computer animation by allowing his characters to actually be cartoonish. Linguini in particular contorts and bends in ways no human ever could. It's refreshing to see a director in this format let his cartoons actually be...cartoons.
The great thing about Brad Bird is that he's a filmmaker, working in the realm of animation. He understands how to compose a shot, the importance of editing, the things that we take for granted in live action. The sequence where Remy first falls into Gusteau's is just as thrilling and exhilarating as any of the action sequences that you would find in the latest blockbuster. And Bird is willing to take chances. There's a scene where Remy is trying out new taste sensations. These are represented by swirling swaths of color, looping in on each other. It's like the visual equivalent of free-form jazz. Granted, it's only on screen for thirty seconds or so, but how many people would have thought to put it in at all? The lighting in the film is also brilliant, evoking mood and atmosphere effortlessly.
Ratatouille has that old time movie magic. It's the kind of film that you watch as if you were a kid again, but with the appreciation of an adult. The film has true heart, especially when it comes to the resolution of Ego's storyline. Every time I watch it, I sit enraptured, unable to turn away. Brad Bird and the team at Pixar have crafted a motion picture of incredible warmth, humor, and genuine emotion. It's not just Bird's best, it's Pixar's, too. Ratatouille is a joy, a wonder, and an instant classic. You owe it to yourself to see this movie.
The Blu-ray Disc:

The Image:
At a recent Q&A, Brad Bird said about the Ratatouille Blu-ray that, "When you see it...you will see the movie we made." And looking at Disney's 2.39:1 AVC-encoded 1080p transfer, I understand what he means. Ratatouille looks absolutely perfect. Being a brand new digital film, Disney was able to transfer the elements directly to video. The image is so clear, it's like looking through a window. The colors are bright, vivid, and expertly balanced. There's not even a semblance of bleeding or blooming. The details are astounding. Every hair on Remy's body is visible, and when he's wet, you can see the matted fur sticking to his body. When you see Remy looking through Linguini's toque, you can count the lines in the stitching of the fabric. This is truly the only way to watch Ratatouille. The picture is so beautiful that you get lost in it, admiring the details and the depth. Disney proves once again that high definition is the future of home video.
The Audio:
Disney offers an uncompressed PCM (24-bit/48 kHz) 5.1 mix that blew me away. No matter how many of these high definition discs I review, I find that a well-made high resolution audio track can always impress me, and this disc is no exception. The fidelity is sparkling, with an incredibly wide soundstage. One need to look no further than the rat evacuation sequence, which has hundreds of rats scampering and dashing away from a murderous old lady with a shotgun. The tapping of the feet, the gasps of fear, the blasts of the gun, they all play across the sound field. Sounds chase each other from speaker to speaker, and Michael Giacchino's score always get plenty of exposure. Dialogue is easy to hear and wonderfully recorded. With this mix you can really hear the nuance of the performances, especially Ian Holm's and Peter O'Toole's.
The Supplements:
Disney has a strong commitment to high def media, as the supplements package on Ratatouille makes clear. The standard DVD edition offers four special features, all of which are available on this Blu-ray disc. In addition, the Blu-ray offers several hours of additional material exclusive to HD. My only complaint about the extras is that there are none focused on the voice talent, and none of the film's hilarious and effective trailers.
Lifted: Famed sound designer Gary Rydstrom writes and directs this flat-out hilarious short, which originally ran before Ratatouille in theaters. Seeing as how Rydstrom's background is in sound, the story is told almost entirely through sound effects, but not without some great visual gags. It's short and sweet and very, very funny. Presented in 1080p high definition.

Your Friend The Rat: An all-new short made just for home video, this extra features more of the hand-drawn animation that appeared during the end credits of the main film. It's a history of rats around the world, narrated by Remy and Emile, with the original voice actors returning. The whole thing ends in a highly amusing little ditty. Also in full 1080p high definition.

Fine Food & Film: This feature compares Ratatouille writer/director Brad Bird with famous chef Thomas Keller, owner of The French Laundry. I like the idea, but most of the featurette is isolated interviews with the two. I would have enjoyed more of them interacting with each other. Like the previous extras, this is in 1080p.

Cine-Explore: A Blu-ray exclusive, Cine-Explore is the gateway to a ton of features and footage only available here. The backbone is a commentary by writer/director Brad Bird and producer Brad Lewis. Bird is impassioned, talking with great enthusiasm about all kinds of subjects. He goes into great detail about the animation, but always manages to do it in a way that remains accessible. Producer Lewis is mostly there to prompt Bird and guide the conversation. The commentary alone is worth hearing, but we're not done yet.

Cine-Explore is essentially Disney's version of U-Control, although unlike Universal's interactive feature and WB's In-Movie Experience, most of the extra footage plays outside of the film. You can choose to play all of the extra footage available, or you can select certain features and leave others off. I myself played the film with production and design photos, deleted scenes, and cut shots. The photos will in fact play over the feature itself, and often tends to be related to the topic Bird and Lewis are discussing on the commentary. The film pauses in order to play the other footage, of which there is over an hour.

First up, and the only extra available in Cine-Explore that also appears on the DVD, are three deleted scenes. All of these were cut prior to any CGI work being done, so they are shown in rough hand-drawn animation. Many of them also come from a draft of the script where Gusteau was still alive, so it's fairly obvious that these were never planned to be in the final cut, anyway. Each one comes with an explanation of what we're seeing and why it was cut.

Next is a collection of Animation Briefings, which shows Bird discussing individual shots with his animation team. The thing that impressed me the most is Bird's expansive knowledge of film. In one breath he'll mention Frank Capra, Bugs Bunny, and Star Wars. Proof that great filmmaking knows no bounds. It's also a fascinating look into the front lines of this new and still developing art form.

Then there's Documentary Shorts, a series of 10 featurettes. Each looks at a different aspect of the creation of the film, including aspects you may not normally associate with animation. For example, there's a whole section on the lighting. Traditionally, discussions of animation don't include lighting. The more CGI can look real, the more that live action filmmaking techniques have to be incorporated. There's a look at the research done on rats, the female animators who worked on Colette, a son's documentary of the film's composer, Michael Giacchino, and a look at the end credits, the first hand drawn animation ever done by Pixar studios. Brad Bird ends that piece by joking, "Pixar presents a bold new step in animation: hand-drawn!"

Finally we get a collection of quickie shots that were cut. These were scenes that did make it to animation but were cut for time or some other inexplicable reason. The animators also make an appearance in a series of very funny sketches. All of the Cine-Explore extras are in 480p.

The Will: Composer Michael Giacchino shows us a scene from the film with two different compositions on top of it, to show how music can completely change the feel of a scene. In 480p.

Remembering Dan Lee: Pixar animator Dan Lee passed on during the making of Ratatouille, and this featurette is a tribute to him, also in 480p.

Gusteau's Gourmet Game: This is a BD-Java game that forces you to cook orders as they come in at Gusteau's restaurant. While the booklet that comes with the Blu-ray manages to make this game sound exciting and fun, it's actually very tedious, and might in fact be too difficult for younger children.

Trailers: Disney doesn't include any of the brilliant trailers that so successfully conveyed the concept of Ratatouille to audiences across the world, but they do manage to include a bevy of other trailers, including Pixar's upcoming Wall-E, and an ad for the 2008 release of Sleeping Beauty on DVD and Blu-ray. All trailers are in 1080p.
The Conclusion:
Ratatouille is the best film of 2007 and an instant classic. Brad Bird and Pixar both hit new heights of movie magic, making a film that is both timeless and for all ages. This Blu-ray disc is the only way to see and hear the film, offering top quality picture and sound approved by Brad Bird. Not only that, but Disney has included over an hour of footage and a Brad Bird commentary that do not appear on the DVD, and in a way that takes unique advantage of the Blu-ray disc technology. This kind of dedication to high def media is an example of what's made Disney an industry leader. My compliments to the chef! DVD Talk Collector Series.
Note: The images in this review are not representative of the image quality of the Blu-ray disc.
Daniel Hirshleifer is the High Definition Editor for DVD Talk.

---
C O N T E N T

---
V I D E O

---
A U D I O

---
E X T R A S

---
R E P L A Y

---
A D V I C E
DVD Talk Collector Series
---
E - M A I L
this review to a friend
Sponsored Links
Sponsored Links