Family Affair - Season Four
List Price: $39.98 [Buy now and save at Amazon]
---
MPI Home Video has released Family Affair: Season Four, a five-disc, 25 episode collection of one the best kept "secrets" of 1960s network sitcoms. Starring Brian Keith, Sebastian Cabot, Kathy Garver, Johnny Whitaker, and Anissa Jones, Family Affair was certainly no "secret" in the all-important Nielsen ratings, being a top five smash hit during three of its five seasons (including this one). But for all the discussions about influential or enduring sitcoms from the 1960s, Family Affair never seems to get its due.
I've written extensively about Family Affair's appeal, as well as its structure both dramatically and visually (you can click here to read my review of Family Affair: Season Three), so I won't go into detail again about the show's aesthetics. Not that I really need to, since the series, which featured the same producers, writers, and the same director (Charles Barton) through the last four seasons of its run, maintained a remarkably consistent tone. What continually surprises me about the show, having just watched this fourth season, is how calm, sedate, and utterly beguiling it is, with a tenderness and a watchful, respectful (for lack of a better word) approach to the performers and the stories, that is light years removed from the average sitcom format today.
In my previous review, I discussed series director Charles Barton's (perhaps best known for his collaborations on a number of films with Abbott & Costello, including their best feature, Abbott & Costello Meet Frankenstein) classic Hollywood visual schematic for Family Affair, utilizing the master shot, two-shot, alternating close-ups and back to the master technique. Visually, it's not the most dynamic set up (although it's far more filmic than the three-camera video shoots today, which looked exactly liked filmed plays), but it allows each performer to occupy their own space in the TV frame, while focusing on their reaction shots, and not dialogue, to get across the story and the characterizations. And that rigidly stylized format creates a bond between the viewer and the performer that's quite powerful - especially when you have the caliber of actors featured her in Family Affair. Keith's Uncle Bill, as always, has an amazing ability to get across fairly subtle reactions to the various dramatic episodes, with just the slightest change in facial expression. You can really tell, too, that he's genuinely fond of those kids, bringing out a warmth in his and in their performances, that you can't fake.
The child actors are equally adept at pulling heartstrings (isn't it a shame that term is looked on derisively now?). Whitaker and Jones are such grave, serious little actors, who seem to genuinely light up when interacting with Keith or the letter-perfect Cabot, that you tend to forget you're watching a sitcom. Family Affair is actually closer to a straight drama rather than a sitcom, and despite the series' emphasis on the experiences of the children, the outlook and demeanor of the show is focused on reaching the adult viewer, as well. Quite a bit of Season Four looks at the gradual maturing of the Cissy character, played so well by the charming, natural Kathy Garver. In this season, she graduates from high school, tries out her own apartment, as well as embarking on a series of romances, including getting "engaged to be engaged" to steady boyfriend Greg Bartlett (Gregg Fedderson) - all of which are carefully watched over by the steadying, rational gaze of Uncle Bill.
Family Affair was also relatively advanced in looking at minority relations, as well as fostering respect and appreciation for other cultures with storylines that were facilitated by Uncle Bill's worldwide travels. One of the best this season is Mr. Osaki's Tree, where Jody's gift of a bonsai tree - and its subsequent withering - stands in for the illness of friend Mr. Osaki. It's a lovely little episode - as are most Family Affair shows - with a perceptive, skillfully handled look at faith and love (and a terrific turn by young Whitaker). Many of the episodes from this fourth season mention the "outside" world and the conditions, both hopeful and challenging, that face the children when they grow up (Vietnam and civil unrest at home roiled America during this 1969-1070 TV season). Although elements of Family Affair could be considered less-than-realistic (certainly Uncle Bill has a lot of time on his hands as a globe-hopping construction engineer), this constant evaluation of the world beyond creates the illusion of a safe, nurturing environment within the confines of Uncle Bill's swank Manhattan apartment, and accurately reflects the worries most parents have about their children as they grow up and learn life's lessons.
Family Affair was also careful to never let go of the central premise of Keith's character continually being challenged by a situation he never asked for in the first place: being responsible for his dead brother's children. In almost every episode, Uncle Bill is faced with balancing his previous, relatively care-free bachelor existence, with the day-to-day responsibilities of being a surrogate father. Probably the best episode representing that dichotomy in this season is the final two-parter, Family in Paradise, where Bill, happy in his new life in Tahiti, must make a decision to leave the island paradise, to better the children's lives (he feels their carefree existence in Tahiti won't prepare the children for life in the "real" world). Frequently, sitcoms from the 1950s and 1960s are chided for presenting unrealistic depictions of the word outside the realms of TV's conventions. Family Affair however, despite its trappings of Fifth Avenue apartments, English "gentleman's gentlemen," and sometimes saccharine denouements, always managed to focus right in on the emotions of a particular story line - with the aid of those phenomenal, long-held (for TV time) reaction shots - creating an honest, emotional, surprisingly resonant "sitcom."
For this fourth season, Family Affair moved from its comfortable Monday 9:30pm timeslot, where it followed The Andy Griffith Show and then Mayberry R.F.D. (where Family Affair it was instrumental in killing off the once-powerful Peyton Place on ABC), to Thursdays at 8:00pm (no doubt to better take advantage of the larger, younger audience still up and watching TV). Normally such a move would spell disaster for an established show, particularly one that occupied such a high place on the Nielsen listing (14th in its debut season, and a solid 5th for seasons two and three), but audiences faithfully followed the series over to a new night, where rather astonishingly, it maintained its 5th place standing in the Nielsen's, at year's end. Competition was weak over on NBC and ABC (Daniel Boone was fading, and ABC's The Ghost and Mrs. Muir never broke out). Unfortunately, the following year, Family Affair's ratings took a death blow from the overwhelming success of newcomer series, The Flip Wilson Show. With the child actors noticeably getting older, it's questionable how long the series would have been able to sustain itself anyway, had Flip not debuted in that timeslot. Besides, by the end of 1971, a new "Family" show had arrived on CBS - Norman Lear's All in the Family - and, temporarily at least, the time for adorable little moppets and rich, globe-hopping uncles, and British butlers, had passed.
Here are the 25, one-half hour episodes of the five-disc box set, Family Affair: Season Four:

No Uncle is an Island


The Wings of an Angel


Uncle Prince Charming


Cissy's Apartment


The Jody Affair


With This Ring


What's Funny About a Broken Leg


The Birthday Boy


The Stowaway


Number One Boy


A Tale of Two Travels


Maudie


Goodbye Harold


The Girl Graduate


Grandpa, Sir


Marooned


Mr. Osaki's Tree


The Language of Love


The Inheritance


There Goes New York


Wouldn't It Be Loverly


The Boys Against the Girls


The Old Cowhand


Angle in the Family


Family in Paradise (Part 1)


Family in Paradise (Part 2)

The DVD:
The Video:
The full screen, 1.33:1 video transfers for Family Affair: Season Four hasn't improved any from Season Three. Compression issues, combing, and a general soft, fuzzy picture do a real disservice to this colorful series.
The Audio:
The Dolby Digital English 2.0 mono soundtrack accurately reflects the original TV presentation. There are English subtitles available.
The Extras:
Two welcome featurettes are included in the Family Affair: Season Four boxed set. First, The Child Stars, running a healthy 36:05, features Kathy Garver, Veronica Cartwright, Jerry Mathers, Kym Karath, Pamelyn Ferdin, and producer John Stephens in a thought-provoking discussion on child stars and acting. A Conversation with Johnny Whitaker Part 1 (I would assume part two will appear on Season Five?) runs 22 minutes, and features Whitaker talking candidly about Family Affair and his experiences as a child actor.
Final Thoughts:
Family Affair: Season Four offers another round of high quality comedy/drama in the guise of a standard "kiddie sitcom." A huge hit when first broadcast, Family Affair seems rather neglected nowadays when 1960s TV is written about or discussed. Too bad, because it's one of the most heartfelt network sitcoms of that era. Beautifully economical, with terrific, emotional performances by the talented cast. I highly recommend Family Affair: Season Four.
---
Paul Mavis is an internationally published film and television historian, a member of the Online Film Critics Society, and the author of The Espionage Filmography .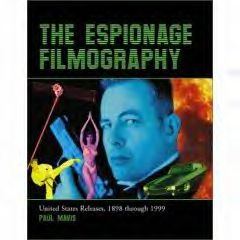 ---
C O N T E N T

---
V I D E O

---
A U D I O

---
E X T R A S

---
R E P L A Y

---
A D V I C E
Highly Recommended
---
E - M A I L
this review to a friend
Sponsored Links
Sponsored Links