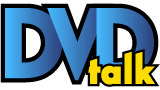 List Price: $19.98 [Buy now and save at Amazon]
---
The Movie:


I have to confess - There are times when I actually enjoy the bargain basement monster flicks that litter the Sci-Fi Channel's programming grid. Sure, they can be mindless and formula-driven, but there's an elemental simplicity to films that feature badly animated creatures running amuck and causing mayhem and destruction that makes for uncomplicated fun weekend fare. They can be our modern day equivalents of the Ed Wood it's so bad it's good method of filmmaking.


Mammoth, soon to be released on DVD having already made the rounds on the Sci-Fi Channel, unfortunately does not fall into this category. It's just plain bad.


In Mammoth, a nerdy paleontologist working at a decidedly nondescript museum of natural history somewhere in Louisiana extracts something metallic from a frozen woolly mammoth that sends a signal to something in outer space that comes barreling to Earth and somehow frees the mammoth and inhabits it and, well, whatever. All that's really important to know is that scant minutes into the movie a giant woolly mammoth is loose in Louisiana. Earth's line of defense? A Louisiana police force that seems to be comprised of 3 troopers who make the cops in Superbad seem brilliant and upstanding, 2 X-Files super agent wannabes, and the paleontologist's crazy dad and hip teenaged daughter and boyfriend. Folks, it all goes downhill after these characters are introduced.


I could handle this film if its focus was actually on the giant woolly mammoth; at least, seeing bad CGI scenes and carnage would have been much more interesting than having to sit through the interminable "character development" scenes, unfunny banter, and ridiculous "postmodern film referencing" the makers of Mammoth inflict upon its viewers. It may be that this is the fundamental flaw of the film: it doesn't know what it wants to be. The mammoth scenes are infrequent and not very involved, probably a result of the obvious low budget, and thus, the screenplay throws in a lot of bad dialogue and melodramatic drama. Is this a creature feature? Is it a comedy? Is it a parody of the films that characters reference throughout? It's never consistently any of these things, ultimately, and the movie plays like a pureed mess.


Even the cast doesn't seem up for whatever B-movie fun this turkey could have offered. Summer Glau, of Firefly / Serenity fame, is wasted here as the doctor's daughter; and Tom Skerritt [yes, the guy who used to star in cool movies like Alien, The Dead Zone, and Top Gun] looks befuddled when the script doesn't require him to ham it up, as if even he is puzzled by how his career could have taken such a titanic nosedive.


I have a very high tolerance when it comes to B-movie horror and science fiction, but if I had come upon this movie flipping channels, I don't think I would have stuck with it. Ultimately, thus, I can't really recommend this DVD to others, even as a rental.


The DVD

Video:


Mammoth is presented in a 1.85:1 widescreen aspect ratio and is anamorphically enhanced. The transfer seemed clear with rich colors, which made the bulking mammoth and other CGI effects all the more unconvincing when interacting with "real" filmed elements.


Sound:



The screener copy I viewed had Dolby Surround 5.1 and Dolby Surround 2.0 audio tracks. The soundtrack sounded fine and strong in scenes involving action sequences and the score. Dialogue-only scenes, however, seemed comparatively muted - not that dialogue [or plot] is all that essential in a film like this.



Extras:



The cover of Mammoth promises "The Original Uncut Version" as a "Special Edition." I can't imagine what is included in this cut of the movie that wouldn't have been included when the film appeared in cable TV showings: most of the violence in this turkey is of the CGI-variety, unconvincing and not particularly graphic. As for this being a "Special Edition," the advance copy sent for a review unfortunately didn't contain any extras aside from a hastily-cobbled together trailer. One imagines the finished product would have additional extras to justify the "Special Edition" heading, but who knows?



Final Thoughts:




In the classic television series Mystery Science Theater 3000, there was an episode where Mike and the 'bots watched a film called Overdrawn at the Memory Bank. This movie heavily referenced Casablanca, and one of the 'bots observed that a crappy movie should not resort to referencing good movies [a paraphrase, I'm going on memory here]. The same rule applies to Mammoth - a film that shamelessly evokes such classic sci-fi and horror films as Invasion of the Body Snatchers, The Day the Earth Stood Still, and The Blob. Is there anything more awful than an awful film that purports to pay homage to classic films? I think not.



---------
Sponsored Links
Sponsored Links