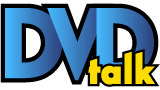 Steve Canyon - Special Edition DVD
Other // Unrated // March 18, 2008 // Region 0
List Price: $14.99 [Buy now and save at Amazon]
---
An obvious labor of love produced independently by die-hard fans, Steve Canyon - Special Edition DVD is a set of four restored episodes of the short-lived live action television series (1958-59) adapted from Milton Caniff's long-running (1947-88) comic strip. Despite a technical glitch with the audio, overall this is a really fun package of material, and the shows are interesting and entertaining in unexpected ways.






Originally a World War II veteran-turned-private air transport pilot, the newspaper cartoon version of Steve Canyon reenlisted during the Korean War and never left. The strip of the 1950s apparently reflected the Cold War attitudes of the day: intense patriotism and missions to curb the spread of Soviet and Chinese-style Communism. Obviously, the public relations value of a Steve Canyon television series, one that glorified the men and machines of the U.S. Air Force, appealed to the military. They provided the series with a mountain of declassified footage and suggested story material that could be used on the show. But unless you're a military aircraft junkie or a Steve Canyon fan, the TV series sounds at least like it would be a bland flag-waver, very '50s propaganda crammed with boring stock shots.


But that's now how things turned out. According to DVD producer John R. Ellis , the Air Force and the massive aircraft industry contracted to build its planes from the beginning resented the show's realistic approach, in scripts that depicted the new jet and rocket technologies as something less than infallible. Two strong shows exemplify this. In "Operation Zero Launch," written by The Hustler's Sidney Carroll and directed by Don Taylor, Steve Canyon (Dean Fredericks) is assigned to help a test pilot friend in his development of mobile platforms with rocket boosters that, theoretically, will allow F-100 Super Sabre jets to launch without the need of a runway. The problem is that the technology is still unreliable, and things go wrong in spectacular real-life footage well integrated into the drama.


In "Operation B-52," penned by prolific Twilight Zone scribe Charles Beaumont and helmed by Arthur Hiller, Steve and his crew are in the midst of attempting a new around the world nonstop flying record aboard an unarmed B-52 when something goes wrong as the plane tries to refuel in midair. What's great about both these shows is that the crux of the drama rests on small, realistic and believable problems, situations probably based on real world experiences. Steve Canyon here isn't superhumanly heroic; he's just realistically brave with a lot of flying experience behind him. The way he grapples with these weekly problems are dramatically logical and the shows are effectively suspenseful and involving. In this sense the show is like an Air Force version of Dragnet; its semi-documentary style and authoritative narration by voiceover extraordinaire (and FBI informant) Paul Frees lending to its Jack Webb-ish feel.


According to Ellis, the show was the most expensive series of its season, costing $48,000 an episode. One wonders what, if anything, the show's producers paid for the use of all that Air Force footage. The series had to have saved a lot of dough on shows like "Operation Mushroom" (written by Carroll, directed by Taylor) the most Cold War-ish episode in the collection, which has Steve piloting a plane dropping a (test) hydrogen bomb on a Pacific atoll. Where the other three episodes were shot over three-to-four days, "Operation Mushroom's" principal photography was completed in a single day, and better than 90% of the episode consists of stock shots. What's interesting though is that this show avoids the overly familiar nuclear test footage seen in myriad documentaries and cheap '50s sci-fi films. The footage here not only looks brand-new but concentrates on little details I don't recall seeing anywhere else, and it's imaginatively cut with the new scenes with Fredericks, whose cockpit interiors are unusually realistic for a TV drama. (Maybe that's where all the money went.)


The show was produced independently using the facilities of what was then Universal-International. Rights to the series have since reverted to the Milton Carniff estate, but while the show was in production Universal provided contract players and below-the-line, behind-the-camera talent, and the show is very polished.


With his unusual features star Dean Fredericks looks just like Caniff's square-jawed hero. He had an unremarkable career, often playing Indians on TV Westerns. Before Steve Canyon, this reviewer knew him best as the star of The Phantom Planet (1961), a genuinely bizarre low-budget science fiction film, in which Fredericks played Steve Canyon in all but name. He's got a great radio voice to boot, one that helps for the many long scenes where his face is buried beneath a helmet and oxygen mask.


Video & Audio


Steve Canyon is presented region-free in its original full frame format, in excellent black and white transfers up to the high standards of CBS/Paramount's '50s TV releases (Gunsmoke, Perry Mason, The Untouchables, etc.) Better still, these transfers are drawn from "original 35mm broadcast masters," meaning that they're complete with cigarette commercials and network promos. The series originally aired on NBC but later ran as a summer rerun on ABC, in 1960 (the last time they were officially shown and available in America); the third and fourth shows obviously are from an ABC rerun broadcast, as they includes wonderfully entertaining promos for The Untouchables, The Real McCoys, The Restless Gun, The Donna Reed Show, and Walt Disney Presents (The Swamp Fox). Ellis is generous with credit; an extensive restoration team and other supporters are thanked following each episode.


The "digitally enhanced stereo sound" is problematic. Though clean and free of hiss, for some reason the audio has been directed almost exclusively to the right channel. (Perhaps the idea was to recreate the experience of late-1950s television sets, which usually had a single speaker to the right of the tube?) (See note below) I found this jarringly distracting during the first show but eventually got used to it. A DVD release of the entire series is planned for this summer; by then the problem hopefully will be corrected.


Extra Features


Included is a meandering 2007 Series Restoration Promo (19 minutes) that dramatically compares excerpts from bootlegged videotape versions of shows with the crystal-sharp restored ones. Mostly, however, the piece consists of long, long clips from other episodes and some footage poking around film vaults and in editing rooms under graphics touting the show's various directors, stars, etc. It essentially functions as a tantalizing if way overlong advertisement for the complete series.


A short Stills Gallery (running about one minute) with excellent images is also included. The box design is notably appealing, with a reversible sleeve that offers plot synopses, production and airdates (including network reruns) and the like for each of the four episodes.


Parting Thoughts


The four-episode introduction of Steve Canyon - Special Edition DVD is pretty shrewd. The low price will entice adventurous consumers who, like this reviewer, will get hooked on the show and primed for the entire run of the series on DVD later this year. Air Force buffs, classic TV fans, '50s pop culture scholars (it makes a great companion piece to another recently-reviewed DVD, Sputnik Declassified), and especially Milton Caniff fans all will love this series. Highly Recommended.


Update


I've since tested the DVD on several different players and got the same result, but after conferring with disc producer John Ellis, I think I just got a freak pressing of some sort and the problem appears confined to this single disc. Ellis adds, "This is the first I've heard of any problem with the audio...I have tested it on several different home systems with no problems, sound issuing from all 6 channels, so this is a mystery to me (since I remastered the audio myself). Either you got a defective disc or perhaps there is some basic incompatibility....[But] thanks so much for writing this review, it perked my day!"

 
Film historian Stuart Galbraith IV's latest books, Japanese Cinema and The Toho Studios Story, are now available for pre-order.
---
C O N T E N T

---
V I D E O

---
A U D I O

---
E X T R A S

---
R E P L A Y

---
A D V I C E
Highly Recommended
---
E - M A I L
this review to a friend
Sponsored Links
Sponsored Links