Newhart - The Complete First Season
Fox // Unrated // February 26, 2008
List Price: $39.98 [Buy now and save at Amazon]
---
Dedicated TV fans can be a cranky, obstinate bunch. I distinctly remember rejecting Newhart, the surreal sitcom about a Vermont innkeeper starring Bob Newhart, when it premiered back in 1982. Having been an ardent supporter of his earlier 1972-1978 sitcom, The Bob Newhart Show, I found the first season of Newhart, at the time, to be a bit of bore, shot on ugly videotape, and critically lacking a worthwhile spouse/sounding board for Newhart's button-down, glacier-cool deadpan rimshots. I checked back from time to time on the series, particularly when the whole "Larry, Darryl and Darryl" mini-cult started, but again, I didn't cotton to the show, which felt obvious and overboard.
Perhaps I'll take to those later, more famous episodes when I watch them again, as I did for Newhart: The Complete First Season, which, after over 25 years, surprisingly played quite well. Structured similarly to his previous sitcom (as well as borrowing obvious themes from Fawlty Towers, Green Acres, Please Don't Eat the Daisies and even Mr. Blandings Builds His Dream House), Newhart is actually quite clever at marrying the standard sitcom "fish out of water" framework with the atmosphere of the uniquely American, insular backwater town filled with delightful eccentrics, a comedic vision which can be traced back at least to Capra.
Bob Newhart plays Dick Loudon, a writer from New York City who makes a successful living from authoring non-fiction books, including how-to and travel titles. Leaving the rat race of New York behind, Dick and his lovely wife Joanna (Mary Frann) decide to buy a genteel, but slightly shabby Stratford Inn in Vermont, where Dick can write while restoring the inn to its former glory. Helping out around the inn are George Utley (Tom Poston), a daffy caretaker who seems to be living on another planet of reason, and newly hired maid, Leslie Vanderkellen (Jennifer Holmes), a wealthy college student who's studying European History and Medieval Theology at Dartmouth, while training to be an Olympic skier. Providing the critical "wacky next-door neighbor" role necessary for most successful sitcoms, next-door diner owner Kirk Devane (Steven Kampmann), a habitual liar who craves Leslie's affections, pops in constantly to provide plenty of unasked-for help.
Newhart's basic structure cleverly plays to Bob Newhart's strengths (many of the characters roughly correspond to previous ones in The Bob Newhart Show, like Kirk with Dr. Jerry Robinson, and fuzzy George with discombobulated Howard Borden), while reinforcing that all-important "fairy tale" isolation one feels when watching the show. In the first episode, In the Beginning, the writers virtually eliminate any of the anxiety that the audience might expect to see with Dick and Joanna's difficult task in successfully running a rural inn, by having Dick state flatly that the Stratford doesn't need to see a profit: he makes more than enough from his books to run the inn at a loss. Dick only wants to possess the Stratford, and restore it to its former prime; guests are merely an afterthought (which would be noted by fans of the later seasons, when Dick hosts a TV show, and guests at the inn eventually dwindle away in the plots). Most savvy TV audiences, when presented with the Newhart storyline, would expect financial considerations to be a core element of many storylines, but the Newhart producers wipe that tension away in the first episode, allowing the fantasy elements of running an inn (weird, funny guests, no apprehension when an expensive furnace breaks down, full occupancy limited to one or two people) to take over.
And with those monetary considerations out of the way, Bob Newhart is free to just roam through the inn sets, unencumbered by sticky plot machinations, to deliver his martini-dry rejoinders while a fantasy world of gentle comedic misunderstandings revolve around him. From the opening strains of Henry Mancini's lovely, lilting theme, as the helicopter shots of scenic Vermont track in closer and closer to the quaint Stratford, the audience is immediately clued in to the series' charming whimsy, which, at this early stage in the series, is not as pronounced as it will be in later seasons, where the show evidently went towards Green Acres-like surrealism. Elements of that surrealism are present here, though, in the characters of Kirk and George. Kirk, an inveterate liar, continually spins tale tales to the point where even he doesn't know what's truth and illusion anymore. As for George, his spacey, fourth-dimension antics suggest otherworldliness, with a viewpoint that's hilariously skewed towards his own incomprehensible frequency (future surreal iconic TV characters Larry, Darryl and Darryl only make two appearances this first season, but it's obvious they're going to be bizarre, breakout characters).
Less successful are the women characters in this first season of Newhart. Joanna Loudon, Dick's gorgeous wife, has very little to do here, often acting as a mere catalyst for a situation, rather than as an integral part of the comedy - which wasn't the case for Suzanne Pleshette in the The Bob Newhart Show. Frann is fine as Joanna, but I'm not surprised that as the series progressed, Frann's presence on the show became defined more by her wardrobe (bejeweled, shoulder-padded sweaters) rather than by a role equal to Newhart's (tellingly, in probably the most famous final episode in TV history, Newhart went back to Pleshette for the brilliant conclusion of Newhart). Jennifer Holmes' maid Leslie has even worse luck. Ill-conceived from the start, with too much clunky backstory for the audience to latch onto (rich kid hiding from her wealth, pursuing useless college degree, pursued by Kirk, and an Olympic skier?), Holmes brought very little to the table, and was quickly shuffled off after this first season, to be replaced by her cousin, Stephanie (Julia Duffy), who makes an appearance here this season in the What is This Thing Called Lust? episode.
I found Kampmann quite funny as the habitually lying Minuteman Cafe owner Kirk, a role he only played into the following season before being written off in favor of the Larry, Darryl and Darryl characters (who eventually run his café). The writers wisely decided to keep Kirk absolutely true to form this season, never letting any hint of humanity show through for the character without also having a corresponding obnoxious lie accompany it. As for Poston, it's impossible to find fault with him because what he does with the George character is so brilliantly in tune with Newhart's chemistry and timing (their scenes together are invariably hilarious), that the subtly of his craft can often times get overlooked. Just as an example, in The Perfect Match, a boyfriend of Leslie's is describing the many wonderful trips and accomplishments of his life, including visiting Egypt, racing at Le Mans, and sleeping beneath Mt. Kilimanjaro, to which George replies, "Blake, you sound to me like you've traveled some." It doesn't sound like much of a joke on paper, but that's the art of Poston, whose dimwitted delivery on that line is such that it's paralyzingly funny.
As for Newhart, what more can be said about this genius? That word may be carelessly thrown around a lot, but I think it fits here, when you're talking about TV comedy. Nobody can do what Newhart does; he's a through-and-through original. His style is so deceptively simple, so pared down and reduced to the absolute barest minimum, that's it's easy to think he's "just being funny, just being himself." But that kind of razor-sharp timing comes from years and years of honing your craft. It's rare when Newhart gets an out-and-out, obvious punch line, because his skill is such that he can bring down the house by just rapidly blinking his eyes, and staring at the other characters in comprehending, but ever-patient bemusement. Frequently, Newhart's appeal is defined as a middle-American "everyman" persona, but I've always found the strength of Newhart's humor (at least on TV) comes from the dichotomy between his almost little-boy-lost innocence, and the savvy, iceberg-submerged, smart-assed sarcasm that lies beneath that unprepossessing façade and trademark reticent stammer. When you talk about the true greats of TV comedy, such as Gleason, Skelton, and Caesar, you have to include Bob Newhart in that pantheon.
Here are the 22, one-half hour episodes of the three-disc box set Newhart: The Complete First Season, as described on their slimcases:
DISC ONE:

In the Beginning
Author Dick Loudon and his wife, Joanna refurbish and operate the colonial-era Stratford Inn, where they meets an eclectic bunch of friends and neighbors.
Mrs. Newton's Body Lies A'Mouldering in the Grave
The Loudons try to procure a proper burial site when they discover that a woman's body is buried in the basement of the inn, only to find that the woman was tried and hung as a witch.
Hail to the Councilman
Dick is excited to run for a town council position, but soon discovers that local politics aren't quite what he'd expected.
Shall We Gather at the River?
It's time for the annual River Party, but Dick is on thin ice with Joanna, in spite of his best intentions.
This Probably is Condemned
When the Minuteman Cafe is shut down, the gang pitches in to help a neighbor in need. The problem is, that neighbor happens to be Kirk.
No Tigers at the Circus
Depression sets in when Dick's bid to have the Stratford Inn declared an historical landmark is denied.
The Perfect Match
Leslie's dashing high school sweetheart arrives at the Inn with hopes of winning her back, much to Kirk's dismay.
Some Are Born Writers, Others Have Writers Thrust Upon Them
At Joanna's urging, Dick agrees to help a struggling writer, but his well-meaning words of encouragement are taken a bit too far.
DISC TWO:

No Room at the Inn
It's a snowed-in Christmas Eve, and with no vacancies available, Dick tries to accommodate a young man named Joseph and his very pregnant wife.
The Senator's Wife Was Indiscreet
Dick and Joanna are caught in the middle when a friend of Leslie's arrives at the inn and announces that she's divorcing her husband, a prominent U.S. senator.
Sprained Dreams
Dick's first ski trip ends disastrously when he accidentally falls on Leslie, injuring her knee and jeopardizing her Olympic dreams.
The Way We Thought We Were
After a thirty-year absence, George is reunited with an old flame, but the couple soon discovers that memories can be deceiving.
The Visitors
The Loudons are disappointed when their fun-loving friends arrive for a stay and treat their gracious hosts more like innkeepers than friends.
What is This Thing Called Lust?
Kirk finds himself the object of wanton desire when Leslie's pretty - and engaged - cousin comes to Vermont for some pre-wedding relaxation.
Breakfast Theater
Dick tries to repay an old debt to a washed-up comedian, but Joanna's not laughing.
Ricky Nelson, Up Your Nose
The Loudons' plans to visit New York City are thwarted when Kirk checks into the hospital, leaving Larry, Darryl and Darryl in charge of the café.
DISC THREE:

A View from the Bench
Left in charge of the Inn, Joanna and Leslie prepare for a special guest, while Dick, Kirk and George head to Boston for a Celtics game.
The Boy Who Cried Goat
The café is robbed, and Kirk's dishonest past comes back to haunt him as he learns the hard way about telling the truth.
Heaven Knows, Mr. Utley
Although he's somewhat skeptical, Dick comes to George's defense when an out-of-this-world experience makes George the town laughing-stock.
You're Homebody 'Til Somebody Loves You
When Dick refers to her as a "homebody," Joanna takes some serious umbrage and applies for a job at a local travel agency.
Grandma, What a Big Mouth You Have
Kirk's grandmother arrives for a surprise visit just in time to accompany him on his long-awaited dream date with Leslie.
I Enjoy Being a Guy
Dick hits the links with the guys, only to discover that golf and gambling don't mix.
The DVD:

The Video:
For this first season of Newhart, the episodes were shot on crappy video (the first episode is horrendous looking, with dark, dark lighting - Newhart's eyes disappear into black sockets - and sound that makes it seem like you're watching a home video of your kid's high school auditorium-staged play), so the full-frame, 1.33 transfers don't look all that hot. A generally soft picture with moderate video noise may distract those accustomed to film-shot TV series (which Newhart would convert to in the next season).

The Audio:
The Dolby Digital English mono accurately recreates the original broadcast presentation; all dialogue (and the over-enthusiastic laugh track) can be clearly heard. Subtitles in English, French, and Spanish are available, as are English close-captions.

The Extras:
A couple of extras round out the Newhart: The Complete First Season boxed set. Guess Who's Coming to (Bed and) Breakfast? runs 4:01, and features Newhart discussing the real-life Waybury Inn in Middlebury, Vermont, that served as the visual stand-in for the fictional Stratford Inn.


Click here to see/hide various shots of the Inn used during the first season.
You Really Should Wear More Sweaters (3:46) features Julia Duffy discussing hers and Mary Frann's rather outrageous '80s makeup and costume choices from later seasons, a featurette which doesn't make a whole lot of sense showing up here, considering Duffy wasn't even a cast member this first season. And finally, Getting to the Heart of Newhart, running a healthy 18:13, features Newhart, Duffy, William Sanderson (Larry), and John Voldstad (the other Darryl), discussing the show and its impact on audiences. Poston and Frann's contributions to the series are discussed (both are deceased), but no mention is made of either Steven Kampmann or Jennifer Holmes, which is frankly insulting considering the prominence they have this first season (especially when we see Duffy again discussing her role on the show, when she only makes one appearance this first season).

Final Thoughts:
Never a fan of this '80s Nielsen hit, I found myself laughing pretty steadily during the 22 episodes of Newhart: The Complete First Season. More grounded in reality than the increasingly surreal later seasons, Newhart may have elements that don't work (specifically, the women characters), but there's still enough Bob Newhart genius in each episode to satisfy fans. I recommend Newhart: The Complete First Season, and I'm looking forward to giving subsequent seasons a second look.
---
Paul Mavis is an internationally published film and television historian, a member of the Online Film Critics Society, and the author of The Espionage Filmography.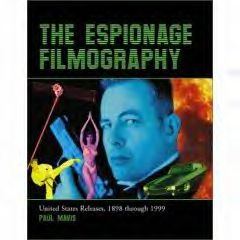 ---
C O N T E N T

---
V I D E O

---
A U D I O

---
E X T R A S

---
R E P L A Y

---
A D V I C E
Recommended
---
E - M A I L
this review to a friend
Sponsored Links
Sponsored Links