12 Angry Men: Collector's Edition
MGM // Unrated // March 4, 2008
List Price: $19.98 [Buy now and save at Amazon]
---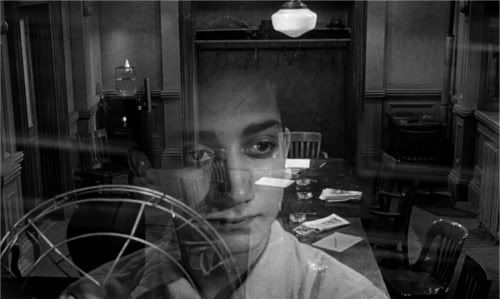 Thanks to the slow and drawn-out process of the American justice system, the phrase "legal thriller" is practically an oxymoron. Luckily, dramatic license often alleviates the pain. Whether fact or fiction, though, court cases have been fertile source material for television and films alike, from Perry Mason to A Few Good Men. Widely considered the benchmark for such a genre, Sydney Lumet's 12 Angry Men (1957) reminds us that our legal process is only as accurate as our own moral compasses. As Lumet's directorial debut, it remains a simple but effective courtroom drama...heavy on the drama, easy on the courtroom.
Led by Henry Fonda (who also served as a producer on the film), 12 Angry Men provides a clear example of why we shouldn't always follow the herd. Our title characters are jury members on a first-degree murder case, during which a teenager has been accused of killing his father with a switchblade. As reminded by the judge during the film's opening moments, all twelve members must agree on a verdict---and if pronounced guilty (which would incur a mandatory death penalty for the accused), it must be without a degree of reasonable doubt. Almost immediately following their deliberation, the jurors' close quarters are amplified by strong opinions, oppressively humid weather and an unfortunate lack of air conditioning. In short: eleven agree, and one does not.
In hindsight, it's easy to see that details of the nighttime murder dominate 12 Angry Men---yet in another sense, they're just part of the background. The names of the jurors aren't even important. Lumet's film, based on the play by Reginald Rose, offers a simple reminder that our justice system is based upon the phrase "innocent until proven guilty" and that all should be entitled to a fair trial, without question. That's the appropriately idealistic message of 12 Angry Men, pure and simple, yet it offers so much more. We can see our own personalities in fragments of the twelve jurors, often times letting personal biases and impatience cloud our judgment.
Exaggerated as it may feel during the film's 96-minute lifespan, 12 Angry Men remains poised and confident from start to finish. One wouldn't think that such a dialogue-driven drama---filmed in a cramped environment, no less---could remain visually appealing along the way, yet strong compositions are but one of the film's saving graces. Lumet and Oscar-winning cinematographer Boris Kaufman carefully experiment with vantage points and tight framing to focus on the claustrophobia, enhancing the atmosphere without drawing our attention away. Supporting performances by noted character actors Lee J. Cobb, Martin Balsam, John Fiedler, Jack Klugman, Ed Begley, Robert Webber and others are terrific all around, creating a diverse group of "everymen" that anchor the drama perfectly. More than just a tightly-wound microcosm, though, 12 Angry Men is the perfect example of a film being more than the sum of its parts: filmed in less than a month on a shoestring budget, this shining example of efficiency has held up amazingly well for more than 50 years.
Previously released as a non-anamorphic "Vintage Classics" disc in 2001, 12 Angry Men has received a long-overdue domestic upgrade from MGM for its 51st birthday. Sporting a clean new 16x9 transfer and a handful of new bonus features, this is a solid package available for under $20. It's doubtful that many film lovers wouldn't be familiar with Lumet's feature film debut---but if you're one of the few, 12 Angry Men is absolutely worth a blind buy. Let's take a closer look, shall we?
Quality Control Department
Video & Audio Quality
Presented in its original 1.66:1 aspect ratio and enhanced for 16x9 displays, 12 Angry Men looks uniformly excellent from start to finish. The majority of close-ups reveal strong levels of detail and clarity---and though a handful of shots suffer from notable amounts of grain, this appears to be a source material issue only. If nothing else, owners of the previous non-anamorphic release should certainly appreciate the visual upgrade.
The audio is more of a cut-and-dry affair, presented in its original English mono with optional Spanish and French dubs. Dialogue is cleanly recorded and easy to understand, while music cues and background noise rarely fight for attention. English and Spanish subtitles are offered during the main feature only, while Closed Captions are provided during the film and select bonus features.
Menu Design, Presentation & Packaging

Seen above, the appropriately simple menu designs are basic and easy to navigate. The 96-minute main feature has been divided into 24 chapters, while no obvious layer change was detected during playback. This one-disc release is housed in a standard black keepcase and includes no inserts of any kind.

Bonus Features

Leading things off is a feature-length Audio Commentary with film historian Drew Casper, who serves as professor of Critical Studies in the School of Cinematic Arts at USC. Casper is no stranger to audio commentaries, having provided recent tracks for Raoul Walsh's White Heat and Hitchcock's Lifeboat. His delivery remains scholarly, fast-paced and almost overly dramatic, though it's hard to deny that Casper is a veritable fountain of information. Plenty of details are uncovered during this track---and though it would've been nice to hear from director Sydney Lumet as well, he'll make his presence known soon enough.

Also included are a pair of short featurettes, starting with "Beyond A Reasonable Doubt: Making 12 Angry Men" (23:03). It's a generally straightforward affair, peppered lightly with interesting production tidbits; participants include Lumet, surviving cast member Jack Klugman (Juror #5) and several others. "Inside the Jury Room" (15:28) is of less interest but still worthwhile, as this legal-minded session takes a look at accuracy vs. dramatic license. Both featurettes are presented in 1.78:1 anamorphic widescreen and include Closed Caption support.

Missing from the previous non-anamorphic release is the film's theatrical trailer---a true disappointment, but hardly a deal-breaker. While an extravagant two-disc release would've been more appropriate for a film of this stature, 12 Angry Men: Collector's Edition remains a solid package for the asking price.

Final Thoughts

Focused and riveting from start to finish, Sydney Lumet's classic 12 Angry Men finally gets a noteworthy domestic re-release. The film has aged ever-so-slightly during the past 51 years, yet this potent social microcosm still feels as relevant as ever. Owners of the previous non-anamorphic edition should appreciate the visual improvements and a handful of new bonus features, while those new to the film on DVD will find this low-priced disc more than worth the price of admission. Highly Recommended.
---
Randy Miller III is an affable office monkey based in Harrisburg, PA. He also does freelance graphic design projects and works in a local gallery. When he's not doing that, he enjoys slacking off, second-guessing himself and writing things in third person.
---

---
C O N T E N T

---
V I D E O

---
A U D I O

---
E X T R A S

---
R E P L A Y

---
A D V I C E
Highly Recommended
---
E - M A I L
this review to a friend
Sponsored Links
Sponsored Links