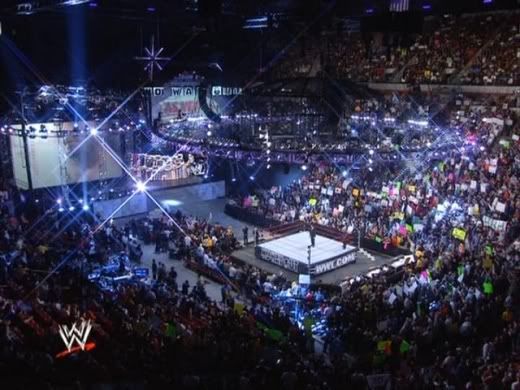 Somewhere between my affinity for globetrotting documentaries, Martin Scorsese films and The Criterion Collection, I found a soft spot for professional wrestling. Don't ask me how this happened; it just did. Despite this declaration, I shower daily, all my teeth are accounted for, I have a college degree...and, most importantly, I have a wife with the same merits. I'm not alone, of course. The wrestling fans I know aren't slack-jawed yokels; they simply appreciate the spectacle and illusion that this genuine sport creates, in the same way movie lovers enjoy fast-paced fights and thrilling chase sequences. Long story short: we know this stuff is "fake", but we like it anyway. Give us a break.
Though I haven't watched WWE on a regular basis for several years now, I've been able to scratch my wrestling itch with an online newsletter subscription, Ring of Honor releases and the occasional DVD review. As someone who has gradually drifted away from the inner bubble of the "smart mark" population, this means that I'm less likely to predict winners correctly...and, of course, I might not recognize a few of the participants. WWE regulars like Shawn Michaels, The Undertaker and Ric Flair have been around for a decade or three, but it's impossible to keep up with all the new folks and feuds unless you tune in regularly. Luckily, the WWE has maintained the tradition of creating fantastic video packages (read: trailers), which air directly before certain matches to keep casual fans up to speed.
No Way Out is WWE's regular February pay-per-view extravaganza...and the last before Wrestlemania, significantly enough. As one of the company's "minor" PPVs (read: not part of the Big Four), No Way Out began in 1998 as part of WWE's In Your House series of monthly PPVs and has remained relatively popular in the years since. The 2008 installment aired on February 17th, featuring a pair of Elimination Chamber matches and a trio of title defenses. The former should be relatively familiar to wrestling fans: as a cross between a steel cage match and a scaled-down Royal Rumble, the Elimination Chamber sees six athletes square off in a custom-designed steel and bulletproof-glass structure. It's a solid lineup on paper, to be sure, but did the actual event measure up? The complete card is listed below.
Complete Match Listing
(6 matches on 1 single-sided DVD)

Chavo Guerrero vs. CM Punk (7:06) [ECW Championship match]
The Undertaker vs. Batista vs The Great Khali vs. Finlay vs MVP vs Big Daddy V (29:28) [Elimination Chamber match]
Ric Flair vs. Mr. Kennedy (7:13) [Career Theatening match]
Rey Mysterio vs. Edge (5:27) [World Heavyweight Championship match]
John Cena vs. Randy Orton (15:51) [WWE Championship match]
Shawn Michaels vs. Triple H vs. Umaga vs. Chris Jericho vs. JBL vs. Jeff Hardy (23:54) [Elimination Chamber match]
For the most part, No Way Out 2008 is roughly on par with most of WWE's "minor" PPVs: mostly mediocre with a few bright spots. Whereas January's Royal Rumble was highlighted by a handful of solid matches and the surprising return of John Cena, this night feels slightly uneventful in comparison. To be fair, the Elimination Chamber matches are both excellent: at roughly 25 minutes or more, they're long enough to feel satisfying...and they're pretty exciting to boot. Everything else falls a bit short, unfortunately: most matches aren't given more than five or ten minutes, and one of the key championship matches is spoiled by a cheap ending. Even casual fans should have no trouble successfully predicting the bulk of these outcomes, from Ric Flair's no-brainer "Career Threatening" match to...well, anything that involves Triple H.
This may read like old news to WWE faithfuls, but the lightning-quick turnaround of this DVD release (five weeks!) will allow those who missed the pay-per-view to catch it before Wrestlemania XXIV airs on March 30th. WWE Entertainment has released No Way Out 2008 as a relatively barebones one-disc package, which pairs the three-hour event with a relatively solid technical presentation. Long story short: this may not be the strongest entry in recent memory, but No Way Out 2008 contains a few moments worth the time and attention of WWE fans. Let's take a closer look, shall we?
Quality Control Department
Video & Audio Quality
Presented in its (sort of) original 1.33:1 aspect ratio, No Way Out 2008 is easily on par with the most recent crop of WWE DVD releases. Colors are generally bold and bright, while black levels are typically solid. Mild pixellation and artifacts can be seen during certain pyrotechnic sequences, but these are generally kept to a minimum. Still, there's one major nitpick here: No Way Out 2008 was the second WWE pay-per-view offered in optional high definition, and we still haven't gotten so much as an anamorphic widescreen presentation on DVD. This certainly isn't a deal-breaker (especially considering the quick turnaround time), but one can only dream...
The audio is presented in a fairly standard Dolby Surround mix; likewise, it's roughly on par with recent WWE titles. Crowd noise and play-by-play commentary (also available in Spanish) come through loud and clear, creating a satisfying soundstage overall. Optional subtitles or Closed Caption support are not offered, unfortunately.
Menu Design, Presentation & Packaging

Seen above, the plain-wrap menu designs are basic and easy to navigate. This three-hour event has been divided into a scant 13 chapters, roughly one for each match or major backstage event. A handful of promotional ads and warnings (only some of which are able to be bypassed) precedes the main menu. This one-disc release is housed in a standard black keepcase and includes a handy chapter index.

Bonus Features

Not surprisingly, this one's practically devoid of extras. The only scrap is "Shawn Michaels Congratulates Ric Flair" (1:07), a post-match conversation in the locker room. It's odd that the pre-show dark match between Kane and Shelton Benjamin wasn't included as well, but them's the breaks.

Final Thoughts

While No Way Out 2008 proves to be slightly more engaging than some of the company's "minor" pay-per-views in recent memory, it's only a mild step up from what fans can see on Monday and Friday evenings. The Elimination Chamber matches are the only true standouts here: they're relatively lengthy and entertaining, easily overshadowing most everything else on the card. WWE's DVD presentation brings the event to your home (again) in record time, pairing a solid technical presentation with...well, not much else. No Way Out 2008 is mildly recommended for wrestling completists, though most fans should be happy with a once-over. Rent It.
---
Randy Miller III is an affable office monkey based in Harrisburg, PA. He also does freelance graphic design projects and works in a local gallery. When he's not doing that, he enjoys slacking off, second-guessing himself and writing things in third person.
---