That's it? Just a simple camera pan over from Samantha puttering around on the patio and poof! - a brand new Darrin, practicing his golf swing? And we're supposed to buy that? Sony is releasing Bewitched: The Complete Sixth Season, a four-disc, 30-episode collection of one of the most infamous seasons in network TV history. A recasting switcheroo that left audiences nonplused and provided fodder for stand-up comics for the next three decades, this 1969-1970 season of Bewitched introduced the world to "the second Darrin Stephens" in the form of Dick Sargent, and set into motion the slow spiraling down of what was one of the biggest TV hits of the 1960s.
I'm sure many others had the same experience I had growing up watching reruns of Bewitched; often times with local stations not airing the episodes in chronological order, one day you might have Dick York as Darrin, and then the next, Dick Sargent. It was one of those inconsistencies of logic and continuity that most viewers learn to accept fairly early in their TV-watching lives, but there was no denying the fact that York was simply funnier as Darrin, and a "second Darrin" episode was usually one you could take or leave. Since I've reviewed previous seasons of Bewitched (please click here to read my detailed take on the series' aesthetics in Season Four, and here to read my take on Dick York's final turn in Season Five), before sitting down to watch Bewitched: The Complete Sixth Season, I made a conscious effort to view Sargent's take on Darrin without prejudice. It's been some time since I've seen his interpretation of "Durweed," so why not come to it clean and fresh, with no preconceived notions?
Unfortunately, it was almost impossible to do. While it's common knowledge that Dick Sargent was actually signed to be the first Darrin way back in 1964 (he had to decline because he was under contract to Universal), it's difficult to see anybody in the role other than Dick York. York, a spiritual antecedent, if you will, of Jim Carrey, was flat-out brilliant as Darrin, mixing an astonishing array of hilarious facial contortions with the classic button-down frustrations of a suburban second banana - as well as the convincing romantic lead moves on Montgomery - to achieve a lasting comedic creation. How could anybody follow that, regardless of their skill?
There have been comparisons ad nauseam between York's and Sargent's style, with the general consensus being that Sargent's icy, icky meanness is no match for York's peripatetic yet endearing insanity. And in all fairness I have to agree. Despite a claim that Montgomery actually preferred Sargent's approach to the role (a claim that might have been influenced by the last troublesome years of York's tenure), it's hard to see anything approaching York's inspirational lunacy in Sargent's detached, aloof portrayal. Granted, it must have been extremely difficult to come back to a show he had originally been signed up for, which was the highest rated show on that network, and work with a family of technicians and writers and performers who may have felt he was at best, intruding (evidently, brittle Agnes Moorehead made it perfectly clear to Sargent that she preferred York, which would have been a humiliating experience for any actor).
But Sargent, despite these drawbacks, does almost nothing to endear himself to the audience. Most successful actors have learned little tricks to keep an audience on their side, regardless of the role their playing, tricks that prove particularly essential when you're performing in a network sitcom. After all, a TV actor is asking viewers to welcome him or her into their homes on a weekly basis. Gorgeous Montgomery had this technique down pat; years and years after Bewitched ended, and even after image-shattering roles such as her truly brilliant, scary turn in the TV movie classic, The Legend of Lizzie Borden, she still had a Q-rating that went through the roof. Audiences loved her. However, Sargent employs nothing to get the audience rooting for him - which would seem imperative considering he's taking over for the beloved York. Alternately bland or strangely arch and uncomfortable (watch how he stands, with his arms weirdly akimbo - it's as if he wants to be anywhere but on that set), Sargent disappears on the screen next to Montgomery (perhaps that's why she preferred him to York?).
There's a tightness to Sargent's eyes, a mean sort of squint that, matched with his gaunt head and thin mouth, makes for a much less sympathetic Darrin Stephens. In previous seasons, much of the comedy came from feeling sorry for York - while at the same time laughing at his frustrations - as he endured one humiliation after another at the hands of the perfidious, incessantly cruel Endora (Agnes Moorehead). In this sixth season, there's no end to the games Endora plays on Dum-Dum, but curiously, we don't really care how - or indeed if - he's brought out of the spells. Sargent just doesn't engender any sympathy for Darrin, and therefore, he becomes just another prop to be manipulated by the Bewitched crew. Even worse, the romantic element that was so essential to the early success of the series, which York and Montgomery pulled off with believable aplomb, is totally negated with Sargent, who is visibly, noticeably uncomfortable kissing the game but obviously compensating Montgomery (it was acknowledged all the way around the Bewitched cast and crew that Sargent, a closeted homosexual at the time, was at a loss in conveying the necessary passion for his kissing scenes with Montgomery). Obviously, the recasting of Sargent (which probably everyone thought was a natural, considering he was the original first choice for the role) in the Durweed role proved unsuccessful from almost every standpoint.
To be fair, though, it's not all Sargent's fault. Montgomery and her husband, series producer and director William Asher, had wanted season five to be the last go-around for Bewitched in the first place, and York's instability seemed like a perfect out for the couple. Both expressed fatigue with the daily grind of the show, as well as pointing out (correctly) that the show had pretty much already run its course. There was little to say or do in Bewitched after the fifth season, that viewers hadn't already heard or seen in previous seasons. But perennially hit-starved ABC wasn't going to let their highest-rated show for the past five years fold up without a fight. With more money and ownership in the show offered to the couple, Montgomery and Asher signed for three more years, but clearly, the show was on auto-pilot by this sixth season.

It's not that the episodes are particularly poor this season, but for the most part, they're bland and half-hearted in spirit (with some cost-cutting special effects - like some exceedingly poor blue-screening - that don't help, either). Uncle Arthur, played by that hilarious genius Paul Lynde, was always good for stand-out episodes of any season of Bewitched, but here, his two appearances (A Bunny for Tabitha and Super Arthur) fall relatively flat, perhaps because the humor in general for season six of Bewitched had become more slapstick oriented, rather than verbal. The introduction of semi-regular Alice Ghostley as befuddled maid/nanny Esmeralda (to replace beloved Aunt Clara, played by Marion Lorne who had died the previous season), doesn't work because she's so obviously a replacement, a substitute for the screwy Aunt Clara, and not her own identifiable character. Most notably, the introduction of baby Adam does little at this point to provide much needed energy into the series; he's only seen in a few episodes and almost never referred to in others, as if he doesn't exist. Cute little Erin Murphy was by this point rapidly becoming quite a funny little child actor (watch her naughtily say, "No!" to Samantha in Samantha and the Beanstalk, only to quickly add, "I'm doing it, I'm doing it!" when Samantha threatens her with a little corporal punishment), but there was only so much they could do with her, considering her still young age, and her stories quickly became repetitive.

Perhaps most distressing - and a clear indication of where the series was eventually going - were the performances of Elizabeth Montgomery here. My understanding is that she and Asher were starting to go through difficult personal troubles at this time; whether that was a factor in her performances, or whether it was the replacement of York, or just the general decline in the quality of the scripts, it's hard to say. But Montgomery, usually luminous in her portrayal of Samantha, is noticeably on edge at times, and distracted, with a tension to some of her scenes that's out of character with previous seasons.

It's difficult to determine what, if any, of these factors were picked up on by viewers at the time, but certainly, something happened in Bewitched's sixth season that started to push away viewers. Ending the 1967-1968 season with a still impressive 11th place showing for the year, this 1969-1970 season of Bewitched ended in a tie for 24th place (with The NBC Saturday Night Movie and The F.B.I.). While still hit-starved, ABC had several other shows that routinely beat Bewitched's numbers, including future monster hit Marcus Welby, M.D., The Johnny Cash Show, the influential ABC Movie of the Week, and the teen-hit The Mod Squad. Sandwiched in-between underperformers on Thursday nights (The Ghost and Mrs. Muir and That Girl opened the evening, and This is Tom Jones and It Takes a Thief brought the evening to a close), Bewitched was getting hammered by the competition (the first half-hour of NBC's Ironside, 15th for the year, and the last half-hour of CBS' The Jim Nabors Hour, which ended up 12th in the Nielsen's for the year). Perhaps it wasn't just the Darrin switcheroo and a scripting decline. Perhaps audiences just had reached their fill of the Stephenses; perhaps the rapidly changing times, not exactly reflected at 1164 Morning Glory Circle, made Bewitched seem tame and out-of-date. It's hard to say. But the show would struggle on for two more seasons before America would finally say goodbye to Darrin and Samantha.
Here are the 30, one-half hour episodes of the four-disc boxed set Bewitched: The Complete Sixth Season, as described on their slimcases:
DISC ONE

Samantha and the Beanstalk
Tabitha visits the fairy tale world of Jack and the Beanstalk and offers her home to Jack after deciding that her expectant parents prefer boys to girls.
Samantha's Yoo-Hoo Maid
Darrin and Samantha welcome their new maid Esmeralda, a shy witch who fades in and out when she's nervous and conjures up accidental witchcraft every times she sneezes.
Samantha's Caesar Salad
Julius Caesar makes an unexpected visit to the 20th century when Esmeralda accidentally conjures up the Emperor instead of the salad.
Samantha's Curious Cravings
Expectant mother Samantha is having cravings, but there's a problem - every time she thinks about food it magically appears in her hand!
And Something Makes Four
Samantha gives birth to a healthy baby boy, but joy soon turns into chaos when Maurice casts a spell that makes everyone in the hospital fall in love with his new grandson.
Naming Samantha's New Baby
It's a battle between the grandfathers when Maurice learns that his new grandson was not named after him.
To Trick or Treat or Not To Trick or Treat
Endora uses her witchcraft to transform Darrin into the ugly old witch he depicted her to be, and will not remove the spell until Samantha promises to cancel her Halloween festivities with Tabitha.
A Bunny for Tabitha
At Tabitha's birthday party, Uncle Arthur accidentally changes her new rabbit into a Playboy and he has trouble reversing the spell.
DISC TWO

Samantha's Secret Spell
Endora decides to permanently change Darrin into a mouse at the stroke of midnight, so Samantha seeks a counterspell to prevent the transformation from happening.
Daddy Comes for a Visit
Darrin reluctantly accepts a watch from Maurice that enables him to perform witchcraft, but he soon finds it difficult to resist the benefits that come with being a warlock.
Darrin, the Warlock
With Darrin's powers going to his head, Samantha wonders if he's still the same man with whom she originally fell in love.
Samantha's Double Mother Trouble
Samantha's mother-in-law appears at her door announcing that she has left her husband forever (again). Meanwhile, Esmeralda has accidentally sneezed up Mother Goose out of Tabitha's storybook.
You're So Agreeable
Endora casts a spell on Darrin that has him saying "yes" to everything, but his agreeable state of mind costs him his job after he offends an important client.
Santa Comes to Visit and Stays and Stays
Santa Claus is stuck at the Stephenses' house after Esmeralda accidentally conjures him up the night before Christmas Eve.
Samantha's Better Halves
Flashbacks recall the time that Endora divided Darrin in two so he could simultaneously attend an important business meeting in Japan and tend to his expectant wife.
Samantha's Lost Weekend
Samantha goes out of control on an eating binge when she drinks a hexed glass of milk that Esmeralda had intended for Tabitha to stimulate her appetite.
DISC THREE

The Phrase is Familiar
Darrin is running at the mouth speaking in nothing but cliches thanks to Endora's spell.
Samantha's Secret is Discovered
Darrin's mother catches Samantha in the act, but when the Witches Council temporarily revokes her powers, Samantha must find another way to convince her mother-in-law that she has not lost her mind.
Tabitha's Very Own Samantha
Tired of always being second to the new baby for her mother's attention, Tabitha conjures up her own personal Samantha that she does not have to share with the rest of the world.
Super Arthur
It's a bird!...it's a plane!...no, it's Uncle Arthur taking to the skies as Superman while he awaits a cure from Dr. Bombay for his ailing powers.
What Makes Darrin Run
Endora's attempts at inspiring Darrin with a little ambition backfire as her spell makes him so power-crazed he is determined to take over at McMann & Tate.
Serena Stops the Show
Serena wants Boyce & Hart to perform at her Cosmos Cotillion, but they are booked solid. In an attempt to free up their schedule, she casts a spell that transforms the duo into a pair of undesirables. This is bad news for Darrin, as he was hoping to use the popular singers in his client's TV commercial.
Just a Kid Again
Tabitha changes a toy store salesman into a boy after he confesses that he would like be nine years old again.
DISC FOUR

The Generation Gap
A client's college-aged daughter is hot for Darrin thanks to a little witchy interference from Endora and Serena.
Okay, Who's the Wise Witch?
The Stephenses' home is sealed off by a witchcraft vapor lock, resulting from Samantha's non-use of her powers on a daily basis.
A Chance on Love
While subbing for Samantha selling raffle tickets in a hotel lobby, Serena bumps into and flirts with an attractive man, unaware he is Darrin's client.
If the Shoe Pinches
Endora enlists the help of a nasty leprechaun to torment Darrin. The leprechaun gives him a hexed pair of shoes that render him lazy while he's trying to complete some work for an important account.
Mona Sammy
Thanks to a little magic and manipulation by Endora, Darrin is credited with painting a portrait that the Tates believe is Samantha. Actually, it's a great aunt of hers, but it looks just like Sam. Now, an envious Louise is just itching for Darrin to paint a portrait of her.
Turn on the Old Charm
Tired of the daily dose of harassment that Endora bestows on Darrin, Samantha gives him a magic amulet that transforms her mother into a loving mother-in-law whenever she is around her son-in-law!
Make Love, Not Hate
A dinner party with the Stephens family turns into disaster when a love potion intended to help Esmeralda attract a man finds its way into the clam dip.
The DVD:

The Video:
The full-screen, 1.33:1 video transfers for Bewitched: The Complete Sixth Season vary slightly in quality, depending on the original elements. Some episodes have a definite pink cast, indicating some very old elements were used for those transfers. Most, though, look fairly good, with strong color, minimal screen anomalies, and a generally sharp picture.

The Audio:
The Dolby Digital English mono soundtrack accurately represents the original broadcast presentation; all dialogue is crisply rendered. French, Spanish and Portuguese mono tracks are available, as are subtitles in these languages (except for French). English close-captioning is available.

The Extras:
There are two "Minisodes" included on the Bewitched: The Complete Sixth Season boxed set: The Eleven Year Itch from The Partridge Family, and Where'd You Go-Go from I Dream of Jeannie. Besides the relative sacrilege of having a Jeannie episode featured on a Bewitched disc (they're mortal enemies, you know), these severely abbreviated minisodes are about the most objectionable butchering I've ever seen of classic TV shows. What is the possible reason for their existence? For people whose attention span can't handle a mere thirty-minute sitcom? A hideous extra.

Final Thoughts:
The series, according to its star and producer, had already run its course in the prior fifth season, but monetary concerns won out, and Bewitched came back for an additional three season run. Unfortunately, it did so without the brilliant Dick York, who was let go at the end of the 1968-1969 season. His replacement, Dick Sargent, may have been the original first choice for the role, but he adds absolutely nothing here to the Bewitched dynamic, except for his curiously strained, pinched, mirthless performance. I can't not recommend Bewitched: The Complete Sixth Season because this infamous season will no doubt appeal to fans who have followed the show all along and will want to see the de-evolution of the series. But it's not pretty. I recommend Bewitched: The Complete Sixth Season.

Paul Mavis is an internationally published film and television historian, a member of the Online Film Critics Society, and the author of The Espionage Filmography.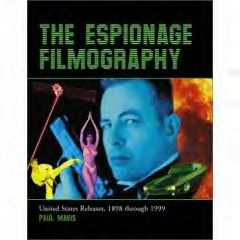 ---