List Price: $14.95 [Buy now and save at Amazon]
---
Winnie-the-Poop. Genius Entertainment has released, in what the DVD box cover touts as part of their Maneater Series, Grizzly Rage, a pathetically undernourished effort from director David Decoteau (he of Sorority Babes in the Slimeball Bowl-O-Rama and Test Tube Teens from the Year 2000 fame). Anyone hoping to experience even the slightest bit of drive-in schlocky fun in Grizzly Rage will be sorely disappointing by this bearly watchable dreck.
Plot synopsis should be a snap...since there isn't one. Four annoyingly rich and smug teenagers, just graduated from high school, pile into their friend Sean's (Graham Kosakoski) Jeep and head off for their annual summer vacation. Posers of the first hilarious magnitude, the rest of this inane "posse" include Wes (Tyler Hoechlin), the poetic one (he recites something - badly - at the beginning to impress us); Ritch (Brody Harms), for whom the screenwriter apparently couldn't summon up any distinguishing characteristics, and potentially sexy (looking very much like Tara Reid after a good, strong, hot shower and subsequent disinfecting) Lauren (Kate Todd), who doesn't appear to "be with" any of the guys.
Sean, making a spur of the moment decision to change route plans, gets the group to agree to go to Saranac Grotto, which is evidently a notorious restricted wooded area (the film just assumes we're going to decipher that - like a lot of things in this movie). Once inside the gated-off area, out in the middle of nowhere, Sean the 4-Wheeler quickly cracks up the Jeep after he runs over a bear cub. Almost immediately, the Scooby-Dumbass gang are threatened by the cub's mother, who relentlessly stalks the group (i.e.: shuffles around wherever its trainer throws food) in a day and night of unrelentingly terror. I mean utter boredom.
DO YOU REALLY NEED A SPOILERS ALERT FOR THIS CRAP?
Anyone who grew up during the '70s knows that the Gone With the Wind of grizzly attack flicks is director William Girdler's masterpiece, Grizzly ("18 Feet of Gut-Crunching Terror!"), followed closely by Werner Herzog's recent documentary, Grizzly Man ("You're the king, Mr. Brown Bear! You're the king! OH, CHRIST! IT'S BITING MY F*CKING HEAD!"). Paws down, you've got to go a long way to top those two, but I was hoping that Grizzly Rage could, at the very least, provide some minor thrills (a bear-induced torn-off limb, a nice bear stomp to the head, some nudity besides Wes taking off his shirt) that even a first-year film grad should have been able to wrestle out of Grizzly Rage's premise. I mean, this isn't rocket science. It's a bear attack movie. Show the bear. Show some teeth. Show some claws. Show some people sliced, diced, munched on and stomped (preferably in that order).
Alas, such is not to be in Grizzly Rage. Nothing works the way it should in Grizzly Rage, with poor scripting, poor plotting, poor direction, poor acting, and poor special effects pretty much making up a piss-poor attempt to craft an adequate exploitation piece. The story, such as it is, is remarkably sparse, which could have been to the film's benefit, had it been executed with even a modicum of talent or skill. After all, who needs exposition or character development in this kind of film? Just get on with the gnawing and the ripping, and have done with it. But Grizzly Rage introduces two subplots - a swamp filled with toxic waste and an abandoned shed, decked out with all kinds of bones and killing implements, like something out of The Texas Chainsaw Massacre - that are briefly alluded to (the swamp scene is literally one shot) and then totally abandoned or ignored. What's up with the swamp? Did it make the bear the way she is? Or was it the cabin? Did the bear hold a grudge against the hunters that used to live there? We'll never know.
Even worse is the dialogue from screenwriter Arne Olsen (who penned what may be Burt Reynolds' worst movie - and that's saying something, brother - Cop and ½). When we first see the four obnoxious characters who are to be the heroes of the film, their clichéd intros are: "Yo, G!" "Who's my boy?" and "Livin' large!" When I heard that, I immediately scratched down in my notes, "Which member of the Poser Mobile posse do I want dead first?" - and I couldn't decide. They all deserved it, right in the neck. The kicker, though, for utter inanity in Grizzly Rage, has to come during the interminable wait in the Jeep, when Lauren and Wes ponder life's mysteries in connection with random, horrific bear attacks. Lauren, in a philosophical mood, postulates that the group deserved their punishment because she backed up into a parked car once at a party. And she's being punished for that. I kid you not.
Hilarity continues in the film's direction, or lack there of, to be more accurate. It's bad enough that Decoteau puts us to sleep in the first half hour with our teen morons (he can't even shoot their Jeep mugwhamping with any verve, often recycling the same twenty yard stretch of trail with the car action footage sped up), but fatally, he can't make the bear attacks worthwhile because we never really see the bear attack anyone! I mean, what the hell? You never see the bear in the same frame as any actor, which obviously indicates someone either shot the bear stuff separately, or the actors and trainer were scared to death something tragic might happen. Which doesn't seem plausible because the bear featured in Grizzly Rage is about the slowest, sleepiest, most non-threatening bear I've seen since the giggling Snuggles® laundry bear popped out of my load of whites (where he was promptly returned to the dryer on "High Heat").
But that's not surprising, because everything is cheated in Grizzly Rage. We never really see the Jeep smack the bear cub (could have been a good Orca: The Killer Whale-type moment), we never see any nudity (let's face it: a must in this kind of film, and Kate Tood looks up to the job), and we never see the bear actually maul or tear into someone. Instead, we get these hilariously fake, G-rated blood splatters superimposed (right out of the elevator scene in Earthquake) over murky, muddy frames that made Disney's The Bears and I look like Dario Argento by comparison. And when you don't have blood, and gore, and gut-crunchin', and ripped-off limbs, and stomped-on heads in a bear-attack film, you have nothing.
The DVD:
The Video:
Shot on HD, the anamorphically enhanced, 1.78:1 widescreen image for Grizzly Rage looks surprisingly good, with a sharp, bright image and no compression issues I could spot. Unfortunately, the location work is just as lame as all the other elements in Grizzly Rage, so don't count on any scenic benefits. Quite appropriately, most of Grizzly Rage is shot in a large quarry pit. In other words: a hole.
The Audio:
The Dolby Digital English 5.1 stereo track is incorrectly mixed, with "crucial" (hee hee) dialogue often muddied by the anonymous music cues. There are no subtitles or close-captions.
The Extras:
There are no extras included for Grizzly Rage.
Final Thoughts:
Timothy Treadwell had it better, believe me. Grizzly Rage fulfills none of the requirements of a bear attack exploitationer: no blood, no gore, no severed limbs, no crushed-in heads, and no discreet nudity. Note to filmmaker: if you're going to try and film a movie where you want people to believe that a grizzly is killing people - put the goddamn bear in the same freckin' frame, for chrissakes! Jesus! Skip Grizzly Rage.
---
Paul Mavis is an internationally published film and television historian, a member of the Online Film Critics Society, and the author of The Espionage Filmography.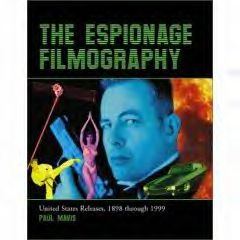 Sponsored Links
Sponsored Links