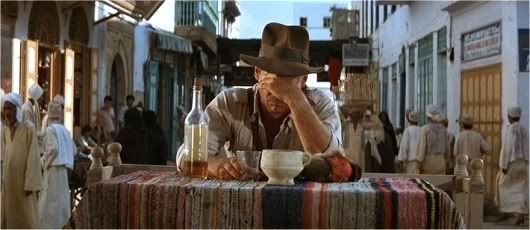 Originally conceived in 1973 by a notably less wealthy George Lucas, the character eventually known as Indiana Jones paid tribute to the action-packed serials of seventy-odd years ago. Everyone's favorite globetrotting archaeologist would eventually become the star or three highly successful films during the 1980s---and with comic books, TV shows, merchandise and the upcoming release of the fourth big screen installment, the Indy franchise has left quite a legacy during the past few decades. Harrison Ford (fresh from his fan-favorite portrayal of Han Solo in Star Wars and The Empire Strikes Back) first portrayed Jones in Raiders of the Lost Ark (1981, above), displaying a strong screen presence that deftly combined bravery, intelligence and self-deprecation. As Lucas completed production of the first Star Wars trilogy, he and director Steven Spielberg would focus their attention squarely on Indy and friends.
Most movie fans should be familiar with the boulder-dodging, snake-hating, artifact-collecting man's man, but Raiders of the Lost Ark is a perfect primer for those new to the franchise. Our story revolves around Dr. Henry "Indiana" Jones (Ford) and his search for the sacred Ark of the Covenant during the 1930s...which the Nazis are also hunting for, just to make things interesting. Aided by Indiana's arch-enemy Rene Belloq (played by Paul Freeman), the Nazis prove to be quite a challenge---but with the aid of Indy's former girlfriend Marion Ravenwood (Karen Allen) and his colleague Sallah (John Rhys-Davies), the good doctor seems to have a fighting chance.
Nominated for eight Academy Awards (including Best Picture) and winner of four, Raiders of the Lost Ark stands as one of the most financially successful films of all time---especially considering it was made for only $20M in 73 days, by a young director notorious for going overbudget and overschedule. Peppered with ingenious special effects by Industrial Light and Magic, Raiders of the Lost Ark still looks impressive from start to finish. The strong performances, stirring score and well-paced story makes Raiders a dynamic film that could've stood on its own two feet perfectly---but the story doesn't end there, of course. Most films that rake in nearly $400M in box office receipts will be called back for an encore or two.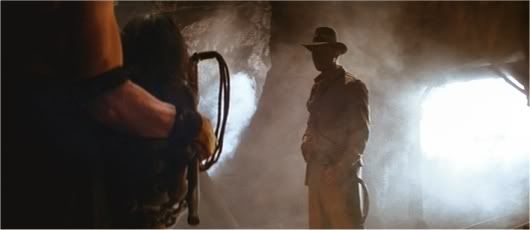 Enter Indiana Jones and the Temple of Doom (1984, above), the admittedly darker follow-up to Raiders. Set roughly a year before the first adventure, Temple of Doom follows Indy from the streets of Shanghai to a remote Indian village after a plane crash. The village's sacred Sankara stone and all of the local children have gone missing, with all signs pointing to a mysterious cult led by the ruthless Mola Ram (Amrish Puri). Flanked by the beautiful singer Willie Scott (Kate Capshaw) and Indy's young friend Short Round (Ke Huy Quan), our hero's adventure in Temple of Doom is easily the most disturbing of the three films...and probably the weakest overall, though it's got plenty of action and suspense. Still, this successor to Raiders is a worthy companion piece to the Jones franchise, if only due to the rousing third act and potent special effects.
Where Temple of Doom falls short, of course, is in the character department. Willie Scott is hardly a replacement for the feisty but irresistible Marion Ravenwood, though her spoiled, selfish antics provide a modest amount of comic relief. Short Round is another weak link on the same level as Scrappy-Doo and the Ewoks: he might do a little bit to move the plot along, but he's obviously just there for the kid appeal. Temple of Doom is easily the most violent and stomach-churning of the three...and actually contributed to the creation of the PG-13 rating, along with Spielberg's own Gremlins during the same year. It's still a capable enough film and certainly worth watching, but Temple of Doom is the least essential installment of the trilogy.
Luckily, Indy's original adventures went out on a high note with Indiana Jones and the Last Crusade (1989, below), which pairs a reluctant Indiana with his estranged father (Sean Connery). Kidnapped by Nazis while pursuing the Holy Grail (Jesus' cup used at the Last Supper, according to Christian belief), the elder Dr. Jones' diary eventually finds its way to Indiana. This time around, the famed adventurer joins his mentor Marcus Brody (Denholm Elliott) and Dr. Elsa Schneider (Alison Doody) to complete the task of finding his father...and of course, the sacred relic. The temptation of acquiring the Grail (which promises eternal life to those who drink from it) and the true allegiance of certain party members---not to mention the curious relationship between the father and son---make The Last Crusade a rousing conclusion to the series and a terrific film in its own right.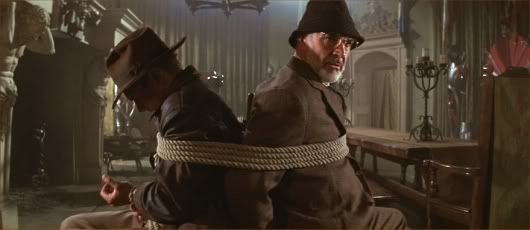 The Last Crusade comes startlingly close to Raiders as my favorite Indiana Jones movie, if only because it's the first one I saw during its original run (I was a bit too young to appreciate the first two upon their release, and I might've peed my pants anyway). The comedy, adventure and suspense seem to be perfectly balanced here---and combined with the same terrific special effects, score, atmosphere and stunt-work, the end result is a potent one indeed. Those new to the series should find it a satisfying "conclusion" to the trilogy, while die-hard Indy followers should agree that it's aged quite gracefully. Fans of the franchise were treated to an excellent multi-disc boxed set containing all three films roughly five years ago...but similar to Raiders, the story doesn't end there.
Presented on DVD once again by Paramount, owners of the 2003 boxed set will find The Adventure Collection staggeringly similar. From the admittedly excellent technical presentations to the heavily filtered menu designs, this 2008 collection only adds a handful of new bonus features to the pot. They're relatively entertaining and certainly well-produced, but the upcoming release of Kingdom of the Crystal Skull is the real reason why The Adventure Collection has seen the light of day. Let's take a closer look, shall we?

Video & Audio Quality
Presented in their original 2.35:1 aspect ratios and enhanced for 16:9 displays, all three Indiana Jones films look terrific from start to finish. Please note that these appear to be the exact same transfers as those found on the 2003 boxed set...so don't expect "new and improved" and you won't be disappointed (not that you should be, in any case). The films' earthy color palettes have been preserved well, image detail and black levels are solid, and dirt and debris are kept to a strict minimum. Until high-def releases are announced, it looks like we'll have to keep waiting for technical upgrades.
Likewise, the Dolby Digital 5.1 mixes are identical to the previous releases---and again, Spanish and French dubs are also included. The atmosphere of all three films is immersive and dynamic: featuring clean, clear dialogue and plenty of surround activity, many scenes are punctuated greatly by strong music cues and startling sound effects. It's a shame that the original mixes still aren't on board for purists, but it's tough to complain about the quality on display here. Optional English, Spanish and French subtitles are included during the main feature and bonus material.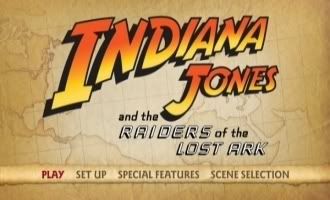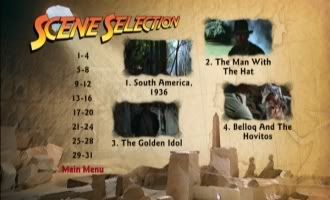 Menu Design, Presentation & Packaging

Seen above, the heavily filtered menu designs from the previous release are still on board. Each film has been divided into several dozen chapters; thankfully, the layer changes are well-placed and don't distract from the main features. The packaging for this release offers the only advantage over the 2003 boxed set: it's a space-saver, as each film is housed in a slim plastic case instead of the traditional Amaray. Cover artwork is fairly similar to the previous efforts, though slightly modified in color and composition. The outer box is foil-enhanced---and aside from the plain white background, it looks pretty nice.

Bonus Material

Here's where things get a little tricky: we do get a decent collection of new extras here, but the excellent bonus disc from the 2003 box (which contained more than three hours of featurettes and promo material) is nowhere to be found. For the optimists: those who own both sets will have plenty to dig through...and none of it overlaps, conveniently enough. For the pessimists: the new material is hardly worth double-dipping for, especially with the combined lack of a technical upgrade.

Raiders of the Lost Ark leads off with an Introduction with Steven Spielberg and George Lucas (7:48), mixing a bit of behind-the-scenes footage and production photos with recent talking head-style interviews. We're also treated to "Indiana Jones: An Appreciation" (11:40), featuring interviews with cast members of Kingdom of the Crystal Skull as they look back on the trilogy with admiration and respect. This one can't help but feel promotional for obvious reasons, but it's worth a look nonetheless. Up next is "The Melting Face" (8:49, below left) a brief technical featurette about the infamous death sequence in Raiders. This is one of the more enjoyable extras in the bunch, revealing a few practical secrets without giving too much away. Winding things down is a Storyboard Sequence for Raiders' "Well of Souls" scene (4:13), a handful of Photo Galleries (featuring illustrations, props, marketing and more) and a Game Trailer for "Lego Indiana Jones: The Original Adventures". A Trailer for Kingdom of the Crystal Skull also plays prior to the main menu.

Temple of Doom begins with another Introduction with Steven Spielberg and George Lucas (5:48), featuring more behind-the-scenes footage and retrospective thoughts. "The Creepy Crawlies" (7:59, below right) is up next, highlighting some of the hair-raising animals featured in each of the three films. "Travel With Indy: Locations" (9:02) is a like-minded featurette, bouncing around from film to film while discussing some of the landmark locales (NOTE: "Creepy Crawlies" and "Travel With Indy" both include optional pop-up trivia tracks). This second disc winds down with another Storyboard Sequence (this time, for Temple of Doom's "Mine Cart Chase" scene [2:30]), more Photo Galleries and the Trailers for the Lego game and Kingdom of the Crystal Skull.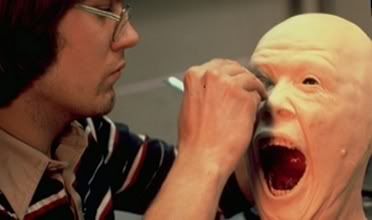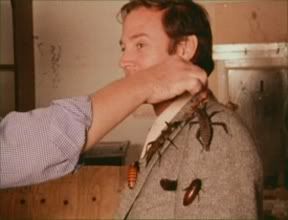 The Last Crusade begins with another Introduction with Steven Spielberg and George Lucas (6:13), and follows up with "Indy's Women: The American Film Institute Tribute" (9:22), a roundtable discussion with leading ladies Karen Allen, Kate Capshaw and Alison Doody. "Indy's Friends and Enemies" (10:46) continues the character focus, highlighting some of the memorable supporting characters from all three adventures. This third and final disc wraps up with another Storyboard Sequence (this time, for Last Crusades's Opening sequence [3:40]), more Photo Galleries and both Trailers already mentioned above. This is undoubtedly the lightest of the three discs, if only due to the lack of attention paid to the singular film at hand.
All bonus features are presented in anamorphic widescreen, while older snippets of promo material and behind-the-scenes footage are smartly window-boxed. Thankfully, optional English, Spanish and French subtitles are also included here, rounding out the overall presentation nicely. Overall, these new extras don't hold a candle to those found on the excellent 2003 bonus disc, but they're fairly entertaining and informative in their own right.
Five years have passed since Indiana Jones debuted on DVD, but this double dip proves that some studios get it right the first time. The films themselves have aged quite gracefully, from the rough-and-tumble Raiders of the Lost Ark to the dysfunctional family affairs of Last Crusade. This three-disc set offers a handful of new bonus features, none of which overlap directly with the previous release. But with scarcely 90 minutes' worth of extras (compared to double that on the 2003 bonus disc) and the lack of a technical upgrade, it's tough to recommend as a good value for the money. Even so, this compact collection has still been packaged with care, earning at least a weekend viewing for those interested in the new extras. Those who don't own Indy yet should either buy the 2003 release...or wait for the inevitable boxed set after Kingdom of the Crystal Skull makes its way to DVD. Rent It.
---
Randy Miller III is an affable office monkey based in Harrisburg, PA. He also does freelance graphic design projects and works in a local gallery. When he's not doing that, he enjoys slacking off, second-guessing himself and writing things in third person.
---