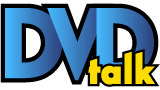 Adventures of Mini-Goddess, The
Pioneer // Unrated // February 12, 2002
List Price: $29.99 [Buy now and save at Amazon]
---
The Story: "One day, three goddesses appeared at the house of an average college student. The three use all kinds of powers in an effort to make people happy..."
This collection of shorts, Adventures of Mini-Goddess: The Gan-Chan Files focuses on the goddesses efforts to help, but ultimately pester Gan-Chan, a rat that they have befriended. You can kind of think of it as The Littles only wacky Japanese anime style. Gan-Chan the hapless rat is the main comic relief, the poor guy in over his head with these super-powered tricksters around. Belldandy is sort of the mother goddess, who Gan-Chan is in love with , and she mainly just pops up to ask everyone what they want eat for supper. Skold is the techo geek goddess, always inventing things that usually break down or end up providing some kind of comedic moment. Urd is the forceful, strong one (like Ryoko in Tenchi Muyo, even has the gray hair to match), with a crass nature on par with her mischievousness.
Despite my not being a huge fan of cutesey, goofball, kiddie anime, I have to say, I had a good time watching these episodes. I guess what really helped, was that each episode is only about 7 ½ mins long, so there was never any time to grow bored with the jokes or characterizations; each little story flies by and I was very entertained. Although the DVD states the recommended age to be 13 & up, I didn't really find anything questionable or blatant, mostly it is all implied and very innocent, and I let my nieces, the oldest of whom is seven, watch it.

Episode Synopsis-

Lets Tell A Fortune: Wondering who his dream woman will be, Gan-Chan has his fortune read by Urd. She asks him to describe his ideal mate, and then bestows inanimate objects on him, matching the descriptions ("I want a woman who is really hot, that I can turn on any time", so she gives him a lighter), saying that they are his wife. Eventually he marries a tea kettle, but it abandons him for a percolator.

Secret Treasure In The Attic Parts 1&2: The crew investigate the attic for rumored treasure. Skold invents mech suits for them to use, and when they encounter giant rats guarding said treasure, Gan-Chan is rather upset that he mech suit is just a converted cell phone and all he can really do is dial for help.

Lets Fly In The Sky and Lets Fly Into Space: Skold and Urd help Gan-Chan realize his dream of flight by taking him through the age of aviation with their inventions, going from Icarus like wings, to a balloon, to a pre-Wright Bros glider, a mach speed jet, and eventually a space shuttle.

Slimming Down! GO!: Gan-Chan has eaten too much and he now cannot fit into his rat hole. They try various methods and inventions to slim him down, everything from a steamer, to a running machine, and an herbal amphetamine.

Gabira, The Giant Monster- The Birth and The Final Battle: In this funny parody too-parter, Gan-Chan eats some moldy bread and transforms into a Godzilla like creature Urd and Skold name Gabira. Opening with mock Toho Film Studios credits- The Birth has classic 50's era B&W credits, and The Final Battle has Toho Scope letterbox credits like in the 60's.

For Whom The Bell Tolls- The Mysterious Can Of Food: A non labeled can of food contains an unidentifiable green substance that they all eat and really enjoy. So, of course there has to be a trip to the vending machine to find out what they food is and where it came from, yielding an odd answer.

For Whom The Bell Tolls- The Secret Of The Diamond: Gan-Chan finds a beautiful diamond ring that appears to be cursed because whomever holds it finds themselves in slapstick bad luck situations. Gan-Chan, Urd , and Skold perform a Druid-ish ritual to discover the source of the rings misfortune.

Gibra, The Giant Monster- The Strike Back: Gan-Chan transforms again. This time Urd and Scold fight Gibra with their new creation Mecha-Gabira.

Let's Play Baseball: For me, this was the weakest one, as Urd and Skold get into a quarrel that results in the two playing baseball, casting spells to multiply themselves, pitching spells, batting spells, while Gan-Chan and Belldandy play as the sports commentators.


The DVD: Pioneer Animation does a fantastic job. For fans of this kind of anime its a good buy, though scant on extras (nothing new in the world of pricey but bare anime), but in terms of image and sound quality it is perfection for this kind of show.
Picture- Fullscreen, it is a television show, with a budget on par with other kids animation like Pokemon. Picture transfer is flawless, great sharpness, color, and so forth.
Sound- Clear, crisp and pretty dynamic audio. Original Japanese as well as an English dub, with optional yellow English Subtitles. This also shows a good reason why original audio is preferred- in the English dub, Gan-Chan is much more geeky and nebbish, whereas in the Japanese he is an assured, excited, sourpuss.
Extras- 36 Chapters--- Still Gallery containing 13 stills--- Character Bio for Belldandy.--- DVD Credits--- And, inside the case, a neat little insert poster of Gan-Chan.
---
C O N T E N T

---
V I D E O

---
A U D I O

---
E X T R A S

---
R E P L A Y

---
A D V I C E
Highly Recommended
---
E - M A I L
this review to a friend
Sponsored Links
Sponsored Links