Fugitive - Season One, Volume Two, The
List Price: $36.98 [Buy now and save at Amazon]
---
Author's note: As regular consumers of TV on DVD know, the marketing gimmick of splitting up complete seasons of vintage TV series into two separately released volumes has become, regrettably, an increasingly common practice. Having written an in-depth review of The Fugitive: Season One, Volume One back in December, and since stylistically and aesthetically, there is no difference between the first and second half of that particular 1963-1964 season, I've rewritten my original review of that season to cover this Volume Two release - with additional commentary added at the end, discussing specific episodes from this set. On Tuesday, the first volume of Season Two will be released, and I'll have my new take on that season.
September 17, 1963: The day the running started.
Name: Richard Kimble. Profession: doctor of medicine. Destination: death row, state prison. Richard Kimble has been tried and convicted for the murder of his wife. But laws are made by men, carried out by men. And men are imperfect.
Richard Kimble is innocent.
Proved guilty, what Richard Kimble could not prove was that moments before discovering his wife's body, he encountered a man running from the vicinity of his home. A man with one arm. A man who has not yet been found.
Richard Kimble ponders his fate as he looks at the world for the last time. And sees only darkness.
But in that darkness, Fate moves its huge hand.
The Fugitive, one of television's greatest drama anthologies, has finally come to DVD, completing the premiere year with this release of the final 15 episodes from the 1963-1964 season. As with the first volume from Season One, there are no extras included here. There is a warning on the back of the disc that some of the episodes' music and content may have been changed from their original format; however, the strength of the series far outweighs these drawbacks, making this 4-disc, 15 episode set, along with Volume One, one of the year's best releases.
Just a little more than two months before the assassination of President John Kennedy, when America was plunged into a national state of mourning and many citizens felt a perceptible loss of innocence in their viewpoints on our culture and in their own daily lives, ABC premiered The Fugitive, a prescience, nightmarish vision of the American landscape. Coming after Kerouac's On the Road, and ending two years before Hopper's Easy Rider, The Fugitive looked at "the road," that multi-million mile ribbon of highways and streets that always seemed to promise freedom, prosperity and hope in our popular culture, and instead showed it to be a frightening, endless maze of paranoia, mistrust, treachery, and utter loneliness.
Created by Roy Huggins (Maverick, The Rockford Files), and produced by TV legend Quinn Martin (The F.B.I., The Streets of San Francisco, Barnaby Jones), The Fugitive starred David Janssen as Dr. Richard Kimble, a Stafford, Indiana pediatrician falsely convicted of murdering his wife, with whom he had a stormy marriage. Unable to convince anyone that he did indeed see a wild-eyed, one-armed man running from the vicinity of his house, Kimble is sentenced to be executed at the Indiana State Prison. Handcuffed to police Lieutenant Philip Gerard (Barry Morse), the train carrying Kimble to the death house, by a twist of fate, jumps the track, and Kimble escapes. Hunted now by the relentless Lt. Gerard, who feels Kimble's fugitive status is a blot on the justice system (but who also, it is hinted, may feel Kimble is indeed innocent), Kimble must constantly remain on the run, dodging various local sheriffs and state police, as well as Lt. Gerard, as he searches desperately for the mysterious one-armed man who he believes killed his wife.
An existential nightmare set down in the middle of a mythical TV Land's relentlessly happy "golden age," where shows like The Dick Van Dyke Show, The Andy Griffith Show, The Donna Reed Show and The Adventures of Ozzie and Harriet ruled the Nielsen ratings' roost (TV's iconic Father Knows Best and Leave it to Beaver had just ended their runs the previous season), the quietly subversive view of America presented by The Fugitive struck a chord with audiences who may have been looking at their own America a little bit differently by 1963. Obviously lifted from Victor Hugo's Les Miserables, and filtered through the horror of the recent (1954) and still notorious Dr. Sam Sheppard murder case (a fact creator Huggins finally admitted to after years of denying that source), The Fugitive presented a vision of America rarely seen on national network TV. While many if not most of the episodes had Kimble, decked out with a new alias and working at some menial, anonymous job, meeting all sorts of people who were willing to help him out, the mere fact that he was constantly on the run in an America that looked unfamiliar to him, and in which he could find absolutely no solace during his tormented journey, was a startling departure for American television.
As well, The Fugitive presented the notion that many Americans actually worked for a living - to stay anonymous, Kimble takes the lowest jobs available, where identification isn't necessary or asked for - and that they worked hard for relative scraps. Over on high-rated classic, The Adventures of Ozzie and Harriet nobody even knew what the hell Ozzie did for a living; he always just hung around the house (and delightfully so, I might add). Here, American TV viewers were reminded, perhaps for the first time in a highly successful series, that there was another America out there, and one not so clean and tidy, and as financially successful, as the Nelson's (series like The Honeymooners frequently made jokes about limited finances; rarely were dramatic series looking at poverty in America).
Further presenting the viewer with a potentially altered view of the American Dream was the fact that Kimble was a doctor. With today's myriad malpractice lawsuits and a general feeling of anxiety with our health care system, it's difficult to remember the degree of esteem in which doctors were held by the public during the early 1960s. The fact that the American justice system, routinely championed during this time period on American television (Dragnet would be the most obvious example), could wrongly convict a doctor for murder was quite novel for television at this time. After all, most viewers probably wondered, if it could happen to a doctor, it could certainly happen to me. The Fugitive definitely trades on this social class distinction. Dr. Kimble's travails are made to seem more poignant, more unjust, precisely because he is a member of a higher social class at that time (brilliantly countered by Huggins, so as to increase audience sympathy, by having him be a pediatrician - helping children, which seems more selfless - and by having him come from Middle America Indiana - he's no snob). After all, isn't it always Kimble's solid, polite, Middle American good manners and generally educated air, that always trips him up with people not expecting such behavior in the menial jobs he's reduced to taking?
Certainly the show's drawbacks (or shall we say "romanticisms," since those "drawbacks" only add to the enormous appeal of the show) are inherent in this dichotomy, as well. Never have isolation and dread been made to seem more desirable; nor has working in dead-end jobs looked so good as they do in The Fugitive. Why, you may ask? Well, because if you're handsome, polite, charming David Janssen, you're going to invariably meet some gorgeous woman who falls in love with you. Most episodes involve Kimble attracting the attention of a beautiful, usually lonely or misunderstood woman, who comes alive when presented with the mysterious, obviously emotionally wounded - and desirably unattainable - Kimble. Kimble is always shown battling his resolve to remain uninvolved with the people he meets (usually stated in an episode's evocative, beguiling narration, performed by TV legend, William Conrad), only to see that resolve crumble when presented with a problem that his solid Midwestern values (always help children and women in distress, regardless of personal danger) or his inherent nurturing characteristics (he is a doctor, after all) will not let him ignore.
It doesn't hurt Kimble's scoring record that he's also probably the best-dressed itinerant fugitive ever to hit the American bricks. Nattily attired in a nicely fitted tweed sport coat and pressed chinos, or rugged, cool action wear for his more physical labors (I would kill for a pair of those chukka boots he's always wearing), Kimble can't help but get noticed by the ladies - as well as the police. Although the series consistently makes its case - and makes it well - that Kimble is tortured, that he is still grieving for his wife, that he is increasingly burnt out by the running, the suspicions, the paranoia, I would suspect part of the appeal of the show was the secret desire we all have to live this kind of lifestyle. The notion of "dropping out" would soon become prevalent in America, but to those viewers of The Fugitive who thought, "Hey, this might be kind of fun, leaving behind the spouse, taking myself wherever the road might lead me - especially if it's to a good-looking someone new - why not?" the series beautifully made the case, episode after episode, that Kimble wanted nothing more than to resume his identity and return home to his family.
Janssen, a moderately successful second lead and contract player over at Universal, first scored some serious attention with the well-received TV series, Richard Diamond, Private Detective which ran for three years on NBC. But he will forever be associated most closely with The Fugitive. It's a case of an almost perfect mesh between actor, character and medium. Janssen, who after starring in the phenomenally successful The Fugitive, couldn't quite translate that fame to the big screen, despite some high profile roles. He was always best suited for the small screen, and here, his perfectly realized Dr. Kimble is a marvel of suppressed fear and outward wariness and resignation. Janssen, playing a big part of the role with his head down (almost unheard of for actors who want to be seen), limits his choices to slight grimaces, shrugs, and cut-off sentences that are nicely pitched by his deep, grumbling voice (he's like a Glenn Ford that you actually believe is acting).And he's ably assisted by some of the best actors in the business. I've listed the supporting players that show up in The Fugitive: Season One, Volume Two in the individual episode descriptions, but they play out like a who's who of the best actors from that time period. Special mention should be made, as well, about Barry Morse, playing the relentless, unstoppable Lt. Gerard. Morse, with his sharp, angular features, brings just the right amount of barely suppressed fanaticism to the character, while always carefully letting the audience in on the fact that Gerard, although he basically believes Kimble's story, will never stop pursuing him because that's the letter and spirit of the law - a law that the series time and time again questions. As for the look of The Fugitive, it's notable for the extensive use of location shooting, often times in real bus stations, gas stations, courthouses, stores and other mundane place that enhances the verisimilitude of the series (along with the often-times beautiful chiaroscuro black and white cinematography, furthering the series' noir feeling).
The Fugitive may have indeed made concessions to the network TV anthology drama genre, by having numerous romantic interludes for Kimble, and by never showing him physically suffering too greatly. And it was rewarded for these compromises by having big ratings (unrelenting, unforgiving grimness, isolation, and depression never works on a popular scale on American television). Premiering in 1963, The Fugitive benefited from its strong Tuesday night line up that included hit McHale's Navy, and soon-to-be big hits, Combat and Peyton Place (this line-up would catapult The Fugitive to number five in the Nielsen's for its sophomore season - its highest rating). It immediately found favor with audiences receptive to its combination of existential searching along with more traditional adventure and romantic elements; it finished up 28th for the year, with The Fugitive being one of only six ABC shows to make it into the Nielsen Top Thirty.
Despite these concessions to the traditions of network TV dramas, The Fugitive offered a view of America startlingly different than presented before on American TV, with an "anti-hero" loner who really wasn't "anti" anything. He was just like you and me, and he was being crushed by a blinded, misguided system, and a largely indifferent society. Despite the cool clothes and the good-looking women, drifter fugitive Dr. Richard Kimble was a model of fear, restlessness, and a deep, abiding loneliness that no viewer in their right mind would really want to emulate.
There isn't a bad one in the bunch, but standout episodes for The Fugitive: Season One, Volume Two include the opening episode, The Garden House, that plays like a spiffy Perry Mason entry (Robert Webber was a terrifically silky, smooth supporting villain). Come Watch Me Die turns the premise of the show around nicely by having Kimble become a deputy sheriff escorting an "innocent" murder suspect. Janssen has a beautiful moment where, after having aided the police, he narrowly escapes detection when an FBI dispatch requests fingerprints for his alias. The lawman who just thanked Kimble for his service laughs at the dispatch, and Janssen raises his hand in a goodbye salutation, showing his fingertips, looking like he could break down and laugh hysterically at any second, before beating it out of there (and it's always nice to see Bruce Dern and Diane Ladd show up in these sixties TV shows). Search in a Windy City is memorable for Kimble spotting the one-armed man (he narrowly misses him on a bus), as well as for a brilliant little bit where Kimble, hiding out in a park, overhears a lunatic preaching on a soap box, mimicking Kimble's thoughts about pursuing an imaginary man.
Rat in a Corner features another one of Warren Oates' memorable loser portrayals, while Flight from the Final Demon again tweaks the show's premise by having Kimble team up with another fugitive who almost suffered the same fate as he did. Taps for a Dead War will look familiar to anyone growing up in the early 70s where a plethora of crazed Vietnam vets stalked the detective and cop shows - only here it's a Korean War vet. The Homecoming plays like something Tennessee Williams scratched out as a bad idea, but it's successful because of the terrific supporting cast (Shirley Knight is as always, wonderful, and Gloria Grahame, long past her lead days, shows she's still sexy as hell). Speaking of sexy, Bethel Leslie has great chemistry with Janssen in the tense Storm Center (although those boat special effects look decidedly fake on the razor sharp DVD transfer). But certainly the stand out episode in this block of shows is the two-parter, Angels Travel on Lonely Roads (a wonderfully evocative title). Co-starring the amazing Eileen Heckart, Angels Travel on Lonely Roads has a little bit of every kind of typical Fugitive moments - chases, fights (I love it when Janssen faces off with two biker punks...in his tweed jacket, thank you), romance - along with a relatively rare tone for the usually somber series: humor. Janssen and Heckart make a wonderful pair together, and their scenes have a real bounce to them. It's a beautifully written episode about keeping your faith in the face of almost certainly insurmountable odds (nicely represented by the High Sierras that Janssen and Heckart have to cross in an ancient, rickety auto); it's a high point among an already terrific season.
Here are the 15, one-hour episodes of the four-disc box set The Fugitive: Season One, Volume Two, as described on its insert. PLEASE NOTE: As with most vintage TV series released by CBS/Paramount, there is a small disclaimer (smaller than normal, actually, with no prominent border box for this one) at the back of the DVD slimcase that states, "Music has been changed for this home entertainment version. Some episodes may be edited from their original network versions." There is no further explanation of what cuts, if any, were made. Most of the episodes time out at around 51 and a half minutes, which is about right or close for the original network run times. It's possible, though, that these are the syndicated versions, which may account for the minor cuts for time. Edited TV shows are one of the hottest topics concerning DVD releases, and as a reviewer, I've taken both sides of the issue, depending on what title I'm reviewing. It's usually a case-by-case basis. Here, with The Fugitive: Season One, Volume Two, the show is so brilliant, and the fact that most of the run times seem close if not complete, prompts my favorable rating. I've included run times and guest stars for all the episodes, as well as, just for fun, all of Kimble's aliases, occupations, and the various episode locations, for all you Fugitive fanatics out there (of which I count myself on of the High Priests):
DISC ONE

The Garden House (January 14, 1964)
Alias: Sanford
Occupation: Horse farm handyman.
Location: Westborne, Connecticut.
Guest Stars: Robert Webber, Pippa Scott, Peggy McCay
A newspaperwoman conspires to kill off her rich sister by having new handyman Richard Kimble do her dirty work.
Come Watch Me Die (January 21, 1964)
Alias: Ben Rogers.
Occupation: Farm mechanic.
Location: Nebraska.
Guest Stars: Robert Doyle, John Anderson, Russell Collins, Judson Pratt, Bruce Dern, Diane Ladd, Virginia Christine, John McLiam.
In an ironic twist, Kimble is sworn in as deputy sheriff and handcuffed to a prisoner being transported to the county seat for a murder charge.
Where the Action Is (January 18, 1964)
Alias: Jerry Shelton
Occupation: Lifeguard.
Location: Reno.
Guest Stars: Telly Savalas, Joanna Frank, Don Keefer, Beverly Hills (as a stripper!).
In Reno, the owner of a big casino feuds with his high-strung daughter and worries when she takes a liking to the new lifeguard...Richard Kimble!
Search in a Windy City (February 4, 1964)
Alias: George Blake.
Occupation: No occupation - on the run.
Location: Chicago.
Guest Stars: Pat Hingle, Nan Martin, Lewis Charles, Paul Picerni, The One-Armed Man (!)
Believing that the one-armed man is in Chicago, Kimble contacts a newspaper columnist to organize a search. But then Lt. Gerard learns of the plan....
DISC TWO

Bloodline (February 11, 1964)
Alias: Dick Lindsey.
Occupation: Dog kennel handyman.
Location: Virginia.
Guest Stars: Nancy Malone, John Considine, George Voskovec, Parley Baer.
Kimble grows fond of his new job working for a dog breeder, but then clashes with a married couple who are determined to get away from the kennel owner.
Rat in a Corner (February 18, 1964)
Alias: Dan Crowley.
Occupation: Liquor store clerk.
Location: Youngstown (no state).
Guest Stars: Warren Oates, Virginia Vincent, Malachi Throne
After Kimble helps an injured stick-up artist elude the police, the crook's sister helps the good doctor - even after she recognizes him.
Angles Travel on Lonely Roads (Pt. 1) (February 25, 1964)
Alias: Nick Walker.
Occupation: Ranch day laborer.
Location: Lincoln City, Nevada, Ravenna and Sacramento, California.
Guest Stars: Eileen Heckart, Albert Salmi, Ruta Lee
Hoping to escape a dragnet that straddles two states, Kimble hitches a ride with Sister Veronica, a nun who tries to restore his faith in God.
Angels Travel on Lonely Roads (Pt. 2) (March 3, 1964)
Alias: Nick Walker.
Occupation: Ranch day laborer.
Location: Lincoln City, Nevada, Ravenna and Sacramento, California.
Guest Stars: Eileen Heckart, Albert Salmi, Ruta Lee.
Kimble and Sister Veronica are befriended by a kindly lodge owner, but her handyman grows suspicious of the unlikely traveling companions.
DISC THREE

Flight From the Final Demon (March 10, 1964)
Alias: Al Dexter.
Occupation: Gym masseur.
Location: Meadville, Michigan.
Guest Stars: Ed Nelson, Carroll O'Connor, Ellen Madison
After Kimble is rescued by a co-worker, the two go on the run. But his new friend's guilty conscience keeps getting them into trouble.
Taps for the War Dead (March 17, 1964)
Alias: Bob Davies.
Occupation: Roller rink attendant.
Location: No location given.
Guest Stars: Tim O'Connor, Lee Grant, Flip Mark.
While working at a roller rink, Kimble is reunited with the Korean War buddy who saved his life, and who is now a bitter, disfigured alcoholic.
Somebody to Remember (March 24, 1964)
Alias: Johnny Sherman.
Occupation: Warehouse worker.
Location: No location given.
Guest Stars: Gilbert Roland, Madlyn Rhue.
When Kimble's pal Gus discovers he only has six months to live, he suggests a plan that will fool Lt. Gerard into thinking Kimble has left the country.
Never Stop Running (March 31, 1964)
Alias: Doc.
Occupation: Field hand.
Location: Bellinda (no state).
Guest Stars: Claude Akins, Joanna Moore, Wright King, Michel Petit.
When Kimble is asked to help a sick boy, he discovers the child was not only kidnapped, but is a hemophiliac in dire need of hospital care.
DISC FOUR

The Homecoming (April 7, 1964)
Alias: David Benton.
Occupation: Peanut farm research technician.
Location: Georgia.
Guest Stars: Shirley Knight, Richard Carlson, Gloria Grahame.
A woman traumatized by vicious dogs returns home from a sanitarium and discovers her widowed father has taken a much younger bride.
Storm Center (April 14, 1964)
Alias: Larry Phelps.
Occupation: Marina dock worker.
Location: Weber's Landing, Florida.
Guest Stars: Bethel Leslie.
After her wealthy boyfriend is washed overboard during a hurricane, a woman from Kimble's past tries to convince him to run away with her.
The End Game (April 21, 1964)
Alias: No alias - on the run.
Occupation: No occupation - on the run.
Location: Muncie, Indiana.
Guest Stars: John McGiver, John Fiedler, Joseph Campanella.
As Lt. Gerard closes in on his prey, Kimble nervously hides out with two old eccentrics who argue over his innocence.
The DVD:
The Video:
The back of the DVD slimcase for The Fugitive: Season One, Volume Two claims that these transfers were taken from the original negatives. They must be right, because the films look beautiful. Blacks are solid and velvety, there are no compression issues, and except for the expected grain and some scratches here and there, this is one of the sharpest looking transfers I've seen in awhile. Beautiful.
The Audio:
As well, the back of the box says restored audio. The Dolby Digital English mono mix accurately represents the original broadcast presentation, and is clear as a bell. Close-captioning is available.
The Extras:
Criminally, there are zero extras for this split-season set. That may be a deal breaker for potential buyers of the show. One of the most influential series in the history of the medium...and not one crappy extra. Ridiculous and shameful.
Final Thoughts:
While I can't abide split season TV sets (it's a marketing ploy, pure and simple, to maximize profits for the releasing company), and I'm not thrilled about the possibility of editing, or the total lack of extras, the fact that The Fugitive: Season One, Volume Two, like the first volume of episodes, is such a masterpiece (and I almost never use that word), still makes this four-disc set highly recommended. Just one tiny extra would have garnered The Fugitive: Season One, Volume Two our highest rating here at DVDTalk - the DVD Talk Collector Series - had it been here.
---
Paul Mavis is an internationally published film and television historian, a member of the Online Film Critics Society, and the author of The Espionage Filmography.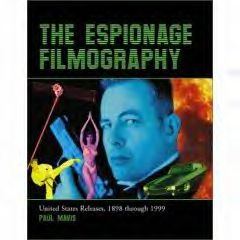 ---
C O N T E N T

---
V I D E O

---
A U D I O

---
E X T R A S

---
R E P L A Y

---
A D V I C E
Highly Recommended
---
E - M A I L
this review to a friend
Sponsored Links
Sponsored Links