X-Files: Revelations, The
Fox // Unrated // July 8, 2008
List Price: $22.97 [Buy now and save at Amazon]
---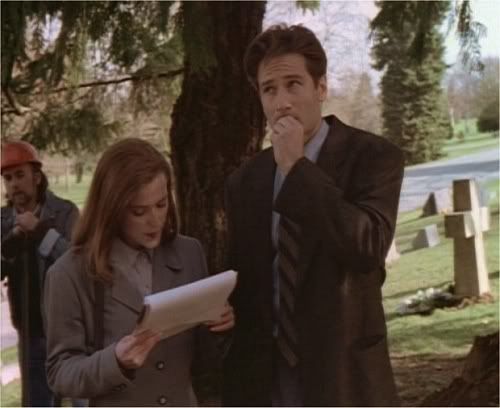 As one of the most memorable television creations in recent memory, Chris Carter's landmark series The X-Files (1993-2002) delivered atmosphere and imagination in generous handfuls. Seamlessly blending sci-fi, drama and suspense with solid storytelling, great performances and striking visuals, the ongoing adventures of FBI agents Fox Mulder (David Duchovny) and Dana Scully (Gillian Anderson) enjoyed massive commercial and critical success during the bulk of its nine-year run. The 1998 theatrical release of Fight The Future brought Carter's creation to the big screen, even as the creative team was churning out the next crop of episodes. Disregarding a few bumps along the way, the series that reminded us "the truth is out there" has certainly earned our respect.
It took me a few years to fall for The X-Files, at least completely. My comfort level with anything science fiction-related was limited to Star Trek: The Next Generation and the like, but Carter's creation did something most weren't expecting at the time: it brought sci-fi back down to Earth. The series certainly looked skyward more often than not, but the driving core of The Seen vs. The Unseen---laced with conspiracy theories, cover-ups and other slow-burning mysteries---was enough to get me hooked. To its credit, The X-Files didn't attempt to discredit the perspective of either central character: Mulder's quest for extraterrestrial life was given plenty of attention, as were Scully's conflicting anchors of science and spirituality. The fact that both could co-exist---though not always peacefully, of course---almost provided us with a certain level of comfort.
After nine seasons of varying quality and Fight the Future tucked in the middle, it's been over five years since Carter's franchise has brought anything new to the table. Rumors of a second big-screen adventure were tossed around for several years---and as fate would have it, The X-Files: I Want To Believe (2008) is right around the corner. To drum up interest in the popular exploits of Agents Mulder and Scully, Carter and company have assembled X-Files Revelations, a two-disc collection of 8 series episodes that play important roles in this new film's creation. Of course, most die-hard fans have collected the excellent season sets by now, so there won't be a great deal of new content here. To aid the double-dip blues, we're treated to a number of goodies: new episode introductions by Carter, a bonus Q&A and a free movie ticket to I Want To Believe...not a bad deal for $20. Here's what's included:


(8 full-length episodes on 2 single-sided discs, plus bonus features)

"Pilot" (Season 1, Episode 1) - Low-budget production values aside, it's hard not to appreciate the episode that started it all. It's here that Agent Scully is first assigned to work with Mulder, who is understandably reluctant to accept her help. Despite his unusual approach to equally unusual cases, Scully can't help but be drawn into Mulder's world (seen at top).
"Beyond the Sea" (Season 1, Episode 13) - Brad Dourif co-stars as a "psychic" prisoner awaiting execution, who may hold the key to saving a young couple's life. Here's the catch: Mulder's the one that helped put him behind bars, so his "visions" are suspect...and after the recent loss of a loved one, Scully has trouble dealing with the convict (above left).
"The Host" (Season 2, Episode 2) - One of the more memorable "Monster-of-the-Week" outings, this episode co-stars future fan-favorite writer Darin Morgan as an urchin-like mutant that terrorizes the New Jersey sewer system. This is one of the more straightforward of the bunch, but it's still a classic episode in most fans' eyes (above right).
"Clyde Bruckman's Final Repose" (Season 3, Episode 4) - A truly exceptional episode from perhaps the series' most satisfying season, this offbeat adventure features the late Peter Boyle as a clairvoyant who helps Mulder and Scully track down a serial killer. Unfortunately, a rather disturbing death is predicted along the way (below left).

"Memento Mori" (Season 4, Episode 14) - Scully must learn to accept the fate of her failing health, while The Lone Gunmen and Mulder attempt to break into a research facility to find a cure. This Emmy-nominated episode was actually written very quickly as Fight the Future was being prepped for production, but all the pieces fell into place very nicely.
"The Post-Modern Prometheus" (Season 5, Episode 5) - Like "Clyde Bruckman's Final Repose", this black-and-white episode follows Mulder and Scully to a rural town where genetic experiments are hidden behind a wall of uncooperative citizens. There's too much Cher for my liking, but it's still an amusingly off-beat outing.
"Bad Blood" (Season 5, Episode 12) - The humor continues with this fan-favorite episode about a series of small-town deaths caused by "vampires". Told in true Rashomon style, this amusing adventure features an appearance by Luke Wilson as the town sheriff...and plenty of glowing green eyes, of course (below right). "Y'all must be them guv'ment folks!"
"Milagro" (Season 6, Episode 18) - A decidedly more low-key affair---for the first act, at least---this episode follows the curious exploits of a writer who moves in next door to Mulder and develops an infatuation with Scully. Things start to feel a bit awkward soon enough, especially after the new guy is suspected of several recent murders.
With the second feature film right around the corner, it's undetermined how large a part any or all of these episodes will play. In all likelihood, though, Revelations is more of a reminder of Carter and company's commitment to variety: from suspenseful (and in some cases, playful) "Monster-of-the-Week" outings to the more story-driven "Mythology" episodes, The X-Files was certainly a hard series to typecast during its landmark nine-season run. More than anything else, though, Revelations is here simply to generate hype for I Want To Believe---and not counting the somewhat unsteady final seasons of the series, The X-Files rarely disappoints. Hints of additional feature films have already been dropped by the cast and crew, so here's hoping that I Want To Believe keeps the momentum going.
Packaged as a two-disc set, the somewhat low-key Revelations stands as a solid collection of episodes that die-hard fans should practically know by heart. The addition of a few minor goodies (and a ticket for the new movie, of course) makes this relatively low-priced release a safe bet for casual viewers and completists alike, though a few audio commentaries would've certainly been welcome. Let's take a closer look, shall we?


Presented in their original aspect ratios (1.33:1 during Season 1-5 episodes, anamorphic 1.78:1 for the rest), these episodes look very good from start to finish. The earliest years obviously suffer a bit from lower production values, but there's very little to complain about here. The natural but often muted color palette appears accurate, black levels are typically solid and image detail increases slightly as the series progresses. Overall, fans should know what to expect by now.
On the audio front, it's roughly the same story. Episodes from the first two seasons are presented in English 2.0 Stereo, while the others are granted more immersive Dolby 2.0 Surround mixes. The series' distinct atmosphere and haunting music cues fill the soundstage without fighting for attention with the dialogue, though the subwoofer and rear channels aren't always given a great deal to do. Optional English and Spanish subtitles have been included during the episodes only.

It's almost odd seeing new menus for these episodes after years of watching the season sets---and yes, these static designs aren't as impressive, but they get the job done. Each episode is presented with multiple chapter stops, though separate sub-menus aren't included this time around. The packaging for this release is also very straightforward, as both discs are housed in a hinged slipcase with a handy chapter insert (and movie cash for I Want To Believe) tucked inside.

A few goodies help to sweeten the pot, though some are geared towards more casual viewers. First up on Disc 1 is a brief Series Introduction (0:37) with producer Frank Spotnitz, who explains the reasoning behind some of these episodes' inclusions. Of greater interest are Episode Introductions (8 clips - 14:10 total, below left) for each of these adventures, featuring Spotnitz, creator Chris Carter and at least one special guest. These are hardly a substitute for full-length commentaries but are still worth checking out, as the participants explain briefly about the productions and their relation to the upcoming film. Also included here is a Series Trailer (2:56) for all nine seasons on DVD, as well as a Teaser Trailer (0:56) for I Want To Believe. The packaging advertises the film's theatrical trailer, but this looks to be an alternate version unveiled at Wondercon back in February.
Aside from more episode introductions, Disc 2 is also home to a Wondercon Q&A Panel (26:47, below right) with Spotnitz, Carter, David Duchovny and Gillian Anderson. This is fairly typical as far as Q&As go, with text-based questions and responses of varying quality (mostly in regards to the new film). It takes a few minutes to pick up, but all four participants are obviously grateful to the fans; it's even mentioned that Carter and company were on a break during the production of I Want To Believe and flew out just for this event. Die-hard fans may not learn anything new, but this is still worth a look.
All bonus features are presented in anamorphic widescreen (save for the trailers, which are letterboxed) and none include optional subtitles or Closed Captions. Also tucked inside is Movie Cash for the upcoming feature film, which literally cuts the price of this two-disc package in half. It's certainly a thoughtful inclusion and helps to ease the pain of double-dipping.

There's less than an hour's worth of new material here, but The X-Files: Revelations is still a decent collection that casual and die-hard fans should enjoy. These eight episodes represent some of the most memorable moments during the series' first six years, while producer Frank Spotnitz and creator Chris Cater do a fine job of explaining why each one made the cut. Fox's technical presentation should be familiar to owners of the season sets, while the bonus features (including the movie ticket) help to alleviate the double-dip blues. Overall, this low-priced set is worth picking up...especially if your calendar is marked with a big "X" on July 25th. Recommended.
DVD Talk Review Link:
Individual X-Files Collections & Related DVDs
---
Randy Miller III is an affable office monkey based in Harrisburg, PA. He also does freelance graphic design projects and works in a local gallery. When he's not doing that, he enjoys slacking off, second-guessing himself and writing things in third person.
---

---
C O N T E N T

---
V I D E O

---
A U D I O

---
E X T R A S

---
R E P L A Y

---
A D V I C E
Recommended
---
E - M A I L
this review to a friend
Sponsored Links
Sponsored Links