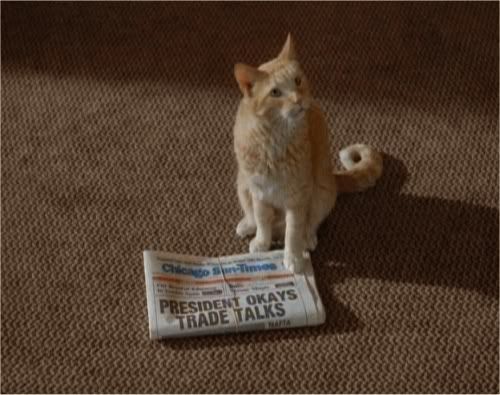 It's no secret that some of the best TV shows often have their lives cut short, but at least the forward-thinking Early Edition (1996-2000) stuck around for a few years. It's garnered more than just a cult following since its broadcast debut; consistently ranked as one of the most-wanted TV series that hadn't reached DVD yet, this story of a man and his magic newspaper never quite earned mainstream success. Much to the delight of rabid fans, however, Paramount has released the complete first season of Early Edition on everyone's favorite shiny little disc. Wonder Years fans, keep waiting in line: music rights are expensive.
The formula for Early Edition is simple but yields plenty of interesting results. Kyle Chandler stars as Gary Hobson, a recently-divorced and recently-unemployed Chicago man who winds up living in a hotel room. In an odd turn of events, Gary becomes the proud recipient of a free newspaper subscription courtesy of a noisy orange cat. This isn't just any newspaper, though...it's tomorrow's edition, filled with all the financial numbers, weather reports and tragic accidents one could possibly ask for. After a brief bout with personal gain (because let's be honest, who wouldn't?), Gary soon takes the high road and decides to become something of a Superman...with no real superpowers, of course. He's not faster than a speeding bullet and knows better than to attempt flying. Gary's only advantage is knowing what tragedies are right around the corner, typically of the who-what-when-where variety. The "why" isn't always made clear until the events actually unfold, whether Gary's around to make the save or not.
It's a solid idea for a weekly series, so it's good to know that Early Edition rarely drops the ball---and despite the premise, this is a genuinely tough show to pin down. This is largely due to the series' disarming level of integrity and conscience, thanks in part to Gary's commitment to doing "the right thing". For this reason, it feels almost dated in some respects: with today's more cynical programming and social mentality, Early Edition is practically The Andy Griffith Show in comparison. Thankfully, it doesn't always weigh down the happy endings with mawkish sentimentality; it simply sticks to its moral guns like a well-meaning parent or a thoughtful older sibling. In short, this is Disney Channel programming...without all the song, dance and glitter nail polish.
The first season leads off with a strong pilot episode, introducing us to Gary and his pals Chuck Fishman (his stockbroker buddy, played by Fisher Stevens) and Marissa Clark (the firm's former secretary, played by Shanesia Davis-Williams). Most episodes follow a similar formula: cat delivers paper, Gary reads troubling news, and he and his pals figure out what to do next. As mentioned before, though, Early Edition is a tough series to pin down, as it delivers plenty of surprises along our future-changing journey. Though most episodes are self-contained, certain events set others in motion and so on. All things considered, this is an interesting first chapter that should hook new viewers right away; as such, this six-disc set includes the following episodes:


(23 full-length episodes on 6 single-sided discs)

"Pilot"
"The Choice"
"Baby"
"The Paper"



"Thief Swipes Mayor's Dog"
"Hoops"
"After Midnight"
"Gun"



"His Girl Thursday"
"The Wrong Man"
"Christmas"
"Frostbit"



"Mob Wife"
"The Wall, Part I"
"The Wall, Part II"
"Bat Masterson"


"The Jury"
"Psychic"
"The Cat"
"Phantom At The Opera"


"Faith"
"Dad"
"Love Is Blind"
__
From start to finish, there's not a clunker in the bunch, though a few episodes feel less essential than others. Early outings like "Baby" and "Thief Swipes Mayor's Dog" don't seem to hit all the right notes, floundering a bit where the series should be pushing strongly forward. Others correct this mistake, including the strong pilot episode and the one-two punch of very special episodes "After Midnight" and "Gun". The latter is especially well-done and an almost completely Gary-centric episode, showing a broken family and the tension created when our hero attempts to intervene. In most cases, this holds true for the bulk of this inaugural season: Gary's difficulty doesn't just stem from attempting to stop tragedy, but convincing others that they're in trouble without coming off like a nut.
In another sense, Early Edition's formula can't help but feel a bit cheesy at times. In particular, it falls victim to some of the most groan-inducing bookend narration this side of Grey's Anatomy---but as most fans will remember, these hokey nuggets of truth (provided by Gary's pal, Chuck) were done away with by the third season. Additionally, Chuck and Marissa aren't as developed and three-dimensional as you'd expect after a full season; though they serve as mostly comedy relief and conscience [respectively], they rarely do much more than offer the occasional bit of advice. Certain attempts are made in episodes like "His Girl Thursday" (in which Chuck, aided by a potential love interest for Gary, steals his newspaper for personal gain), but things quickly return to normal. Long story short: a bit more spark this season from the supporting cast would've spiced things up a bit.
Even so, what's here is largely satisfying and should impress new viewers while satisfying the nostalgia of those who caught it the first time around. The solid performances (including those by Stevens and Davis-Williams, who work well within the limitations of their characters), strong writing and moral backbone of the series makes for a dependably entertaining watch during the bulk of this first season. The music by W.G. "Snuffy" Walden helps to give the series its unique voice, even if Walden ripped the title theme straight from his own My So-Called Life playbook. On a related note, several licensed 1990s-era pop hits can be heard along the way---and since no disclaimer was listed on the DVD packaging, it looks as if Paramount hasn't replaced the music in any way, shape or form. This six-disc package doesn't do everything perfectly, but that's certainly one feather in its cap.
Three more seasons of Early Edition would be produced before CBS pulled the plug in 2000---so if fans buy enough copies of this release, perhaps we'll see more adventures of Gary and company on DVD in the near future. In the meantime, the 23 episodes included here should tide us over until then. Paramount's DVD package is slightly disappointing in the extras department, though at least the technical presentation is up to par. Let's take a closer look, shall we?

Presented in their original 1.33:1 aspect ratios, these episodes look fairly decent for their age. Colors are generally strong and black levels are usually solid, but mild amounts of softness and edge enhancement can be seen during certain sequences. In any case, these undoubtedly look better than their broadcast counterparts---and considering how long it took for Early Edition to reach DVD, most fans won't find much to complain about.
The audio is roughly on par with the visuals, presented in a fairly standard Dolby 2.0 Stereo mix. Dialogue is generally clean and clear, though some of the music and sound effects can't help but feel a bit thin at times. Optional subtitles have not been included, but all 23 episodes include Closed Captioning support.

Seen above, the plain-wrap menu designs are basic and easy to navigate. Each 22-minute episode has been divided into several chapters, though no chapter selection screens are present. This six-disc set has been tightly housed in a single-width keepcase (thanks to a few overlapping hinges), which may signify some sort of space-saving record. No inserts are included, though episode summaries are printed on the inside cover artwork. Here's hoping more studios follow suit and stop weighing us down with bulky, cumbersome season sets.

Sadly, no real bonus features have been included here, save for a collection of Episodic Promos (23 clips, roughly 0:30 apiece), which can be turned on or off before each episode. These fairly standard "Next On" clips are interesting to see, but most give away certain themes and events that may dampen the suspense for first-time viewers. It's a shame that the cast and crew (especially Chandler) weren't able to record any commentaries or interviews for this collection, because Early Edition: Season One feels a bit lonesome without any extras.

Almost disarmingly moral and good-natured in spirit, Early Edition remains one of television's most underrated gems of the 1990s. Kyle Chandler's solid performance as "guidance counselor" Gary Hobson anchors the series nicely---and despite a few chinks in the armor, this first season is highly enjoyable from start to finish. Paramount's DVD presentation is low-key in more ways than one, pairing a decent technical presentation with...not much else, save for the original music cues. In any case, fans of this critically-acclaimed series should simply be glad to have it on DVD, so here's hoping that it sells well enough to finish out its four-season run. The compact packaging ensures that we won't need much shelf space for this one, but the quality of Early Edition reminds us to make plenty of room anyway. Recommended.
---
Randy Miller III is an affable office monkey based in Harrisburg, PA. He also does freelance graphic design projects and works in a local gallery. When he's not doing that, he enjoys slacking off, second-guessing himself and writing things in third person.
---