Centennial: The Complete Miniseries
List Price: $59.98 [Buy now and save at Amazon]
---
Universal has released NBC's massive 12-part, 21-hour, star-studded miniseries from 1978, Centennial, based on the best-selling historical fiction by James A. Michener. Aiming to explore 200-plus years of American history concerned with the settling of the West, Centennial, populated with a dizzying array of familiar TV actors set down in scenic locations, is a decidedly mixed bag. While some of its primary goals are met (its meditations on Indian and White culture clashes is thoughtful and honest, for the most part), others are murky (its environmentalism message is scattershot and not particularly well integrated into the story) or downright plodding and clichéd (about every single love triangle - and there are a lot of them - in the film). Still, Centennial deserves notice just for its sheer chutzpah in trying to encapsulate the myriad tentacles of American sociological, political, economic and historical elements that make up its episodic storyline.
SPOILERS ALERT!

While it's certainly not within the scope of this review to give a detailed synopsis of the plot of this mammoth 21-hour miniseries (it would take pages), a general overlook of the story is necessary to get a sense of what executive producer/writer John Wilder, who adapted and developed Michener's novel for television, was trying to do with the scale of storytelling in Centennial (an adaptation that, according to other sources, Michener said was the most faithful cinematic adaptation of any of his literary works). And necessarily, some spoilers will crop up, particularly concerning the fate of lead characters over a 200-plus year timeline, so be forewarned.

Beginning, literally, with the formation of Colorado at the start of Earth's creation, Centennial's story proper begins in 1756 with the first interactions between "Our People" (the Arapaho Indians) and White Europeans - specifically, Pasquinel (Robert Conrad), a French-Canadian fur trapper, traveling up the South Platte River. Intent on making money from beaver pelts, Pasquinel has a burning desire to be "more than himself," to exist in a land that pushes him to his limits. The Arapaho, led by Lame Beaver (Michael Ansara), accept Pasquinel for his honesty and respect in their dealings, as well as for his resourcefulness in surviving within their harsh environment. But the Indians want more than just honesty and respect (and goods for the beaver pelts Pasquinel takes from their lands, with their permission); they want guns, too, to help them defend themselves against warring tribes. Pasquinel agrees to trade not only with Lame Beaver, but also Rude Water (Robert Tessier), the chief of the Pawnees (and foes to the Arapahos). Through this initial contact, the rest of the pattern of interaction between Indian and White is set throughout the history of Centennial - with a crucial difference later on.

Pasquinel's rescue of naïve Scottish fur trapper Alexander McKeag (Richard Chamberlain) from the Pawnees begins a lifelong friendship - and rivalry - between the two mountain men that will also run as a thread through the rest of Centennial. In love with the same woman - Lame Beaver's beautiful daughter, Clay Basket (Barbara Carrera) - McKeag and Pasquinel somehow maintain a tense friendship when Clay Basket obeys her father's dying wishes that she become Pasquinel's woman (Lame Beaver, seeing the inevitable changes that were coming with the White culture, insists that Pasquinel is more suitable in protecting his daughter in those changing times). Pasquinel (who already has several wives, including Sally Kellerman's Lise Bockweiss, who resides in St. Louis with her silversmith father, Raymond Burr's Herman Bockweiss) has two sons with Clay Basket - Jake (Stephen McHattie) and Mike (Kario Salem) - both of whom will grow up to terrorize the incoming settlers and soldiers who arrive in ever-increasing numbers to populate their native lands.

One of those settlers is Levi Zendt (Gregory Harrison), a Mennonite from Lancaster, Pennsylvania, who has been cast out from his family due to a spurious rape charge. Literally plucking young Elly (Stephanie Zimbalist) from an orphanage to be his wife, Levi and Elly set out for Oregon, but have to turn back at the Rockies due to the weather, inexperience, and poor planning. Elly dies rather suddenly from a rattler strike, and Levi goes off the deep end, holing up in one of McKeag's old trader cabins, before Lucinda McKeag (the daughter, played by Cristina Raines, of McKeag and Clay Basket, who marry after Pasquinel's death), gives herself to him and persuades him to return to work with McKeag at a newly opened trading post - soon to be known as the town of Centennial.

Meanwhile, major changes come to the ever-convulsing, growing America. A Civil War gives the Indians hostile to invading Whites, a chance to score more victories against the settlers and the soldiers as the army troops are siphoned off for the war back East. The Pasquinel brothers try to negotiate in good faith with the government officials that promise land and materials after the Civil War, but treaty after treaty is broken - despite the ultimately doomed efforts of men like Major Maxwell Mercy (Chad Everett) who embody the spirit of Pasquinel and McKeag in their determination to treat the Indians with respect and fairness. And as the buffalo are nearly wiped out over the Plains (thereby eliminating not only the economic but spiritual and cultural needs of the Indians who hunted and worshiped them), cattle from Texas are being driven into Colorado by men like R. J. Poteet (Dennis Weaver), a tough-as-nails cowboy hired by John Skimmerhorn (Cliff De Young), the son of notorious Indian mass murderer Colonel Frank Skimmerhorn (Richard Crenna), for wealthy and powerful land manager Oliver Seccombe (Timothy Dalton), whose Venneford Ranch he controls, encompassing more than six million acres.
Soon, battles between farmers (such as Alex Karras' Hans Brumbaugh, the first farmer in the area to figure out how to irrigate the dry Colorado farmland), cattle barons and newly arrived sheep herders scar the land around Centennial until an uneasy truce is eventually worked out between the warring factions (due largely to the laid-back efforts of Sheriff Axel Dumire, played by Brian Keith). But old lessons between what Charlotte Buckland Seccombe (Lynn Redgrave) calls the "takers and the caretakers" of the land are forgotten and relearned as unscrupulous land developers, embodied by the acting troop family (and scheming murderers) Mervin Wendell (Anthony Zerbe), his wife Maude Wendell (Lois Nettleton) and son Philip Wendell (Doug McKeon), soon take advantage of naïve farmers who come to Colorado, totally unprepared to work with the land. A happenstance murder (in the middle of an old con - "the badger game") sets the Wendells onto the path of wealth, power and influence, a path that leads to present day (1978) Colorado, where descendent land developer Morgan Wendell (Robert Vaughn) is heading for political office - unless Venneford Ranch owner Paul Garrett (David Janssen) can stop him (with the aid of author Lewis Venor, played by Andy Griffith).
Re-reading over that synopsis (which is by no means a full one), I think it's important to stress that Centennial the TV miniseries is really the work of many people, particularly producer/writer John Wilder, the four directors hired for the shoot (Virgil W. Vogel, Paul Krasny, Harry Falk, Bernard McEveety), the other screenwriters of individual episodes (Jerry Ziegman, Charles Larson), and of course the hundreds of actors - and not James Michener. The storyline and characters are Michener's, but how they're put together up on the screen is other people's work. I've never read this particular book by Michener (I tried once to get through Hawaii, but honestly couldn't make it), but I can see how his massive historical fictions would seem to lend themselves perfectly to the long-format TV miniseries that was just entering its heyday in the late seventies. Last-in-the-ratings NBC, having released the first advertised "mini-series" way back in 1973 (Joseph Wambaugh's The Blue Knight, starring William Holden, is considered by historians to be the first true miniseries), and seeing the double-whammy success ABC had with 1976's Rich Man, Poor Man and 1977's blockbuster Roots, entered the original miniseries race first with 1978's Holocaust (which scored massive ratings in the Nielsen's that April and May) and then Centennial, which aired its first episode in October, 1978. Having splurged upwards of 25 million dollars on Centennial (NBC claimed it was the most expensive TV production up to that time), NBC was hoping that ratings lightening would strike twice in this epic telling of the White and Indian culture clash, and the environmental threat brought to the land through this sociological conflict.
And on that score, Centennial succeeds well enough, although claims to it being the first TV show to deal honestly and openly with such subject matter ignores the long history of such explorations on serious dramatic westerns such as Gunsmoke and Rawhide (even lightweight 60s fare like Daniel Boone offered many sympathetic glimpses into Indian culture). Where Centennial does differ is in its relatively complex, layered appreciation of the ideas behind Indian culture, and how some of those tenets fundamentally clashed with the expansionist White culture. One must assume that Michener was striving to show the constant flux and friction between competing cultures as they reject, assimilate (or capitulate) to ideas foreign to their make-up. And Centennial gets that central thesis across well. While Centennial commits the same mistakes many similarly-positioned films dealing with this tragic segment of our history do (massacres and injustices against Indians are shown, but retribution by Indians is not, for fear of wiping out that audience sympathy), and certain "facts" may find argument from scholars (the old "scalping was introduced by Europeans" myth is trotted out, right up front, to balance the scales against any future Indian atrocities - atrocities that ironically aren't shown), there's no denying that Centennial makes a strong, emotional case against the government's shameful treatment of the Indians, as well as, just as importantly, our constant need to keep their central belief that one lives with the land, in mind if we want to survive on Earth (although one gets the feeling that as Centennial moves more into modern times, the environmentalism political agenda becomes more strident, with screwy lines like "obscene profits from barren lands without concern for its [the barren lands'] health," making one laugh out loud).
That important environmentalism message, though, gets a bit lost within the more familiar, clichéd aspects of the Centennial miniseries. What depth of emotion Michener achieved with his various romances and friendships in Centennial, I don't know; but in the movie Centennial, quite a bit of all that comes across as thoroughly warmed over melodrama, with the individual actors' skill largely the determiner of whether or not a character actually works. Certainly Richard Chamberlain, soon to be crowned "The King of the Mini-Series" after his turns in blockbusters Shogun and The Thorn Birds, is excellent as "Red Beard" McKeag, alternately sensitive and heroic in the part. And equally fine is Barbara Carrera - hauntingly beautiful and tender - as Clay Basket (with a nice, quiet, low-key assist from Michael Ansara as her father, Lame Beaver). Those two sides of Centennial's central love triangle work wonderfully together, but the entire dynamic is thrown off by Robert Conrad's surface, one-dimensional, inept performance as the burly, brusque Pasquinel (Bugs Bunny's French-Canadian accent was better). Friendships and love triangles abound in Centennial, but for the most part, they come across as hackneyed and trite (some may be surprised at the depth of emotion Chad Everett brings to his role as Major Mercy; he's excellent in several scenes that call for a quiet, tender humanism).
As for the miniseries' actual construction, that can be equally problematic here, as well. Quite a few critics and fans consider the opening segments with Pasquinel and McKeag as the film's strongest segments, but watching them again on DVD, without commercials and not spread out over several weeks, choppy editing and some rather inexplicable (and at times impenetrable) transitions mar individual scenes that work well on their own (many times, the grayness of someone's hair or beard is the only indication that some time has passed, initially confusing the viewer). Major characters fall by the wayside without proper attention to their passing (Levi's death is particularly amateurish and without emotional weight, considering the importance of this character), while huge gaps in the story start to rush by as the later episodes try to tie up all the loose ends. As well, I'm not sure that Centennial even gets the editorial geography of the book's central premise down right; there were many times where I forgot that most of the action was supposed to happen all in the same general area that was to be the town, Centennial. At times, it's a surprisingly shoddy production, not only in the editing, but the rote, 1-2-3 TV directing (lots of talking heads close-ups and zooms on the action), and the surprisingly stiff, unconvincing production design (25 million was supposedly spent, but it's hard to see where, because it's not "up on the screen - typified by the unconvincing, mocked-up town sets and the ludicrous aging make-up effects). This is logistics more than "art," and many times, watching Centennial feels like watching the center panel only of Cinerama's How the West Was Won.
Still, there are moments of Centennial that work marvelously well. The central cattle drive sequence is perhaps the cleanest, more assured segment in the film, with long-time TV western director Virgil W. Vogel creating not only an exciting action piece, but a surprisingly emotional, valid work of Americana. Glenn Turman (Cooley High) is excellent, as always, while Dennis Weaver achieves a measure of heroic stature that might surprise you if you only know him from Gunsmoke or Duel (his scene with the young Lloyd family is almost Fordian in its simplicity). Also worthy of mentioning is Michael LeClair as young Jim Lloyd, who grows to manhood after this dangerous cattle run is over. LeClair, fresh-faced and directly honest in his characterization, has a wonderful scene, crying over the death of a cow he raised from a calf, that's beautifully simple and truthful. His contribution here helps make the powerful and seamlessly put-together cattle drive stand out as Centennial's best moment - a segment worthy of standing alone outside of its miniseries framework.
What's interesting today about the perception of Centennial is that although critics today claim it's one of TV's best miniseries, I recall critics of the day having a bit more balanced view of its merits and drawbacks - as did the viewing audience. One of the reasons Centennial may have been out of circulation so long (I'm not even sure if it ever scored a network repeat) is that it was considered something of a failure when it first premiered. Not even charting in the 20 top-rated miniseries of all time (when that should have been easier for Centennial to achieve, considering it premiered during The Big Three's pre-cable heyday), I recall articles that stated NBC blew it with Centennial not only with the actual miniseries, but with its scheduling. Going against the example set by ABC's Roots, where that network accidentally stumbled onto enormous ratings' success by dumping Roots all into one week's schedule (they hoped to minimize damage had it failed), NBC made the risky choice of airing Centennial rather like a series, spread out over five months. Unfortunately, NBC undercut this stability by preempting the series often, or only airing it twice in one month, thoroughly confusing the potential audience in the process who searched in vain for the show. It didn't help matters, either, that NBC apparently got cold feet about the series, and started to incorporate more and more flashback material into later episodes, in a vain attempt to keep new viewers up to speed. Not only did this not work (few viewers, had they stumbled on one of the later episodes, was inclined to jump in on the show in the middle), it alienated the loyal viewers who were already following the show, and compromised the quality of the remaining episodes.
Not exactly helping, either, was the finale, which takes place in present (1978) time, which was a confused, poorly plotted wrap-up that felt entirely removed from the earlier episode experiences. What did Andy Griffith, talking about writing a book about Centennial, and jumping into holes looking for skeletons (the murder mystery angle that's dropped anyway, in this last episode), have to do with Pasquinel and Red Beard? And who cared about Robert Vaughn and David Janssen and their impenetrable and frankly boring sparing about what to do with Colorado's barren "wastelands": build houses out there or keep the sugar beets growing? Everyone knows that a long, long movie needs to send out its audience with a bang, but the funereal final segment of Centennial buries the whole concept under the weight of preachy, wordy blather about housing prospects and bald eagle killings, going far-afield of its action-oriented beginnings. What few viewers remained (and I was one of them as a boy watching this back in 1978), were perhaps wondering what, exactly, all of Centennial was supposed to mean, after this meandering, unfocused (and rather boring) ending.
Here are the 12 episodes of the six-disc set Centennial, as described on the DVD tri-fold disc holder (unfortunately, some of these descriptions, for some unknown reason, either inflate episode events, or misrepresent them, so take them with a grain of salt):
DISC ONE

Chapter 1: Only the Rocks Live Forever
When adventurous Quebec trapper Pasquinel and Scotsman McKeag attempt to do business with an Arapaho chieftain, their dealings will create an uneasy alliance and fuel their real desire - to find gold.
Chapter 2: The Yellow Apron
As tensions mount between the White settlers and the Native Americans, Pasquinel finds himself tied to two women, and McKeag must fight against his passion for a Native American maiden and his partner's wife.
DISC TWO

Chapter 3: The Wagon and the Elephant
The town of Centennial is born when dire circumstances force a young Mennonite, Levi, and his bride-to-be to create a ramshackle settlement in the rugged West.
Chapter 4: For as Long as the Waters Flow
Life and death hang in the balance, and Levi copes by boarding himself up in Pasquinel and McKeag's old cabin. When a stranger with an unusual past arrives, will the town of Centennial have a second chance?
DISC THREE

Chapter 5: The Massacre
Civil War ignites across the country, and while the Pasquinel brothers become intent on killing homesteaders and soldiers, the Native Americans face an even more bloodthirsty foe.
Chapter 6: The Longhorns
New industry, in the form of British ranch investor Oliver Seccombe, comes to Centennial, and soon men from far and wide are roped into a massive cattle drive.
DISC FOUR

Chapter 7: The Shepherds
Greed changes the landscape of Centennial as a group of farmers takes up arms against the rowdy cattle barons and their men.
Chapter 8: The Storm
A con man and his family make a splashy debut in town, but the real smoke screen appears when a foreign accountant takes a disparaging financial look at the town's profitable Venneford ranch.
DISC FIVE

Chapter 9: The Crime
There are plenty of tricks and tribulations as the Wendell family continue their schemes and a young widow, Charlotte Seccombe, returns to Centennial to run the Venneford ranch.
Chapter 10: The Winds of Fortune
Newcomers attract attention when a violent gang challenges the sheriff to a showdown, while Japanese laborers put everything on the line when they attempt to run their own farms.
DISC SIX

Chapter 11: The Winds of Death
A real estate tycoon lures Eastern families to Centennial with promises of fertile land, while Mexican residents find their rights rapidly disappearing in the homeland they've inhabited for centuries.
Chapter 12: The Scream of Eagles
Politics get dirty as two contestants face off to shape the future of Centennial and its dwindling precious resources.
The DVDs:
The Video:
The full-screen, 1.33:1 video transfers for Centennial vary in quality, depending on the particular episodes. For the most part, the transfers are about what you'd expect from a movie thirty years old. A fair amount of grain is present, along with the expected dirt (some to be found on the original elements, such as sloppy mud splotches on the camera lens) and scratches. Colors can tend towards the faded and muddy, although for the most part, they're perfectly acceptable. The Storm episode, however, was obviously taken from a video dub; it's substandard and soft, with a noticeable loss in video fidelity in comparison to the other episodes. I also noticed, during some of the more vigorous action scenes, some compression problems that looked quite poor on a big monitor (as one of the Indian braves runs towards the camera, the outlines of his face crisscross viciously across the image).
The Audio:
The Dolby Digital English 2.0 stereo mix for Centennial is merely okay, although I would have loved to hear John Addison's stirring theme song in 5.1. As it stands, the 2.0 delivers all the dialogue clearly, but it's apparent that source recording delivered some varying audio levels, which, along with apparently no restoration to the original track, can deliver a warble here or there. An interesting side note about the English subtitles available: in early scenes where Indians speak with Whites, their language is not translated, but you can read what they're saying if you put the subtitles on (when Indians speak together, the dialogue is in English). Other characters who speak other languages offer up some rather "interesting" (and unexplained) translations as well, including the German merchant who sells Levi his "accursed Jew car" (a Conestoga wagon).
The Extras:
The only extra available is a retrospective doc, Memories of Centennial, running almost 18 minutes, which features Robert Conrad, Barbara Carrera and William Atherton speaking about the film's production. Although the date for the doc is 2008, I wonder about that, because Conrad is up and about, and my understanding was that recently, he was paralyzed from a particularly bad car accident (he may have recovered, though). Regardless, there's not much going on in Memories of Centennial except the actors telling us how important it is as a film, and how much they enjoyed shooting it. I'm sure Universal and NBC have a wealth of extras connected with the mini stashed away somewhere; considering the relative obscurity of the title, unleashing those might have increased DVD sales with fence sitters.
Final Thoughts:
Centennial deserves a recommendation based on scope alone. Ambitious it certainly is, and some of its targets it hits spot on (its depiction of the tragedy that befell American Indians during this period is moving and powerful). But its other main purpose - to instill an environmentalism message over a 200-plus year history lesson, is less focused, and further diffused by the cliched melodramatics, the sometimes iffy production, and an increasingly repetitive editing structure. Acting honors go to Richard Chamberlain, Barbara Carrera, Michael Ansara, Richard Crenna as an insane mass murderer, Chad Everett as a conscious-stricken Army officer (that's right; Medical Center's Chad Everett), Mark Harmon, in a rather remarkable small cameo as an Army officer refusing to massacre Indian civilians, and the always marvelous Brian Keith, while some of the other acting choices are...interesting, to say the least. Vintage TV enthusiasts and miniseries fanatics will hightail it to the store to snatch this up, but others should rent first. I recommend Centennial.
---
Paul Mavis is an internationally published film and television historian, a member of the Online Film Critics Society, and the author of The Espionage Filmography.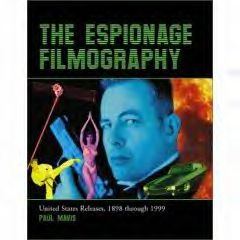 ---
C O N T E N T

---
V I D E O

---
A U D I O

---
E X T R A S

---
R E P L A Y

---
A D V I C E
Recommended
---
E - M A I L
this review to a friend
Sponsored Links
Sponsored Links