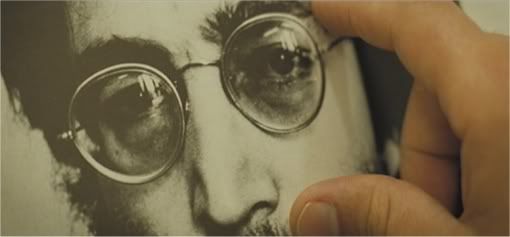 On December 8th, 1980, Mark David Chapman murdered music legend John Lennon in New York City. In the hours before, Chapman remained outside The Dakota (the building in which Lennon and his wife, Yoko Ono, lived) after receiving an autograph from the ex-Beatle as the pair departed for a recording session. Upon Lennon and Ono's return to The Dakota later that night, Chapman shot the musician and activist four times with a revolver from behind, ending his life in just a matter of minutes. Chapman was a native of Hawaii and traveled to New York specifically to kill Lennon, even though the young man was a fan of his music.
Stranger things have happened in this world, but not by much.
In the last 28 years, Lennon's murder has been studied, mulled over and theorized, but nearly every attempt to decipher Chapman's motive has produced virtually the same result: he did it because he had to. In the young man's possession that evening (and for a great deal of time before the incident) was a copy of J.D. Salinger's novel "The Catcher in the Rye", which Chapman believed mirrored his own life, both in direction and spirit. Some believe he simply did it for the attention, which was an inevitable result of such actions. No matter what the reason, this much is true: fans of Lennon were justifiably upset that such a talented man was murdered for completely selfish reasons. As of this writing, Chapman is still in prison and has been denied parole multiple times.
The Killing of John Lennon (2007), an independent film by writer/director Andrew Piddington and starring Jonas Ball as Chapman, attempts to dissect the killer's motive by putting viewers directly inside his head before, during and after the incident. For better or worse, we're stuck in his fractured psyche for nearly two hours---and not surprisingly, this film has become quite controversial for simply heaping more attention on a convicted criminal.
Fortunately, The Killing of John Lennon plays it much more straight and measured than its reputation implies. Piddington's film can't help but feel a bit bloated along the way, however: the actual incident doesn't occur until roughly 80 minutes into this 115-minute film, causing what comes before it to feel slightly long-winded and repetitive. Ball's performance remains compelling even when his naïve character has little to say---but since the film's third act is so effective, one wishes the earlier sequences could've followed suit. When one compares later scenes following Chapman's arrest to the lengthy "Catcher in the Rye" and Taxi Driver-inspired ramblings of the first and second acts, it's easy to see that his retrospective thoughts are much more engaging.
Nonetheless, the film is anchored firmly by Ball's solid performance, densely layered atmospheric touches and the wise decision to utilize actual locations in New York and Hawaii. The hotel balcony footage and sequences at The Dakota are particularly effective for this reason---so if nothing else, an authentic atmosphere has been created on a shoestring budget. Piddington and his crew (which, according to the director's audio commentary, was typically a group of three) shot the film in true guerilla style, which granted them access to several landmarks that might've been difficult to obtain otherwise. Overall, these elements create a slightly padded but thought-provoking film---and to the creative team's credit, The Killing of John Lennon manages to elevate itself beyond the unpleasant premise. To make a long story short, don't boycott it out of spite: see it for yourself and decide.
Presented on DVD by Genius Products and IFC Films, The Killing of John Lennon plays fairly well on the small screen. This one-disc package is a solid effort despite the film's modest origins, featuring a decent technical presentation and a small collection of relevant bonus features. While the nature of this film may keep some audiences away, those interested in the subject matter should find it a generally satisfying affair. Let's take a closer look, shall we?
Quality Control Department
Video & Audio Quality
Presented in its original 2.35:1 aspect ratio and enhanced for 16x9 displays, The Killing of John Lennon looks very good with mild reservations. The film's distinct mix of film stocks (35mm for the glossy Hawaiian scenes, Super 16 for the gritty New York footage) gives it a divided yet solid appearance, though mild amounts of edge enhancement can be spotted along the way. The New York footage is obviously home to plenty of film grain, but it's only distracting during a few sequences. Considering the production budget, viewers shouldn't find much to complain about here.
Likewise, the Dolby Digital 5.1 Surround mix is generally pleasing---but despite the ambitious intentions, it's not quite perfect. The majority of dialogue and music cues are mixed well with plenty of surround ambience, though portions of the voiceover narrative get buried low in the center channel. Combined with several jarring emotional outbursts along the way, this film might have you reaching for the volume button on occasion. Optional English captions and Spanish subtitles have been included during the main feature only.
Menu Design, Presentation & Packaging

Seen above, the atmospheric menu designs are basic and easy to navigate. The 115-minute main feature has been divided into 22 chapters, while no obvious layer change was detected during playback. This one-disc release is housed in a standard black keepcase and includes no inserts of any kind.

Bonus Features

Leading things off is a feature-length Audio Commentary with writer/director Andrew Piddington, who contributes a solid track during this polarizing film. He does a fine job of defending his work but often comes across as either too low-key or overly dramatic, though he strikes a good balance between technical talk and memories of the guerilla-style production.

Also included is a lengthy collection of Deleted Scenes (14 clips, 33:46 total), which mostly fall between the film's first and second acts. These are largely extensions of what made the film feel slightly padded to begin with: most are narrative voiceovers that tend to bleed together after awhile, though a few interesting character moments are peppered throughout. Last but not least is the film's excellent Theatrical Trailer (2:10); unlike the deleted scenes, this is presented in 16x9 enhanced widescreen. Unfortunately for the deaf and hearing impaired, no subtitles or Closed Captions have been offered during these extras.

Final Thoughts

Undoubtedly destined to rub some viewers the wrong way, The Killing of John Lennon is a worthy film that shouldn't be avoided due to subject matter alone. The film's generally solid performances and strong atmosphere defy its modest budget, punctuated by authentic locations and strong attention to detail. Even so, the film tends to flounder during portions of the first and second acts, often times lingering too long in Chapman's naïve young mind when it should be pushing forward. Genius Products' DVD package is well-intentioned, combining a decent technical presentation with a few interesting extras. Those on the fence are encouraged to give this a rent first, but there's enough here to make The Killing of John Lennon worth seeking out. Mildly Recommended.
---
Randy Miller III is an affable office monkey based in Harrisburg, PA. He also does freelance graphic design projects and works in a local gallery. When he's not doing that, he enjoys slacking off, second-guessing himself and writing things in third person.
---