Paul Lynde Halloween Special, with KISS, The
List Price: $14.99 [Buy now and save at Amazon]
---
A deliciously camp, waking nightmare, The Paul Lynde Halloween Special, a gay and KISS fanatics "holy grail" long-thought lost, has been miraculously unearthed and brought forth in all its gaudy, tacky mid-70s "Big Three" network TV special glory, by S'More Entertainment. And thank Christ they did. Unseen since its single network showing on October 29, 1976, The Paul Lynde Halloween Special's reappearance is a cause for weeping among Paul Lynde fans (and they are legion), the KISS Army (they are "legion" in the biblical sense), and anyone who wants to experience what it was like to be stuck at home on a Friday night in 1976, when there was no way in hell you were going to watch Sanford and Son and Chico and the Man again - not to mention Spencer's Pilots (I told you not to mention that).
Having a bit more structure than what was the norm for this kind of TV variety special, The Paul Lynde Halloween Special actually has a slight narrative skeleton to hold together its seemingly unrelated comedy and musical set pieces. Paul Lynde, playing himself, knows there's a holiday coming up on the calendar, but he's a little confused as to which one. Dressing up as Santa Claus (his wig is straight from Doris Day's closet) and the Easter Bunny, Paul is finally clued into the approaching Halloween night by his dyspeptic, squinting housekeeper, The Wizard of Oz's own Margaret Hamilton. Accepting Hamilton's offer of a trip out of town (to avoid those pesky trick-or-treating kids that Paul sings about in his first big production number), Paul and Margaret arrive at a spooky old mansion, where Hamilton promptly turns into The Wicked Witch of the West, introducing Paul to her sister Witchiepoo (Billie Hayes), the same witch from Sid and Marty Krofft's H.R. Pufnstuf).
When Betty White (as herself) pops in as a witch, too, Paul finds out the real reason he was brought to Witchiepoo's haunted mansion: the witches wanted a famous star to plead their case with the public. Hoping for a big celebrity (White is distinctly let-down at the level of celebrity Paul inhabits), the witches settle for Paul, and offer him three wishes to sweeten the deal. Wish number one for Paul is not Steve Reeves or Gordon Scott (a joke worthy of Lynde, made by my fellow DVDTalk reviewer Stuart Galbraith IV in his excellent review of this disc), but to be trucker - that's right: a big, hairy, white leather-clad, rhinestone-studded trucker. Gear-jammin' his red, white and blue Peterbilt (make your own joke there, kids) over to the local choke-'n'-puke, Paul enters into a show of macho strength with Tim Conway over the affections of waitress Roz "Pinky Tuscadero" Kelly (she of the white halter top, hot pants, and go-go boots on Happy Days), before they all get together for a hoedown/disco production number about over-the-road CBers.
Hopefully, wish number two will be better, but first, Paul has to endure the soon-to-be legendary KISS perform for the first time on national TV (they sing Detroit Rock City, much to Paul's initial horror). Returning from a station break, Paul accidentally wishes to be in a desert, where he's transformed by the old crones into Rudolph Valentino. Making wild, passionate love to marcelled Florence Henderson, Paul returns to the mansion, where he gives his third and last wish to the witches - who wish that Witchieepoo's home would be transformed into a sparkly Hollywood discothèque. Florence Henderson, looking slinky and sleek in black lame, sings a disco version of the Arlen and Mercer standard, That Old Black Magic in a sexy Southern drawl, before KISS performs two more songs (Beth and King of the Nighttime World), and the whole group dances and sings Johnnie Taylor's Disco Lady (which, for some unknown reason, is altered to Disco Baby).
Anyone growing up in the '60s remembers Lynde from his supporting turns in films like Bye Bye Birdie, Son of Flubber, and a couple of AIP Beach Party films, as well as countless appearances on popular sitcoms (most notably as wisecracking "Uncle Arthur" on Bewitched), while children of the '70s primarily know Lynde from his iconic appearance as the starring "center square" on the long-running The Hollywood Squares game show - as well as for gigs on variety shows like The Paul Lynde Halloween Special. If you've never seen Paul Lynde perform (and I suspect that number just increases as his star fades further back in time), it's almost impossible to adequately describe his act. Earlier in career, Lynde perfected a harried, terminally put-upon "Man in the Gray Flannel Suit" type of button-down suburbanite who reacted first with an explosive laugh at his own mean, cruel joke, and then with snickering contempt for anyone who didn't laugh at it, as well. Later, as his roles became meaningless facades for his acerbic comedy, Paul Lynde became "Paul Lynde," epitomized on The Hollywood Squares, where his gay, bitchy humor and devastatingly snide delivery were his solely required talents.
Evidently, Lynde was quite upset by this turn of events in his career (drinking and drug activity unfortunately increased in direct proportion to his success for this deeply conflicted man). Never more popular in the '70s than when he was merely "Paul Lynde," the performer always wished to be known as a serious artist (he did, after all, begin his career, quite successfully, on Broadway). And it's easy to see why he was so depressed - despite the outward signs of fame - with shows like The Paul Lynde Halloween Special littering his '70s resume. Just to be clear, though; anything as simultaneously obscure and bizarre as The Paul Lynde Halloween Special is going to be enjoyable to vintage TV fans, appreciated on the same level as watching the aftermath of train wreck. In and of itself, the show isn't all that particularly funny or entertaining (although Lynde, as always, is a total scream), but it does hold a circus-geek fascination for viewers transfixed by its wildly clashing themes and personnel.
Unfortunately, it's also so marginal in its tired, scattershot "variety" elements, that even with Lynde's expert one-liners, we begin to see the tightness around his face (a grimace, actually, considering what he's asked to do here), and we feel for him. Lynde was a unique talent, and one that seemed to cry out for better material and higher profile projects than he was frequently saddled with throughout his career (why didn't he ever hook up with Mel Brooks during both of their heydays?). Watching The Paul Lynde Halloween Special, it's not difficult for one to suspect a conversation between a producer and a network exec going something like this, "We're contractually obligated for another Lynde special. What the hell else can we do with him? What's hot today? What's 'now' and happening? Truckers? Disco? My kid likes this crazy band called KISS. Go write it up and get it on the air before Halloween. And don't spend any serious money." And so these divergent pop culture trends are mixed together with hopelessly outdated material (even for 1976) like skimpy, faux-Broadway production numbers and silent movie parodies, and enacted by a bizarre grouping of performers who bear absolutely no relationship to each other whatsoever (Florence Henderson and KISS singing on the same show? Miniscule pop culture blip Roz Kelly alongside movie icon Margaret Hamilton?). It's true that a special like The Paul Lynde Halloween Special was not at all uncommon on 1970s network schedules, but The Paul Lynde Halloween Special is certainly one of the more peculiar examples of the genre (this show is more SCTV-like than the parodies that brilliant sketch series came up with).
And of course, the lion's share of that difference in tone for The Paul Lynde Halloween Special comes from Paul's gay humor. Officially "closeted" to the public during his entire career, Lynde's act, nevertheless, was openly, even celebratorily, gay - and important for that fact. On one of the bonuses for The Paul Lynde Halloween Special, there's an audio commentary by Peter Marshall, discussing Paul's time on The Hollywood Squares, where Marshall recounts how Paul frequently received love letters from women viewers over the years. While this story is often the starting point for a discussion of Middle America's naiveté about homosexuality at that time in our history, my take has always been that it wasn't so much "naiveté" as it was a distinct, general "politeness" (characteristic of Americans in general at that time, not just the Midwest), mixed with awkwardness (as well as a secret delight in knowing he was gay), that kept Lynde's open "secret" private during his career.
Sexuality and someone's orientation just wasn't discussed back then, particularly between parents and their children (a lot of families grew up watching Lynde together); for that matter, neither was "sex" in general discussed. Sex still was largely a private matter in those waning days of American circumspection and civility. Any adult (or half-aware kid) watching Lynde at that time of course knew he was gay; there was no question of that. As for people being more naïve back then, there have always been, and always will be, people who are totally oblivious to what is right in front of them (how is Lynde getting love letters from women any different from the millions of viewers of Rosie O'Donnell recently who were "shocked" when she finally stopped lying about her crush on Tom Cruise and came out of the closet? Or the viewers who happen to watch another incredibly popular talk show host right now...). It just wasn't good form to discuss something so private, out loud.
Besides, he was so much funnier, so much more naughty, when you knew he knew you knew he was gay (got that?)! Lynde openly "played" at being gay, winking at us all the time, but never admitted it - but then acted like a total bitchy queen for the cameras (Marshall says in his interview, "If there was ever a Wicked Witch of the East, it was Paul."). Not unlike the "bleeps" on South Park that people prefer to the actual vulgarities, knowing Lynde was gay, and knowing it was a "secret" that everyone knew but that no one talked about, made his act that much more "forbidden" and "naughty" and flat-out hysterical. A good example of this is - and a deeply ironic one considering Vilanch co-wrote this special - is that dump truck with a perm, Bruce Vilanch. Taking over the "Paul Lynde" part for the reboot of The Hollywood Squares, Vilanch, openly outrageous about his sexuality, wasn't nearly as funny as Lynde - because the naughtiness was gone, with crude vulgarity replacing it. Curiously, detractors of Lynde fault him for this very deceit, when they should applaud the bravery of his act and comedy in shows like The Paul Lynde Halloween Special, because there's a real power in Lynde's "gay" delivery, a confidence and mastery of what he did, that laid the groundwork for more mainstream acceptance of gay humor (as important and vital a part of the American humor tapestry as any other strand). Who the hell didn't want to be as funny as Paul Lynde on The Hollywood Squares? His humor came from strength, from superb comedic timing, not from the fey, insulting caricatures of limp-wristed gay stereotypes that preceded him in early Hollywood films.
And there's plenty of that expertise on display in The Paul Lynde Halloween Special. While as I stated before, the special itself isn't particularly humorous in its own right, Lynde can usually hit a triple with even a marginal line. When Lynde gets that quavering, snickering derision down, and there's a glint of true mocking insult and plain meanness in his eyes, no one can come close to him for paralyzing put-downs. There are too many to list, but my favorite slam has to be when he's driving with Hamilton to her sister's house, when she informs him that he'll have fun at her "well-preserved" home. Lynde looks at her with tentative, cobra-like menace, and says, "You're well-preserved...and you're no fun." It may not read so funny, but the way Lynde delivers that line, it's something beautiful to behold.
Of course, there will be quite a few people picking up The Paul Lynde Halloween Special just for a glimpse of KISS in their network debut. Never being a "Knight in Satan's Service," I didn't really get into the group when I was a kid, but watching them here is a real hoot, particularly when Lynde starts to make fun of them. Billy Barty also shows up (to no real effect), as do Donnie and Marie for a wordless cameo, while Tim Conway puts in an insulting, desultory appearance (you can even see him rolling his eyes once - bad form, that). I freely admit to having deeply offensive, impure thoughts about Roz Kelly when I was 10, and I have to say, there's a moment in the special, right towards the end before the whole group sings the last song, where she's quite loose and flirty with Lynde - just for a few seconds - a nice little bit of banter that shows Lynde equally relaxed and having fun. Too bad they couldn't get that feeling for the whole show. And during Lynde's sign-off, there's an instant of perhaps unplanned vulnerability where he says, quite straight, "Thank you for making me feel wanted," - and you really believe he means it. It's a touching moment, one rarely seen for this comedian.
The DVD:
The Video:
S'More Entertainment has a disclaimer on the back of the DVD box that apologizes in advance for the quality of this, the only surviving master tape of The Paul Lynde Halloween Special. And although there's plenty of video noise and a too-soft picture, anyone who grew up on dubbed video tapes will feel right at home here with this okay 1.33:1 full screen transfer. Not nearly as bad as S'More Entertainment warns us it will be.
The Audio:
The Dolby Digital English 2.0 stereo mix is just a split mono, which is fine, because it sounds way better here than when it came through the little two-inch speaker on my portable black and white Zenith. There are no subtitles or close-captions.
The Extras:
As I mentioned before, there's a terrific audio commentary, illustrated with cool pictures, by The Hollywood Squares host Peter Marshall. It runs about 17:04, discussing his complicated relationship with Lynde. He doesn't pull any punches, but you can tell he had great affection for Lynde's talent. Marshall is a natural storyteller here - now let's get S'More Entertainment busy on that boxed set of unedited Hollywood Squares seasons, with Marshall doing some commentaries!
There's also a photo scrapbook of Paul's life and career, an interactive Name That Quip trivia game based on questions Paul answered on The Hollywood Squares (no, I didn't get all 30 questions right, so I don't know what the "special bonus" is), and some Notable Quotes from Lynde on subjects ranging from politics to food to performing. A very nice set of extras for what would have been a slim disc.
Final Thoughts:
Paul Lynde was an absolute master of the snide put-down, a gay performer who never said he was gay...and who then acted like a snarling, bitchy queen, just to psyche you out. He was marvelous, and he's never been topped. The Paul Lynde Halloween Special isn't the greatest venue for his talents - I'm not sure Lynde ever had a proper vehicle that correctly showcased what he was probably capable of - but there is a train-wreck fascination with this 1976 TV special. Where else will you see KISS competing with Florence Henderson in a sing-off - and lose? I highly recommend The Paul Lynde Halloween Special.
---
Paul Mavis is an internationally published film and television historian, a member of the Online Film Critics Society, and the author of The Espionage Filmography.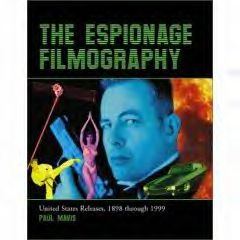 ---
C O N T E N T

---
V I D E O

---
A U D I O

---
E X T R A S

---
R E P L A Y

---
A D V I C E
Highly Recommended
---
E - M A I L
this review to a friend
Sponsored Links
Sponsored Links