Other // R // September 30, 2008
List Price: $29.95 [Buy now and save at Amazon]
---
Or Make Room for Daddy. Industrial Entertainment has released for the first time on DVD, Butterfly, the notorious 1982 Pia Zadora-starrer based on James M. Cain's incest novel, The Butterfly, with Stacy Keach, Orson Welles, Lois Nettleton, Edward Albert, Stuart Whitman, James Franciscus, and Ed McMahon (hi-oooooh!) along for the ride. If the title sounds familiar, it might be because you remember the controversy that erupted when "newcomer" Zadora improbably won the "New Star of the Year" Golden Globe Award in 1982, beating out such nobodies as Kathleen Turner in Body Heat, Elizabeth McGovern and Howard E. Rollins, Jr. in Ragtime, and Rachel Ward in Sharkey's Machine. Evidently, everyone involved with the film would like us to now see Butterfly as some kind of "cult" movie, but it's not nearly good enough - nor bad enough, either, unfortunately - to qualify for that distinction.
Stacy Keach plays Jess Tyler, a burnt-out caretaker for a busted-out silver mine on the Arizona/Nevada border. It's 1937, in the middle of the Great Depression, and there's not much for Jess to do out there in the middle of nowhere except to occasionally check the mine for signs of scavengers, looking for easing pickings among the ore scraps. Coming home one day, he finds a scantily-clad young woman sitting on his porch; she claims to be his eldest daughter Kady (Pia Zadora), who left ten years ago with her older sister Janey (Ann Dane) when their mother, Belle Morgan (Lois Nettleton), left Jess because he was poor. Having been raised by the immoral Belle, Kady apparently doesn't mind seducing her father - particularly if it means she can convince him to steal silver ore from the mine as payback against the mine owner, Mr. Gillespie (Ed McMahon...hi-oooooh!).

Evidently, Kady wants some payback against the Gillespie family because Walsh Gillespie (Edward Albert), the craven rich-boy son of Mr. and Mrs (June Lockhart) Gillespie, knocked up Kady last year...and then was talked out of marrying Kady because she's a tramp and her family are losers. All of this seems academic at the moment to Jess, because he's fighting a losing battle against his unnatural attraction to his daughter (which isn't helped any by her clawing the turf in heat all the time). When first Kady's baby comes to stay at the mine (and what's with that strange butterfly-shaped birthmark on his stomach?), and then dying souse Belle and her lover Moke Blue (James Franciscus) unexpectedly drop by, events spiral out of control for Jess and Kady, leading to illicit love and murder.

SPOILERS ALERT!

What I always find disappointing with a film like Butterfly is that invariably, a "cult" film's so-called "notorious" reputation delivers unreasonable expectations of tawdry delights - which invariably fail to measure up to our flights of naughty fancy. I remember seeing Butterfly when I was a kid in high school (I believe on cable, since its theatrical release was spotty, due to several switches in its distributors), but even within that short window of time, the film had garnered a rep far out of proportion to its actual demerits of good taste. Certainly the whole Golden Globes fiasco (where the press jumped on the assumption that the award was "bought" for Zadora by her millionaire husband Meshulam Riklis, who also footed the entire bill for this vanity project) gave the film cache with bad movie enthusiasts who loved the extra layer of scandal associated with the title. Whether or not this bribery of the Hollywood Foreign press corps actually happened proved ultimately beside the point. It only served to further tag Zadora (who was much younger than her husband and who had an amusing habit of taking off most of her clothes at functions to promote the film) as a "bimbo" and Butterfly as an ill-conceived vanity project for the marginally talented Zadora.
As well, the film somehow acquired a reputation for being something akin to a soft-core skin flick - a connection no doubt aided by its central theme of incest between father and daughter, Zadora's many scantily-clad P.R. moments promoting the film, and the fact that the film was directed by soft-core specialist, Matt Cimber. With controversy both in front of and behind the camera, Butterfly was really kind of a perfect storm of bad movie publicity, one that only comes along seemingly once or twice a decade.
Unfortunately, nothing in the film itself lives up to those expectations. Because Butterfly's greatest sin is...that it's boring. Frightfully boring, in fact. First things first: if you're looking to buy or rent Butterfly for any kind of skin/simulated sex angle - forget it. It's not here. Zadora shows off her naked rear end a couple of times...and that's it. No hot and heavy action. Nothing. About the best you're going to get is Keach cupping her breasts in a tub, and some kissing down in the mine. I mention this because Butterfly's rep seems to indicate something along the lines of 9 ½ Weeks when it's closer to Three's Company. Quite frankly, I was surprised to see it still rated "R," but I would imagine it's keeping that rating due to the thematic content. A tamer film about illicit love I have never seen, is Butterfly; how it's acquired this so-called notorious reputation is beyond me. So if cheap thrills are your bag, skip Butterfly.
And without any face-saving cheap thrills, what's an exploitation film without exploitation to do, but lay there and huff and puff and get nowhere? Which is precisely what Butterfly does. Perhaps the most remarkable aspect of Butterfly is its po-faced belief in its own dramatic worth. I have never seen a film that should have been fruity and overripe and grotesque and ribald, come out so ridiculously solemn and self-important as Butterfly. Did everyone involved really think they were making a serious film here? Didn't anyone read the script? This is second-rate Cain, at best (most original critics of the novel said it was only mildly sensational to begin with, with very little actual story); this isn't The Postman Always Rings Twice or Double Indemnity. Dealing with such a sensitive subject as incest, one would think that screenwriters Cimber and John Goff (Drive-In Massacre, C.B. Hustlers, and The Capture of Bigfoot) would either try to handle this penultimate taboo in either a sensitive manner, reaching for some kind of legitimate dramatic statement within the confines of good taste, or go for broke and indulge in bottom-of-the-barrel exploitation tactics and skip the hypocrisy of titillation blunted to serve a "message" - with both of those approaches acceptable solutions to the problem of dealing with the main theme.
But curiously, Butterfly does neither (no dirt, and no sensitivity), instead going with an underwritten, underdeveloped treatise on the acceptability of incest - as long as it "feels good," and as long as there's love involved - a truly moronic notion that the film blithely wrangles into shape with a combination of New Age vapidity and After School Special earnestness. The movie has plenty of howlers in its opening act, indicating that the film might just wind up being a dirty, campy goof (when Zadora samples a dipper of fresh, hot milk from the cow that Keach milks, she licks her lips like a cat and says, "I like it warm...with foam on it."). But bizarrely, by the end of the film, when the courtroom theatrics twist themselves into pretzels with each new revelation about the goings on between Kady and Jess, we're left with a unpalatable pro-incest, "it's right if it feels good" sermon that's right out of hazy 1970s California "do it if you feel it" philosophies - filtered byway of familial copulation. The fact that Jess and Kady wind up not being related by blood after all, is totally beside the point (ahem...calling Mr. Allen) - they both affirm at the very end of the film their intent to honor what they did even if they had been blood kin. Jess believes making love to his daughter (when he still had no idea she wasn't truly his) was the ultimate act of love he could give her...and she agrees - a truly disquieting notion the film solemnly professes. And all of which is further sullied by being delivered with a high-school play sincerity that would be laughable if it weren't so mind-numbingly tedious.
Even with his own terrible script, couldn't Cimber have pulled off something, anything marginally entertaining with that insane cast of his? Why the hell didn't somebody turn them loose and let them have a little bit of fun, for god's sake? I won't even dwell on what James Franciscus and Stuart Whitman are doing in this mess, and the pairing of Ed McMahon ("You are correct, sir!") and Lassie's June Lockhart, for god's sake, is something not to be looked at too closely. Only Welles seems to be in on the joke, having two memorably funny scenes, the last one where he comes unglued when he asks Kady to breathe on him closer. He's in the spirit of this junk, treating it for what it is: exploitation. He's hamming it up (50 bucks to anyone who can tell me where that comb-over begins and ends) and obviously having a good time. But Stacy Keach, an actor I admire enormously (from Fat City to Twinkle Twinkle, Killer Kane to Up In Smoke, he's quite versatile), is ludicrously grim and immobile as Jess. It's rare to see such a relentlessly humorless performance as Keach's, so I can only assume he was specifically instructed by Cimber to be as screwed-down-tight as possible. Unfortunately, nothing in the film, either in the hapless screenplay or the limp direction, supports such a miserly turn by Keach, making him look all the more ridiculous as he takes the role far too seriously for his - and the film's - own good.
Which brings us to Pia Zadora. I remember the relentlessly cruel jokes by Johnny Carson and other stand-up comedians during the early '80s at Zadora's expense - none of which registered too strongly because honestly, who ever really saw her in anything? She was one of those verbal punchlines that got a laugh just on name-recognition alone - I doubt very few people actually knew who she was. That being said, I can't say she's as terrible an actress here as her reputation suggests, although she does have far more technically "bad" scenes than good in Butterfly. With a director like Cimber, it's tough to make judgment calls on an actor's performance, so I'll give her the benefit of the doubt (as I will for the frequently awful lensing of her here, as well, that often times makes her appear rather unattractive in a full-faced, crossed-eyed manner). One or two times she has her moments, indicating a possibility of better things. But even if Orson Welles could have magically taken her back 40 years in time and directed her in a film, I'd doubt she'd be a serious contender for any kind of "New Star of the Year" award.
The DVD:
The Video:
The anamorphically enhanced, 1.85:1 widescreen transfer for Butterfly suffers from compression issues, and a particularly noticeable jiggering problem whenever the camera tracks or pans (could this transfer be taken from a PAL conversion?). Colors seem washed out, while the picture at times appears soft. Not at all an impressive transfer for what looks like a fairly decent-looking film.
The Audio:
The Dolby Digital English 2.0 stereo audio mix is adequate for the job here, with dialogue and Ennio Morricone's overrated score nicely balanced. Not many directional effects, however. There are no subtitles or close-captions.
The Extras:
A disproportionate number of extras (in relation to the worth of the film) are included in the Butterfly disc. First, there's a full-length commentary featuring Zadora, Cimber and producer/ex-husband Riklis. Zadora sounds distant from the whole enterprise, which I suppose is appropriate. There's also a 41-minute documentary on the film, featuring interviews with Zadora, Cimber, Riklis and Keach. Keach is genial as hell about the whole thing, and readily admits there should have been more humor in the film and in his portrayal. The original theatrical trailer is also included.
Final Thoughts:
The Grapes of Wrath - if The ABC After School Special produced it and Tom was sleeping with Ma Joad. Utterly humorless and po-faced about its junky script, that overripe cast doesn't get a chance to breathe in this remarkably tame erotic drama. Not anywhere good enough to be taken seriously, and not ineptly bad enough to be rediscovered as a campy cult item. Don't bother. You can skip Butterfly.
---
Paul Mavis is an internationally published film and television historian, a member of the Online Film Critics Society, and the author of The Espionage Filmography.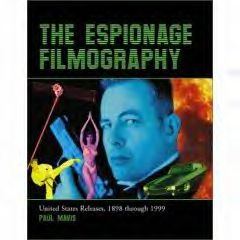 Sponsored Links
Sponsored Links