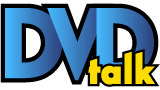 Torchwood: The Complete First Season
List Price: $99.98 [Buy now and save at Amazon]
---
The Series:






Russell T. Davies did the seemingly impossible when he brought the long running,
and long ago cancelled, BBC show Doctor Who back from the dead.
Not only did he manage to resurrect the show, but change the format and update
it successfully for the 21st Century. While I truly enjoy the new series,
I've always thought that it succeeded in spite of Davies rather than because
of him. While he doubtlessly has a great vision for the show, the scripts
that he penned were always the weakest and the most juvenile of any given
season (farting aliens anyone?) Another piece of evidence for my pet
theory is the spin-off show that Davies created from Doctor Who, Torchwood.
The first season has now been released on Blu-ray and while the shows
look nice, without the decades of history that Doctor Who has to help
guide it, this new series stumbles around a bit and has a bit of trouble
finding its voice.




src="http://www.dvdtalk.com/reviews/images/reviews/81/1223068928_6.jpg"

alt="">




When PC Gwen Cooper (Eve Myles) is taken off a murder investigation at the
order of the mysterious organization Torchwood, she starts snooping around.
She follows them, hoping to discover their headquarters, but the group inexplicably
vanishes in the middle of a large open area. Cooper doesn't give up
that easily however. She persists and because they happen to order
pizza from a nearby delivery place under their secret organization's name
(duh, what idiots) she's able to discover where they are located and infiltrate
their base.



What she discovers is an organization that is "outside the government, beyond
the police." They're charged with finding alien technology and exploring
its uses along with handling any extraterrestrial baddies who might happen
to show up. The group consists of computer specialist Toshiko
Sato (Naoko Mori), medical officer Dr. Owen Harper (Burn Gorman), and mechanical
genius Suzie Costello (Indira Varma) and their servant Ianto Jones(Gareth
David-Lloyd). They are lead by Captain Jack Harkness (John Barrowman),
a mysterious man who can not die. He was last seen at the end of the
first season of Doctor Who trapped in the very far future. Just how
he got to 21st Century Earth and why he's immortal are mysteries.




src="http://www.dvdtalk.com/reviews/images/reviews/81/1223068927_3.jpg"

alt="" width="400" height="266">




After the first episode where Gwen helps the group track down a serial killer
who is using alien technology, she joins the group. What a beat cop
can contribute to a top-secret hyper-scientific cabal like Torchwood isn't
exactly clear, but they think she'll come in handy so she joins up.



Gwen has bitten off a little more than she can chew however. Instead
of chasing muggers and common thieves, she finds herself confronting a Cyberman,
befriending a girl who became lost in time, and nearly being possessed by
an alien that wants to constantly have sex. But if Torchwood doesn't
face these menaces, who will?



This isn't a show that's trying to recreate the atmosphere of Doctor Who,
which is a good thing. It's trying to be its own show but it's clear
from this first season of 13 episodes that the creators aren't quite sure
what to do with it. The show stumbles around a lot, and while some
of the episodes are excellent, there are others that just fall flat.




src="http://www.dvdtalk.com/reviews/images/reviews/81/1223068928_5.jpg"

alt="">




One of the main problems is that the scripts are very loose and filled with
holes and improbabilities. This is really damaging to the show
and it's hard not to scratch your head in wonder at some of the bone-headed
things that are done. In the first episode a Torchwood member breaks
the rules that results in several deaths. For the rest of the season
other members disobey orders and break the rules and not only are they kept
on, but they aren't even punished. In one story it is discovered that
Ianto has somehow hidden a Cyberman on the base along with a conversion table.
After that episode, they go on trusting him as if nothing happened.
In the rest of the series Captain Jack is shown killing people for less,
but he lets Ianto off without as much as a slapped wrist.



In the extras Russell T. Davies proclaims several times that he wanted to
make this a show for adults, and he did. It is an adult program, but
it's not grown up or mature. The show pushes the boundaries but for
no other reason than to see what they can get away with. Every single
member of Torchwood has an on-screen kiss with a member of the same sex,
and they drop the f-bomb without blinking. There's nothing wrong with
that if it enhances the show or advances the plot. In Torchwood the
sexuality rarely adds to the program however and often distracts from the
main story. Is it really believable that a British military officer
would kiss another man in front of his own men? Oh yeah, and this takes
place in 1941! Today it would be improbable, back in WWII the officer
would be up on charges and his men would refuse to follow him. It's
stupid, but it did fulfil that episodes homo/bi-sexuality quota.




src="http://www.dvdtalk.com/reviews/images/reviews/81/1223068928_4.jpg"

alt="">




At its worst, the show is appallingly idiotic due to sloppy writing.
There's one episode where a villain creates an insanely complex plan that
would have made Lex Luthor laugh at how preposterous it was. (The plan
starts out with the villain assuming that Torchwood can revive the dead...
it gets worse from there.) Another episode relies on someone accidently
taking three pictures of people's shoes with a cell phone. Oh yeah,
that happens all the time.



It would be easy to write this show off as crap if it wasn't for some of
the good episodes that sprinkle themselves through the season.
These are often the programs that focus on personalities of the Torchwood
members rather than on fighting an alien baddie. The episode "Random
Shoes" is has a man who's been interested in aliens his whole life waking
up in the middle of the road, dead. He sees his body and accompanies
Gwen as she tries to discover how he came to die. "Captain Jack Harkness",
though silly in places, has Captain Jack and Toshiko transported back to
1941 during the Blitz and meet a man that they know is going to die the next
day. A touching story that was really very good despite its flaws.





src="http://www.dvdtalk.com/reviews/images/reviews/81/1223068927_2.jpg"

alt="">




One of the aspects that I enjoyed the most is that there are some nice touches
that link the show firmly to the Doctor Who universe. Some of
them are major, like the appearance of a Cyberman in one episode, but the
more subtle touches, a "Vote Saxon" poster on a city wall for example, are
a lot more fun. These little inside jokes for the hardcore Who fans
give the show a sense of fun that it generally lacks.





The Blu-ray Disc:





---


All 13 episodes that comprise the first season come on six Blu-ray discs.
These arrive in a nice book with one disc on each page. The book is
housed in an illustrated slipcase.



Audio:



The show comes with a DTS-HD 5.1 mix that is very good. The surrounds
are used to good effect throughout the show, not just during the action scenes.
When they're in "the hub" the sound of falling water can be heard from the
rears, and in one episode people are leaving a room when music starts behind
them. Viewers can hear the music from the back of the room just as
they turn around. It's a simple effect but it works wonderfully.
The infrequent battle scenes have a good amount of bass and while it won't
give your subwoofer a work out like the latest Hollywood action flick, the
show has a good lower end. The dialog is clear and clean and even though
many people talk with British accents, it's never hard to understand what
is being said.



Video:



The 1.78:1 VC-1 image is only encoded at 1080i, but the picture still looks
good. While it has more detail and finer lines than the DVD version
of the series, there are still a couple of areas where the show (which was
recorded in HD) falls a bit. The aerial shots of Cardiff at night are
unusually soft with the lights being very diffuse. The daytime images
don't have this problem so it may have been intentional though I can't imagine
why. There is some digital noise in dark areas, but this is minor,
and banding was a problem in a few places, most notably when traveling past
the sun in the episode "Random Shoes." The whites are also occasionally
too bright, and while they never bloom, they do obscure some fine detail.




Aside from those defects the image was clean and the level of detail was
very good. The skin tones were accurate and the colors were nice and
solid. While this isn't a reference level set, it still looks fine.




Extras:



There's a great deal of bonus material contained in this set, all of it ported
from the SD version. First off are commentaries on every episode with
various members of the cast and crew. Since I wanted to get this review
up I didn't take the time to listen to every one, but the ones that I spot
checked seem fine with production details and behind-the-scenes anecdotes
being told. The commentators generally seemed to be having a good time.



The video bonus material is, alas, presented in standard definition.
What they lack in resolution they make up in quantity however. Each
episode is accompanied by an episode of "Torchwood: Declassified" a
behind the scenes BBC program that focuses on each episode. There are
also deleted scenes to several episodes, "Torchwood: Out of This World",
a series of behind the scenes featurettes that looks at the special effects
for most episodes, and each is also has at least one additional featurette
that examines various aspects of the show from the SUV that the Torchwood
team travels in to the sex in the series. There's quite a bit of repetition
between all of these, but it is a very complete look at the making of the
series and should please any fan of the show.



Final Thoughts:



In this first season the writers spend a lot of time trying to get used to
the characters and find a direction for the show. For every episode
that misses the mark however, there's another one that works well.
The characters are developed well over these 13 episodes and the show generally
became better in the second half of the season. While it's not perfect,
it is a good show that's worth watching and so comes recommended.



Note: The images in this review do not come from the Blu-ray discs
and are not representitive of the picture quality of this set.

---
C O N T E N T

---
V I D E O

---
A U D I O

---
E X T R A S

---
R E P L A Y

---
A D V I C E
Recommended
---
E - M A I L
this review to a friend
Sponsored Links
Sponsored Links