Speed Racer - The Complete Classic Series Collection (Collector's Tin Edition)
List Price: $49.98 [Buy now and save at Amazon]
---
"C'mon, Sparky; let's go! There are more races to be won!"
Lionsgate has repackaged their previous individual Speed Racer releases for Speed Racer - The Complete Classic Collection, featuring all 52 episodes of the iconic 1960s Japanese/American anime, housed in a collectible tin shaped like Speed's own beloved Mach 5 racer. With the episodes carried over onto five discs, a sixth disc is included, featuring a few minor bonus extras (which would seem to be the only consideration for double-dipping here). Fans who don't already have the complete series on disc (which seems doubtful) have a nice alternative here in this one-stop, ready-to-go set.
Anyone reading this review is probably already well acquainted with the show, so a very brief rundown of the series' production is all that's needed here. Originally conceived as a Japanese manga in the early 1960s by legendary anime artist, Tatsuo Yoshida, Mach GoGoGo, the story of a young race car driver, Go Mifune, was inspired not only by Yoshida's earlier manga, Pilot Ace, but also, according to interviews with the artist, two big-screen American films: Viva Las Vegas and Goldfinger (I call the Bond film "American" because it was largely financed with U.S. funds). Anyone looking at the character who would become known as "Speed Racer" can see the obvious stylistic nod to Elvis Presley (including his black pompadour and even his red sport coat and skinny tie in early episodes), as well as the Bondian tilt in not only the design of the Mach 5 (just like the Aston Martin, with all its technical marvels), but also in the scope and framework of the stories, with their globe-hopping intrigue and emphasis on quick, violent action.
Mach GoGoGo proved popular enough in Japan to be translated into an anime series in 1967 (animated at Yoshida's Tatsunoko Productions studio), with the one-season series then exported to America for syndicated runs by Trans-Lux. Obviously in need of an overhaul for American audiences, the Japanese-language series was handed over to Peter Fernandez, an editor, writer, and sound effects jack-of-all-trades who had previously worked on Japanese imports, Astro-Boy and Gigantor, two animes that set the stage in America for the massive success of Speed Racer. Fernandez, in charge of not only editing the episodes for American TV (very small, minor cuts occasionally had to be made, to tone down the original violence of the Japanese episodes), but also in providing an entirely new dub track, rechristened Mach GoGoGo as Speed Racer, while Fernandez himself voiced Speed and the mysterious Racer X. Along with vocal talents Corinne Orr, Jack Grimes and Jack Curtis, Fernandez had the difficult task of not only completely rewriting the episode scripts into English (while maintaining the basic storylines), but also fitting the new English dialogue to match the mouth movements of the animation - a challenge that resulted in Speed Racer's distinctive "sound," with elongated sentences and plenty of "ah's!" and "oh's!" to fill the screen time of the characters' mouthings.
The storyline of Speed Racer is quite simple (and at times, admittedly, repetitive). Young would-be race car driver Speed Racer has something to prove. Possessing the gadget-filled Mach 5, one of the hottest cars on the planet (built by his engineering wizard of a father, Pops Racer), Speed wants to be the greatest racer in the world - if he can convince his father to let him race. Once Pop reluctantly agrees, Speed is constantly pushing himself to improve his racing skills, frequently finding himself coming up short despite his innate, superior driving skills. Always learning, always improving, Speed is often aided in his pursuit of excellence by his large support network. Pops, of course, is always improving and modifying the Mach 5 - which has the ability, among other things, to submerge underwater, to cut down trees in its path courtesy of two large front-end buzz saws, to spring over large obstacles, and to send off a tape-recording robot homing pigeon to call for help. Mechanic Sparky also keeps the Mach 5 running in tip-top shape, while friend Trixie, who's often jealous of the girls that fall for dreamy Speed, flies a mean helicopter when necessary - which is often when Speed and the Mach 5 find themselves stranded on some alpine ridge or volcanic abyss. Speed's younger brother, Spritle, and his pet chimp Chim-Chim, are frequent stowaways in the Mach 5's trunk, and while Spritle can often be a nuisance ("I want some candy!"), he also manages to help Speed on numerous occasions. Most mysteriously, though, a strange figure, Racer X, also seems to keep a watchful eye over Speed, oftentimes showing up at a critical moment in the young racer's life to not only save him, but also to offer a helpful lesson about life and racing. And it's a good thing Speed has all these people, because he's constantly set upon by a vast array of villains who crop up during Speed's races; evil men bent on controlling the world, or stealing vast sums of money, or merely looking to bump Speed off during one of his harrowing races. Can Speed survive his daily challenges, and become the greatest race car driver in the world?
SPOILERS ALERT!
Certainly my connection with the original classic Speed Racer program is no different than millions of other guys from my generation who have particularly fond memories of this action-packed cartoon. Like everyone else, I caught the series in syndication in the early seventies (for me, it was on Detroit's WKBD-TV50, in the afternoons, right after another favorite anime of mine, Kimba - by the way, did the creators of that series ever sue the pants off Disney for ripping-off that classic, and renaming it The Lion King? Any experts out there, drop me a line and let me know). Watching Speed Racer was like watching a mini-James Bond film, made especially for kids, with nothing like plots, dialogue, or complicated character motivations to get in the way of all the car chases and explosions. Speed Racer moved, man, and it didn't look like anything out there at the time.
Watching it today (without my usual sidekick of a kid or two; this set is going to be a Christmas gift), I wondered how it was going to hold up; I'm sure I hadn't seen it in twenty years or more. Of course, the first thing that grabbed me was the visual design of the cartoon. Looking like nothing else animated back in the late 60s, Speed Racer, with its extreme, off-center close-ups, whip-pans, and vertiginous racing effects, resembles a comic book (as kids we had no idea of its manga origins) version of the Cinerama epic Grand Prix (which had premiered a year before Mach GoGoGo was produced, and which had many of same kinds of extreme racing visuals) - if it was directed by say, Sergio Leone, with his massive, weird close-ups. For a cheaply produced, limited animation, full-screen cartoon, there's a true sense of scope and scale to the action here, something that still impresses today, despite the budgetary limitations. The action, as well, is more pronounced than even some big-screen thrillers from that time period (you'll find more explosions and car wrecks in one half-hour episode here, than in all four of Dean Martin's Matt Helm spy films). What I found particularly gratifying was the dark, determined nature of the violence, as well. Cars go over cliffs in each and every episode...and for the most part, the drivers don't climb back up (like the Coyote every time he's pounded in those Roadrunner Looney Tunes). They're obviously dead (show me another cartoon from this period that gleefully shows a guy getting stripped to the bone by ravenous piranha???).
And that finality adds weight to the often-times dark stories that involve greed, revenge, guilt and plain old murderous intent. That hyper-realism, mixed with the stories' frequent use of surreal, outsized, fantastical, supernatural threats and villains, creates a delightfully bizarre world that still packs a semiological punch today. Character motivations, alongside the eye-popping action, are equally important to Speed Racer's success. What little kid doesn't respond on a deeply submerged level to Speed's constant need to prove himself capable in an adult world? His drive to master the physical world around him (through the Mach 5)? His desire to prove himself worthy of a parent and (absent) brother he idolizes? That's Speed Racer's hook with kids, just as much as the cars going "VROOM VROOM VROOM!"
The DVD:

The Video:
The full-screen, 1.33:1 video transfers for Speed Racer - The Complete Classic Collection look about the same as I remember them on TV, years ago. Certainly, quite a bit of the screen anomalies that show up originated in the animation process (which was hurried, on the low budget). But it's also apparent that Lionsgate (which doesn't have the best reputation for the quality of its transfers) hasn't done anything to clean these up. Colors are muted, the picture can be soft at times, and interlacing is a factor. Still, these will look fine to a little kid, who won't care if the colors are occasionally fuzzy.
The Audio:
The original mono track has been split into a Dolby Digital mix, with an appropriate, but not outstanding, level of loudness. Hiss is a minor factor, but the dialogue is clear, at least. Close-captions are available.
The Extras:
First, there are no original Japanese audio tracks here - just the original English dubs. The discs are housed in a compact disc holder-sized, stiff-board booklet, with cardboard slip holders for the discs (the episodes are listed on the holders). The booklet fits into the special metal case that's shaped like the Mach 5. It measures 10" long, by 6" wide, by 2" thick. It's split (like a candy tin). I can't say it did much for me; it wouldn't fit on my regular DVD shelves, so I would imagine the cardboard booklet will be taken out, and the tin stored.
Bonuses on the discs are a bit thin. On the first disc, the Speed Racer Files, broken down into sections "Production," "Mach 5," Villain's Gallery," and "Speed Lives On!" contain text info on these various themes, along with accessible clips and audio (The "Mach 5" is probably the best one, where you can select all the car's gizmos for inspection). On disc 2, there are buttons in the menu that lead you to clips and text about various villains and other themes in the show. The sixth disc contains a 10-minute documentary on the production of the original show, featuring interviews with Peter Fernandez, James Rocknowski of Speed Racer Enterprises, and Ben Gruber, Larry Schwartz, and David McGrath, of the remake cartoon. It's a pretty thin documentary, considering the importance of the show in American (and world) pop culture. There's also a 10-minute featurette on the remake cartoon, as well as a sample episode - both dreary beyond words. Considering the fan base of this cartoon, and taking into account that quite a few fans probably already have the individual releases, someone dropped the ball in trying to convince viewers to double-dip on this collector's edition, when the extras are so skimpy.
Final Thoughts:
Watching the classic anime/cartoon Speed Racer, I was initially amused at how Speed made the Mach 5 perform all those physically impossible stunts...and then it occurred to me: that's just how little boys play with their toy cars. Remember? We used to take them, and make them fly in the air, and climb straight up a chair, and do ridiculous flips and turns and smash-ups, all the while making revving and skidding and explosions noises, over and over again. That's the appeal of Speed Racer, and it's impossible not to get caught up in its bizarre world of hyper-realism and surreal, outsized, supernatural fantasy. It's a combination that's just as potent today as it was forty-plus years ago. Even though this special collector's edition is thin on the extras, it does give you the entire classic series in one fell swoop, presented in probably the best shape it's ever going to be on DVD. I highly recommend Speed Racer - The Complete Classic Collection.
---
Paul Mavis is an internationally published film and television historian, a member of the Online Film Critics Society, and the author of The Espionage Filmography.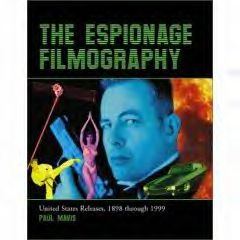 ---
C O N T E N T

---
V I D E O

---
A U D I O

---
E X T R A S

---
R E P L A Y

---
A D V I C E
Highly Recommended
---
E - M A I L
this review to a friend
Sponsored Links
Sponsored Links