Power Rangers: Jungle Fury - Into the Jungle (Vol. 1)
List Price: $19.99 [Buy now and save at Amazon]
---
"Let's Ranger up!"
"Ready!"
"Jungle Beast Spirit unleashed!"
Ranger fans (and I humbly included myself) will no doubt be out in force on Tuesday when Buena Vista Home Entertainment releases Power Rangers: Jungle Fury - Into the Jungle, Volume 1, which gathers together the first six episodes of the latest Power Rangers installment (which I believe just finished airing its last episode sometime in November on Toon Disney, and ABC Kids). Although by no means at all an authority on the Power Rangers (so cut me some slack with the minutiae-parsing emails, Ranger experts), having grown up on U.S. syndicated episodes of tokusatsu classics like Johnny Sokko and His Flying Robot and Ultraman (and of course, all the endless viewings of the kaiju Godzillas and the like), these kind of shows are ingrained in my early TV DNA, so it's not exactly difficult to work up some enthusiasm for this latest round of high-flying, high-kicking, morphing Power Ranger action.
Adapted from the Japanese Super Sentai series, Juken Sentai Gekiranger (which aired in 2006, and from which most of the action scenes are taken for Jungle Fury), Power Rangers: Jungle Fury tells the story of three teenaged students who are entrusted with saving the world from the ancient evil of Dai Shi. Living and training at the secret temple of the Pai Zhua, the Order of the Claw, experienced students Theo Martin (Aljin Abella) and Lily Chilman (Anna Hutchison) have been chosen by Master Mao (Nathaniel Lees), along with arrogant, powerful Jarrod (Bede Skinner), to enter The Forbidden Room to learn the ultimate purpose of their intensive training (training that has revealed that the students possess incredible animal spirit powers). However, before this happens, Jarrod, by way of his ill-treatment of a younger cadet, proves he's ill-suited for Master Mao's plans, and he's replaced by inexperienced cadet Casey Rhodes (Jason Smith), who unwittingly releases a powerful tiger spirit when defending the young student abused by Jarrod.
Master Mao summons the three students to The Forbidden Room, and explains their destiny. Ten thousand years ago, an evil spirit named Dai Shi believed that humans should be erased off the world, with animals ruling in their stead. Fortunately, forces, including the Pai Zhua, were able to defeat Dai Shi, imprisoning the evil spirit in a casket - the casket that Master Mao now holds in front of Theo, Lily and Casey. Master Mao explains that the Order of the Claw's mission has thus been to learn, practice, and master kung fu in order to protect the world, should Dai Shi ever escape - and that Theo, Lily and Casey are now the sole guardians of that casket. Naturally, Dai Shi has to escape somehow, and his release is facilitated by the arrival of an enraged Jarrod, who demands to know why he was released from the Pai Zhua. Battling Master Mao, the casket falls and Dai Shi is released, killing Mao's physical form before the ancient spirit leaves to unleash a new "Beast War" against humanity.
Before he dies, Mao tells the students that they will have a new master, and to go to a certain address in Ocean Bluff (the site where Dai Shi was originally defeated and where Mao now believes he will go), where they will meet their new master. Finding themselves at the Jungle Karma Pizza restaurant, the kids are taken aback when they finally meet their new teacher: surfer dude R.J. James (David de Lautour), the most unlikeliest Pai Zhua master one could imagine. Laid back to the point of horizontal, R.J.'s slightly askew viewpoint is a constant challenge to his students - particularly when he insists that they work at his pizza place part time. But once he hooks the Order of the Claw recruits into the Morphin grid, downloading all of the past Power Ranger information and training into their DNA, the newly christened Power Rangers are "go!"

SPOILERS ALERT!

I understand that some die-hard Ranger fans don't appreciate the contributions of writer/producer Bruce Kalish to the Ranger franchise (a TV vet who wrote for such shows as Good Times, What's Happening!, The Incredible Hulk and Mork & Mindy), but I have to say that the light, funny touch I see in the Power Rangers: Jungle Fury installment is quite refreshing. While the previous Power Rangers series I reviewed, Operation Overdrive, had a serious backstory to the action scenes (one of the Rangers discovered to his shock that he was an android), so far, Power Rangers: Jungle Fury seems much more light-hearted in its approach. One-liners abound here, but at least for the twelve episodes I've viewed so far, a lot of the overt silliness of some of the monsters and villains have been toned down in favor of wittier, smart-ass rim-shots, along with a hazy kind of groove to the comedy scenes that's breezy and fun.
No doubt a lot of that attitude can be chalked up to the inclusion of the R.J. character, delightfully essayed by de Lautour, who perfectly captures that surfer-dude/yoga-practicing/easy-chair-TV-watching slacker persona. Mix that with the fact that he's in reality a Pai Zhua master, and the dichotomy is refreshingly comedic (it's great to see a martial arts master in one of these shows who isn't so "heavy" all the time). de Lautour knows his way around a good one-liner, and he has plenty of them here. When the three Rangers expect R.J. to join them, he instantly disavows them of that notion, blissfully intoning, "I have a pizza store to run...fighting evil is your job." And when the Rangers lose a feat of strength against R.J. during one of his unorthodox training sessions, he plops down in his ratty easy chair in front of the TV set and airily says, "I want you to take some time to internalize your defeat...while I watch Judge Jaimie." That answer isn't good enough for Casey, who implores R.J. to "teach him something," to which R.J. replies, "I just did...and now I'm on break." With his nose always pointed up in the air, with a goofy smile on his face and his arms and legs akimbo as he dudes around his pizza parlor, R.J. is a most unlikely addition to the Power Rangers canon - and a most welcome one, too.
It's also unusual to see so few Power Rangers in action, as well - only three this go-around. If there are more coming, I don't know about it yet (I'm watching this for the first time, and it's no fun to go online and spoil it all by reading up on the whole series, now that's its already aired), but it's good to get to know these few characters over several episodes, without trying to figure out who's the Red one, or who's named Theo or Casey. The three young actors have a good chemistry going, giving their characters the proper emotional drive (Casey is the impetuous, strong one; Lily the heart of the team, and Theo the methodical, sometimes too intense brain behind the group). Skinner makes for a visually impressive villain (he sometimes looks like Ashton Kutcher on 'roids), while Shanahan has the smart, hot villainess Camille, designed to drive all the early teen boy viewers crazy, down pat (she's good with the smart-assed lines, too). The animal angle is well integrated into the stories, giving Power Rangers: Jungle Fury, so far at least, a more primitive, fantasy feel to its overall atmosphere than the previous, more technological Operation Overdrive (and I'm sure the animal elements don't hurt the marketing of the series to kids, either). All technical credits are up to speed, as usual for these Power Ranger outings (did they perhaps dial back just a bit on the budget, though? The computer graphic effects seem less frequent). About the only drawback that really caught my attention was the choreography for the Rin Shi warriors, who jump around like they're doing the Bunny Hop. If this is some kind of martial arts discipline I'm unaware of, I apologize for my ignorance. But as it's executed here, it looks remarkably silly - and not at all threatening (my four-year-old kept giggling every time they came on camera).
Here are the six episodes of Power Rangers: Jungle Fury - Into the Jungle, Volume 1:
Welcome to the Jungle Part I
Theo, Lily and Casey are told their destiny by Master Mao, and meet their new master, pizza shop owner, R.J..
Welcome to the Jungle Part II
Casey must become fluent with his assigned weapon, the deadly nunchaku, before his team can all graduate to the next level of R.J.'s training - which is sorely needed now that the deadly Mantor can attain huge size. Will the team be able to combine their individual animal spirits to build the Jungle Pride Megazord?
Sigh of the Tiger
Casey can't understand R.J.'s methods of training - particularly when it seems that they consist of doing R.J. menial house chores.
A Taste of Poison
The Five Fingers of Poison are summoned to battle the Power Rangers, while the Strike Rider Cycle is introduced to deadly effect.
Can't Win Them All
When Theo is humiliated by building-climbing Gakko, he loses his confidence and retreats into defeat - until R.J. provides the necessary motivation to get him back on the team. Remember: "Trying without confidence is called 'dumb luck'."
Dance the Night Away
R.J. develops the Claw Cannon, but the group is at loggerheads because Theo's jealous of Lily's new-found buddy/friendship with Casey.
The DVD:
The Video:
Interlacing was the biggest problem I noticed with Power Rangers: Jungle Fury - Into the Jungle, Volume 1. Aside from that, the full-screen, 1.33:1 (too bad these aren't released in their original aspect ratios) video transfers for the episodes are bright, clean, and boldly colored. Kids won't care about the interlacing.
The Audio:
The Dolby Digital English 2.0 stereo audio mix is fine for these adventures, but can you imagine them in 5.1 Surround? Come on, Disney - step up to the plate! There are English subtitles and close-captions available, as well.
The Extras:
For this Power Rangers installment, Disney evidently decided no extras were needed.
Final Thoughts:
A whole new round of adventure is at hand for the bright, breezy tokusatsu, Power Rangers: Jungle Fury - Into the Jungle, Volume 1. So far, the villains aren't as silly, and the comedy is genuinely witty, at times - particularly when surfer dude, Pai Zhua, Order of the Claw master R.J. starts riffing on the Rangers. Smart, and smart-assed. I highly recommend Power Rangers: Jungle Fury - Into the Jungle, Volume 1.
---
Paul Mavis is an internationally published film and television historian, a member of the Online Film Critics Society, and the author of The Espionage Filmography.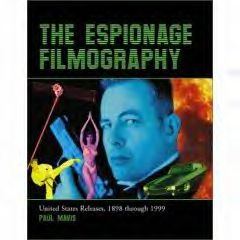 ---
C O N T E N T

---
V I D E O

---
A U D I O

---
E X T R A S

---
R E P L A Y

---
A D V I C E
Highly Recommended
---
E - M A I L
this review to a friend
Sponsored Links
Sponsored Links