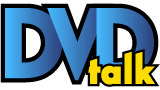 List Price: $26.97 [Buy now and save at Amazon]
---
Eliza
Dushku is topless for about a second and a half in The Alphabet Killer. Otherwise...? There's really nothing even a little bit remarkable about this room temperature thriller very, very loosely based on a string of real-life murders. Think an episode of Law and Order with a Thorazine prescription and a gaggle of prepubescent girls caked in fright makeup.



Reteaming with Wrong Turn director Rob Schmidt, Dushku stars as Megan Paige, a detective investigating the rape and murder of a young girl just outside Rochester, New York. She doesn't know it at the time, but Megan is schizophrenic, and her tendency to obsess over her cases is what makes her so sharp and effective at her job. The murder of Carla Castillo in Churchfield consumes her for months on end, though. Megan can't sleep, she's tormented by supernatural visions of the girl's rotting corpse, and she's fixated on those letters, convinced the killer deliberately sought out Carla because of her alliterative initials. This murder investigation costs Megan nearly everything: a promising career as a detective, her fiancé (Cary Elwes), her sanity, and very nearly her life.



It takes Megan a couple of years to rebuild her life again brick by brick. She's taking medication to keep her schizophrenia in check, she has a support group to lean on when times are tough, and the still-unsolved murder is in the rear view mirror as Megan sets up shop in the records room. After years of silence, though, the killer strikes again. First, it's Wendy Walsh whose corpse turns in Webster, followed shortly by Melissa Maestro in Mortimer. Megan pleads to be brought back onto the investigation, and her captain -- the fiancé she lost to the Castillo murder -- grudgingly agrees. The rest of the task force resents her presence, including a partner (Tom Malloy) who's convinced this schizophrenic could ravage both the investigation and what's left of her mind. Once again haunted by ghostly whispers and grotesque visions of the dead, Megan takes increasingly drastic steps to track down the murderer before the tattered shreds of her sanity once again slip away.



Director Rob Schmidt
mentions a couple of times in his audio commentary for The Alphabet Killer that he wanted to make a small, quiet thriller...the sort of subdued genre piece Hollywood had shrugged off decades ago. It's too small and too quiet, though. Unlike Wrong Turn which was sopping with splatter, there's no gore to be found in The Alphabet Killer, and the handful of kills take place between scenes. Rather than churn out some sort of cat-and-mouse between the detective and this butcher, The Alphabet Killer explores how these murders consume Megan and send her spiraling into madness herself. Schmidt seems to be taking his cues from J-horror with Megan's ghostly visions, tossing in a bunch of bleached-white young girls who silently stand around and do nothing whatsoever. They aren't especially creepy. They don't nudge Megan in the right direction. Their make-up and digital effects are distractingly low-rent. They're just...there.



The sum total of this...? Nothing happens. A couple of cheap jump scares aside, there's nothing resembling a sense of tension or intensity until almost a full hour in, and the only action is reserved for its final few minutes. To a point, that's intentional: The Alphabet Killer aims for more of a character study than hyperkinetic thrills, but there really aren't any compelling characters to latch onto. The supporting cast is saddled with one-dimensional roles that can be completely summed up with just a few words each, and as much as I like Eliza Dushku, she never manages to draw me in here. Her performance leans too heavily on nervous twitches and determined looks. What meager budget The Alphabet Killer had on-hand seems to have gone largely to lining up its supporting cast, most of whom rear their heads in just a couple of scenes a piece. Aside from Eliza Dushku and Cary Elwes, the movie also features small turns by a slew of recognizable faces -- quite a few of whom are alums of other serial killer movies themselves -- including Timothy Hutton, Michael Ironside, Bill Moseley, Jack McGee, Martin Donovan, and Melissa Leo. Its cast is the only particularly remarkable thing The Alphabet Killer has going for it. Otherwise, it plays like something I'd expect to flip by on Lifetime Movies while channel surfing. The reveal of the killer caught me off-guard but is astoundingly stupid, and the only thing that made my eyes roll more than that was the sequel bait tacked onto the end. Bland, limp, and lifeless: Skip It.






Video



---

The Alphabet Killer looks decent enough on DVD, not veering all that far away from what I'd expect out of a lower-budgeted new release. The scope image is reasonably crisp and detailed, and it's bolstered by deep, inky black levels. The visual style is kind of standard issue for this sort of thriller -- a gritty texture, stark, desaturated colors, handheld photography to add a sense of immediacy -- and all of that translates reasonably well to DVD. It has more of an overly digital sheen to it than the natural warmth of film, but that's okay. The only flaw that really leaps out at me is some excessive ringing around edges, but that's not a constant headache. The Alphabet Killer isn't exactly a knockout on DVD, but it's solid enough.




Audio
---

The Alphabet Killer's Dolby Digital 5.1 soundtrack (448Kbps) is every bit as understated as the movie itself. Bass response is generally lightweight; even cracks of gunfire and the booming stings punctuating its jump scares don't manage to lurch the subwoofer to life. The surrounds are used to try to flesh out an unsettling atmosphere -- ghostly "help me"s whispered from every direction, strange sounds skittering from one channel to the next, and even Michael Ironside's snarl swirling around the room -- but a handful of those effects aside, it's close enough to just being a straightahead stereo mix. Dialogue's the focus here, and it's never overwhelmed in the mix. Director Rob Schmidt gushes about the sound design in his audio commentary, but to my ears, it's unremarkable but fine.



There aren't any dubs or alternate mixes on this DVD, although English subtitles (SDH) have been included.






Extras



---


First Victim

(3 min.)

: Timecoded and presented in non-anamorphic widescreen, the first of the disc's extras is a clumsier and more awkward take on Megan and Kenneth's introduction.




A to Z: The Making of The Alphabet Killer

(6 min.)

: "A to Z" veers away from the usual EPK formula. There aren't any talking head interviews or heavy-handed narration this time around, opting instead to belt out a montage of behind-the-scenes footage. A few clips from the movie are tossed in to add some context, although for whatever reason, this footage has been vertically stretched. This featurette is letterboxed in non-anamorphic widescreen.




Director / Producer Commentary: Much like The Alphabet Killer itself, the first twenty minutes of this commentary track are slow and uninvolving. Director Rob Schmidt will quietly lob out a sentence or two before settling into quietly watching the movie again for minutes at a time. Schmidt wakes up once producer Isen Robbins strolls into the room, though, and the track from that point on is much, much livelier.



Some of the highlights including Schmidt leaning on his brother's digital wizardry class to scare up 100 or so effects shots on the cheap, accidentally torching a sleepy Rochester suburb with an equipment truck and a snagged cable, the revelation that cat overtime carries a heftier price tag than what SAG mandates for its actors, and pointing out cameos from a couple of the folks involved in the real-life investigation into the Alphabet Killer. Schmidt details a few technical notes, such as the use of POV shots from undisclosed perspectives and why he chose certain lenses, as well as noting a couple of moments he regrets. It's a solid commentary once Robbins steps in front of the mic, and it's too bad he couldn't have shown up earlier to inject some life into its first twenty minutes.




Writer / Producer / Actor Commentary: Despite the overwhelming number of slashes in that heading, Tom Malloy goes it alone in The Alphabet Killer's second audio commentary. Enthusiastic and hypercaffeinated, Malloy tackles almost completely different ground than the other track: what inspired him to write this movie, the screenplay's evolution away from what was originally a much more faithful retelling of the case, his preference for avoiding overexplaining the machinations of evil, the grislier endings he originally envisioned, and that writing his own character making out with Eliza Dushku wasn't quite as shameless as it might sound.



The Alphabet Killer comes packaged inside a glossy, embossed slipcase. If you're fussy about that sort of thing, no insert is tucked inside.




The Final Word
---

The Alphabet Killer at least makes an effort to try something different -- focusing almost entirely on the descent of an obsessed, mentally ravaged detective instead of lurching through the same stock cat-and-mouse killer clichés again and again -- but this tepid, Lifetime Original Movie-grade thriller never manages to get the pulse racing. Skip It.
Sponsored Links
Sponsored Links