10 Items or Less - The Complete First & Second Seasons
List Price: $29.95 [Buy now and save at Amazon]
---
"If you all just believe in me, anything can happen."

"Not in the real world, Ingrid."
"Todd, cut this cow's head off and let's sell some MEAT!"
Come on! What is with all the animosity towards this funny little shaggy-dog series? Sony has released 10 Items or Less - The Complete First & Second Seasons, gathering together the TBS "improvicom's" 13 episodes on two discs. Structured not unlike the more buzz-worthy The Office (perhaps too closely to The Office for some people's comfort), 10 Items or Less is an agreeably sunny, lightly-ironic improv comedy that seems to have little on its mind other than to entertain its viewers - a big no-no for TV cultists who demand their comedies be dark and cruel and "about something more." Co-created, co-written, and starring amusingly geeky John Lehr, 10 Items or Less is a refreshing light comedy that I found consistently funny.
During the opening credits, Leslie Pool (John Lehr) quickly narrates the show's set-up. Leslie's dad, who never thought his son would amount to anything, drops dead in the family-owned grocery store, the Greens and Grains. Returning to Ohio after inheriting the store, Leslie is intent on making the struggling store a success, while proving his father's assessment of him wrong. There are only a couple of catches, the most important one being that Leslie doesn't really know what the hell he's doing. As well, Leslie's staff (who know all about his dad's poor opinion of him), may not be the most stable. Incredibly soft-spoken and oddly-oriented Ingrid (Kirsten Gronfield) runs the Customer Service counter. "Out" perfectionist and aspiring Ice Capades skater Richard (Christopher Liam Moore) keeps the cash register ringing, while young, world-champion bagger Buck (Greg Davis, Jr.) keeps the customers' bags fully loaded. Funereal gorper Carl (Bob Clendenin) skulks around the store, sweeping and mopping up when he's not busy trying to figure out how to fix a freezer or water pipe, while his one-night-(only)-stand partner Yolanda (Roberta Valderrama), a sexy, outspoken produce arranger who likes her men rough, puts her time in so she can take care of her son, Manuelito (Raymond Ochoa) - Carl's son (a fact that Carl only learns about four years later). Rounding out the G & G team is Todd (Chris Payne Gilbert), the handsome stud butcher who is about as bright as one of his sides of beef. And if Leslie's inexperience and his staff's flakiness and casual approach to their duties isn't bad enough, he has to contend with next-door-neighbor Super Value Mart, one of a behemoth grocery chain (all similarities to Wal-Mart intended) run by power-mad, sex-crazed Amy Anderson (Jennifer Elise Cox), a former object of unrequited lust for Leslie when they went to school together, and now his arch nemesis who's focused on only one thing: either acquiring or destroying altogether the G & G so Super Value Mart can expand their parking lot.
I haven't been a devoted follower of 10 Items or Less, but I have occasionally caught episodes on TBS over the last two years since its debut, and I always found the show to be quite amusing and light and charming in its own rough, rag-tag way. I understand that quite a few people have a hard-on for the show because it "apes" The Office too closely, coming up short of that brilliant show in their minds because 10 Items or Less is neither as funny, nor as cruel and dark as The Office. Therefore, it's seen as "less valuable or meaningful" in a society that looks askance at anything that suggests sunny fluffiness first in its comedy. While I do think there is an underlying irony to the show that fits in nicely with other "improvicoms" like Arrested Development or It's Always Sunny in Philadelphia, and while it may not be as consistent in generating relentless yocks like Curb Your Enthusiasm or The Office, when it does deliver, 10 Items or Less had me laughing, and I'm not sure what else you could ask of a TV comedy.


Co-written with Lehr by Robert Stark Hickey and Nancy Hower (who also directs the series), 10 Items or Less is structured as closely to total improv as one could probably get in a TV series that still has grownups approving budgets, shooting schedules and release dates. Each episode has a "script," but according to the interviews with the cast and crew on the bonus features of this disc, almost no one sees them. Evidently, they're merely outlines of scenes, indicating a general direction where the episode starts, and where it should end up, and it's down to the actors to "come up" with the meat of each sequence with improvisational dialogue, as well as with their own blocking and stage action (a critical aspect of comedy that's rarely discussed by reviewers, or considered by the audience). The actors are turned loosed, footage is shot and then reviewed, and then re-shot if necessary if the director and writers and performers feel they've hit on some "gold" during the improv that then needs to be fleshed out. It's a remarkably free-form method of shooting and performing a sitcom which is made all the more evident when you feel the freshness and whooly-headed edge of such an "improvicom" in comparison to some of the more rigidly scripted, structured and performed sitcoms that have dominated the genre.



But along with that freedom comes an expectation (at times an unrealistically high one, considering the excellent examples of "improvicoms" that debuted before 10 Items or Less) that the show can't be anything less than consistently, uproariously funny, each and every time out of the box. Of course, anyone who's experienced improv in a theatrical setting will know that more often than not, the misfires outnumber the bulls-eyes, but when TV fans find out that a show like 10 Items or Less can pick and choose its improv moments, and edit them down into an episode, the expectation is: every one of those scenes better be fall-down funny. Or else. Well...they're not all fall-down funny in 10 Items or Less, but then again, I don't think The Office knocks it out of the park each and every time it steps up to the plate, either. If I laugh more than I sit silently during an average episode of 10 Items or Less, then it's a success - regardless of whether or not it matches up to unrealistic expectations of what an "improvicom" could or should be.





There's no doubt that 10 Items or Less does bear some similarities to The Office, particularly in the way the characters are structured in the work-place environment, and the generally absurdist way the comedy tends to trend. But there seems to be some significant differences, too, particularly in the lead, Leslie Pool. While Michael Scott is an incompetent whose cringingly embarrassing attempts to be cool, or hip, or accepted by his staff consistently backfire as he fails time and again to work out the embarrassing, humiliating quirks in his personality, Leslie Pool is utterly oblivious to his sunshiny dorkiness (the writers of The Office have increasingly taken away Michael's "obliviousness" to ratchet up the pathos and audience sympathy for the character, which to my mind, has softened and weakened the character, turning the show more and more into a prime-time drama rather than a comedy). Leslie is an old-fashioned, infuriatingly dense "can-doer" who refuses to let the odds get him down. He's bound and determined to keep the G & G going, despite the oppressive might of his neighbor, Super Value Mart, and the vagaries of his staff. In many ways, the character is reminiscent (not the "same as" or "equal to," so don't send outraged emails) of much older American comedy stereotypes, like Harold Lloyd or Buster Keaton, who, when faced with seemingly insurmountable odds, continually kept a bright, fresh, "young" positivism to their physical, ridiculous gags, winning out in the end each and every time (it's significant in the final episode of the second season, that Leslie wins back the G & G from Super Value Mart, by being nice to Yolanda, who feels terribly guilty for selling out her co-workers). There's a Midwestern squareness to the Leslie character, coupled with an enthusiastic, open, go-getter mentality, that harks back to an earlier, classical style of American comedy that I find quite nostalgic and refreshing.




Of course, all of that is still filtered through an ironic, absurdist viewpoint more akin to today's post-modernism - with frequently delightful results. Randomness and absurdity rule in 10 Items or Less, where the content follows the form (improv). There is an underlying, consistently articulated "dark" theme to 10 Items or Less - Leslie was considered a failure by his father, and seemingly by everyone else, and he wants to prove them all wrong - but happily, the main point of the series seems to be to offer up laughs first and last, leaving the messages, if any, to be sorted out on your own (interestingly, when the series tries for an out-and-out "messagey" episode, Illegal Alien, the results are less than impressive). It's impossible to accurately convey in a review how or why something is "funny" - you can come close, but more often than not, it winds up as mere description (it's like trying to explain a funny joke that someone doesn't get the first time around - it just ruins it). I can "describe" why I think moments in 10 Items or Less are funny, but they won't "read" as funny as they are; you just have to experience them for yourself (and even then, that's no guarantee - ever had that horrible experience of trying to turn a friend on to some show you love...only to see them sit there stone-faced?).
I found big laughs in almost all the episode from 10 Items or Less, and while the episodes sometimes suffer from spotty rhythm and timing (due no doubt to the way they're shaped from improv to final production), taken as a whole, there's an agreeably cheap, off-the-cuff feel to the shows that's fresh and lively. Stand-out episodes include the opening pilot (the roughest one out of the bunch), The New Boss, where Leslie learns his father's last words when he suffered his fatal stroke in the bread aisle ("I smell toast."), and where mentally-challenged butcher Todd gives a non-rousing buck-up speech to his co-workers extolling the virtues of nerds who "think with graphs." The Miracle Worker, where Leslie exploits a water-stain in the store that looks like Jesus, has quite a number of hilarious one-liners, including two of my favorites from the entire series: "I think Jesus would be very proud of our prices for peeled shrimp," and "Jesus has come to town, and we're going to welcome him with a big, fat sale!" Health Insurance has a beautifully sick premise of Leslie initiating a Survivor-like series of stunts to find the loser whom he's going to fire, so the rest of the employees can have health insurance (Leslie's line, "A modern man like myself...who doesn't want to make a decision," is flat-out brilliant). Bag It has the delightful Kirsten Gronfield getting booted off the grocery-bagging team; when the team still loses, she quietly says, "Thanks for believing in me...up to a point." The second season opener, Dollar Day, has Gronfield again shining, this time hilariously acquiring the "Stockholm Syndrome" almost immediately after thieves invade the G & G. Forever Young has a great bit with Leslie and Amy, totally out of their element, at the beautifully named Bang Bang Monkey Bar (after dancing with a young girl, Leslie beams, "That was fierce, Jasmine!, while Cox manages a devastating parody of robotic, loud "bar speak"). The Bromance is a stand-out, with a central sequence - Leslie and Todd steeling themselves to slaughter a live cow in the store for "sushi-grade beef" - that plays about as good as anything gets on TV right now (when Leslie starts whining in sympathy for taking the cow's life, and then instantly turns ugly macho while menacingly intoning, "But we're gonna do it, you stupid cow!", I was on the floor). And Amy Strikes Back has a delicious gross-out moment, where we think Leslie eats a human finger, before being deprogrammed by the gang after he's been turned evil by Amy.
Here are the 13, one-half hour episodes of the two-disc set 10 Items or Less - The Complete First & Second Season, as described on their slimcases.
SEASON ONE:



The New Boss

When his father passes away, Leslie returns to Ohio to take over the family's crumbling grocery business. To build team spirit, Leslie moderates an encounter session where Carl and Yolanda reveal embarrassing truths to one another. Leslie's high-school crush Amy tries to buy the store for a competitor, forcing Leslie to decide what's really important.
The Miracle Worker

Just when saving the store will take a miracle, one appears: it's a water stain that looks like Jesus! In no time, Leslie is trying to steal customers from the Super Value Mart with flyers reading, "Come see the miracle, stay for the prices." Meanwhile, as Carl prepares to meet his son for the first time, he unwittingly causes a religious experience.
Health Insurance

When their premiums go up, the only way Leslie can afford health coverage for his staff is to fire one of them. To see who must go, he holds a "reality competition" and butcher Todd finally loses out. He's hired at the Super Value Mart where Amy is impressed by his beefy credentials - as is the female clientele. Can Greens & Grains ever win him back?
What Women Want

Leslie wants to join the Protective and Benevolent Order of the Bisons, but must bring a date to their lodge meeting, so he invites Ingrid. When it turns out her father was a founder, Leslie seems like a shoo-in - or is he? A jealous Todd turns to Yolanda for comfort, resulting in passion amidst the produce. Then Carl shows up and the fruit really flies.
Bag It

When Leslie runs an ad claiming his store has the fastest baggers, Amy challenges him to a "bag-off." Unfortunately, Greens & Grains' award-winning bagger Buck announces his retirement, and Leslie decides to coach Ingrid in the bagging arts with a rigorous sports regimen. But does she have the right stuff to beat the legendary Don "The Bag" Bagley?
SEASON TWO:



Dollar Day

When Leslie announces his latest promotion, "Free Money!", two thieves take him at his word and hold the staff hostage. Although Amy is shocked when both thugs turn out to be Super Value Mart employees, Ingrid falls under their spell and lends the robbers a hand. Can Leslie rip off his shirt fast enough to save the day?
Forever Young

Normally sober, Buck gets drunk at a club and sleeps with a mystery blonde...who turns out to be Amy! Jealous, Leslie begs Buck to take him out for a night out on the town, to see how the kids do it. They hit the Bang Bang Monkey Room, where Buck blows off Amy. Tipsy and on the rebound, she turns to Leslie for comfort. Is this his big chance at last?
To Heir is Human

On the anniversary of his father's death, a memorial service in the bread aisle causes Leslie to think about his own legacy. He decides to make Carl his official heir, and in no time the former cleanup guy is wearing a sweater vest just like "Dad." To encourage Carl's romance with Yolanda, the staff turns the break room into a romantic nightspot. But will she say yes?
First Time

Ingrid decides it's time to lose her virginity, and she asks Leslie to do the deed. But when he fails to rise to the occasion, he fears he might actually be gay. Leslie turns to Richard for help understanding himself, and Ingrid wants Richard's help, too - for a very different purpose. Result: three mixed-up grocers...and one very happy ending.
The Bromance

Todd wins five cows in a poker game and pitches his genius idea to Leslie: beef slaughtered to order, right in the middle of Greens & Grains! But their male-bonding "bromance" is threatened when a bodacious USDA inspector falls for one of them. Meanwhile, Buck helps Richard land his dream role in "Lord of the Rings On Ice."
Amy Strikes Back

Let the store wars begin! A compromising video of Amy on the internet gets her fired from the Super Value Mart. Leslie gives her a job and vows to turn her to the light side. But it's the other way around as Amy convinces him not to trust anyone. After his staff deprograms him, Leslie challenges Amy to a price-gun battle, Jedi-style.
Illegal Alien

Leslie photographs the crew for this year's Greens & Grains calendar, and Ingrid's sexy cover shot is a big hit with customers. A jealous Amy discovers Ingrid's an illegal alien and calls the cops, forcing Ingrid to take refuge in the dairy cooler. When INS agents finally show up, a brave Yolanda hatches a plan to distract them.
The Ren Fair

Leslie's "Ye Olde Renaissance Days" promotion finds the G & G crew dressed up as lords and ladies. But Yolanda is fed up with her Beer Wench guise and desperate for money to send Manuelito to Space Camp. So when her store challenges Super Value Mart to a joust, she agrees to rig the event in favor of the competition. Is this the end of Greens & Grains?
The DVDs:
The Video:

The anamorphically enhanced, 1.78:1 widescreen transfers for 10 Items or Less - The Complete First & Second Seasons vary only in the original videography utilized during production. While no compression issues presented themselves (the video image was pin-point sharp, with no smearing or edge enhancement), Season Two was shot differently from Season One, and the inconsistency is immediately noticeable. While I personally liked the cheap, relatively dark, grainy, almost grungy look of the first season (it seemed to go better with the shaggy improv), evidently, a bolstered visual design was decreed for Season Two, with a bold, vivid, almost too hot brightness to the contrast and the colors, that's striking. Despite these two distinct looks, the transfers for 10 Items or Less - The Complete First & Second Seasons are exceptionally clean.
The Audio:

As with the different video look between Seasons One and Two, there's a variation in the audio tracks for the seasons, as well. Season One sports a Dolby Digital English 2.0 stereo mix, while Season Two has a beefier 5.0. Certainly the definition is clearer on the 5.0 (the funny polka-sounding music transitions really pop here), but the 2.0 track is perfectly fine, as well, with all dialogue heard cleanly. Close captions are available.
The Extras:

A handful of extras are included in the 10 Items or Less - The Complete First & Second Seasons set. On disc one, there are two viral videos: Choking and Apology, which are flat-out hysterical - whether they're "real" or not. In the first, Lehr is apparently being interviewed for the show, along with Gronfield, when some food seemingly lodges in his throat. Is this for real? It's hard to say, but I can tell you that if it isn't, then Gronfield is a brilliant dramatic actor because she looks genuinely frightened when the crew comes to Lehr's rescue. The Apology video is just that: an apology for "faking" the Choking video. Lehr says the first one was a fake, so I'll take him at his word, but then he and Gronfield, naturally, make a mockery of this apology by having a light fall convincingly on Lehr's head. Very funny stuff. And nicely sick. On disc two, we get A Look Behind the Scenes, which runs 16:22, and which has the cast and crew discussing the production methods of the show. Notes from the Casting Couch, running 4:41, and Coffee Break (Blooper Reel), running 1.42, are fairly lame cast-offs with random clips shot behind the scenes. No commentaries for any episodes, which would have seemed a natural for this kind of series. Too bad.
Final Thoughts:

Sunny, light, charming, and agreeably sick at times, 10 Items or Less - The Complete First & Second Seasons apparently doesn't have anything more weighty on its mind than to entertain us with its "improvicom" silliness. Maybe that's why the show gets the guff it does from snotty viewers and critics who post that it's a pointless, lame knock-off of more "important" series like The Office. While I love The Office (or at least I hope I still can, before it finally founders in dangerous "prime time drama" waters), I enjoy the fact that 10 Items or Less doesn't really have a point of view, and that its characters aren't fully "developed" (thank god - enough already with sitcom characters with weighty backstories and "evolving souls"). I like that it just wants to make me laugh, and that it's willing to do so in a silly, hazy, shaggy-dog manner. 10 Items or Less is a goof, plain and simple, and it consistently made me laugh. You can't ask for more than that from a sitcom. I highly recommend 10 Items or Less - The Complete First & Second Seasons.

---




Paul Mavis is an internationally published film and television historian, a member of the Online Film Critics Society, and the author of The Espionage Filmography.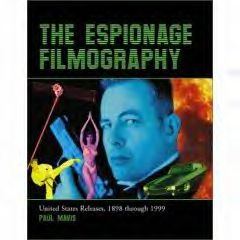 ---
C O N T E N T

---
V I D E O

---
A U D I O

---
E X T R A S

---
R E P L A Y

---
A D V I C E
Highly Recommended
---
E - M A I L
this review to a friend
Sponsored Links
Sponsored Links