Bewitched - The Complete Seventh Season
List Price: $39.95 [Buy now and save at Amazon]
---
The new Durweed relaxes into his role (and fades off the screen), while the times they are a'changin' on Morning Glory Circle, in Bewitched - The Complete Seventh Season, Sony's four-disc, 28-episode release of the beloved witchy romance sitcom's 1970-1971 season. Political potshots pop up with increased regularity, while quite of a few of the episodes show a surprisingly resilient humor. Yes, the show's format was played out by this point, and we (as in the royal "we") still miss the hilarious Dick York, but there's no denying it: funny is funny - even with a second-hand Durwood and increasingly familiar situations.
Since I've reviewed previous seasons of Bewitched (please click here to read my take on the series' aesthetics in Season Four, here for my take on Dick York's final turn in Season Five, and here for my read of Dick Sargent's first season as Durweed), I won't go into too much background on the show's aesthetics, but I would assume that most people are at least somewhat familiar with the show's basic set-up. Dishy witch Samantha (Elizabeth Montgomery) is married to mortal advertising executive Darrin Stephens (Dick Sargent). Despite Darrin's constant pleas to live a witchcraft-free life, Sam's parade of relatives - particularly her vindictive mother, Endora (Agnes Moorehead), who despises "Durweed" - provide endless opportunities for Darrin to be the victim of errant spells and pranks. While Sam is generally sympathetic to Darrin's requests that her magical powers stay hidden, often times it's a simple twitch of Sam's adorable nose that keeps Darrin from spending his entire life as a gorilla, or a duck, or a pig, or anything else that comes to Endora's deliciously cruel mind.

Certainly for Bewitched fans, the "Darrin switch" is the most talked about - and controversial - aspect of the series. If I had to guess, I would assume that most viewers preferred York's original interpretation of the character (think Jim Carrey filtered through The Man in the Gray Flannel Suit), and regretted his departure after chronic back pain and drug addiction ended his five-year run on the show. Dick Sargent, who was originally considered (and some say all-but-hired) for the show, leaves many viewers cold (myself included) with his rather aloof, sometimes pinched and mean performance (most notable in his first go-around at the character in season six). Watching Sargent in this seventh season, I can't say that I found his portrayal any more rewarding (Sargent just absolutely refuses to do anything to endear himself to the audience - which is critical in this kind of sitcom), but...he does seem a tad more comfortable in the role, dampening down the rather harsh, mean, almost snarling tone he brought to his first season of Bewitched. Here, he seems more laid-back, more casual in his approach, which, although it does nothing, really, for the needed tension that should be there for his constant battle with Endora, does move the character "out of the way," if you will, so the stories and Montgomery can dominate.

Anyone who has watched the first five season of Bewitched with Dick York as Darrin understands that York was front and center as far as getting the audience's attention (could that have been a secret factor in Montgomery not really wanting York on the show?). Montgomery held her own, obviously, with York (she's endlessly fascinating to watch: a seriously talented actress working in a rather limited role, which provided a rich subtext unusual for a sitcom from this era), but here, with Sargent, she carries the show by herself - along, of course, with the special effects and the funny supporting cast. Sargent just isn't "there" in any kind of weighty sense; he doesn't provide a unique comedic sensibility to the show (he can throw out a jaded one-liner from time to time, but it's nothing special), nor does he provide the romantic sensibility that was apparent with York's portrayal. So everything, then, is up to Montgomery. Unfortunately, it appears by this point that Montgomery, tired either with the show itself or struggling under the increasing pressure of working with her soon-to-be-ex-husband William Asher (who co-created the show and produced it), has grown somewhat distant in the role, as well. It's never that Montgomery isn't a total pro, but anyone watching her performances from the series' earlier seasons in comparison with this seventh, will see a noticeable change in demeanor and in energy. She's just not having as much fun in the part, and that's a shame when she finally has a co-star that is "background" enough for her to really shine.
Still, given the time frame involved (seven seasons is a long time for a sitcom, let alone one wedded to a fantasy format which can wear out quickly), Asher and Montgomery certainly aren't throwing in the towel, as it were, for this seventh season. Beginning the season with an ambitious eight-part story arc involving Samantha and Darrin visiting Salem, Massachusetts, these fun episodes "open up" the series considerably (as much as I love the "Morning Glory Circle" backlot, it's good to have the characters out and about), even though there are still quite a few backlot, studio mock-ups, and rear-projection inserts. As well, the filming at Salem gives these episodes a suitably atmospheric kick (amplified by the Hollywood set designs that suggest traditional East coast interiors) and a unified visual approach that underpin the spiritual connections between Sam's witch heritage and the real-life Salem. Could they have exploited the location work more effectively? Sure. But what's here is a nice change of pace for the usually studio-bound Bewitched.
As for the evolving relationship between Darrin and Sam, it's difficult to get a bead on what Montgomery, Asher, and the writers are going for here, when the Darrin character switches back and forth between supporting Sam's powers and suppressing them. In Salem, Here We Come, Darrin makes the startling admission that he'd get on his knees and apologize to the Witches' Council if that would mean Sam could get her powers back, because those powers are what make Sam, Sam. And in Samantha's Magic Potion, Darrin finally gives in to his resistance to witchcraft, willingly taking Sam's (fake) spell that turns him into a 1970 version of Mad Men's Don Draper. But later in the season, in Samantha's Psychic Pslip, Darrin is rewarding Sam with a gift for her not using her powers (which causes Sam enough guilt to affect her magic). Clearly, continuity in Bewitched as to Sam and Darrin's contention over her magic use, is up for grabs depending on the plot of a specific episode (a hazy feeling made more pronounced by Sargent's blasé portrayal of Darrin - who knows, really, what the hell this Darrin thinks about Sam's witchcraft?).
One thing the Ashers don't have trouble making clear this season is their political ideology. Making subtle and not-so subtle references to the turbulent real world outside fictional environs like Morning Glory Circle wasn't a common occurrence in the pre-All in the Family days of network sitcoms. But obviously, Montgomery and Asher didn't mind the writers working in bits about hippies and establishment squares whenever they could. Quite often in this seventh season, references are made to "mortal prejudices" and intolerance, which can be safely translated in Bewitched's code to mean conservatives (or at least a 1970 Hollywood screenwriter's idea of a "conservative") or "unenlightened" viewers who haven't gotten hip to the cultural revolution. The witches in Bewitched (as well as the increasingly visible hippies in the backgrounds) are obviously "liberal" in their disdain for anything resembling "traditional" (i.e.: "backward") behavior and their embracement of anything that smacks of anti-authoritarianism, so squares who toe the establishment party line (or who commit truly serious infractions like racism) are subject to ridicule and a stern lesson. In Salem, Here We Come, a mortal asks Hephzibah, the supreme witch on the Witches' Council, if her beautiful name is Biblical, to which she sneers, "Hardly." In Samantha's Magic Potion, Endora snarls about "typical mortal behavior, looking for a scapegoat for their own failures." When Paul Revere is accidentally transported back to 20th century America, a hippie hanging out in park says, "Right on!" to Revere's call for arms. When Sam takes an aged Darrin to the drive-in in Samantha's Old Man, a young couple next to them flashes Sam a peace sign while we read their side bumper sticker: "America - Change It or Lose It." And most obviously (and most crudely), in Samantha's Psychic Pslip, when Dr. Bombay (Bernard Fox) is asked what his "Witchfinder" machine does, Darrin offers, "It points out suspected liberals." Uh...yeah. Of course, Bewitched is never truly progressive enough to comment too strongly on its own inherent hypocrisy when it comes to how the smugly superior witches treat their plaything mortals: as obvious inferiors.
Certainly the most overt "message" episode this season is the Christmas-themed, Sisters at Heart, where Tabitha (Erin Murphy), doubtful that she can truly be sisters with her black playmate (because another child at the playground told her different races can't truly be related), changes their skin colors before adopting a polka-dot color scheme for both of them. A misunderstanding with one of Darrin's potential clients - a bigot who thinks Darrin's child is black - causes Sam to take matters into her own hands, putting a spell on the client who now sees himself and everyone else as black (of course, at the end, he realizes his prejudices and reforms). It's an obvious but effective (within the sitcom format) episode concerning race, based on a story written by the 5th Period English class of Thomas Jefferson High School (they did not actually write the script, just the story), and well-played by the cast (what's highly ironic about Sisters at Heart today is that it would most likely be dubbed politically incorrect and "insensitive" by some because the cast wear blackface at one point). It's the most overt example of Montgomery and Asher trying to inject some "reality" into Bewitched, while still making light of the roiling cultural revolution happening outside the confines of the television box (in The Return of Darrin, the Bold, Serena inquires, "What's he smoking?" as she incredulously ponders "The Old Man of the Mountain" as he drags on a hookah).
Messages alone, however, don't make a funny season, so fortunately, quite a few of the shows this go-around are surprisingly funny. Anytime the wicked Serena (played by Montgomery, as well) is around, things perk up (I love how the producers make it painfully obvious that Serena is sexually insatiable, as she is with the Fisherman's Memorial statue in Darrin on a Pedestal - something that flew over our heads as kids watching the show). Larry's (David White) wind-twisting, craven cave-ins depending on a client's approval of Darrin's designs are always funny (he has a good one in Samantha's Pet Warlock). Special-effects get a work-out this season, with The Mother-in-Law of the Year TV commercial featuring Sam and Endora popping back and forth generating big laughs. Darrin Goes Ape must hold some kind of record for the patented Bewitched "pop-in" (when I was a kid, and I heard that distinctive Bewitched transition music cue, I always thought it was screaming apes - bizarre), while This Little Piggie has one of the most surreal moments in a series filled with surreal moments: Darrin, sporting a pig's head, squealing along with Samantha on a spare ribs jingle (a moment worthy of that masterpiece of sitcom surrealism, Green Acres). And in his final (no way!) appearance as Uncle Arthur, Paul Lynde delivers yet again with this funny episode where he infuses all his pranking into the Stephens' home. While the special effects are good (I love the dancing skeleton in the broom closet), Lynde steals the show with his deliciously camp line readings. When Lynde almost collapses with melodramatic flair when intoning, "The masquerade goes on..." it's hard to imagine anything funnier than that (and equally hard to imagine the upcoming final eighth season of Bewitched, without the inimitable Uncle Arthur).
Here are the 28, one-half hour episodes of the four-disc boxed set Bewitched: The Complete Seventh Season, as described on their slimcases:
DISC ONE

To Go Or Not to Go, That is the Question
Samantha is summoned to appear at the Witches' Convention in Salem, Massachusetts, but she refuses to attend unless Darrin can accompany her.
Salem, Here We Come
The High Priestess Hephzibah moves in with the Stephens family to observe mortal life and to determine once and for all whether or not Samantha and Darrin's marriage should be dissolved.
Salem Saga
On a tour of the House of Seven Gables, Samantha gets chased around by an enchanted bedwarmer that takes an immediate dislike to Darrin.
Samantha's Hot Bedwarmer
While Darrin sits in jail, accused of stealing the bedwarmer, Samantha tries to find the spell that will change the antique back into the warlock it originally was.
Darrin on a Pedestal
While seeing the sights of Gloucester, Serena zaps the famed Fisherman's Memorial statue to life and replaces it with Darrin.
Paul Revere Rides Again
Esmeralda accidentally zaps Paul Revere into the 20th century when she tries to send a colonial tea pot back to Samantha.
Samantha's Bad Day In Salem
Is Samantha having an affair? It looks that way to Larry Tate who thinks he saw her behind the House of Seven Gables with an old beau.
DISC TWO

Samantha's Old Salem Trip
Endora sends Darrin back to 17th-century Salem to rescue Samantha, who was sent there by Esmeralda by mistake. But before returning home, Samantha tries to convince the townspeople that those who were convicted in the Salem trials were actually mortals and not witches.
Samantha's Pet Warlock
Darrin brings home a strange-looking dog in hopes of landing a pet food account. It turns out that the pooch is an old warlock friend of Samantha who is trying to win her heart.
Samantha's Old Man
Endora changes Darrin into a 72-year-old man in an attempt to show Samantha what she will be in for in the next 30 years.
The Corsican Cousins
Wishing that her daughter were more carefree like Serena, Endora casts a spell that has the two cousins sharing Serena's personality. This is bad timing for Samantha, as she is about to be interviewed for membership into a stuffy country club owned by a prospective client of McMann & Tate.
Samantha's Magic Potion
Samantha concocts a scheme to convince Darrin that the recent run of bad luck he has at the office was not caused by witchcraft.
Sisters at Heart
It looks like a white Christmas...and a black one when Tabitha and her friend Lisa, wishing that they could be blood sisters, teach a bigoted client a lesson in racism.
The Mother-in-Law of the Year
Endora is delighted at being selected to appear on a TV commercial for Darrin's client, but when she backs out at the last minute, Samantha must substitute as her mother in order to save the account.
DISC THREE

Mary, The Good Fairy
After a visit to the Stephenses' house, the Good Fairy decides that she is tired of her job and wants to surrender her wings.
The Good Fairy Strikes Again.
With the Good Fairy in retirement, Samantha has reluctantly become her permanent replacement, much to the objection of Darrin.
The Return of Darrin, the Bold
Endora and Serena scheme to turn Darrin into a warlock by putting a spell on one of his ancestors who lived in the 14th century.
The House That Uncle Arthur Built
Uncle Arthur is engaged to be married, but only if he can leave behind the practical joking ways that drive his fiancée crazy.
Samantha and the Troll
While subbing for Samantha (who's off having a one-day medical exam), Serena charms Darrin's attractive client, much to the objection of his very jealous wife.
This Little Piggie
When Endora gives Darrin a pig's head to prove how stubborn he can be, she does not realize she is helping him land a spare ribs account.
Mixed Doubles
A strange molecular disturbance causes Samantha and Louise Tate to exchange lives in the eyes of the entire mortal world - including Darrin and Larry!
DISC FOUR

Darrin Goes Ape
Serena changes Darrin into a gorilla after he insults her by refusing to accept the gift she gave him as a peace offering.
Money Happy Returns
When Darrin finds a large sum of money in the back seat of a taxicab, he immediately thinks that it was left there for him by his meddling mother-in-law.
Out of the Mouths of Babes
After being turned into a child by Endora, Darrin uses his youthful disguise to convince a client that his awful-tasting Irish stew would be best served to dogs.
Samantha's Psychic Pslip
Samantha's witchcraft goes out of control every time she hiccups. These occurrences begin after she accepts a gift from Darrin she believes she does not deserve.
Samantha's Magic Mirror
Esmeralda's ego is badly in need of a boost, so Samantha gives her a complete makeover just in time for a reunion with an old suitor.
Laugh, Clown, Laugh
Nobody is laughing after Endora's spell provides Darrin with an offensive sense of humor.
Samantha and the Antique Doll
Darrin's mother is convinced that she has magical powers after she witnesses a doll she gave to Tabitha floating across the room.
The DVD:
The Video:
The full-screen, 1.33:1 video transfers for Bewitched: The Complete Seventh Season again vary in quality, depending on the original elements. Some episodes have a definite pink cast (The Corsican Cousins is really red), while others can be soft and fuzzy, with a grain problems (the funny first part of Mary, The Good Fairy is particularly rough), indicating some very old elements were used for those transfers. Most, though, look fairly good, with strong color, minimal screen anomalies, and a generally sharp picture.
The Audio:
The Dolby Digital English mono soundtrack accurately represents the original broadcast presentation; all dialogue is crisply rendered. Spanish and Portuguese mono tracks are available, as are subtitles in these languages. English close-captioning is available.
The Extras:
About the only extra you could really count here are the original bumpers for Sisters at Heart, where Montgomery intros the episode with the sponsor's logo, Oscar Mayer, in the background. It's cool to see this finally (they were cut off in syndication), but I'm still waiting for some substantive extras for this cult series.
Final Thoughts:
Just when Elizabeth Montgomery has the whole stage to herself, she backs off and turns in a sometimes glum performance as Samantha. The new Durweed fades into the background, with none of us too sure as to what he really thinks about all of this hocus-pocus stuff, while Montgomery and Asher ratchet up the political throw-aways. Surprisingly, though, the episodes also ramp up the comedy this go-around, producing some solid laugh-getters. And let's not forget to say goodbye to one of the funniest sitcom guest shots to ever waive a wand: Paul Lynde's Uncle Arthur. I'm recommending Bewitched: The Complete Seventh Season for all fans (it's an improvement over Season Six), while casual viewers should rent first.
---
Paul Mavis is an internationally published film and television historian, a member of the Online Film Critics Society, and the author of The Espionage Filmography.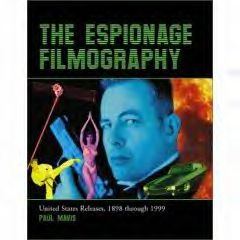 ---

---
C O N T E N T

---
V I D E O

---
A U D I O

---
E X T R A S

---
R E P L A Y

---
A D V I C E
Recommended
---
E - M A I L
this review to a friend
Sponsored Links
Sponsored Links