Pillow Talk - 50th Anniversary Edition
List Price: $19.98 [Buy now and save at Amazon]
---
Author's Note: The transfer for this new 50th anniversary edition of Pillow Talk has been improved over the one used in the Rock Hudson and Doris Day Romance Collection boxed set from 2004 (the edition I own of the film). I know that Pillow Talk was subsequently released on its own after that collection came out, and that there were problems with the framing. I don't know if Universal fixed this problem prior to this 50th anniversary edition, or if they restored the image as it appears here (if they did, please email, and I'll amend the review). Therefore, I've included side-by-side comparisons between the 2004 transfer and this latest 50th anniversary edition (left to right) for those who may be contemplating double-dipping.
Universal has released Pillow Talk - 50th Anniversary Edition, another up-graded go-around for this venerable romantic comedy classic. Several "bonuses" are included here (you be the judge if they actually enhance your experience of this delightful movie), including a new full-length commentary track and a new documentary discussing this iconic 1959 Rock Hudson/Doris Day smash hit. Of most note to buyers who may already own a copy of Pillow Talk: the transfer has been upgraded from the 2004 pressing, with increased brightness and detail, as well as more frame area, too.
In movieland New York City of 1959, interior decorator Jan Morrow (Doris Day) may have fabulous fur coats and an expansive, expensive bachelorette apartment, but that doesn't mean she gets to have her own private phone line. No, she has to share a "party line" with Brad Allen (Rock Hudson), a womanizing goat who writes hit songs more for the purpose of keeping a succession of gorgeous women on the hook, rather than to pay the bills for his gadget-filled, multi-level bachelor pad (when he flips a switch, the lights go out, the needle drops on a record, the door is bolted, and a sleeper sofa pops into action). Jan, frustrated by...well, by "bedroom problems," according to Brad, is fed up with always picking up her party line and hearing Brad serenade another willing victim (more than willing, actually: women literally swoon at the sight of virile, handsome Brad). Complaining to Ma Bell doesn't do anything, either (even falsely accusing him of being a pervert doesn't work), and soon it's war between the ends of this party line, as Brad increasingly enjoys needling Jan about her less-than-sizzling love life, over the phone.
What neither of them know, though, is that they both share the same best friend (wouldn't either of them have already mentioned that before....) - Jonathan "The Boy in the Gray Flannel Suit" Forbes (Tony Randall), a walking neuroses factory jealous of Brad's conquests and self-made success in life, and hopelessly in love with Jan. A multi-millionaire with three ex-wives, Jonathan can't understand why Jan won't marry him (a little thing called love - and Jan's lack thereof - stands in his way), so he confides in his college buddy, Brad, which turns out to be a big mistake because wolf Brad immediately figures out Jonathan's leery love-object is none other than the opposite end of his party line. The unconquerable becomes an instantly attractive target. But how can he possibly bed the pissed-off Jan when as hated rake Brad Allen, he couldn't even get near her? Simple. He'll pass himself off as courtly, respectful - and perhaps just a tad bit gay? - "Rex Stetson from Texas," winning Jan's heart by pretending to be the kind of suitor Brad Allen never was. But of course, as with all romantic comedies, Jan discovers Brad's deception, and that's when the real fireworks begin.
SPOILERS ALERT!
It's been a couple of years since I last watched Pillow Talk (although this is Day's and Hudson's cleverest, most interesting film together, I think Send Me No Flowers is their funniest collaboration), but as always when I catch it, I'm struck not so much by the screwball/farce/romantic comedy machinations that seem so deceptively simple here, but at how the film continues to generate so much needy, anxious discussion about its sexual politics (just listen to the commentary track provided on this disc to see what I mean). Trust me, I enjoy that parlor game of psychoanalyzing movies just as much as anybody else. It enlivens a moviegoing experience (particularly with a film like Pillow Talk which provides plenty of fodder for such ruminations), and it's just the trick when you need to bang out a review or an article or a term paper in a hurry. It's a game we all play that fulfills many needs; some genuine, some self-serving (such as appreciating movies on a deeper level, while at times feeling self-satisfied with our observations, too - an all-too common, and unattractive, side-effect) But I try to balance that tendency I think most conscientious movie reviewers have to peel back the layers of a film to get at its "real" meaning (if there truly is such a thing), with the memory of the countless interviews and accounts from the directors and producers and writers and performers of these films that I've read - the people, after all, who should really know what these films are all about - who chalked up all these fervid post-modern discussions to navel-gazing bullshit (again: see disc's commentary).
And Pillow Talk is one of those titles that perpetually attracts this kind of discussion. All of its elements seem to line up in meaningful ways that vary as much as the viewers who see it. It's widely seen as the pivotal movie that made it "okay" to laugh about sex again as the Production Code began to lose its grip on mainstream Hollywood films - and surprisingly naughty sex, at that (Rock can't "fit" into Doris's little roadster she's returning - need I go on?). And its format influenced countless other "sex comedies" and sitcoms that were to follow in the coming decade. The transformation here of Doris Day from tomboy musical performer/serious actress to glamorously attired comedienne is the highwater mark in her film career, too. Pillow Talk was so successful, it catapulted Day to the very top ranks of theater exhibitor polls of the most popular stars in the world for years to come - a significant feat for Day, particularly since her screen popularity had been on the wane prior to Pillow Talk's release. As well, Hudson's emergence as a surprisingly adept light romantic comedy lead enlarged his field of admirers among the public and critics, too (Hudson was also having trouble at the box office prior to Pillow Talk). And of course, people today love to pour over the unintentional double-ironies the film engenders when they see then-closeted Hudson playing a straight man acting "gay" to further tease Day into bed - a tricky game for viewers to play because not only was no such irony intended by the filmmakers (Hudson was closely closeted), but Hudson's character doesn't really "pretend" to be gay for a sustainable period of time in the film: he merely drops one or two stereotypical hints, causing Day to suspect this briefly (that aspect of the film is always overstated today).
A central misreading of Pillow Talk (I heard it parroted on the commentary track over and over again) is the one where Jan's emphatic statement to Brad over their party line that she likes to live alone, somehow precludes her wanting to get married. Critics, bent on having Pillow Talk's subtext be the subjugation of a successful, happy single woman to a ratfink player who makes everything better with a marriage proposal (and thus, "fulfilling" her life), desperately want the film to be the first inklings of condemnation for the Eisenhower era sexual politics of women only being content if they're married and having babies (the end credits, with the little pink and blue pillows, suggest there are more babies on the way for married Jan and Brad). But I've never seen anything in the film that outright states (or even suggests) that Jan is opposed to marriage, or the idea of it with Brad/Rex. She tells her hung-over maid Alma (Thelma Ritter), that she enjoys her life, and specifically, her dates with men, but her "bedroom problems" that bother her are only referenced in one single line: where she inquires what is she supposed to do, ask the first man she meets on the street to go home with her? That ambiguous line could be taken a lot of different ways (some believe this is where the whole "Doris-as-virgin" interpretation comes), but it could also mean she's not going to sleep with someone casually. It has to mean something to Jan before she'll bed a man. And significantly, the very next scene involves Jan turning down Jonathan for marriage (and obviously, sex) because she's just not in love with him.
But marriage as an end-goal isn't "off the table" for Jan when she meets Brad/Rex. In fact, her order of thinking when she's sitting next to him in their taxi cab ride home (after they first meet) is: "what a marvelous looking man" (her sexual side) and, "I wonder if he's married." And indeed, she falls head-over-heels in love with "Rex" precisely because he doesn't take any liberties with her (which suggests she may have had more than her fair share of eight-armed lotharios, such as Nick Adams' crazed college kid, who manhandles her in his roadster). It's significant that once Jan openly acknowledges to Jonathan that she truly loves "Rex" (a moment of importance by Gordon, who directs Day to portray dewy wonderment), that's when she's ready to fully commit herself to him...sexually. In reality, Jan comes off as a highly moral character, and yet modern readings of the film never seem to mention that love and morality may be the driving forces of her decisions not to sleep with the men she's dated before (and particularly, Jonathan, whom she firmly tells she doesn't love), as well as her decision to go up to the country house with Brad for sex because she loves him. Of course, to some feminist writers, the concepts of "morality" and "marriage" are seen as limiting societal concepts imposed on women - perhaps that's why those elements are never discussed as positives for Pillow Talk -- but they don't have to be mutually exclusive states in conjunction with Jan's open sexuality and her pursuit of "Rex."
And she does pursue "Rex." Another constant harp from modern critics is what a snake Brad is, lying to Jan in order to bed her. And of course, this is true - although his actions can also be seen as machinations of classic farce elements such as disguise and impersonation (and let's not forget that Jan is really the one who starts the ball rolling, unfairly accusing Brad of being a "sex maniac" to the phone company, which prompts an investigation - and starts the feud). But I've always found it curious that critics who lament the "loss" of Jan's freedom to pursue a single life (which as I argued, I don't believe was lost), never allow the same latitude with Brad. Isn't Brad entitled to live as a single man, enjoying sex when he pleases, with whomever he pleases, without getting married? Brad's methods with Jan are reprehensible (but acceptable within comedic farce frameworks), but his other conquests are ethically pretty tame (the extent of his "crimes" are to re-use the same romantic song he's written, substituting a new girl's name into the lyrics, to impress her). Indeed, Brad doesn't need to work very many schemes to get women, because they literally swoon at the sight of him (Hudson, billed first here, truly is the sex object in this movie, filmed in impossibly flattering close-ups that only further emphasize his perfect, almost cartoonish handsomeness). It's important to remember that Jan does as much pursuing of "Rex," as Brad does of Jan. Jan makes no bones about constantly looking back at Brad when she's on the dance floor, nor does director Michael Gordon leave any room for doubt when he has Day put on a devilishly scheming face as she ponders if Brad is married. And significantly, when Brad bluffs Jan at her doorstep by refusing to come in, and walking away without leaving his number, it's Jan who interiorly calls herself a dope for letting him go, and snatches him back. Her sexuality is just as vital as his - only hers is tied to love and ultimately marriage, while his, at least at first (until he finds he loves her), is tied purely to the act. Pillow Talk's marriage and pregnancy ending seems to strike some today as contrived (and politically suspect), but if it's taken within the context above, it fits in quite happily with the film's goals - the subtext goals, I should say, since Pillow Talk's real goals are to make us laugh. Which it does supremely well.
The DVD:
The Video:
In a nice surprise, the anamorphically enhanced, 2.35:1 widescreen transfer for this new 50th anniversary edition of Pillow Talk has been improved over the transfer used in the Rock Hudson and Doris Day Romance Collection from 2004. Colors have been brightened and corrected, while fine detail is much more evident (such as the print details on some of Doris' frocks). DNR, which looks heavier in the earlier transfer, has been backed off here, which makes those split-screen scenes between Rock and Doris look much grainier (it's a trade-off for viewers, then, with this backing-off, because of the grain inherent in those optically printed sequences). Dirt specks and scratches very rarely show up; overall, quite nice. It also looks like the telecining has been pulled back, as well, allowing more of the original CinemaScope framing to appear. The country home seduction scene in particular shows a significant amount of frame area returned to its proper ratio. Good show, Universal.
The Audio:
Disappointingly, Universal didn't upgrade the audio, retaining the Dolby Digital 2.0 split mono. It's fat enough, but how cool would it have been to hear Doris purr Possess Me! in 5.1? English, French and Spanish subtitles are included.
The Extras:
I don't normally go into too much detail about bonus commentary tracks included on discs (mostly because I believe far fewer people actually listen to them than the studio execs would probably imagine), but...you know what? I'm not going to here, either. I actually wrote a big rant about this commentary, but I've cut it out because seriously, life's too short. Live and let live. But do allow me to say, Miss Kirgo, that being "drenched in P.C." isn't "a very good thing." "Political correctness" doesn't expand or enlarge true freedom of speech - it confines it, degrades it, strangles it, and eventually eliminates it. But, being a devout foe of the creeping, ever-hungry desire by an increasing amount of people to inflict such repressive dogma on this once-free land, I celebrate your right to express that idea on a DVD commentary (cue Old Glory and the Sousa music, thank you).
As well, there's a new documentary, Back in Bed with Pillow Talk, which runs 21:53, featuring various commentators who discuss the sociological and political implications of this iconic Hollywood classic (man do these studios need to get people on these docs who actually seem to enjoy films and who at least promote a façade that they're happy to be talking about them! Christ, it's like The Cobweb in there). And Chemistry 101: The Film Duo of Rock Hudson and Doris Day, running 5:08, is an innocuous rundown of their on-screen chemistry. The original theatrical trailer is included, as well.
Final Thoughts:
A delight even fifty years later. Universal has re-released Pillow Talk yet again, but in a nicely restored transfer (see above). Those extras might actually be a drawback, but the new transfer is dishy, and Pillow Talk the movie is always going to be a must-buy. I highly recommend the Pillow Talk - 50th Anniversary Edition disc.
---
Paul Mavis is an internationally published film and television historian, a member of the Online Film Critics Society, and the author of The Espionage Filmography.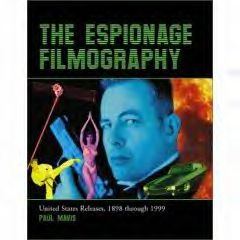 ---
C O N T E N T

---
V I D E O

---
A U D I O

---
E X T R A S

---
R E P L A Y

---
A D V I C E
Highly Recommended
---
E - M A I L
this review to a friend
Sponsored Links
Sponsored Links