Murdoch Mysteries - Season One
List Price: $59.99 [Buy now and save at Amazon]
---
Hmmm...no. Acorn Media has released Murdoch Mysteries - Season One, a Canadian forensics procedural/mystery series set in Victorian Toronto in 1895, and based on the novels by Maureen Jennings. Playing very much like Sherlock Holmes Meets CSI, Murdoch Mysteries - Season One has that stolid deliberateness of many Canadian dramas, along with a spotty budget that delivers a sometimes wobbly production design. But in the long run, it should be all about the mysteries, and they're certainly nothing special. The cast, with the exception of the wonderful Thomas Craig (from Coronation Street), is fairly colorless, as well.
Victorian Toronto, Canada, 1895. Detective William Murdoch (Yannick Bisson) is on the very cutting edge of criminal forensic investigating, either mocking up high-tech inventions he's read about, such as the pneumograph, a primitive lie detector, or outright inventing them himself (such as a periscope for looking over walls). He's matched in his pursuit of advanced scientific methods of criminology by Dr. Julia Ogden (Helene Joy), the Toronto Police's coroner and pathologist, who also seems to be decades ahead of current pathology procedures (she discovers a way to distinguish animal blood from human, as well the ability to build up a skull with clay to I.D. a murder victim). While Murdoch and Ogden awkwardly flirt with each other as they discuss the roles of science and faith in police investigations (Murdoch is a questioning Catholic), Murdoch's boss, Inspector Brackenreid (Thomas Craig) wants results. A hard-headed copper from the old school, he doesn't have much time for Murdoch's fancies...unless they bring results, which of course they always do. Helping out as legman, slight comic relief and general dogsbody is Constable George Crabtree (Jonny Harris), a quirky Victorian dork who is keen on learning Murdoch's techniques.
It's a pity the episodes didn't match up to the superior opening titles. Backed up by the evocative theme music by Robert Carli, the opening visuals promise atmospheric, exciting fun that evaporates the minute the flat-footed cast moves methodically through the three or four sets that are constantly redressed for the various interior locations. Normally, I wouldn't take budget concerns into consideration for a series review, but when you're trying to evoke Victorian Canada, and that evocation is central to the reason for the show's very existence - there's nothing to distinguish Murdoch Mysteries from hundreds of other police shows other than its period ironies - than you better be able to create a convincing world for the viewer. And that doesn't happen here. The same two or three mocked-up CGI shots (one uses an old post card that's fun...until it's used too many times) sub for 1895 Toronto, while many scenes are filmed in parks or at farms because it's cheaper than trying to build sets or CGI them into the frame. And when real period buildings are used, some amusing gaffes appear, such as modern doors or thermal pane windows - small mistakes that sound like nitpicking, but which aren't when they're so casually thrown out there, spoiling the suspension of disbelief that's necessary for the viewer.
But even if Murdoch Mysteries was shot on a ten million-an-episode budget, the scripts and the acting would sink it anyway. I was quite intrigued by the idea of clashing the time period of H.G. Welles and Jules Verne and Sir Arthur Conan Doyle (who makes two appearances here to little avail) with the notion of an advanced criminologist and pathologist fighting against the ignorance and prejudice of the cops and the crooks who populated Victorian Toronto. But too often, Murdoch Mysteries is trying so hard to spoof other detective genre conventions, it forgets to deliver the main goods: an effective mystery. Now, it's funny when a character in one of the episodes is asked how she calmed down an hysterical woman, replying, "Heroin. Wonder drug. Put her right out." There are a couple of moments like that in Murdoch Mysteries where characters, not unlike a similar bit used in Mad Men, bring up an old pop culture reference for the purpose of obvious irony. And I suppose if you're bored with the episodes' lackadaisical pacing you could count the not-so-subtle references to cop and detective show conventions from decades past (although they're so matter-of-factly and flatly presented as to appear as moments of ineptitude rather than homage). But none of that matters too much if I'm not effectively puzzled by the murder mysteries. And here, they don't come close to approximating either the intricateness or the excitement of even a lesser Doyle: if you're going to actually use Sir Arthur Conan Doyle as one of the characters in your show, you better be able to walk his walk. And that, unfortunately, doesn't happen here in Murdoch Mysteries.
And before you know it, we have Murdoch transporting his imagination within the various crime scenes ("Murdoch Vision" is the term used on the commentary track) like some kind of Victorian Manhunter investigator, before he starts seeing actual ghosts (cripes), all the while crossing himself whenever he sees a corpse and endlessly whinging on about his faith. Of course, with Murdoch Mysteries being a Canadian television product, we also start getting copious amounts of moral lessons with obvious liberal slants, and even the odd "green" message (oh jesus christ) now and again (at one point, Murdoch laments the fumes from a coming "mechanized world." I'll take smog any day over a city filled with horseshit, pal). And none of this helps in the slightest, giving Murdoch Mysteries a wavering, unfocused tone perfectly mirrored in the tepid performances. As I wrote above, I'm a long-time fan of Thomas Craig; he was excellent as the thuggish Tommy Harris on Coronation Street. Unfortunately, his character is so thoroughly clichéd here (gruff, two-fisted copper who crooks a disapproving eye at his upstart, smarter underling, all the while valiantly trying to hide his heart of gold) he doesn't have to do much more than phone in his performance. Jonny Harris is pitched so low-key here that he doesn't make much of an impression, either. Once or twice, small, compact, handsome Yannick Bisson reminded me physically of Robert Conrad in Wild, Wild West (another better show that Murdoch Mysteries owes a lot to), but his overly-careful approach to the character (yes I know he's trying to be "period") reminded me more of an attentive schoolboy making nice for Mommy and Teacher, rather than of a man of science and action. As for Helen Joy, her improbable police coroner turn is alternately smiling and smug, punctuated by frequent eye-rolling and exasperated exclamations like, "Oh, William!" whenever he says something doltishly Victorian; with that kind of love object, no wonder William acts like a chastened schoolboy.
Here are the 13 episodes of the four-disc box set, Murdoch Mysteries - Season One, as described on their slimcases:
VOLUME ONE

Power
While demonstrating the dangers of newfangled alternating current to the public, Miss Toronto Electric & Light dies spectacularly onstage. A tragic accident or murder? Detective William Murdoch enlists the help of the eccentric scientist Nikola Tesla to find out.
The Glass Ceiling
A trunk delivered to Inspector Brackenreid contains a lawyer's naked corpse and a taunting note. When a second trunk turns up - complete with another body and note - Murdoch races to find the killer before his boss becomes the next victim.
The Knockdown
After celebrating a big win, boxer Amos Robinson goes down for the count, courtesy of a gunshot to the chest. A witness finds Robinson's wife, Fannie, standing over the body and holding a pistol, but Murdoch aims to prove her innocence.
Elementary, My Dear Murdoch
Murdoch accompanies his hero - the famed writer Arthur Conan Doyle - to a séance, where the medium guides him to the body of a skeptical psychic investigator. Did the clues indeed come from the spirit world? Or did the medium have a motive for murder?
VOLUME TWO

Till Death Do Us Part
When Wendell Merrick dies from a blow to the head immediately before his wedding, the case looks like a simple robbery gone wrong. But questions about the groom's gallivanting ways lead Murdoch into Toronto's homosexual subculture.
Let Loose the Dogs
A murder brings Murdoch face to face with his troubled past, as the detective's estranged father turns up drunk near the crime scene. Losing his usual objectivity, Murdoch seems deadest on proving his father's guilt.
Body Double
When a corpse crashes through a theatre's ceiling and lands onstage in the midst of Macbeth, Murdoch and Brackenreid delve into the backstage intrigues of the city's leading Shakespearean acting troupe.
VOLUME THREE

Still Waters
Boys playing on the lakeshore discover the bruised, beaten body of Richard Hartley - scion of a wealthy family and the newest addition to the exclusive King's Club rowing team. Investigating the case, Murdoch finds dark secrets beneath a gleaming world of privilege.
Belly Speaker
While researching a new detective novel, Arthur Conan Doyle returns to Toronto and meddles in a case involving a mad ventriloquist who seems to have murdered his father. Murdoch begins to suspect that the author has a hidden agenda.
Child's Play
Who could have murdered Howard Rookwood? Everyone admired the well-known philanthropist, killed in the horse paddock of his glue factory. When suspicions fall on boys employed at the factory, Murdoch uncovers another side to the victim's character.
VOLUME FOUR

Bad Medicine
After a mysterious hooded figure kills a prominent psychiatric researcher, Murdoch investigates the doctor's former patients. The case grows more complex when a psychic warns Murdoch that the grim reaper will claim more victims - including the detective himself.
The Rebel and the Prince
The murder of a girl connected to the Irish Republican Brotherhood leads police to suspect a plot against visiting Prince Alfred. Constable Crabtree joins the prince's retinue and finds His Highness more than a handful to guard.
The Annoying Red Planet
When a reclusive woodworker and amateur astronomer is found hanging high in a tree, mounting evidence points to one conclusion: he was murdered by Martians. Constable Crabtree becomes convinced of an imminent alien invasion, but Murdoch searches for more earthly answers.
The DVD:
The Video:
The anamorphically enhanced, 1.78:1 widescreen transfer for Murdoch Mysteries - Season One is flawless, with no compression issues, correct color, and a sharp picture. Very nice looking.
The Audio:
The Dolby Digital English 2.0 stereo audio track for Murdoch Mysteries - Season One has some nice directional effects at times, with all dialogue crisply rendered, and transfered at a strong level. English subtitles are available.
The Extras:
There's a commentary track on the Power episode that features Yannick Bisson, Jonny Harris, Executive Producer Cal Coons, and Production Designer Sandra Kybartas. They spend quite a bit of time defending the show against critics, which should tell you something. There are also some brief filmed interviews with the main cast members detailing their characters, along with a brief snippet with Jennings discussing these adaptations. Text bios and biographies of the cast are also included.
Final Thoughts:
The careless production design doesn't help bring 1895 Toronto to life, but it would have been passable had the cast been stronger and the mysteries more mysterious. Unfortunately, Murdoch Mysteries - Season One is a bit of a bust, a good idea in search of a convincing production. If you've seen even a handful of police procedurals, nothing in Murdoch Mysteries - Season One will surprise you, nor will the supposedly ironic clash of the genre conventions with the period details. A rental might do if you're curious to see any and all police procedurals, but for the casual viewer, Murdoch Mysteries - Season One is a skip.
---
Paul Mavis is an internationally published film and television historian, a member of the Online Film Critics Society, and the author of The Espionage Filmography.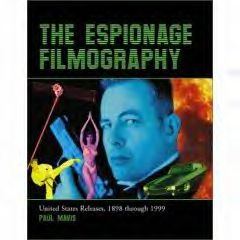 Sponsored Links
Sponsored Links