List Price: $49.99 [Buy now and save at Amazon]
---
Intriguing British espionage series. Acorn Media has released Callan - Set 1, a deceptively titled collection of the 1967 - 1972 cult spy thriller's third season ("series"), and the first in color. Starring Edward Woodward of U.S. television's The Equalizer fame, Callan - Set 1 won't hold any surprises for devotees of the espionage genre (particularly since the "suspicious/paranoid/emotionally-spent/morally-conflicted-yet-deadly-efficient-government-agent" ground has been pretty well trampled since 1970, the year of this season), but it's intelligently done and well-acted by the excellent cast.
Edward Woodward plays David Callan, the top operative for "The Section," an ultra-secret British intelligence agency that handles delicate matters of security with any means at their disposal: surveillance, blackmail, the ruination of a person's character, imprisonment, and of course, assassination. It would be more accurate to describe Callan's position with "The Section" as their former top operative, considering he's just spent 5 months in hospital, recovering from brainwashing and a bullet wound to the lung. Shaky and uncertain not only about his position with "The Section," but also about his own ability to function as a hardened assassin, Callan must get back into good graces with his cold, pitiless superior, "Hunter" (William Squire), who has absolutely no use for Callan unless he's up to speed physically and emotionally (or rather, non-emotionally, in order to execute the dirty tricks that are required of him). Not helping matters for Callan is the appearance of agent Cross (Patrick Mower), a younger, more psychotic version of Callan, a ruthless young punk killer who's learning the ropes from the more experienced agent. About the only "friend" Callan has in the world is two-bit booster Lonely (Russell Hunter), a craven weasel who doesn't bathe (much to the consternation of anyone who gets near him) and who provides cover for Callan when breaking into an apartment or surveillance legwork is needed. Lonely is afraid of the abusive Callan, but in a curious way, he considers him a friend...a sentimental notion that often amuses the emotionally closed-off Callan.
SPOILERS ALERT!
For viewers new to Callan (like myself) who weren't able to see it during its original transmission, we're at a bit of a disadvantage starting the series in the third go-around, but apparently, there's not much that can be done about that unfortunate situation. Callan began as a one-off episode of Britain's Armchair Theatre anthology series in 1967, entitled A Magnum for Schneider, where the moody, deadly espionage agent was introduced by author James Mitchell. The episode's success with the public and critics spawned a six-episode series the following year, as well as a 15-episode second season in 1969. These episodes were filmed in black and white, and according to a few British TV sites, several episodes from both series were "wiped" at some point - a horrific practice that was quite common and pervasive during the 1970s when the British TV industry shortsightedly (and many would say criminally) valued blank video tapes more than the programming that was on them. The switch in the series' production provider (from Associated British Corporation to Thames for ITV) in the sophomore season left the series up in the air, and apparently, two endings were filmed for that season's final episode, with Callan either dying (thereby ending the series), or surviving his attack, leaving a chance for the series to continue. And that's where newcomers run into trouble with this particular DVD collection of Callan episodes.
Obviously, the powers-that-be at ITV and Thames decided to go ahead with the series, continuing it for two more seasons (with the series even inspiring a self-named feature film in 1974 - which I remember as being quite entertaining - and a later made-for-TV reunion film). So when the new viewer sits down to watch the first episode of Callan - Set 1, we've missed quite a bit of backstory, including the crucial second season finale, where Callan has been brainwashed by his ruthless colleague Toby Meres (Anthony Valentine) to kill the then-current "Hunter" ("Hunter" in Callan is a code-name used like "M" in Bond, or "Number 2" in The Prisoner). Alluded to briefly in the first episode, we learn that Callan nearly died from his injuries during the assassination attempt, and that Meres is now working in Washington, where, according to Callan, the Americans appreciate his "polished villainy." Without having experienced that critical development in the Callan character, it's tough to approximate the involvement needed to realize what a traumatic event this brainwashing and subsequent injury would be for Callan, and how it obviously affects him now. Too polite with his new "Hunter," and skittish when confronted with firing at a paper target of a human being, this doubt-ridden Callan isn't just unsure of his existential place in the universe, he's not sure he can even fall back on his failsafe: his ruthless, cold-blooded capacity to kill. Hunter waits for Callan's "controlled aggression against authority" to return - which it eventually does - but the new viewer can't help but feel in Callan - Set 1 that he's catching the series just after the apex of its most interesting story arc.
What one does experience, then, in Callan - Set 1 isn't radically different or original in comparison to anything one would find in le Carre or Deighton. From the opening title sequence, where the theme music evokes the one John Barry devised for The IPCRESS File, Callan covers then-and-now familiar ground, with conflicted professional/moralist/cold-blooded assassin Callan merging the existential world-weariness of le Carre's Alec Leamas, with the grubby, plebeian monotony of Deighton's economically-depressed unnamed spy hero (who would go on to be dubbed "Harry Palmer" in three feature films). Indeed, Callan's type of spy character may have been new to British TV audiences in the late 60s and early 70s, but anyone fond of the genre could find similar models in novels and films some years before. But while Callan may feel decidedly familiar (particularly today since this kind of espionage character has been beaten into the ground - just look at our newest, dreariest James Bond), it's still quite well done.
As with many British TV productions from this period, the cheap videography will turn off some viewers who are spoiled by the relatively few cream-of-the-crop filmed British TV offerings like The Avengers and The Prisoner that made it over to the States. And admittedly, I would have preferred at least better source materials than what shows up in these transfers (drop-out, video noise and hot spots don't help the crappy video look). But once you get past the actual look of the series, the quality of the writing and the excellent performances help smooth over those meager production values. This is tough stuff compared to most TV espionage offerings from this period. The innocents die quite regularly here: a bystander gets pushed under the train wheels by a bumbling Cross; the widow of a murdered foreign secretary is herself murdered senselessly in a complicated plot by foreign powers; and a young translator commits suicide when her engagement is targeted and ruined by "The Section." And Callan is an agreeably tough English "hard man." He regularly threatens bodily harm on Lonely - as much for expediency as for some kind of perverse exercise of his own power - as well as anyone else if they get in the way of his assignments (his threat to scald the nice-but-lying tea lady is pretty cool). If the series at times seems slightly pretentious (Callan has his "Cross" to bear, while his only friend is not-so-ironically named Lonely) or obvious (Callan's hobby of playing with toy soldiers), it at least seems sincere in its pretensions, with Woodward held in admirable check from his sometimes predilection for hamming it up a bit. When Callan wants to give us a "message," it falls flat (such as the final episode that skirts around race issues in Britain at the time), but when it sticks to flawed heroes who kill because, as Callan grimly states, "where else could I go?", it's engrossing, entertaining fare.
Here are the 9, 51-minute episodes of the three-disc box set, Callan - Set 1, as described on their slimcase back covers:
VOLUME ONE

Where Else Could I Go?
After five months in the hospital recuperating from near-fatal gunshot wounds, Callan returns to his section to find the upstart Cross after his position. Under the doubting eye of his superior, the agent must prove that he still has the will to kill.
Summoned to Appear
When Callan and Cross' tail on a Polish operative goes horribly wrong and an innocent bystander dies, Callan must testify at the inquest. His dilemma: perjure himself or implicate his fellow agent and expose the section.
The Same Trick Twice
Surtees, a British agent recently returned in a prisoner exchange, threatens to publish an explosive tell-all account of his activities, complete with scandalous details. Suspecting that the KGB has turned Surtees, Hunter orders Callan to stop him.
VOLUME TWO

A Village Called "G"
The entire section goes on red alert when Liz, Hunter's ever-punctual secretary, fails to show up for work. Trying to trace her, Callan begins to suspect that Liz's disappearance involves not an enemy from the present, but a ghost from her past.
Suddenly - At Home
Lady Janet Lewis, the beautiful widow of an ex-foreign secretary, accepts a TV producer's lucrative offer for an interview about her husband. Suspicious of the producer's intentions, Hunter assigns Callan to stop her, but the assignment gets personal.
Act of Kindness
When Heathcote Land receives incriminating photos of his company's sales manager in bed with a mistress, Callan tries to persuade him not to expose the man. But Land knows too well how such games are played.
VOLUME THREE

God Help Your Friends
Callan must break up the engagement between a lovely NATO interpreter with a grade-A security clearance and a man suspected of serving as a KGB informant. Does the woman's fiancé really love her? Or does he love Moscow more?
Breakout
By surrendering tot he police, wily KGB operative Nikolai Lubin seeks safety in a British prison, out of reach of Hunter and the section's interrogators. Hunter, however, has other plans - engineering Lubin's "escape" under the guise of a KGB operation.
Amos Green Must Live
When a visiting black activist turns up dead, a clue at the scene suggests that controversial anti-immigration politician Amos Green will be the assassin's next target. While Cross covers Green, Callan seeks the killer before he can strike again.
The DVD:
The Video:
As I wrote above, the original source materials for these full screen, 1.33:1 transfers don't exactly help the already crappy look of Callan - Set 1. Video noise, drop-out, hot spots, and some curious video anomalies (see the screen cap of Woodward above) were apparently beyond Acorn Media's powers to correct (as they state in their on-box and on-screen disclaimer). If you're used to these kinds of British TV series from the 70s, you won't mind this look. You'll expect it.
The Audio:
The Dolby Digital English mono audio track has some hiss, but again, it's like the video: you expect this from British TV productions of the time. No subtitles or close-captions don't help with some of the stronger accents.
The Extras:
Only a scant text bio of Edward Woodward and some Callan "trivia" text are included here as extras.
Final Thoughts:
Familiar, yes. But quite well written and performed. You won't find too many surprises in Callan - Set 1, particularly if you've already seen the countless morally-conflicted-yet-deadly assassin-who-hates-his-boss-and-the-world-and-everything-else spy shenanigans that have proliferated in print, on theatre screens and on the tube for the last four decades. But Edward Woodward is his usually excellent self (and admirably restrained here), the plot situations are agreeably dense; and the moral quandaries are not-so-easily swept under the rug. Pretentious at times, and even obvious in spots, but overall, an admirable addition to Britain's television espionage canon. I recommend Callan - Set 1
---
Paul Mavis is an internationally published film and television historian, a member of the Online Film Critics Society, and the author of The Espionage Filmography.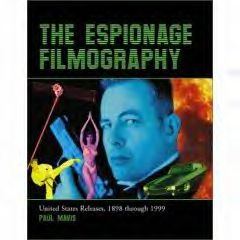 ---
C O N T E N T

---
V I D E O

---
A U D I O

---
E X T R A S

---
R E P L A Y

---
A D V I C E
Recommended
---
E - M A I L
this review to a friend
Sponsored Links
Sponsored Links