Other // Unrated // July 14, 2009
List Price: $39.99 [Buy now and save at Amazon]
---
Author's note: Having written extensively about Peyton Place's aesthetics in my review of Shout! Factory's first set of episodes from Season One, I've adapted part of that content for this review, followed by my detailed look at what's different for this next set of episodes. It's impossible to discuss Peyton Place with any kind of depth without revealing major plot spoilers, so please be advised of that in the following review.
"This is the continuing story of Peyton Place...."
"Who is my real father?"
"Allison, you know...A certain amount of dreaming is necessary to make life bearable."
A hard, driving winter has come to Peyton Place. And as the temperatures drop, and the snow covers the picturesque New England town, passions ignite as its citizens retreat to their warm, comfortable homes, seemingly secure in their cloaks of secrecy afforded by their shuttered windows and drawn curtains. Shout! Factory has released Peyton Place: Part Two, a five-disc, 33-episode collection that picks up right where Part One left off. Peyton Place, prime-time television's first multi-night dramatic serial based loosely on the scandalous novel by Grace Metalious and its subsequent film adaptations, was unique - and I believe still holds the record - for being the only prime-time television drama to run continuously throughout its calendar years, without any reruns and without a summer break (exactly like its counterparts on the daytime "soap opera" schedules). So by my calculations, these 33 episodes span the air dates of Tuesday, January 5, 1965, to Thursday, April 22, 1965 (the series initially ran two nights a week - Tuesdays and Thursdays). At this point, I'd like to "step outside" this review and make a rare personal entreaty to one of the releasing companies I routinely review: Shout! Factory - please, do not discontinue this marvelous series. I hope all the many emails I've received from fans of the show are an indication of the sales for these first two sets. It's fast becoming one of my favorites, so don't leave Peyton Place fans hanging with only the first 64 of the series' 514 episodes.
In this very brief summary of the highlights of Peyton Place: Part Two, please remember that plot spoilers could be revealed - particularly if you haven't seen the Part One episodes. Focusing less this go-around on various complicated romances per se and more on some snappy traditional soap opera plot machinations, Peyton Place: Part Two shifts focus away from young, searching Allison MacKenzie's (Mia Farrow) relationship with rich, young searching Rodney Harrington (Ryan O'Neal), to that of her mother's, Constance MacKenzie (Dorothy Malone), with returning ex-con, Elliot Carson (Tim O'Connor). Elliot, convicted of killing his wife Elizabeth 18 years before, is out on parole (thanks in part to the efforts of Peyton Place Clarion newspaper editor, Matthew Swain, played by Warner Anderson) and back in Peyton Place, bent on clearing his name from a crime he didn't commit. His return causes great anxiety within Constance, who fears his presence will unleash a secret she's kept all these eighteen years, as well as causing a rift between Connie and Dr. Michael Rossi (Ed Nelson), the dreamboat physician and surgeon who's newly arrived to Peyton Place.
As for Peyton Place's recently departed denizen, newly-married and newly-separated Betty Anderson (Barbara Parkins), she's left her husband Rodney and her mother Julie (Kasey Rogers) without any clue as to where she's going to stay. Arriving in the big bad city of New York, Betty soon finds how cruel and inhospitable the "real" world is - particularly for small town girls with no formal training or job experience. Hooking up with new friend Sharon Purcell, it takes a few days for Betty to realize the life of a kept "party girl" isn't anything she wants to be a part of, and she quickly hightails it back to Peyton Place just in time to see her father, George Anderson (Henry Beckman) lose it not once but twice as his fragile mental state completely collapses. But if the other staid neighbors of Peyton Place looked askance at wrong-side-of-the-tracks Betty and her annulled marriage to Rodney Harrington, that's nothing compared to trouble caused by Peyton Place newcomer, Paul Hanley (Richard Evans). Son of hardass Puritanical pharmacist Calvin Hanley (Whit Bissell), Paul, now a college professor at Peyton U., has rejected his father's philosophy in favor of morose existentialism...which fits in nicely with his own perverse need to play harmful head games with those he meets. Paul has one other connection to Peyton Place that will prove crucial to events in these episodes: as a twelve-year-old boy, he provided the evidence to convict Elliot of the murder of his sister, Elizabeth...evidence Paul now believes, was false. These and more stories churn behind the quaint tree-lined streets and Colonial facades of the tiny New England hamlet, Peyton Place.
SPOILERS ALERT!
Watching the next set of episodes from ABC's Peyton Place, the first thought I had was: is anybody even going to be interested in this subject matter? I'm a admirer of the novel and the films, and now, after seeing these first 64 episodes, I'm a confirmed fan of the series, as well, but I have to wonder if anyone under 35 is even going to understand the context of the series. Does anybody even remember that old cultural stereotype of the emotionally chilly, staid New Englander, whose outward reticence masks an inward, slow-burning passion? Do little New England hamlets and villages like the fictional Peyton Place, insular and inbred in their personal associations and their cultural and societal references, still exist? Is our pop culture even remotely interested in the not only proclaimed "outdated," but now actively despised trials and tribulations of socially poised and reserved, but emotionally troubled whites who live in a small American town, hiding secrets about love and sex and violence from each other while maintaining the niceties of a polite society? If those concerns of this segment of American society do manage to crop up in the pop culture today, almost invariably those matters are turned into cartoonish lampoons: derided, vilified, and laughed-at for their perceived "hypocrisies" and their "simplistic" moralities.
And if mainstream purveyors of our pop culture feel the players and their societal context in Peyton Place are no longer viable frameworks for serious and respectful drama, their tribulations here are equally looked upon as naïve and obsolete. The secrets of Peyton Place, the terrible truths that the characters work so hard to conceal, are, I would imagine, the stuff of family sitcoms today - not the envelope-pushing, edgy material of 1964's prime-time Peyton Place. In this second set of episodes, characters are constantly concerned with "what the neighbors might think," and their place in society should their "dirty laundry" be aired in public. But in this day and age where one can live even in a small town and still not know the names of the people living right next door, such concerns are muted, at best (particularly when combined with the defiant attitude of "don't judge me...even if I act improperly," that has been disastrously foisted on our culture). Constance's grief over Allison's illegitimacy - a fact that causes Connie enough shame and worry that she invents a deceased father to cover the reality of Allison's situation, while prompting her real father, Elliot, to abandon his plan to save his own name to keep Allison free of scandal, is one of the primary character and plot motivation in these episodes. Of course today, with the rate of unmarried pregnancies skyrocketing every year, such considerations of morality seemingly no longer even enter into the equations of the modern American "family." With American society so "advanced," of what possible interest could Constance's and Elliot's petty little moral dilemmas pose for us?
Of course, that's the way our pop culture would like you to think about the Paleolithic denizens of little hide-away, Peyton Place. Our coarse pop culture has stridently demanded that we view such seemingly small-fry moral quandaries as not worthy of serious consideration. Now that it has banished common-sense morality to the so-called "dangerous fringe elements" (thanks, DHS), while imposing a slippery-slope "moral equivalency" to almost any traditional value system, the only artistic response our common pop culture seems capable of now is vulgar sensation and self-gratification. But if one can block those messages out, and re-connect with the basic, universal themes and emotions of true melodrama as represented in Peyton Place, a viewer can find a beautiful simplicity to the expertly-constructed, emotionally-honest scripts of this mere TV "soap." My understanding is that Peyton Place's producer, Paul Monash (Butch Cassidy and the Sundance Kid, The Friends of Eddie Coyle, Carrie), didn't care for the moniker "soap opera" to be applied to Peyton Place (he preferred "television novel"), but I see no reason not to call Peyton Place what it is: a superior television drama formatted exactly in the manner of a daytime serial - a "soap opera," in other words.
Certainly, the cache and notoriety of Peyton Place's original source novel drove a lot of viewer interest in ABC's experiment in programming, but anyone expecting to find the still-juicy salaciousness of Metalious' novel in Peyton Place the series will be disappointed by this more reserved examination of small-town life. There's almost a storybook appeal to the show, highlighted by the geographic isolation of the setting, and the hundreds-year-old Puritan heritage of the town, that contrasts very nicely against the more modern realities of the characters' dilemmas. The opening narration of each episode (voiced by Warner Anderson, who plays kindly, wise Peyton Place Clarion newspaper editor, Matthew Swain) further emphasizes that storybook feel; a good example comes from episode three, read in Anderson's signature smooth, reassuring style: "A pebble thrown into a stream creates ever-widening ripples. Elliot Carson, away in prison for 18 years, has been hurled back into the stream of life in Peyton Place, and the ripples thus created, continue to widen." The serious notion of an ex-con convicted of a crime he didn't commit, returning home to a judgmental populace and with no possibility of ever letting his real daughter know he's her father, is delivered in a deceptively comforting manner. This, combined with the expected structure of the genre (one crisis leads to the next; no episode ends with a complete resolution of a problem) and offset by the serious nature of the characters' dilemmas (drug addiction, teen pregnancy, murder), creates in Peyton Place an interesting dichotomy of cozy, reliable serial storytelling, and heavy melodramatic elements.
The quality of the writing of Peyton Place is quite surprising, as well. It's important to remember that many of the series' returning writers and directors cut their teeth on the well-regarded live dramatic anthology series of the 1950s. Writers such as Robert J. Shaw, a veteran of numerous television series such as Kraft Television Theatre, Schlitz Playhouse of Stars, and Robert Montgomery Presents, Mathilda and Theodore Ferro (Kraft and Montgomery, as well as the beautifully written Leave it to Beaver), and directors like Ted Post (Armstrong Circle Theatre, Schlitz, The Ford Television Theatre, Zane Grey Theater, and Westinghouse Desilu Playhouse), and Walter Doniger (a veteran of numerous excellent TV series, such as Cheyenne, Bat Masterson, Checkmate, and The Detectives Starring Robert Taylor) worked frequently together to give Peyton Place's scripts an almost dreamy, poetic cadence that's quite unlike other prime-time dramatic series from that time. Repeatedly, characters talk around subjects, causing the other characters in the conversation to ask, "What do you mean by that?" before the conversation shifts to another level, leaving the viewer to really listen and interpret what's going on (believe it or not, some episodes have a Mamet-like strangeness to their word selection and phrasing, aided by the skill of the performers). With the heavy predominance of the two-shot used throughout the episodes, a viewer can concentrate on the up-close faces of the actors while listening to these rather graceful lines and pauses.
In the last batch of episodes, there was a certain air of...reservation, if you will, in the execution of the more familiar soap opera conventions; clearly the emphasis was more on the poetry of the language that described universal themes like obligation versus love; the pains of leaving one's childhood behind for good; and the gradual, imperceptible fading away of youthful dreams and hopes as we age. The necessary requirements of zippy melodrama were of course honored, and several tense subplots got a good workout at the start of the series. However, those conventional soap opera elements - murder, blackmail, everyone hiding a secret while threatening everyone else with exposing those secrets - are ramped up considerably in these next 33 episodes. The more melodramatic story lines are pushed front and center, and they're engaged with a noticeable acceleration in pacing and performance that makes this second group of Peyton Place episodes quite speedy. The poetry isn't lost, nor are the solid characterizations and the believable motivations that ultimately drive the action, but increasingly, the main purpose of the episodes seems to be moving the various sensationalized subplots along at a rapid clip.
The two standouts in this collection must be the intersecting subplots concerning new characters Elliot Carson and Paul Hanley - importantly, plots that may be thoroughly familiar to melodrama afficionados, but which are successful here because of the strange and sensitive quality of the writing, and the excellent performances. Tim O'Connor's Elliot character provides a far more compelling match for Dorothy Malone's restrained, sad emoting in comparison to the rather cool Dr. Rossi from Ed Nelson. It's apparent that once O'Connor came on the scene, the producers backed off on the Rossi/Constance romance because it peters out with a whimper; Rossi good-naturedly agrees with Connie that he's not ready for marriage, and faces the inevitable - he's not in love with her; nor is she with him. The pull of having a child together, along with the discovery of Elizabeth's diary essentially clearing Elliot of her murder, forces Constance to admit that her feelings for her lover Elliot haven't gone away, even after 18 years. O'Connor is quite persuasive as the quietly authoritative Elliot, and his chemistry with the rest of the cast is noticeable (he's particularly good with Malone and with Farrow; they have a quiet, soft, lovely scene together - father and daughter, although she doesn't know it yet - at the library they both love). With his craggy, lean face and that marvelous baritone voice, his beautifully timed pauses and gentle line readings make for a compelling romantic lead (not something I was expecting from O'Connor, whom I knew only from later supporting character roles).
The Paul Hanley character, essayed by Richard Evans, is a decidedly complex (and perhaps even sick) character introduced to the small town Peyton Place. Set up as some kind of intellectual rebel who "gagged" on his father's intractable Puritanism, Paul's mask of indifferent existentialism soon falls away to show a character who gets his kicks manipulating innocents (Allison) or unstables (George). He may seek revenge on the murderer of his sister, Elizabeth, and his motivations may be clouded by his own culpability in testifying against an innocent man, but eventually, the viewer comes to understand that Paul's main motivation is sadism: as the marvelous new character, tavern-keeper Ada Jacks (Evelyn Scott) cagily remarks to Paul, "You're still a mean little kid, telling tales and making excuses. You're a pest." Paul tries to corrupt Allison's innocence by shattering her illusions with bargain-basement liberal bromides: the "old absolutes" of good and evil, truth and falsehood, and right and wrong, are "fairytales" to be ignored or better, actively destroyed through game-playing such as he's doing with Allison (he even opens this tired intellectual gambit by showing Allison...modern art). Rather amusingly, Paul's existential blather, used as a cover for the more base motivations of his actions, is neatly countered by the one character who could, if he chose to give in to self-pity, possibly fit that existential mode: combat war hero and ex-con Elliot. When Paul tries to trick Elliot by sneeringly referring to him as an "optimist" (which, if Elliot agreed, would seemingly prove to Paul that Elliot is intellectually inferior, anticipating the best in life after enduring an unfaithful wife and 18 years in prison for something he didn't do), Elliot smoothly takes the bait...and bests Paul's pretensions with the truth: "I've lived with despair, and if you had any first-hand knowledge of despair, you'd know a man has to outgrow it or be destroyed. Despair is death. I found hope or I wouldn't be here." (in other words, navel-gazing, self-pitying existentialism is juvenile bullshit trotted out by frauds who haven't grown up and walked the walk). Paul's machinations to get poor, mentally ill George to shoot Leslie Harrington for Elizabeth's death, is the ultimate expression of this character's supercilious, ridiculous credo: despair man's circumstances to look superior, but when it comes to showing any kind of balls in getting a dirty job done, get some other poor slob to do it for you. I can't wait to see where the writers take this fascinating, repellent character next in the series.
The producers are apparently wrapping up the George character, as well, with his complete mental breakdown seemingly permanent as he rocks back and forth on the floor of Leslie Harrington's floor after having accidentally shot Elliot. It's a shame he's going away, because as I wrote in my earlier review, Henry Beckman is terrific as the confused, anguished, and yet repugnant George. There's a great scene between Beckman and O'Connor as the two former friends and combat veterans discuss the war and their returns home to Peyton Place, where befuddled, confused George spells out the flip side of the popular 1960s TV cliché of the carefree, successful businessmen like Ward Cleaver and Jim Anderson: "When I got out and back to Peyton Place, I thought this place was my cookie. I spend eighteen years shadow-boxing...now, I'm all punched out. Everything is empty. Shadowy. Why? Can you answer me that!?" Luckily for George, he never learns of the current fate of his daughter, who has a brush with prostitution and drug abuse in New York City, courtesy of her roommate, Sharon Purcell. A kept "party girl" who tells Betty to "get smart" about men and that, "sometimes a girl can go a long way on the right pill." (that could be taken any number of ways). Fans of Valley of the Dolls (count me in) will notice how similar these New York scenes are to the film, particularly the opening one that has Barbara Parkins going to an employment agency (although in Peyton Place, the end result is much more realistic: skill-less Betty is wearily told to go back home to her small town before NYC eats her alive - which it almost does).
I'm also enjoying Paul Langton's outwardly smooth, inwardly scheming turn as Leslie Harrington, the series' main "villain," if you will. Langton is great at making each and every one of Leslie's out-and-out lies seem entirely plausible (causing even the viewer to wonder if he's being misjudged), until further pressure by someone else makes him give out just an inch more of the truth (right before Matt Swain writes an article about the shooting at Leslie's, Leslie reminds him he was once his good friend, to which Matt responds, "Yes, I'll remember that. I'll also remember Lucifer was once an angel."). As for "truth" in Peyton Place, a potentially strong new character, Ada Jacks, played with knowing cynicism by Evelyn Scott, seems to be the one town citizen who serves it up without worrying what anyone else will think, such as this exchange with customer Elliot, who starts the conversation: "Things are a little slower." "Oh, it'll be jumping later when the good people take to their beds." "Well, all of the solid citizens of Peyton Place are good people, aren't they?" "That's the 'New England story' if you want to believe it." "You don't?" "Are you kidding?" So much for those who think series like Peyton Place are hopelessly dated and naive.
ABC, which by 1964 still remained in a perpetual last-place showing with the bigger NBC and CBS networks (ABC still didn't have the station clearance those two former radio behemoths had, necessarily impacting the reach of ABC shows to the public), had had a disastrous 1963-1964 season, with not one of its shows even cracking the top 15 slots on the Nielsen charts (The Donna Reed Show was their highest charter, at 16th). Compounding their problems, ABC made a serious error in moving their biggest hit of the 1962-1963 season, the medical drama Ben Casey (it charted 7th that season), against the number one and three rated shows in the country, The Beverly Hillbillies and The Dick Van Dyke Show, both of which decimated Ben Casey's ratings (it was knocked out of the Top 30, never to return). So the 1964-1965 season presented big problems for ABC to rebuild, and using the combined "stunts" of having a promised "lurid" adaptation of the notorious Peyton Place novel appear twice weekly proved irresistible to TV audiences. Airing on Tuesdays and Thursday nights at 9:30 (after the kiddies were in bed), Peyton Place benefitted from some strong lead-ins and lead-outs, enabling both parts to crack the Top 20. Tuesday night's episode was the lower rated (it hit 20th for the year), having heavyweight competition from CBS's Petticoat Junction (which had been 4th the previous year, but which fell dramatically to 15th against interest in Peyton Place). Peyton Place's lead-out on Tuesday, the exploding The Fugitive (5th that year, its highest series rating), encouraged audiences to check out Peyton Place first, and keep the dial on ABC (before remotes, kids - ask your grandparents). Thursday night's installment of Peyton Place was even bigger - 9th for the year - as its lead-in, brand-new Bewitched, pulled in massive ratings to make it the 2nd most watched show in the country. Peyton Place's direct competition on Thursdays was weak (CBS's notorious flop, The Baileys of Balboa, and NBC's fading-fast former hit, Hazel), creating a can't-miss sense of anticipation for viewers who quickly became hooked on the show's serial format. The ratings were so strong in fact, for Peyton Place, that ABC made the bold move of adding a third night later that summer...a move that proved disastrous for the series.
The DVD:
The Video:
As with the transfers on Peyton Place - Part One, the source materials used for Peyton Place - Part Two vary significantly in quality. A few episodes look quite good, with minimal grain and consistent black levels, and a sharp picture. Unfortunately, later episodes vary in quality (some show significant damage), with contrast going very dark or burnt-out at times, and scratches and screen anomalies present. Still, in keeping with the expectations of these kinds of vintage TV releases, overall, Peyton Place - Part Two looks good. I did notice some moiré effects on Allison's tweeds, but overall, compression issues are negligible.
The Audio:
The English mono audio track is in keeping with the original broadcast presentation. All dialogue is heard, but no subtitles or close-captions are available.
The Extras:
Unfortunately, there are no extras for Peyton Place - Part Two. A disappointment, to be sure.
Final Thoughts:
Events are unfolding rapidly in the small, quaint New England town of Peyton Place, and anyone interested in superior night-time dramas will not want to miss a moment of them. Two new characters - Tim O'Connor's Elliot Carson and Richard Evans' Paul Hanley - really get the ball rolling for these exciting episodes, so please Shout! Factory - don't let Peyton Place fans down. Keep the episodes coming! I high, highly recommend Peyton Place - Part Two.
---
Paul Mavis is an internationally published film and television historian, a member of the Online Film Critics Society, and the author of The Espionage Filmography.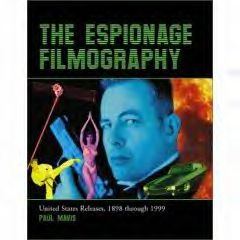 ---
C O N T E N T

---
V I D E O

---
A U D I O

---
E X T R A S

---
R E P L A Y

---
A D V I C E
Highly Recommended
---
E - M A I L
this review to a friend
Sponsored Links
Sponsored Links