"Mother! Darrin! I think I'm in a rut."
Limping to the finish line. ABC's once mighty supernatural sitcom, Bewitched, sputters to an indifferent close with Bewitched: The Complete Eight & Final Season. Lackluster and tired, these final 26 episodes aren't out-and-out disasters, but they show a further paucity of imagination and energy on the parts of the writers and the performers that was becoming noticeable several seasons back. It's difficult not to absolutely adore Elizabeth Montgomery, even when she seems to be working at quarter-speed (as a bonus, she looks terrific this season in her minis), but this seriously over-qualified actor's appeal isn't enough to successfully jack-up these listless episodes.
Since I've reviewed previous seasons of Bewitched (please click here to read my detailed take on the series' Season Four; here for my take on Dick York's final turn in Season Five; here for my read of Dick Sargent's first season as Durweed; and here for Season Seven's politically-oriented episodes), I won't go into too much background on the show's aesthetics. But I would assume that most people are at least somewhat familiar with the show's basic set-up. Dishy witch Samantha (Elizabeth Montgomery) is married to mortal advertising executive Darrin Stephens (Dick Sargent). Despite Darrin's constant pleas to live a witchcraft-free life, Sam's parade of relatives - particularly her vindictive mother, Endora (Agnes Moorehead), who despises "Durweed" - provide endless opportunities for Darrin to be the victim of errant spells and pranks. While Sam is generally sympathetic to Darrin's requests that her magical powers stay hidden, often times it's a simple twitch of Sam's adorable nose that keeps Darrin from spending his entire life as a gorilla, or a duck, or a pig, or anything else that comes to Endora's deliciously cruel mind.
It's difficult to know where to start discussing Bewitched: The Complete Eight & Final Season because when it's all said and done, it seems so anonymous and bland a season: there just isn't a whole lot of "there" there to discuss. In previous outings, the morbid spectacle of York suffering through his last season was grist for an in-depth look at the series' evolution; in the sixth, the notorious switcheroo of the Durweeds from York to Sargent still provides fodder for discussion among fans; and in the Seventh, the overt, insistent political messages of Asher's and Montgomery's (which are more subtle and less frequent this time around) provided discussion material for a season tottering past its prime. But in this final eighth season, nothing is terribly memorable or exciting or noteworthy, sad to say. York's long gone, and Sargent is entering his third time around as Darrin - and he's just as anonymous and perfunctory in the role as he was the previous season (Sargent is remarkable in his refusal to engender any audience identification or sympathy). Montgomery, looking quite fab in her minis, doesn't seem as distracted as I remember her in past episodes...but neither does she look as delightfully animated as she was in the first four or five seasons. Politics, which seemed to infuse every other episode in the previous season, have been tempered here somewhat, arriving with less stridency and more subtlety in an episode like TV or Not TV (violence on television), or A Good Turn Never Goes Unpunished (women's lib). But as with previous seasons, when Montgomery makes a point of lecturing the audience directly about a particular point of politics, the results are ham-fisted and obvious. In George Washington Zapped Here, a good story about Washington being appalled by the lack of free speech in American life (a valid point particularly today, George...just don't let our new Homeland Security Department hear you say it) is occasionally brought to a halt by Montgomery's musings, including a direct dig at then-President Nixon's "silent majority," a group of people Hollywood millionaire liberal Montgomery apparently had trouble with, since she denigrates them for "standing by the sidelines, being led, not defending their rights." (she conveniently forgets those "silent majority" sheep made her a household name. She also forgets that they certainly did make one move as a group in the early 70s: they eventually quit watching her show). But even during these moments, she's humorless and blank. She's merely showing up for work here in this last season, and that's about all. And without Montgomery really trying, the burden of this season's success falls on scripts that are entirely too familiar or downright lazy (seriously, how many times is someone going to revert back to childhood?), and special effects gags that wore out their welcome seasons ago.
Perhaps taking a cue from the previous season's successful multi-episode location shooting at Salem, Massachusetts, this 1971-1972 final season opens with a seven-episode arc with Darrin and Sam on vacation in Europe. Sounds promising, doesn't it? Except...the cast and crew don't actually go to Europe. Utilizing just a few brief stock shots of Rome, London, and Paris to set the atmosphere, the episodes are obviously shot on the studio sound stages, with unconvincing mock-ups and faux-international décor employed to make us believe they're actually overseas. It's unfortunate the Bewitched company wasn't able to go to Europe; quite a few of those Salem episodes worked so well precisely because they broke the series out of its claustrophobic, set-bound visual schematic. That location shooting breathed some life into the increasingly tired series. Unfortunately, these patently phoney multi-episode teases look absolutely no different from any other Bewitched episode, and one quickly asks oneself, "What's the point?" (although seeing Francine York in nothing but an apron was a welcome oasis in these juvenile entries). It doesn't help, either, that some of the special effects ain't so special (the Leaning Tower of Pisa effect is a flat-out embarrassment; it looks exactly like a cardboard cut-out, while the Loch Ness Monster looks like he'd be more at home on Captain Kangaroo or Romper Room).
All of that could be overlooked (or at least tolerated) had the writing been sharper. But frankly, I was a little shocked at the laziness of some of the gags and one-liners that were limping along this season. One that immediately caught my eye occurred during those fake Europe episodes. In Samantha's Not So Leaning Tower of Pisa, Esmeralda (Alice Ghostley) makes a peripatetic appearance, one which is resolved at the episode's end by her becoming invisible...right in front of Larry Tate and a client of Darrin's. Now, in earlier Bewitcheds, such an incident would prompt frenzied activity from Sam and Darrin in trying to cover up this obvious indication of Samantha's witchy world. Indeed, one could argue that this set-up is the most basic and most primary central story gag used throughout the series: someone mortal has seen a witchly occurrence; Darrin's job is potentially compromised by this person's observation; and it's up to Sam to twitch her cute little nose and restore the façade of normalcy to the Stephens' home. However, in Samantha's Not So Leaning Tower of Pisa, Esmeralda disappears...and the episode ends. Larry looks befuddled; Sam and Darrin grin sheepishly, and nobody does anything to reassure the mortals that they didn't see what they obviously just saw. That kind of laziness is inexcusable for a Bewitched episode because it breaks the essential internal logic of the show: the mortals must not know Sam and her relatives are witches. Watching other episodes this season, I noticed further instances where the writers and performers took the easy route out of sticky situations and gags, further watering down this tired season; it's obvious by this eighth season that fatigue and over familiarity had set in on the Bewitched set.
There still are amusing moments in this eighth season, mostly supplied by the supporting cast. I can't say enough how much I miss Paul Lynde as Sam's beloved prankster relative, Uncle Arthur. He may have only showed up one or twice each season (many fans, myself included, are surprised to see how infrequently Lynde appeared, such was the impact he made on the series), but such guest-shots were always series "events." His high-octane, priceless mugging and hilariously camp delivery amped up the energy level of the show considerably, and his total absence here is disheartening, to say the least (and while we're at it: where are the Kravitzes? Without them, the "neighborhood" feel of the series is utterly eliminated. Too bad; I adored George Tobias' deadpan rejoinders to his hysterical wife). Providing some laughs, at least, is Bernie Koppel, appearing as several characters including the dirty old man Apothecary, Alonzo the hippie warlock, and Baron von Fuchs, the crypto Nazi Loch Ness Monster hunter. I must admit to warming to Alice Ghostley's Esmeralda (when she starts twitching uncontrollably, she reminds me of a female Don Knotts), while I love seeing more of Maurice Evans as Samantha's flamboyant, willfully destructive father (Evans, a delightful ham here, makes the most of his opportunities to recite his florid lines, even calling back to Moorehead, "Silence! I'm rolling!"). David White has a few funny scenes with the always dependable Kasey Rogers (whom I'm just discovering now as a very good dramatic actress on Peyton Place), but there aren't enough of them to make much of an impact for the pair. As for the kids, the Adam character still seems like an afterthought, while adorable Erin Murphy as Tabitha should have been given more episodes centered around her: she's a doll and quite funny, too.
Ratings for Bewitched began to seriously slip in the sixth season when Sargent replaced York as Darrin (the show finished 24th for the 1969-1970 year). By the seventh and eighth season, Bewitched had fallen out of the coveted Nielsen Top Thirty altogether. Having been crushed on its traditional Thursday night slot by NBC "must see" behemoths The Flip Wilson Show (#2 for the year) and Ironside (#4) the year before, ABC finally relented and moved Bewitched to a new night - Wednesdays at 8:00pm - where it failed to gain a foothold against NBC's Adam-12 (tied for 8th for the year) and CBS's The Carol Burnett Show (23rd for the year). I've read various articles that state ABC was interested in doing a ninth season of Bewitched, but that producer William Asher and star Elizabeth Montgomery refused. If this indeed happened, and the decision was finalized mid-season, it makes sense, then, that ABC would "kill off" the series by moving it in January against the single biggest phenomenon on television: All in the Family on Saturday nights at 8:00pm. I suppose it's possible that ABC thought a little bit of counter-programming might work (after all, All in the Family, despite its time slot in the "family hour," was considered by many parents as far too controversial for youngsters to watch), but there just wasn't any stopping the Norman Lear juggernaut over on CBS, and Bewitched quietly disappeared from the prime time airwaves July 1, 1972.
Here are the 26, one-half hour episodes of the four-disc boxed set Bewitched: The Complete Eight & Final Season, as described on their slimcases:
DISC ONE

How Not to Lose Your Head to King Henry VIII, Part 1
On a tour of the Tower of London, Samantha gets mixed up with a hateful witch who sends her back in time to the court of King Henry VIII.
How Not to Lose Your Head to King Henry VIII, Part 2
Endora sends Darrin back to 16-century England to rescue Samantha before King Henry VIII adds her to his gallery of late wives.
Samantha and the Loch Ness Monster
While visiting the town of Inverness, Scotland, Darrin and Samantha meet the Loch Ness Monster. It turns out that the creature is one of Serena's ex-boyfriends, and he's determined to seek revenge on her for turning him into a monster 40 years ago.
Samantha's Not so Leaning Tower of Pisa
Esmeralda, the one who originally caused the Leaning Tower of Pisa to lean centuries ago, tries to correct her biggest mistake by making the historic landmark stand straight.
Bewitched, Bothered and Baldoni
In the romantic city of Rome, Endora's spell brings the statue of Venus to irresistible life in order to test Darrin's fidelity.
Paris, Witches Style
Samantha's father is furious when he learns that she and Darrin have failed to pay him a visit while on their European tour.
The Ghost Who Made a Spectre of Himself
A lovesick ghost longing to be near Samantha takes up residence in Darrin's body and refuses to leave.
DISC TWO

TV or Not TV
Tabitha becomes an overnight sensation when she magically appears on a puppet show sponsored by Darrin's client.
A Plague on Maurice and Samantha
Maurice decides that he would like to sample mortal life after he temporarily loses his powers from a virus he caught from Samantha.
Hansel and Gretel in Samanthaland
A dinner party at the Stephens house ends up with two unexpected guests when Tabitha zaps Hansel and Gretel out of their storybook so that the hungry children can enjoy a home-cooked meal.
The Warlock in the Gray Flannel Suit
Endora enlists the help of a hippie warlock named Alonzo to do away with Darrin's job so that he is free to attend a family wedding with Samantha.
The Eight-Year Itch Witch
Endora transforms a cat into a temptress in an effort to test Darrin's loyalty to Samantha.
3 Men and a Witch on a Horse
Endora casts a spell that sends Darrin off to the horse races, hoping that his newly inspired gambling bug will make him a better provider to Samantha.
Adam, Warlock or Washout
Adam's powers need to be tested, but not before he receives some coaching from his grandfather.
DISC THREE

Samantha's Magic Sitter
Esmeralda's babysitting skills are a big hit with the kids but not with Darrin's client, whose son will not give up the notion that he was entertained by witchcraft.
Samantha is Earthbound
Samantha is lighter than air after Dr. Bombay's attempt to cure a gravitational pull backfires.
Serena's Richcraft
After losing her powers, Serena flirts with a wealthy and attractive client of Darrin's, hoping to prove that "richcraft" can be just as powerful as witchcraft.
Samantha on Thin Ice
Tabitha's invited to an ice skating party, but only if she can learn to skate the mortal way. Endora has other plans for her granddaughter when she casts a spell that transforms Tabitha into an Olympic star.
Serena's Youth Pill
Serena gives Larry Tate a dose of Vitamin V hoping to turn back the clock by a couple of years. But the pill has an unexpected effect on Larry and takes him all the way back to his childhood.
Tabitha's First Day in School
On her first day in school, Tabitha changes the class bully into a frog and later encounters trouble when she tries to reverse the spell.
DISC FOUR

George Washington Zapped Here, Part 1
Esmeralda accidentally brings George Washington into the 20th century, but the father of our country finds it difficult to adjust to modern times.
George Washington Zapped Here, Part 2
The first President remains stuck in the 20th century awaiting his hearing for threatening a police officer and speaking out publicly about the Constitution.
School Days, School Daze
Tabitha is worried about being smart enough to skip to the second grade. But with Endora's help she far exceeds the expectations of her teacher.
A Good Turn Never Goes Unpunished
Darrin is sleeping on the couch after he suspects that Samantha's brilliant slogans for a mattress account are the result of witchcraft.
Samantha's Witchcraft Blows a Fuse
Samantha's face is covered with red stripes. Dr. Bombay's cure requires two important ingredients: a Himalayan cinnamon stick and the tail feather of a dodo bird.
The Truth, Nothing But the Truth, So Help Me Sam
A dinner party for a prospective client ends in disaster after Endora casts a spell on Samantha's unicorn pin that causes every mortal that comes near it to tell the absolute truth.
The DVD:
The Video:
The full-screen, 1.33:1 video transfers for Bewitched: The Complete Eighth & Final Season again vary in quality, depending on the original elements. Some episodes have a faded, pinkish quality, while others can be a little soft and fuzzy. Grain is a factor, as expected. Most, though, look fairly good, with strong color, minimal screen anomalies, and a generally sharp picture.
The Audio:
The Dolby Digital English mono soundtrack accurately represents the original broadcast presentation; all dialogue is crisply rendered. Spanish and Portuguese mono tracks are available, as are subtitles in these languages. English close-captioning is available.
The Extras:
The same opening bumper featuring Montgomery welcoming the viewer to Bewitched is included on all the episodes, along with a Bewitched title card, during the final commercial break, indicating the show will be right back. Other than that - no extras.
Final Thoughts:
A letdown windup for a once delightful sitcom. Gorgeous Elizabeth Montgomery phones in her last turns as cutie-pie-turned-fox suburban witch Samantha, while Dick Sargent...well.... Paul Lynde is long gone, as are the Kravitzes, and we're stuck with warmed-over plots from seasons past, and silly costumes of the Loch Ness Monster and a dodo bird. A dispirited affair, to say the least. I can only suggest a rental for this final season, even for die-hard fans, because so much of Bewitched: The Complete Eighth & Final Season is instantly forgettable. And that's a shame, considering it was once such a bright, happy show.
---
Paul Mavis is an internationally published film and television historian, a member of the Online Film Critics Society, and the author of The Espionage Filmography.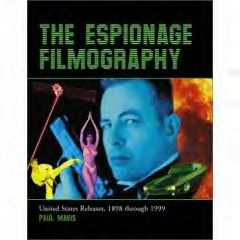 ---