List Price: $24.98 [Buy now and save at Amazon]
---
Liberace fans rejoice! MPI Home Video has released Liberace: Greatest Songs, a 2-disc, almost six hour-long compilation of clips from his 1954 syndicated television program. Unfortunately for vintage TV fans, these programs are not presented in their unedited versions - nor is any context given for the clips that are selected (a big no-no in my book). However...once Liberace beams that smile at you, and starts pounding away at those keys, I didn't really care about clip context or opening and closing credits. Liberace: Greatest Songs became all about the music and Lee's showmanship, and I have to say I was delighted.
Now I've written before - in a roundabout manner - about Liberace, and I've been quite upfront about being a solid fan of his act. I put that statement in such a declarative manner because I get the feeling that admitting to liking Liberace is like admitting you enjoy entertainers like John Tesh or Yanni or any other performer whose "image" somehow, for some unknown reason, invites mockery or derision among snotty pop culture observers. Certainly Liberace was no stranger to scorn and ridicule from high-brow music critics when he finally made it on the national stage. But according to every account I've read, Liberace was well aware of not only the effect his flamboyant manner had on critics (which he exploited to make him seem unique with audiences), but also the effect he had on critics when he shortened or altered passages of classical music, or when his playing technique emphasized showmanship over precision. Apparently, Liberace was credited with the now-famous phrase, "I cried...all the way to the bank!" in a written response to a particularly cruel critic. He certainly didn't seem to take criticisms of his act or his stage persona personally (if you've ever seen his shows, he obviously enjoyed parodying that exaggerated image he created), so...why be embarrassed to say you like him?
As I wrote in an earlier review of a terrible documentary that dealt with Liberace, I can distinctly remember catching a Liberace special shot for Showtime back in the late 70s, and coming away thinking he was a hell of a performer. I know serious musicians and critics looked down on his schmaltzy arrangements of classical pieces and his ridiculously exaggerated style of playing (the better for audiences to see his bejeweled hands in action), while pop culture pundits snickered at his gaudy, overblown sets and costumes, as well as at his cadre of blue-haired dears who sat reverently at ringside, following his every move (you can read a lot of supercilious cultural snobbery going on with those taunts; Victor Borge messed around with the classics, too, but the intelligentsia loved him). But I have to say that, even as a kid, I found him to be delightfully funny. You can say what you want about his rather bizarre manufactured image (used to great effect in Tony Richardson's The Loved One), but there's no denying his rapport with the audience was special, and that his comedic timing was flawless. And most importantly, his playing was wonderful. I confess I'm no music authority; I know I couldn't truly tell the difference between a piano virtuoso and a merely accomplished performer (and I suspect neither could 99 percent of the rest the population, either), so when I read critics who say he "murdered" classical pieces with his abbreviated arrangements and his technique was "atrocious," well...who cares? It sounds beautiful to me (his aim was to entertain mainstream audiences, after all). Add to that his polished showmanship and his genuine connection with the audience (again: I don't care if it was truly sincere or not - it seemed to be), and that's all I need. And I suppose if one keeps that spirit in mind when reviewing Liberace: Greatest Songs, the sheer pleasure of hearing Liberace's playing is enough to smooth over the drawbacks of the discs' presentation.
The biggest problem I had with the Liberace: Greatest Songs discs was their edited format. Like any fan of any vintage TV series, I want to see individual episodes in as close to pristine form as I can get. We fans understand if, during syndication, small amounts of material are lost either due to editing for time or for licensing difficulties, that this material may be lost forever. It goes with the vintage TV territory. However, when watching an episode of a particular series, we want to see as much of it as we can, in as close to the form that it was originally presented: opening credits, links, segues, sign-offs, and closing credits. However, in Liberace: Greatest Songs, taken from Liberace's 1954 filmed syndicated series, we only get clips from the episodes. There is no context given for these clips (no identifying episode numbers, nor do we know how the clips are jumbled together from one episode to the next). Nothing bugs me more than compilations that don't properly identify the source material. Even a title card from MPI, explaining the source of these clips and just a paragraph or two about their origins and how they were selected - and their actual dates, of course - would have been acceptable. That seems like the least MPI could do in presenting this material "blind," so to speak.
Now, in its favor, Liberace: Greatest Songs presents complete musical sequences: we see Liberace intro the piece; he plays it, and he takes the applause. All of the clips on each disc are strung together without interruption, as well, so you can listen and watch almost three hours of material per disc without interruption, if you so choose. And for the most part, the condition of the source materials used for these transfers is quite nice. Complete episodes would have been preferable, obviously, but if we get into the spirit of Liberace himself, who used to present some of his more famous pieces as "classical music with the boring parts cut out," complete musical sequences - particularly almost six hours worth - isn't so bad. We get to see and hear Liberace play, and ultimately, that's what's important (from a historical standpoint, though, those complete episodes are far more desirable).
Which brings us to the clips themselves. The first thing that struck me when I watched them was the quality of the series' camerawork and lighting. Filming someone playing the piano would seem a difficult task, week after week, because what do you actually do to make it visually interesting for the audience? These sequences, however, show a willingness to cut quite often to different camera angles (absolutely essential so we don't feel like we're stuck back in a theatre seat, watching someone from one angle, performing on stage), with elaborate lighting effects as well as other musicians and dancers and singers popping in and out of the frame at will. Liberace, often positioned in a columned chamber with a massive bay window behind him, either plays the piece "straight" with no effects, or he jazzes it up with a rotating piano, or dancers, or perhaps his brother George on the violin or moroccas (often, the bay windows will open to a tableau "outside" - a nice effect). Unfortunately, a few times a god-awful laugh track is inserted for a comedy piece he attempts, but luckily this doesn't happen too often.
As important as the visual schematic is to the show, Liberace's rapport with his imaginary TV audience is just as calculated - and charming. After watching an hour or so of the clips, I tried to put my finger on why Liberace's brief chats with the television audiences were so successful, and I finally came up with the fact that he seems so genuinely happy to be doing what he's doing. Oftentimes winking directly to the camera during his pieces, Liberace seems legitimately pleased that we've tuned in to his show so he can entertain us for a little while. Is this attitude "fake?" Is it part of the act? Perhaps. But it sure seemed sincere to me, and that feeling and chemistry comes directly through the camera to the viewer...and that's tough to fake. And even if it is phony, isn't that, too, a testament to his performance skills? He's a performer meant to entertain us, and that folksy charm - real or not (I think it's real) - is a big part of his successful act. I suppose you could watch Liberace: Greatest Songs for the "bizarre factor." It's certainly amusing to watch a fully-gowned bride looking wistfully at Liberace as he sings - supremely indifferent to her feminine appeal - Oh, Promise Me (or even better: when he sings I Want a Girl Just Like the Girl That Married Dear Old Dad). The girls of the Can-Can fail to rouse Mr. Showbusiness, either. And his softshoe is at times almost hilariously stiff during his no-blackface minstrel number. Those moments are tough not to laugh at, but I suppose Liberace would be the first one to laugh at the subtexts of those moments, as well. Eventually, his good cheer and supreme showmanship trump any sniggering that threatens to erupt in the viewer. In the end, even with the flashy rings and the exaggerated conciliatory manner, it does come down to the music. And it's wonderful here in Liberace: Greatest Songs
Here are the 96 (!) complete songs included on Liberace: Greatest Songs:
DISC ONE
VOLUME ONE
The Saber Dance

Glow Worm

La Cucaracha

Schubert's Serenade

Malaguena

Chopsticks Chopin-Style

Peer Gynt Suites

Intermezzo

Piano Roll Blues

Paderewski's Minuet

Moonlight Sonata

Polish National Dance

Dark Eyes

Listz's Concerto in A Minor

I've Been Working on the Railroad

My Old Kentucky Home

Beethoven's 1st Movement - D Minor Son

Yakety Yak Polka

VOLUME TWO
Flight of the Bumblebee Boogie

Chopin's Nocturne in F Sharp Major

Torna Sorrento

Listz's 14th Hungarian Rhapsody

Humoresque

Punchinello

How Much is that Doggie in the Window

Chopin's Waltz in a Flat Minor

Comin' Round the Mountain

Tchaikovsky's 5th Symphony

La Traviata

Habanera

Carmen Boogie

Take Me Out to the Ball Game

Rondo Gavotte

Oh, Promise Me

Can-Can

Clair de Lune

French National Anthem

VOLUME THREE
Camptown Races

My Old Kentucky Home

Jeanie with the Light Brown Hair

Oh, Susanna

Beautiful Dreamer

Old Folks at Home

Bicycle Built for Two

Only a Bird in a Gilded Cage

And the Band Played On

Schuman's Dedication

Rachmaninov's 18th Variation

Harp Interlude

April in Portugal

I Want a Girl Just Like the Girl That Married Dear Old Dad

Tchaikovsky's Concerto #1

Santa Lucia

Whistle While You Work

Peer Gynt Melodies

I Love You Truly

Chopin's Waltz in C Sharp Minor

Stars and Stripes Forever

DISC TWO
VOLUME FOUR
I'm Looking Over a Four Leaf Clover

Alexander's Ragtime Band

Chopin's F Sharp Major Nocturne

Ave Maria

Italian Melody

Swanee River

Blue Tango

Turkey in the Straw

Madalena

Chopin's Prelude in C Sharp Minor

Chopin's Minuet in G

Tales of the Vienna Woods

Dixie

Mexican Hat Dance

Yellow Rose of Texas

Skater's Waltz

Pop Goes the Weasel

Home Sweet Home/Sherman Oaks House Tour

Sunny Side of the Street

VOLUME FIVE
Carmen's Boogie

Blue Danube

Tiger Rag

The Dance of the Skeletons

Tchaikovsky's Concerto in B Flat Minor

Emperor's Waltz

School Days

Wedding March/Oh, Promise Me

Brahms Lullaby

Clarinet Polka

The Ritual Fire Dance

Paderewski's Minuet

Greensleeves

Rachmaninov's Fantasy

Nola

The Typewriter Song

Beethoven Sonata in D Minor

Yankee Doodle Boogie

12th Street Rag

The DVD:
The Video:
The full-screen, 1.33:1 black and white transfers for look quite good, with the source material used admirably intact. The image is fairly sharp most of the time, while grain is apparent but not bothersome. Blacks aren't extremely deep, and compression issues do crop up (interlacing effects at times), but considering what kind of DVD this is, I would imagine most Liberace fans will be happy with the video quality.
The Audio:
Unfortunately, the audio tracks are split mono; they're clean enough (some hiss and warbling at times, due to the original source materials), but too bad we couldn't hear Liberace's wonderful music in an upgraded track.
The Extras:
There are no extras for Liberace: Greatest Songs.
Final Thoughts:
Does Liberace have an active "audience" today, decades after his death? Do his records still sell (or are they even in print)? Does he still have fan clubs or blogs dedicated to his career? It's interesting to know that Liberace and Elvis Presley were friendly with each other during their careers - I wonder if Liberace would be more of a presence in the popular culture today if he could have promoted his lifestyle as feverishly as Elvis did? Because they certainly both reside in that uniquely American niche of popular entertainers whose personas eventually superceded their actual musical accomplishments. If you're at all a fan of Liberace, I don't see how you can't pick up MPI's Liberace: Greatest Songs, which includes 96 complete song performances from his 1954 syndicated show, giving the Liberace enthusiast almost six hours of uninterrupted pleasure. I highly recommend Liberace: Greatest Songs.
---
Paul Mavis is an internationally published film and television historian, a member of the Online Film Critics Society, and the author of The Espionage Filmography.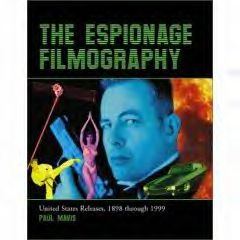 ---
C O N T E N T

---
V I D E O

---
A U D I O

---
E X T R A S

---
R E P L A Y

---
A D V I C E
Highly Recommended
---
E - M A I L
this review to a friend
Sponsored Links
Sponsored Links