Simon & Simon: Season Three
List Price: $49.99 [Buy now and save at Amazon]
---
Those Simon boys are back, and they're up to their asses in trouble in Shout! Factory's Simon & Simon: Season Three, a six-disc, 23-episode collection featuring the long-running action/mystery series' 1983-1984 season (their highest-rated in the Nielsen's). Easy-going and casual and entertaining as hell, Simon & Simon is the epitome of slick 80s action network TV fare, a dependable show you could always tune in to and know you'd have a good time watching. Stars Gerald McRaney and Jameson Parker have their "squabbling brothers-who-also-work-as-detectives" act down pat, and the addition of Detective Marcel "Downtown" Brown (Tim Reid) finally gives the pair an amusing, worthy "sidekick/adversary" to bounce off of in several episodes. No extras again for Simon & Simon fans, but at least they keep releasing the seasons.
I've written before about Simon & Simon, so I won't go into too much background on the show.

For those not familiar with this light, entertaining actioner, Simon & Simon details the day-to-day struggles - as well as the unusually exciting cases - of the San Diego-based Simon & Simon detective agency, run by brothers Rick (Gerald McRaney) and A.J. (Jameson Parker) Simon. Polar opposites in almost every conceivable way, the brothers constantly chafe under the strains of their sibling rivalry, until of course, action is called for and they back each up to the hilt. Younger brother A.J. is the smooth, polished, college-educated driving force behind the agency (which he founded), a hard-core preppie whose idea of a ideal afternoon is sitting around his immaculate house, reading the latest Michener novel, before entertaining a beautiful girl at a fancy French restaurant. Rick, on the other hand, presents an entirely different profile. Scruffy in his jeans, boots, cowboy hat and fatigue jacket, ex-Vietnam vet Rick likes nothing better than taking a good-looking girl to a bar for some pizza and beer, with Eddie Rabbit on the jukebox - after he's spent the day goofing off on his boat, The Hole in the Water, that's parked on a trailer in A.J.'s yard.

Both constantly pick at each other over their respective personal and business styles (A.J. thinks Rick is alternately lazy and unpredictable, while Rick thinks A.J. is entirely too stuffy and book-smart and cautious), but at $400 a day plus expenses (they've upped their fees from the previous season), they learn to live with each other quite well. Further emphasizing the familial nature of their business enterprise, the boys are frequently visited by their widowed mother, Cecilia (Mary Carver), who, when she's not actively seeking out the company of older gentlemen, takes time to scold the boys over their fighting and their dangerous occupations - as well as bail them out of jail when needed. This season, A.J.'s ex-fiancé Janet Fowler (the statuesque Jeannie Wilson), a San Diego Assistant D.A., only appears - very briefly - in two episodes (her father Myron, played by Eddie Barth, who ran the rival detective agency across from Simon & Simon, is a no-show), but welcome series addition Tim Reid as undercover cop "Downtown" Brown keeps things light and fun as he repeatedly runs interference for the authority-hating A.J. and particularly Rick...when he's not deputizing them when things get hairy out on the streets.

In my review of Simon & Simon's second season, I wrote about the "everyman" appeal of the series' format. Whereas many TV detectives have traditionally been shown to be glamorous ladies' men with expensive cars and beautiful offices in exotic locales (just think Simon & Simon's lead-in show, Magnum, P.I.), Rick and A.J. Simon looked like you and me. They drove cars and wore clothes we could afford; their office was decidedly down-market and non-descript, they were always strapped for cash, and the San Diego locales chosen for the show certainly weren't exotic. Add to that the bickering element between two brothers who are vastly different in outlook and demeanor (who doesn't understand that?), and a whole lot of action, and you've got a meat-and-potatoes detective series that was "comfortable" from day one. Watching the show evolve over these first three seasons, it seems this particular go-around has de-emphasized the boys' extracurricular activity (they talk a lot about carousing - particularly Rick - but we don't see it), while ramping up the actual mysteries. Earlier season episodes went out of their way to show the differences between the brothers' lifestyles during assignment down-time (lots of Preppie-vs.-Country stereotypical humor); that kind of byplay still crops up from time to time, but it's much less frequent here. Perhaps the writers and producers felt the audience fully understood the concept and decided to let the mysteries take precedence.
And those mysteries have improved for the most part for this third outing. Oftentimes having a distinctively laid-back California atmosphere that reminded me of some Ross MacDonald Lew Archer novels, Simon & Simon frequently chronicles the rich and powerful setting up dirty deals through lower-strata operatives, with the resulting culture clash played out amid the sometimes kooky, trendy California obsessions of the day. Those obsessions aren't blatantly signposted or trotted out too often; oftentimes they show up on the very fringes of the plots to add a bit of atmosphere - a tactic that again illustrates the laid-back nature of the show. In DJ DOA, Cecilia, on the fly, comes to help the boys out in the middle of the day...in her mink and nightgown (no explanation is offered; no questions are asked). During a stakeout sequence in the noir-inspired Shadow of Sam Penny, a girl interrupts the boys to ask if they want to contribute to her "Save the Goats" campaign (they do, for a diversion). In Caught Between the Devil and the Deep Blue Sea, the boys aren't really all that surprised to see their mother and her date in line for tickets to a triple-X leather show. When A.J. indulges his stereotype of "Valley girl-speak" for a couple of seemingly vapid mall cuties in the very amusing The Bare Facts, the surprisingly erudite girls worry about the degradation of our common language. Only in California would an agrarian nutritional consultant also be a bigamist with three unbelievably stacked wives, in Too Much of a Good Thing, while the boys beat L.A. Confidential to the punch by several years when they visit a brothel with movie-star look-alike prostitutes in Double Play. None of these throwaways are played for, "Hey, look how crazy we are in California," obviousness; they're just there as funky window dressing for the mysteries that are increasingly complicated this season.
Obviously, the addition of Tim Reid is the big news this season. In the opening episodes, it seems like a new antagonistic detective is trotted out each week by the writers and producers, as if they were trying to find the right formula for providing the Simon boys with a believable police authority foil. The arrival of "Downtown Brown" works better than these earlier incarnations because he's perceived as, ultimately, a friend to the detectives. He may get annoyed with their constant shenanigans; he may have to do his duty and book them for crimes he knows they didn't commit (but which the evidence and police procedure demand he still do), but in the end, he's there to help them (as they help him whenever he deputizes them - always a good bit). With Downtown Brown, the Simon boys get three stock TV characters for one price: the "wacky neighbor" (Downtown is usually in disguise for his undercover work); the "disapproving superior" (Downtown is always - fruitlessly - reading them the riot act over their illegal activities), and the "comical sidekick" (Reid's smooth, funny delivery, honed by his stint on WKRP in Cincinnati, blends nicely with Parker and McRaney). It's clear the energy level goes up whenever he's on camera, so his future appearances in seasons-to-come will be welcome ones for Simon & Simon fans.
Not to be forgotten, though, are the jokes and action sequences that make Simon & Simon such breezy fun, and they're plentiful this season. Various devices of death and near-death are employed this go-around, including A.J. barely escaping a car crusher, a magician electrocuted in a water chamber trick, the wind tunnel of death that almost pulverizes the boys, assassins who are doubles for Rick and A.J., some pretty hairy helicopter gags with a B-25, and that staple of 1980s drive-in fare: ninjas. And while the comedy seems to be tamped down a bit in these 23 episodes, there are still amusing moments, such as Rick misspelling "investigations" on his handmade cardboard sign, or A.J. throwing a fake fit in a doctor's office (hilarious), or the "Monkey House" flasher casually revealing himself in Downtown's office. Standout episodes include Bail Out (which has a true Ross MacDonald feel to its world of exclusive enclaves, upscale tennis tournaments, and powerful, hidden underworld figures), and Shadow of Sam Penny, a film noir homage with a knock-out cast (Robert Lansing, Anne Francis, Scott Brady, Elisha Cook, Jr.) and good sense of parody about it (when Lansing world-wearily tells Francis, "The world's round, Angel. Sometimes you wind up where you started," she replies mockingly, "Don't be an ass, Sam."). The late, great Pat Hingle shines as a hardassed pilot looking to clear his war record in Betty Grable Flies Again; Bon Voyage, Alonso has some fun Poseidon Adventure atmosphere to it (it was shot on the QE II); Double Play has a nicely freaked-out feel to it with Rick's reoccurring (and premonitional) nightmare of accidentally shooting A.J.; Harm's Way plays as good as anything Cannon was putting out in 1984, with its ninjas blowing "dust of the blind" into their foes' eyes before "transforming" into gerbils, while The Bare Facts marries Lew Archer with A Shot in the Dark for some funny nudist colony gags.
For the 1983-1984 season, Simon & Simon pulled the neat trick of besting its lead-in, Magnum, P.I.. Magnum, which had reached its series' best showing the previous year (3rd for the year, versus Simon & Simon's astounding jump from first year oblivion to 7th for the year), now dropped to sixth as Simon & Simon hit its series' high as the fifth most-watched show on television. The CBS Thursday night line-up of action and drama (Magnum, Simon & Simon, and 11th for the year, Knots Landing) proved unstoppable against ABC's Trauma Center, 9 to 5, and It's Not Easy (all were cancelled within a month or so), and NBC's weak Gimme a Break, Mama's Family, We've Got It Made, and Cheers. That soon-to-be giant sitcom still languished in the ratings in its sophomore season; it would take lead-in Family Ties and new anchor The Cosby Show next year to pull Cheers along before they all started gaining on CBS, with NBC's giant-killer line-up eventually dealing death blows to both Magnum's and Simon & Simon's ratings.
Here are the 23, one hour episodes of the six-disc set, Simon & Simon: Season Three, as described on the DVD slimcases:
DISC ONE

Grand Illusion
The Great Barnaby hires Rick and A.J. to find out how a rival magician stole his spectacular new illusion.
DJ DOA
The Simons must postpone their vacation when a local radio station DJ at KRAT goes missing.
I Heard It Was Murder
A blind woman enlists Rick and A.J. to help her catch two murderers.
Bail Out
When A.J. and Rick are hired by an executive's widow to investigate the parachuting "accident" that killed her husband, A.J. goes undercover as a tennis pro.
DISC TWO

Fly the Alibi Skies
The Simons' latest investigation has them bumping heads with Lieutenant Bogartis, and a group of young computer hackers offer their help in the case.
Shadow of Sam Penny
Legendary detective Sam Penny needs the Simons' assistance to solve a 30-year-old mystery.
Caught Between The Devil and The Deep Blue Sea
The Simons are enlisted to find an undercover cop accuses of killing a fellow police officer.
The Bare Facts
Rick and A.J. must go undercover at a nudist colony to find a missing man.
DISC THREE

Too Much Of a Good Thing
Rick and A.J. investigate the disappearance of Walter Carmichael at the insistence of his wives.
Betty Grable Flies Again
A WWII veteran asks Rick and A.J. to find his long-lost B-25 bomber.
Bon Voyage, Alonso
Rick and Cecilia are serving as chaperones for three teenage girls on a cruise when their ship is unexpectedly hijacked.
All Your Favorite Games
Rick and A.J. must protect a witness with a compulsive gambling problem.
DISC FOUR

John Doe
The Simon brothers try to help a man suffering from amnesia clear his name of murder.
Dear Lovesick
Fearing one of her regular readers is in danger, an advice columnist hires the agency to investigate.
Bloodlines
Rick and A.J. uncover an illegal horse-smuggling ring.
Heels and Toes
A woman hires the Simons to tell her boss and lover that she wants out of her job as an exotic dancer.
DISC FIVE

The Wrong Stuff
When an innocent young woman finds that a film she appeared in when she was a teenager is being billed as X-rated, she hires the Simons to find the producer.
Double Play
A.J. and Rick are framed for transporting stolen securities to Mexico.
Under the Knife
A surgeon hires the Simons to prove that an ex-patient's malpractice suit is phony.
Harm's Way
A woman hires the Simons to find a man she claims is her ex-husband, but when they locate him, he recruits them into his world of espionage and international intrigue.
DISC SIX

The Dillinger Print
The daughter of a retired FBI agent hires Rick and A.J. to investigate her father's murder, but the case escalates when the only evidence turns out to be the fingerprint of infamous bank robber and mobster John Dillinger.
Corpus Delecti
A young couple hires the Simons to investigate the disappearance of the woman's stepmother; when they find the stepmother may be dead, the insurance policy comes into question.
The Disappearance of Harry the Hat
Claiming that he wants to evade a demanding wife, a mild-mannered accountant hires Rick and A.J. to teach him how to vanish - but it turns out he may have another motive.
The DVD:

The Video:
The full-screen, 1.33:1 video transfers for Simon & Simon: Season Three look about on par for Shout! pick-ups of Universal library titles. Prints do show minor anomalies, such as dirt specks and scratches, and color can be a tad faded in spots (there's a weird video drop-out in John Doe that I'm going to assume is within the original source material). But overall, the image is nice, with a relatively sharp image and, except for some moments of noticeable interlacing, no compression issues.
The Audio:
The Dolby Digital 2.0 mono English soundtrack is adequate, with all dialogue clearly heard (loudness levels do vary, though, from episode to episode). Close-captioning is available.
The Extras:
There are no extras for Simon & Simon: Season Three.
Final Thoughts:
Simon & Simon hit their biggest Nielsen rating with this third season of entertaining episodes. Comedy is toned down somewhat and the mystery angle is emphasized with noticeably better plots. Jamison Parker and Gerald McRaney are, as usual, quite amusing as the bickering Simon brothers, and newcomer Tim Reid is a fun bonus to the cast. Perfect 80s escapist entertainment. I recommend Simon & Simon: Season Three.
---
Paul Mavis is an internationally published film and television historian, a member of the Online Film Critics Society, and the author of The Espionage Filmography.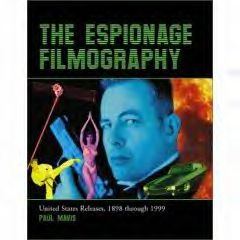 ---
C O N T E N T

---
V I D E O

---
A U D I O

---
E X T R A S

---
R E P L A Y

---
A D V I C E
Recommended
---
E - M A I L
this review to a friend
Sponsored Links
Sponsored Links