ER: The Complete Eleventh Season
List Price: $49.98 [Buy now and save at Amazon]
---
THE SHOW: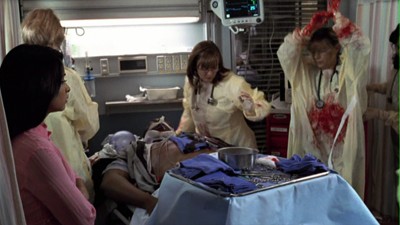 It's only in retrospect that we can now see ER - The Complete Eleventh Season as the year the downward slide was beginning. In my review of The Complete Tenth Season earlier this year, I noticed that the peak had been reached, that it was a pivotal year for the show where a secondary cast was beginning to take over. Plot wheels put into motion then get full traction here, and though this was still a very solid year and Luka Kovac (Goran Visnjic) and Abby Lockhart (Maura Tierney) as the new power couple on the show (though not yet dating again) would be as important as the early dynamic of Clooney, Marguiles, and Edwards, ER was truly entering the been-there/done-that category. Cocky new interns? Seen it. Veteran doctors leaving? Done it. Patients quirky enough for a tour of Wonka's Chocolate Factory? The road most traveled.
Unlike most ER seasons, The Complete Eleventh Season takes a couple of shows to catch up with real time. The first three episodes get us through the preceding summer, with the premiere picking up on the cliffhanger of Gregory Pratt (Mekhi Phifer) and Jing-Mei Chen (Ming-Na) crashing their car into the Chicago River and nurse Sam Taggart (Linda Cardellini) making a run out of town to escape her ex-husband. Rather than dismissing these narrative moves in a quick wrap-up, they get the full focus of the first episode as well as the time to develop the aftermath over the next couple. Likewise, the loss of his newborn baby at the end of the previous year weighs heavy on John Carter (Noah Wyle) and darkens his mood to such a degree it paves the way for his eventual exit later this season. Less developed is the sudden departure of Alex Kingston's character, Dr. Elizabeth Corday, though the cause of her leaving--a rebellious action in the operating theatre--reminds us of Corday's early days as the hospital libertine.
The new year starts with a new group of students and first years. Shane West joins the fresh-faced rookies as Ray Barnett, a hot-shot who moonlights in a rock band. He is put together with the already established doctors who just finished their internship, Abby and Neela Rasgotra (Parminder Nagra). Roseanne's Sara Gilbert comes on for an off-again-on-again role as a brainy medical student, and Madchen Amick (Twin Peaks) is a semi-regular social worker and somewhat love interest for Carter. Dr. Susan Lewis (original cast member Sherry Stringfield) also takes over as the head doc in the Emergency Room, serving under Kerry Weaver (Laura Innes), who fulfills some of the villainous void left by Romano's death (another big Year 10 development).
Funnily enough, though, for all of these plot points, the best shows in ER - The Complete Eleventh Season are when it's business as usual. Episode 5, "An Intern's Guide to the Galaxy," gets the full swing of the season going with a day-in-the-life installment that shows us a single complete shift of all the newbies. No explosions, no fistfights, no crazy diseases--just the influx of patients, mistakes and triumphs, and getting through the day. It's this kind of vibrant activity that always set ER apart. While the show's interpersonal drama is among the best, it's the medical stuff that makes the show special, the speed and the smarts with which it moves. "An Intern's Guide" is one of the series' best hours.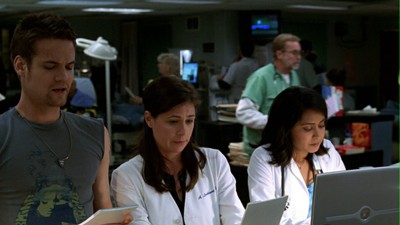 Stunt guests also fuel the show's vitality, and our first in The Complete Eleventh Season is Ray Liotta popping up in episode 6 as an ex-con whose past life is catching up with him in a deadly medical fashion. He gets the full show to himself, including well-constructed sequences inside his mind. It's an instance where psychological drama is handled smartly. The writing is compelling and goes deep into the issue. The fact that the series follows immediately with an episode where Carter deals with his own pain by trying to help a teenage mother in denial accept her own baby makes DVD 2 probably the best in this set. It leads with three top-notch episodes (5-7) in a row.
This set of shows is then followed by the annual tradition of inventing some kind of tragedy or trauma for Abby Lockhart, the favorite whipping girl of the writers. For season 11, it involves being kidnapped in episode 10, "Skin," by gangbangers carrying around a wounded friend in an SUV. Forced at gunpoint to take care of the injured gangsta, Abby fears for her life as her treatment of the man goes south, and her situation is juxtaposed with other troubles back at the hospital. Though Abby is back in the ER by the next episode, the incident has made her gun shy (sorry for the pun). Juggling all these things, the writing staff uses some of the problems as an excuse to deal with personality issues amongst the newer characters--tackling their failings in terms of connecting with patients is a way to get viewers to connect with them--and a flirty med student is this year's red herring for a romantic affair for Abby; this is complicated further by the introduction of brainiac surgeon Lucien Dubenko (Leland Orser), whose crush on Abby lasted right up until the recent final year of the series. It's a lot of fly-by-night loving this time around, with the most substantial coupling being Kovac and Sam.
In the continued realm of guest stars, Chad Lowe makes a return appearance as Henry, a med student who proved to be better in the lab than he was with patients; the character is now a neurologist whose drug treatment on a young girl is causing a controversial reaction. Frances Fisher appears in episode 11, "Just as I Am," playing Kerry Weaver's birth mother, and the show takes a sensitive, thoughtful approach to the topic of faith and homosexuality. Episode 12, "Alone in a Crowd," appears to have been baiting the Emmy board with a guest spot by Sex and the City's Cynthia Nixon as a stroke-paralyzed woman who doesn't realize what is happening to her. Unable to communicate, she has a running mental commentary throughout the episode. It's good, though gimmicky, and depending on how annoying you find Nixon's voice, it could be a little grating to watch. (And it didn't work to get her the Emmy, so I might not be the only one. Ray Liotta, did win, however, for his guest slot.)
A significant guest for long-term fans is the return of Red Buttons as Jules "Ruby" Rubadoux. Ruby and his wife were in the ER in Season 2. His wife was sick at the time, and a young John Carter made some promises that he could not keep, teaching him a lesson about patient care. "Ruby Redux," episode 19, comes back to the hospital with a chip on his shoulder regarding Carter and a need for a heart operation. It brings things full circle for Carter, letting him put old issues to rest and prepping him for his next life phase. At the same time, Abby assumes his role as a patient advocate amongst the staff. (This episode is also one directed by Paul McCrane, who had played ER bad guy Romano prior to this season.)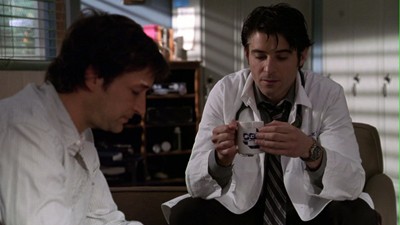 DVD 5 begins with episode 16, "Here and There," bringing Michael Gallant back to the show after actor Sharif Atkins' schedule freed up due to the cancellation of the awful "Hawaii." This particular episode jumps back and forth between Iraq and Chicago, showing Gallant at work as an Army doctor, comparing and contrasting the lives he and Neela now share apart. It's more solid drama, and it puts Gallant's empathetic approach to medicine back on center stage. His efforts to help an Iraqi girl will soon bring him back to County General for a reunion.
And then Gallant will be sent off again, making way for the much more important exit of Dr. Carter. This takes up the last two episodes, 21 & 22, "Carter Est Amoureux" and "The Show Must Go On." The first half sees Carter going to Paris to pursue Kem (Thandie Newton) and realizing that with her is where he really wants to be; the finale shows his last shift at County, though he is mainly away from the hospital during it, pushing the newbies to take charge. Rather than a big ER end-of-season stunt like an explosion or some kind of attack, the writers smartly cooked up a scenario where a party Ray is attending goes bust when too many people crowd a balcony and crash to the ground. Forced to take traumas on their own, Ray, Abby, and Neela prove they have what it takes, and it gives Carter a better feeling about leaving.
It's all really good, and yet, also naggingly not as good as it once was. I can't put my finger on anything specific, it's more an overall tone. It's the reaction the show inspires. As I mentioned above, that may just be the familiarity of the material, there aren't many roads this show hasn't traveled, no matter how innovative the structure of a particular episode. Maybe it's down to the spoils of success, the promo pictures for the season taking the doctors out of their scrubs and dressing them for high fashion; they finally bought the hype. Maybe Carter's final bow should have been the last curtain for ER, as well. For as much as I enjoyed most of the seasons that followed, and for as many characters as I still liked, the mini retrospective we go through at his farewell party reminds us of all that are missing. As Carter exits, he passes on the advice that Mark Greene passed on to him once upon a time: "You set the tone." Except John isn't giving it to some new Carter, a young man with all the potential in the world, he's giving it to Archie Morris, the comic relief. Not exactly a passing of the torch, is it?
THE DVD
Video:
The shows here were shot in widescreen and the anamorphic transfers are really good. Excellent colors and crisp resolution, no dirt or other picture problems. There was some very minor interlacing at times, but nothing that should harm your viewing enjoyment.
As far as I can tell, these are all the original broadcast versions of ER - The Complete Eleventh Season. There are 22 episodes spread across six discs. They can be watched individually or using a "play all" function.
Sound:
The show gets a solid stereo mix in Dolby Digital. Excellent tones and no glitches or poor balancing make for a very good audio program.
Subtitle options are increased once again: English Closed Captioning, Chinese, and Portuguese like last time, and a newly added French track.
Extras:
There are deleted scenes for 15 episodes, which can either be chosen as playable with each show on their own or watched all together. If you watch all the shows on one disc, after the last one finishes, the DVD goes to the deleted scene menu. These range from substantial bits from trimmed down story lines to inconsequential snipped lines.
The expected gag reel is absent for The Complete Eleventh Season.
The packaging matches the previous season: a cardboard slipcase with a double-thick plastic keepcase inside. The holder contains hinged, double-sided trays. A paper insert lists the episodes with production credits, summaries, and an indication of which ones have deleted scenes.
FINAL THOUGHTS:
Recommended. Though I still enjoyed ER - The Complete Eleventh Season, the show no longer inspires the same urgency when watching it as it once did. Expertly crafted by a marvelous cast and crew, just chalk it up to too much of a good thing. You can keep making your favorite meal the same way, but at some point, it's still going to start tasting less fresh than it once did. That said, I still enjoyed every minute of this pivotal year--Noah Wyle's last, Shane West's first, the scales tipping to the newer cast--and it holds strong as one of the best dramas of contemporary network television. If you've enjoyed it before or since, you'll enjoy it again, and if it's new to you, you'd be surprised at how easy it is to jump in.
Jamie S. Rich is a novelist and comic book writer. He is best known for his collaborations with Joelle Jones, including the hardboiled crime comic book You Have Killed Me, the challenging romance 12 Reasons Why I Love Her, and the 2007 prose novel Have You Seen the Horizon Lately?, for which Jones did the cover. All three were published by Oni Press. His most recent projects include the futuristic romance A Boy and a Girl with Natalie Nourigat; Archer Coe and the Thousand Natural Shocks, a loopy crime tale drawn by Dan Christensen; and the horror miniseries Madame Frankenstein, a collaboration with Megan Levens. Follow Rich's blog at Confessions123.com.

---
C O N T E N T

---
V I D E O

---
A U D I O

---
E X T R A S

---
R E P L A Y

---
A D V I C E
Recommended
---
E - M A I L
this review to a friend
Sponsored Links
Sponsored Links