Stepfather II: Special Edition
List Price: $19.95 [Buy now and save at Amazon]
---
"I find that everything in life begins or ends with the family...one way or another."
Synapse Films has put much thought and energy into a title that probably doesn't deserve it - but that's how you ride the remake publicity gravy train. No doubt hoping to snag some curious buyers stirred by the upcoming remake of the classic low-budget thriller, The Stepfather, Synapse has re-released the 2003 Miramax DVD edition of that film's 1989 sequel: Stepfather II: Special Edition, and slapped on some new additional bonus material. That's a whole lot of coverage for an inferior sequel, but there's no denying that, at the very least, Stepfather II is acceptable late 80s slasher fare if only to see Terry O'Quinn reprise his iconic role. Completists and pissed-off suburban fathers will be the best fit here.
Puget Sound Psychiatric Hospital, Puget Sound, Washington. Convicted mass-murderer Jerry Blake (Terry O'Quinn) awakens from the umpteenth replaying of his nightmare where he tried to slaughter his perfect American suburban family, and fingers the knife wound inflicted by his stepdaughter that almost killed him. Not believing his luck, Jerry senses delivery from his cell-block purgatory when naïve, bleeding-heart liberal Dr. Joseph Danvers arrives at the hospital and immediately informs Jerry that "everyone is entitled to their feelings," even mass-murderers. Jerry, already smelling the newly-mown lawns and charcoal briquette aroma of Anytown, U.S.A., promptly dispatches the good doctor - you said he was free to be, Doc - and escapes the booby hatch.
As the manhunt widens for Jerry Blake, Jerry Blake transforms himself - after killing a salesman for his clothes, car and dough - into newly deceased Dr. Gene Clifford (he spotted his obit in the newspaper), assuming the dead doctor's identity before traveling down to Palm Meadows Estates, SoCal, and purchasing a spiffy upper middle-class house in a cookie-cutter suburban tract (that rug salesman he killed must have had a lot of spare change on him). One of the benefits of moving into Palm Meadows Estates is the fact that Dr. Gene's realtor, space alien-eyed Carol Grayland (Meg Foster), lives right across the street. And...she's divorced with a kid, Todd (Jonathan Brandis). Jackpot! It's time to make his move. Setting himself up as a "counselor," Dr. Gene invites all the ladies of the neighborhood into his house and lets them vent - only don't discuss sex because that makes the puritanically uptight Dr. Gene visibly cringe. Soon Carol is responding nicely to Dr. Gene's patented soft-sell, particularly when he pals around with her son. But something always messes up Jerry's/Gene's plans for the perfect family, and in this case it's nosey best friend and neighborhood loudmouth, Postal Worker Matty Crimmins (Caroline Williams), and Carol's returning husband, Phil (Mitchell Laurance). It looks like it's time for the Stepfather to start implementing some much-needed discipline around here, mister!
SPOILERS ALERT!
There's not too terribly much to discuss in Stepfather II in terms of art or social significance - something one could very easily do for its predecessor - because it was designed and executed strictly as a commercial entity (as its filmmakers readily admit). The original The Stepfather was an altogether brilliant little chiller that wowed the few critics who saw it during its original limited release in 1987, but which wound up not getting the kind of attention it deserved at the boxoffice (perhaps because there were no big names attached to it). Video, however, proved very kind indeed to The Stepfather, making it one of the smash rentals during the absolute heyday of the VHS renting craze, and a direct-to-video sequel was deemed a smart financial move. Production company ITC, looking to make some fast cash by producing direct-to-video sequels of its top-renting titles, decided that a 1.5 million dollar budget and a four-month total production schedule (from first pre-production discussions to delivery of the film to rental shops in April of 1989) was advantageous for turning a profit, and the project was greenlighted. Upon completion of the film, Miramax expressed interest in releasing Stepfather II into theatres, and the film was sold. However, Miramax felt the completed film lacked sufficient action and gore to be profitable at the boxoffice, so director Jeff Burr's cut was shuffled slightly, with new scenes shot by director Doug Campbell. This version was then released in November of 1989. Although no one specifically says so on the DVD commentary, that particular release must have been successful enough, because a second sequel was then commissioned.
Taking Stepfather II out of context from the original film (because as everyone involved with the film readily admits in the commentary and documentary, Stepfather II is in no way the equal of the first film), it's a serviceable enough slasher film - certainly not memorable in any way except for Terry O'Quinn's assured (but somewhat remote) performance. Scriptwriter John Auerbach and director Jeff Burr come up with some nice moments in the film, such as showing Jerry blankly watching Thunderbirds on the hotel TV set (and why shouldn't he - he's no more than a marionette himself, grotesquely parroting human movements and emotions), or the priceless scene where Jerry enjoys a bowl of Crispy Rice, bending down to listen to them snap, crackle and pop, and positively beaming when they do - just like in the commercial. And probably the best scene in the film, where Jerry watches video dating tapes, staring disgustedly at the parade of maladjusted neurotics who taped greetings, probably gets the biggest laugh in the film as we "side" with the Stepfather for the first time in the film.
Of course, logic is thrown out the window from the first (that prison escape scene is a cheat), and sequence after sequence has plot holes big enough to drive a semi through. No guards at the junkyard where the Stepfather bashes up Phil's car and then leaves him to be crunched? Not in any junkyard I've been to (particularly in SoCal). Supposedly the key clue in the film - where Carol discovers Gene's lie because her son knows Camptown Ladies, which she's incredulous at - discounts the fact that that song is known by a lot of little kids. And of course, that ridiculously over-the-top finale presupposes there's not a person in sight or earshot at the reception hall as Gene and Carol are crashing over tables and screaming at the top of their lungs as they plunge knives into each other - a very silly set-up. But no one watches a film like Stepfather II with that kind of critical logic; there's no fun in that. You just let it happen and groove along with its pleasures (even if they're few and far between, such as here).
And it's a pity there aren't more scares in the film, despite the director's insistence that all good suspense movies build slowly and pay off only in the end. Listening to the commentary tracks (and don't get me wrong: Jeff Burr comes off as a thoughtful, engaging guy with a sense of humility about the project and an agreeably, affable air about the whole production), Burr repeatedly stresses that Miramax did a "hack job" on his sequences, putting in gore scenes when they weren't necessary, and making crude additions that ruined the suspense. But I don't buy that argument because after watching the original director's versions of those sequences (included as bonuses here), those scenes aren't any better or worse than the post-production additions Miramax included for the theatrical release. For example, Burr seems particularly upset about the death scene of Matty, and I agree, the inclusion of the cat "red herring" is embarrassing. But the director's version of killing Matty, with Gene stuffing her head in a gas fireplace, isn't anything more than a direct lift from Hitchcock's Torn Curtain, where Paul Newman gasses a KGB agent in a gas oven...and Burr's version is poorly staged, anyway. As for the death of the doctor and the inclusion of an extra shot of the prison guard getting killed, or the rug salesman getting his arms slammed in the car trunk, what's wrong with those shots? The director says he tried to be more subtle with his suspense, but please...we're watching Stepfather II. I hardly think subtlety is what's called for - or expected - here.
And that's because all suspense and all meaning inherent in the first film are chucked out the window the minute you commit to this kind of sequel. We all know the Stepfather's shtick, so there's really no suspense as to what he's going to do (a fact the director acknowledges in his commentary). And we've already gotten the jokes about suburbia and someone willing to kill to make their image of it and family perfect, so again.... So why not go for broke and deliver a balls-out, violent sequel and at least stand apart with a film that drives ahead and doesn't quit? After all, anyone going to Stepfather II isn't expecting anything more or less (and who knows what the reaction would have been had the director indeed had his softer version released on video? Renters might very well have been pissed at the lack of action and violence, too). Perhaps this cautious, hands-off approach robbed the film of the exploitative, crude juice it needed to gain a respectable following of its own? It's hard to say.
At least there's Terry O'Quinn here. And while I don't think he's putting in the effort and concentration here that he did with the first film (after all - he knew he was doing a small-budget, tacky direct-to-video sequel that wasn't even going to make it to the theatres: not exactly the career trajectory he might have envisioned after getting the best reviews of his career for the first film), he's still at the very least, charismatic and watchable. Of course the major stumbling block he encounters in the film is that he's playing against a leading lady who's far more terrifying-looking than O'Quinn - as the director laughs about, too, in the commentary track. Anyone who has seen Meg Foster cast that absolutely unsettling glow from those space alien kitty-kat eyes of hers knows that you she looks positively...otherworldly (but still sexy). And dangerous. So when she peers at O'Quinn with those rather alarming eyes, you're worried for him, not her. And that's not the way it's supposed to be if she's the intended victim. Add to that her odd choice to deliver her dialogue here not as if she's acting in Stepfather II but The Stepford Wives II, and you've got a great, big, giant hole in your film, courtesy of last-minute miscasting (a fact the director acknowledges several times in the commentary). Taken as a time-passing goof, Stepfather II isn't any more painful than hundreds of other low-rent slasher films and straight-to-video-shelves hackers from this period - just don't look too closely at it, and don't think about its illustrious predecessor.
The DVD:
The Video:
While it's good to see Stepfather II: Special Edition in a properly framed 1.85:1 anamorphically enhanced transfer, that transfer does have a bit of grain and seemed a tad dark to me. Now, this could be the way the original film looked in the theatres (I saw the sequel on video at the time), which is entirely possible considering the low budget. Still, overall, the original materials used for the transfer aren't bad (some scratches and dirt are noticeable from time to time), and the colors are generally okay. Image is relatively sharp, as well (one assumes this is the same transfer that Miramax used in 2003, but if anyone knows differently, please email and I'll amend the review). Compression issues weren't noticeable.
The Audio:
The Dolby Digital English 2.0 Surround Sound audio mix is entirely adequate for the job here. Spatially, it's pretty staid, but the levels are consistently good, and hiss was at a minimum.
The Extras:
Quite a few extras are included here for fans of the film. First up is the 2003 commentary track with director Burr and producer Darin Scott. While I disagree wholeheartedly with most of their assumptions about this and the previous film somehow being "answers" to the Reagan years (I could get into it, but then we'd have a review about politics, not this movie), I very much enjoyed their discussion. These are two guys who don't pull any punches when it comes to discussing the downs as well as the ups with filming this title, and their honesty and good humor was welcome. Next, we have 31:00 worth of alternative scenes that one can view with Burr's commentary (it's more interesting that way). Phil's original death scene is way more graphic than anything Miramax eventually put in...so there goes that argument, as well. Next up is a brand new documentary, The Stepfather Chronicles: Daddy's New Home, running 30:10, which features Burr and Scott and other cast and crew members, including Caroline Williams (who can do no wrong in my book on the strength of The Texas Chainsaw Massacre II alone), discussing the history of the film's production. It's fascinating, as well. Several original theatrical trailers for the film are included, as well as a still gallery. A big collection of extras for such a little film.
Final Thoughts:
Everyone on the commentary tracks and documentary stress Stepfather II isn't nearly as good as the first film. And they're right. But small, isolated pleasures can be found in this relatively mild slasher flick from 1989 - chief among them Terry O'Quinn's assured performance as the Stepfather. Those extras are going to prove irresistible to fans, and even if you're not a big believer in the film, the commentary track and documentary are fascinating looks into how a low budget film was greenlighted and produced back in the late 80s. I'm recommending Stepfather II: Special Edition for O'Quinn's performance, a few amusing scenes in the film, one or two good slasher moments, and some entertaining extras.
---
Paul Mavis is an internationally published film and television historian, a member of the Online Film Critics Society, and the author of The Espionage Filmography.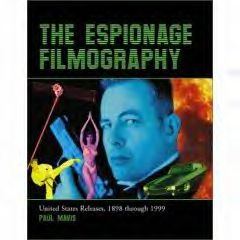 ---
C O N T E N T

---
V I D E O

---
A U D I O

---
E X T R A S

---
R E P L A Y

---
A D V I C E
Recommended
---
E - M A I L
this review to a friend
Sponsored Links
Sponsored Links