Bonanza: The Official First Season, Volume 2
List Price: $39.98 [Buy now and save at Amazon]
---
Author's Note: Having previously reviewed the first volume of Bonanza's premiere season earlier this week, and since these last 16 episodes of the first season don't differ drastically, either aesthetically or structurally, from the first volume, I've ported over some of that review here, while adding and changing points utilizing these new episodes.
Bonanza, the single most successful television series of the 1960s (and second only to Gunsmoke for network TV's longest-running Western, at thirteen and a half seasons), celebrates its 50th anniversary today by premiering on DVD for the first time in a fully authorized season release: Bonanza: The Official First Season, Volume 2 (I reviewed Volume 1 earlier this week). Certainly one of the most beloved TV series of the boomer generation, this iconic, epic-scaled Western - the first weekly Western ever to be televised in color - starred household names Lorne Greene as the patriarch of the Cartwright family, and Michael Landon, Pernell Roberts, and massive Dan Blocker as his intriguingly mismatched sons. Telling the story of the powerful Cartwright clan and their fabulous thousand-square mile Nevada timber and cattle ranch, the fabled Ponderosa, Bonanza may not have been an originator in concept or design like Gunsmoke or Frontier or The Life and Legend of Wyatt Earp, but it did continue TV's late-50s trend towards more adult-oriented western drama, with solid, challenging scripts put over by the charismatic central cast and veteran supporting players, while providing a splash of big-screen allure with all those spectacular California backdrops filmed in saturated color. And most importantly for viewers today, it plays just as well as it did 50 years ago. Solid bonuses for the fans bolster this clean DVD presentation from Paramount.
It's the late 1850s, and gold and silver fever are sweeping through the hills and valleys of the celebrated Comstock Load. Virginia City, Nevada, sitting right on top of those millions of dollars' worth of ore, is bustling with miners, settlers, businessmen, rustlers, con artists, and killers. And butting right up against Virginia City is the massive Ponderosa ranch, a thousand-square mile New World Eden filled to the brim with pine and beef. Overseeing this operation is voice-of-God Ben Cartwright (Lorne Greene), the thrice-widowed land baron who watches over his spread as fiercely - and as tenderly - as he does his three grown sons. Eldest, Adam Cartwright (Pernell Roberts), is the most serious of the three siblings, and the one who works most directly under Ben in running the Ponderosa. His mother the daughter of a New England sea captain, Adam was schooled back East as an architect and engineer. Middle son Eric "Hoss" Cartwright (Dan Blocker) gets his massive physique from his mother, a six-foot tall Swede who could punch like a mule. Hoss, who may seem rather dim or naïve at times when he's not killing a bear with only his hands, or knocking down a tree, is in reality quite sensitive to his surroundings, and to the sufferings of others. Finally, Little Joe Cartwright (Michael Landon), the youngest son, gets his smoldering dark looks and equally tempestuous nature from his beautiful half-Creole mother, whom Ben met during a trip to New Orleans' French Quarter. Little Joe is certainly the most reckless of the clan, relying on his charm and his fast fists to both get him into trouble, and out of it again...especially if there's a lady involved. Constantly patrolling their land to keep opportunists at bay, the Cartwrights inevitably get involved week after week in the troubles of others, who look to the Cartwrights as one of the few stabilizing forces in the wild and wooly excesses of the Old West.
Evolving out of writer/producer David Dortort's (The Lusty Men, Clash by Night) earlier Western anthology drama for NBC, The Restless Gun, Bonanza premiered at a time on the Big Three's network schedule (1959) where the top three-rated shows were Westerns (Gunsmoke, Wagon Train, and Have Gun Will Travel), with eight other Westerns rounding out the Nielsen Top Thirty. In such a competitive climate for adult Western drama, Bonanza needed some kind of unique draw to get it noticed, so it was decided by the network to film and broadcast the series in full color - the first Western series to do so. While this decision certainly garnered press for Bonanza, the network's move to color wasn't predicated solely on shoring up a new western series. More importantly, this shift away from black and white programming was the next step in a long-range plan to sell more RCA color televisions. Having beaten out CBS, which gave up color broadcasting earlier in the decade when it proved too expensive due to the lack of compatible color sets in the viewing audience, RCA's improved color technology (its method of color transmission could be picked up on black and white sets, too) allowed NBC to aggressively market color broadcasts in the service of selling parent company RCA's color sets, and a big-scale Western - the most popular genre on the tube during this period - was deemed the ideal vehicle to showcase RCA's improved color transmission.
But color couldn't beat the black and white legal maneuverings of Perry Mason - at least not at first (less than 3% of all households even had a color set at this point). Going up against the 10th rated Perry Mason on Saturday nights at 7:30pm, Bonanza was initially creamed in its first season ratings, with a full CBS Saturday night line-up that included heavyweights Gunsmoke, Have Gun, Will Travel, and Wanted: Dead or Alive, proving too tempting for viewers to switch over to the Cartwrights. Cancellation was considered for the expensive misfire, but contrary to what most history books on the subject say, Bonanza eventually garnered a not-insignificant audience in that same time slot by the end of its sophomore season, climbing all the way to 17th for the 1960-1961 season, right behind falling 16th-rated Perry Mason. It's true that Bonanza's ratings climbed even higher once it was moved to Sunday nights during its third season, but that time slot in and of itself wasn't the factor (the former occupant, Dinah Shore, never cracked the Top Twenty with her mid-level performing Chevy Show) - Bonanza was fast-gaining momentum all on its own - color or not - before settling in for its phenomenally successful 11-year run on Sunday nights.
And it's easy to see why: it's a hell of an entertaining show. From that driving, jangly Jay Livingston and Ray Evans theme song, to the highly stylized opening credits, where the Ponderosa map burns to allow the Cartwrights to seemly ride right through, Bonanza sure doesn't seem like a freshman series tentatively feeling its way along its form and content. It feels muscular and sure of itself and confident, right from the very first episode, and in that confidence comes a comfortableness - no doubt emphasized also by episodes that deal with complex themes in the history of the American West in terms that fit easily within a one hour dramatic anthology format. And "comfortableness" as an aesthetic goal was paramount to Big Three network offerings in 1959...even if a show dealt with serious adult issues as did Bonanza (networks understood then - as they've forgotten now - that their series' first goal should be to entertain the audience). As with other Westerns on the network schedules that year, Bonanza does a neat trick of balancing straight dramatic concerns with the action conventions of the genre, giving something for everyone who might be tuning in (also a hallmark of network programming at that time). And indeed, the anthology format that Bonanza adopted from other TV Westerns serves to accentuate that smorgasbord approach for viewers: one week an episode of Bonanza might feature a serious story involving racism towards the Chinese population in Virginia City (The Fear Merchants); the next week, a surprisingly light and nimble comedy episode featuring an "evil twin" set-up might premiere (The Gunmen), with the following week showcasing an action-packed suspenser with one or more of the Cartwrights facing eminent death (Blood on the Land). Add to that the appeal of an ever-rotating roster of guest stars, as well as the main cast alternating center stage from episode to episode (even the opening credits reflect this, as each star gets to "headline" the series every fourth episode), and you have a series that's form allows for a wide range of dramatic and humorous stories, while always staying fresh for viewers.
Bonanza goes one step further with this concept by having the brothers come from different mothers (who are all conveniently deceased), allowing these three characters to share seemingly nothing from their father except a loyalty to the family name and of course, to the Ponderosa (many jokes were made at the time about the improbability of Lorne Green fathering these adult men). Cleverly, the Cartwrights not only represent huge geographical swaths of potential TV viewers (Adam = East Coast, Little Joe = the South, Ben = the West, and Hoss' Swedish background taking care of the Northern states, with all of their declared regional differences smoothed off enough to satisfy the great expanses of the Midwest), they also stand in for clearly established male fantasy figures for both men and women (something The Big Valley borrowed later). Interestingly (since I wrote that above piece prior to seeing this second volume episode), in A House Divided, Hoss comes close to describing himself and his brothers in the same manner, discussing Little Joe's "hot Southern blood" not being interested in money; Adam's cool, reserved New England breeding giving him a "natural feeling for the jingle of cash," and Hoss himself, "somewhere in the middle," having been born on the vast middle prairie of the United States. If a businessman watching Bonanza fancied himself the tycoon of his small appliance shop, or a harried father sitting down in front of the TV looked on approvingly at Cartwright clan, then patriarch Ben was an ideal - and idealized - figure. And if those men's wives happen to sit down to watch, as well, they might allow themselves to dream of the hurried, impassioned, impetuous advances of youngster dreamboat Little Joe before they moved up to the darker, more sophisticated lovemaking techniques of coolly intelligent Adam. And of course, the kids sprawled out on the floor in front of the set didn't have to wait too long inbetween all the talking for someone to take a shot at someone else, or for Hoss to haul off and take someone's head off with a massive swipe of one of his ham-fists (gentle giant Hoss had to be the favorite Cartwright of the small-fry demo; Blocker worked well with children, such as the morally complex Feet of Clay).
Bonanza also has an element of almost Biblical reverence for the land and for the process of working it and caring for it, that I haven't encountered yet in other Westerns from this period. In the opening scene of the season's first episode, A Rose for Lotta, Adam and Ben ride their horses to a bluff overlooking a stretch of pine and mountains, with Ben reverently intoning, "Look at it, Adam. Feast thine eyes on a site that approacheth Heaven," to which sensible, educated Adam replies, "You've been to a lot of places and you've seen a lot of things, Pa. But you've never seen or been to Heaven." Ben then responds, "Well, maybe I've never been to Heaven, and maybe I'm never going to get the chance...but Heaven is going to have to go some to beat the thousand-square miles of the Ponderosa." That almost religious fever for the land continues through these last 16 episodes of the first season, with an example such as Bitter Water, where Ben again must be willing to kill his neighbors in defense of his cattle who were deliberately infected with "Texas fever" ticks, and to stop his stream being poisoned. Combined with that veneration for the land, there's a strong conservationist message woven through many of the episodes that combines the Biblical theme of using the land for one's purpose as an expression of God's will, and preserving it for other generations to come. Ben loves the land of the Ponderosa, refusing to cut down one tree for a miner that doesn't meet his moral standards. Commercial interests are secondary to the land in the world of the Cartwrights. Clearly someone involved with Bonanza felt this aspect of Western expansion needed addressing, and it's an uncommon theme not often expressed in network Westerns at this time.
However, romanticism for the land doesn't trump reality; this is also fought-for land - and land still fought over. A constant theme in these first episodes of Bonanza is an outside menace to the Ponderosa. Home and hearth are frequently threatened either by Virginia City opportunists looking to expand their wealth and holdings, or settlers and miners scrabbling for a buck, and coming up against the generous-but-protectionist Cartwrights. Although the Cartwrights increasingly show a willingness to help the citizens of Virginia City as well as anyone who strays on Cartwright land and has a legitimate cause for a request for help - the Cartwrights often refer to themselves as the only stabilizing force in the region - they'll fight to keep what's theirs, regardless of who's trying to do the taking. With their wealth comes responsibility, and they meet it, but the series is smart to occasionally question their lofty positions, too. In several episodes, it's made clear that some citizens and passers-through don't especially cotton to the "high and mighty" Cartwrights. In Blood on the Land, murderous sheepherder Everett Sloan sees all that Cartwright land and just knows he can push and push and needle and needle his way onto it - even if it takes kidnapping Adam and killing him to blackmail Ben, whom he sees as greedy and imperious. In the unsold Vic Morrow pilot, The Avenger, Ben and Adam face the fact that men they called their "friends" won't come to help them beat a murder rap when the chips are down; the previous generosity and stabilizing influence of the Cartwrights means little when the townspeoples' own lives are at stake. And in Bitter Water, the son of the rancher living right next to the Ponderosa lays it right out for an uncomfortable Ben: Ben's power and wealth entitles him to have people "owe" him, and if things don't go the Cartwright way, force may be used. The series certainly celebrates the "bigness" and personal "manifest destiny" of the Cartwrights' achievements - it never belittles the work the Cartwright clan puts in to make the Ponderosa what it is, and it never sides against Ben's and his sons' right - their God-given right - to own and keep the Ponderosa. But the series is also smart enough to raise doubt about that personal, and spiritual, mission, which of course leads to good drama.
The Civil War also seems to be intruding in this latter-half of the first season. In the excellent A House Divided, intellectual Adam echoes his father's belief that people who moved out West left behind the old ideologies of North and South; the West was an ideological "new start, representing an apolitical "cleanness," if you will, for its settlers, and the racial and martial strife engulfing the "old world" states are not wanted out West...at least by the Cartwrights. Of course, old ideologies of hatred and prejudice couldn't be stamped out by mere geographical relocation, as we see in The Fear Merchants, where discrimination against Chinese immigrants is showcased (as well as a fair portrayal of Chinese immigrants who wished to assimilate into American culture, through the "American" birthday of 18-year-old Jimmy, the cousin of the Ponderosa's cook, Hop Sing, portrayed by Victor Sen Yung). Expanding on a theme that was present in the first 16 episodes - the Cartwrights' staunch objection to encroachment on their land - other episodes in this second half of the first season address perhaps a softening of that view. In Blood on the Land, forward-thinking Adam wants to cut a road through the Northern section of the spread to accommodate westward travelers (thereby making it easier for the Cartwrights to monitor migration) - an idea that Ben only says he'll consider at this point. This episode also calls into question Ben's stated philosophy that guns alone stop trespassers, as Adam gets him to acknowledge that the law should have been called in from the beginning with Ben's dispute with the murderous sheepherder Everett Sloan. However, going to the authorities to settle disputes isn't exactly in the DNA makeup of a self-made Westerner like Ben Cartwright, nor is it always feasible to do so - particularly when law officers and authority figures such as Army officers are shown to be either psychotic or murderously amoral in these episodes (The Stranger, Desert Justice, and Escape to Ponderosa).
Other more familiar "adult Western" stories continue to fill this second half of the first season of Bonanza, with the ever-popular "wronged" women with questionable pasts a particular favorite. And again, as in the first volume of Bonanza, I was pleasantly surprised at how funny the show could be, as well. The Gunmen is quite amusing, with Landon and Blocker briefly incarnating look-alike gunmen, setting the stage for the "real" Cartwright brothers to be mistaken for the murderers. Landon and Blocker make a physically funny-looking Mutt 'n' Jeff team, and their nonchalant underplaying here only makes the comedy that much more appealing. Even better is San Francisco, directed by comedy veteran Arthur Lubin, where the Cartwrights get off the Ponderosa and land right in the middle of Barbary Coast shanghai shenanigans that almost resemble one of Lubin's Abbott & Costello films, with Ben and Hoss falling through trap doors, and Little Joe smiling devilishly as he catches a glimpse of a shady lady with a derringer tucked into her garter. Everyone is a crook in this episode, and no one tells the truth here, with the city slickers besting the relatively naïve Cartwrights at every turn; it's a very funny send-up of the series' gestalt of the clan's seeming invincibility when they're riding their own range back home.
Watching this second set of episodes, I came to appreciate a growing facility with the actors, as well, as they ease into their roles. Certainly any time the terrific, animated Blocker is on, his infectious good-humor shows through. He's terrific, too, in episodes where his "gentle giant" quality is on display, such as his turn in Feet of Clay, where he kills the father of a little boy he's befriended. I was less impressed with Landon during the first volume of episodes, but watching him settle into the part, I found his facility with comedy more to my liking than when he attempted straight drama (he's very good in The Gunmen). My biggest reappraisal came for Pernell Roberts. Perhaps because he didn't have as much to do in those first episodes, I wondered what his role in the series truly was, since aspects of his character were already filled by the other actors. But in episode after episode, his quiet, watchful, and somewhat mysterious performance really started to grow on me. As for Lorne Greene, how can anyone argue with his magnificently hammy portrayal here? It's precisely what is called for here to anchor the epic-sized narrative thread that runs through the series; anything "smaller" in performance scale would get lost amid the pines and competing brothers. Tilting his head down and mellifluously rumbling like a moosehead of doom, Greene may not be subtle here, but he commands attention in every scene he's in, and that's what a TV star does. How all of these personalities will mesh, and how the various permutations of their relationships will morph, will have to be seen over the course of 13 and a half more seasons of Bonanza.
Here are the16 episodes of the four-disc set, Bonanza The Official First Season: Volume 2, as described on its inside cover. I've listed the bonus material featured on each individual episode here; I'll discuss those and other disc extras below:
DISC 1
The Outcast (1/9/1960)
The Cartwrights befriend Lita (Susan Oliver), whom the townspeople ostracize after she witnesses her father and brother hang for murder. Clay (Jack Lord) offers Lita solace and marriage, but they mask his criminal intentions.
Directed by Lewis Allen. Written by Thomas Thompson.
Special Features: Episodic Promo, Photo Gallery.
A House Divided (1/16/1960)
A Confederate sympathizer from Kansas (Cameron Mitchell), who knew Little Joe's (Michael Landon) mother, comes to Virginia City to raise funds for his cause, splitting townspeople and the Cartwright family.
Directed by Lewis Allen. Written by Al C. Ward.
Special Features: Episodic Promo, Photo Gallery.
The Gunmen (1/23/1960)
Dead ringers for the notorious Slade brothers, Hoss (Dan Blocker) and Joe are jailed in Kiowa Flats. The sheriff (Henry Hull) believes them but on one else does and the heads of feuding Hadfield and McFadden families figure the only way to settle their dispute is to hang the Slades!
Directed by Christian Nyby. Written by Carey Wilber.
The Fear Merchants (1/30/1960)
Thugs working for a mayoral candidate (Gene Evans) beat up Hop Sing (Victor Sen Yung) and harass Chinese residents as part of a "hate outsiders" campaign; Hop Sing's cousin (Guy Lee) is wrongly accused of murder.
Directed by Lewis Allen. Written by Frank Unger and Thomas Thompson.
Special Features: Photo Gallery.
DISC 2
The Spanish Grant (2/6/1960)
A stranger (Sebastian Cabot) insists that his charge (Patricia Medina) is a Spanish noblewoman and heir to a huge land grant, which includes part of the Ponderosa. Adam (Pernell Roberts) and his brothers search for clues to the beautiful and mysterious woman's true identity.
Directed by Christian Nyby. Written by David Dortort and Leonard Heideman. Story by Morris Lee Green.
Special Features: Episodic Promo, Photo Gallery.
Blood on the Land (2/13/1960)
Jeb Drummond (Everett Sloan) insists on fattening his sheep on Ponderosa land. Adam protests when his father intends to take matters into his own hands to remove the squatter, but when Drummond and his herdsmen (Ray Daley, Ken Lynch) take Adam hostage, Ben (Lorne Greene) must rethink his strategy.
Directed by Felix Feist. Written by Robert E. Thompson.
Special Features: Original NBC Network Peacock logo, bumpers, Lorne Greene RCA promo, and RCA spots, Photo Gallery.
Desert Justice (2/20/1960)
A sadistic marshal (Claude Akins) arrests a trusted Ponderosa hand (Wesley Lau), intending to transport him to Los Angeles by stagecoach for trial. Adam and Hoss go along to make sure the marshal doesn't kill his prisoner, and learn the reason for the lawman's brutality.
Directed by Lewis Allen. Written by Donald S. Sanford.
The Stranger (2/27/1960)
Vengeful police inspector Charles LeDuque (Lloyd Nolan) has a warrant for Ben's arrest; twenty years earlier, Ben killed a man in self-defense. LeDuque promises to drop a trumped up murder charge against Joe if Ben accompanies him back to New Orleans.
Directed by Christian Nyby. Written by John Tucker Battle.
Special Features: Photo Gallery.
DISC 3
Escape to Ponderosa (3/5/1960)
A sadistic Army stockade commander (Chris Alcaide) tracks three escaped prisoners; one (Joe Moross) seeks the home of his girlfriend (Gloria Talbott) but she falls for another (Grant Williams).
Directed by Charles F. Haas. Written by Robert E. Thompson. Story by bill Barrett and Malcolm-Stuart Boyle.
Special Features: Episodic Promo, Photo Gallery.
The Avenger (3/19/1960)
In this pilot for an unsold series, Ben and Adam await execution for murder; Lassiter (Vic Morrow) roams the west looking for the men who hanged his family, and preventing other wrongful hangings.
Directed by Christian Nyby. Written by Clair Huffaker.
Special Features: Original NBC Network Peacock logo, bumpers, and RCA spots, Photo Gallery.
The Last Trophy (3/26/1960)
Lady Beatrice Dunsford (Hazel Court) and Lord Dunsford (Edward Ashley) visit the Cartwrights; ashamed of her husband, a big game hunter who has lost his nerve, she flirts with other men, including Adam.
Directed by Lewis Allen. Written by Bill S. Ballinger.
Special Features: Episodic Promo, Photo Gallery.
San Francisco (4/2/1960)
After a cattle drive, the Cartwrights plan a big city vacation and Hop Sing (Victor Sen Yung) a family reunion. Hoss boxes Busthead Brannigan (Tor Johnson) and becomes Barbary Coast champion, and a deceptive damsel (Kathleen Crowley) gets Ben "shanghaied" on a ship set to sail for Hong Kong.
Directed by Arthur Lubin. Written by Thomas Thompson.
Special Features: Photo Gallery.
DISC 4
Bitter Water (4/9/1960)
A ruthless miner (Robert F. Simon) urges Todd McCaren (Don Dubbins) to break a water-rights agreement made years earlier by his father (Rhys Williams) and Ben, then plants tick-infested cattle in a Ponderosa herd.
Directed by George Blair. Written by Harold Jack Bloom.
Special Features: Photo Gallery.
Feet of Clay (4/16/1960)
After his mother's death, young Billy (David Ladd) stays at the Ponderosa and comes to idolize Hoss. His father (Logan Field) escapes from prison to find Billy; when he goes for his gun, Hoss kills him in self-defense.
Directed by Arthur Lubin. Written by John Furia, Jr..
Special Features: Episodic Promo, Photo Gallery.
Dark Star (4/23/1960)
A band of gypsies traverse the Ponderosa, and Joe falls for Tirza (Susan Harrison), a strange, beautiful girl banished by her people because they think she is a witch.
Directed by Lewis Allen. Written by Anthony Lawrence.
Special Features: Original NBC Network Peacock logo, bumpers, Lorne Greene RCA promo, and RCA spots, Photo Gallery.
Death at Dawn (1/2/1960)
Organized crime boss Sam Bryant (Robert Middleton) orders Farmer Perkins (Gregory Walcott) to commit murder. Eyewitness Beth Cameron (Nancy Deale) testifies and Perkins is sentenced to hang. Bryant kidnaps Ben, announcing he will hang him unless the sheriff (Morgan Woodward) releases Perkins.
Directed by Charles F. Haas. Written by Laurence E. Mascott.
Special Features: Photo Gallery.
The DVDs
The Video
Normally, with any vintage television release from Paramount, there's an indication somewhere on the back of the DVD cover stating these episodes may be altered from their original network showing. I don't see that warning anywhere on this disc. In fact, Paramount has made a point of stating at the very top that these are "Full-length episodes with Original Music." Well...are they? I'm not a Bonanza expert, but they appear to be complete, with 49 minute-and-change run times that would be in line for the original run network run times (minus bumpers, network logos and promos). And if music was substituted, I couldn't tell. So...I'm going with Paramount on this one and leaving any detective work to the experts on the series (some of whom, no doubt, will obsess over two-second cuts of music cues if given the chance). As for the video image itself - it's damn good. I haven't seen Bonanza in a couple of years, but I remember the prints I saw as quite faded and red-tinged. Not so here. All of the materials used here look spiffed up, with brilliant color and only minor screen anomalies present (some dirt and scratches do show up now and then). Episodes are kept four to a single-sided disc, so compression issues are negligible, at best. Grain is a factor, but that's to be expected in the original materials utilized here. I would imagine this is the best Bonanza has ever looked, even when it was originally broadcast (because those first color TVs can't compare with what we have today...if you could even get a sharp picture with your aerial). In fact, the resolution is so clear today, the heavy, brown, pancake makeup that was needed for the actors under the searing lights to get a proper color "read" on television, can be humorously distracting. A solid, impressive presentation for a series that needed it.
The Audio
The Dolby Digital English split mono approximates the original network broadcasts, and it's been recorded at a surprisingly hefty level - those gunshots sound fat and healthy. All dialogue is crisply rendered, and hiss, although noticeable, is not at all distracting. Close-captioning is available for all episodes.
The Extras
Let's hope the extras included here don't end with Season 1. As I listed above, most episodes on this set have additional bonuses in the episode's menu - usually a photo gallery with numerous behind-the-scenes production shots pertaining to that episode. While I'm not usually a big fan of photo galleries, these are informative (we get to see lots of "off-camera" moments) and fun (many shots of the actors having an obvious ball shooting the series). Some episodes have as many as twenty stills or more in their respective gallery - not bad at all. In addition, a few episodes have their original episodic promo you can access (see above for titles). They're in rough condition (very pink), but it's amazing they even survived.
Each disc has a separate bonus selection, as well. Unfortunately, there aren't as many on this second volume of Bonanza. On disc one, David Dortort Stories: How the Ponderosa Got Its Name, taken from the same interview from 2002 that makes up of the interview extras included on volumes 1 and 2, runs a brief 2:00, and tells us exactly what the title suggests. On disc two, there's a photo gallery for Iverson Ranch Location, Chatsworth, California - January 1960, which features 29 stills of candid shots of the stars in action. There's also another interview snippet with David Dortort: Pernell Roberts, running 2:43, where Dortort obliquely references the problems he had with Roberts during the production...and apologizes for them. On disc three, more of the 2002 filmed interview with Bonanza creator, David Dortort. Here in Remembering Victor Sen Yung and San Francisco, Dortort recounts Sen Yung's tenure with Bonanza, and fondly (and incorrectly) remembers the plot to the marvelous San Francisco. It runs 5:01. And finally on disc four, the final snippet of Dortort's interview, Remembering Lorne Greene is included (and he mentions his...enthusiastic delivery). It runs a brief 5:20.
Final Thoughts
You can't say you've watched TV if you haven't seen at least one episode of Bonanza. It's that much a part of television history and 1960s popular culture. An argument could be made that the phenomenal success of NBC's Bonanza single-handedly pulled the other two networks into color transmission, thereby advancing the entire industry. But icons sometimes don't feed the bulldog if they can't translate out of their specific time and place (ever watch an episode of Hill Street Blues lately? Yikes.). Fifty (!) years later, though, Bonanza still works, with an epic-sized look and reach, an attention to more complex themes and storylines in the advancing "adult Western" genre, and a varied central cast that pinch-hits for just about any fantasy figure you may want to identify with in the Western genre. And this is just the first season of the 13 & 1/2-year hit. I would have liked to see an overall documentary on the series, or even a text pamphlet with a brief history, for the bonus section (Paramount...you know you can call me anytime), but still - bonuses are bonuses, and for the most part, they're quite interesting. And after watching the first impressive 16 episodes of the series in Volume 1, I was pleased to see the show advancing on all fronts for this second volume. I highly, highly recommend Bonanza: The Official First Season, Volume 2.
---
Paul Mavis is an internationally published film and television historian, a member of the Online Film Critics Society, and the author of The Espionage Filmography.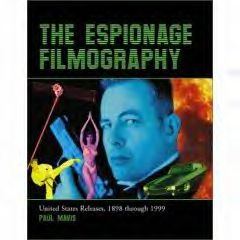 ---
C O N T E N T

---
V I D E O

---
A U D I O

---
E X T R A S

---
R E P L A Y

---
A D V I C E
Highly Recommended
---
E - M A I L
this review to a friend
Sponsored Links
Sponsored Links