Mister Ed: The Complete First Season
List Price: $39.99 [Buy now and save at Amazon]
---
"Why did you talk to me?"
"Cause I like you."
"The whole thing is fantastic! I just don't understand it!"
"Don't try...it's bigger than both of us."
Sweet, gentle, utterly charming, frequently hilarious, the very definition of "family entertainment," and quite rightly one of the most beloved sitcoms in TV history. Shout! Factory has released Mister Ed: The Complete First Season, a four-disc, 26-episode collection of the delightful black & white fantasy about a talking horse, starring Alan Young, Connie Hines, Larry Keating, Edna Skinner, and in one of the best vocal performances I've encountered in any medium, Allan "Rocky" Lane as the voice of Mr. Ed the horse. Fans of the series - and who doesn't like this show? - will enjoy the new interviews and commentary by Young and Hines included here (they look terrific), but it should be noted, right up front, that eight of the 26 episodes included on this set have shorter-than-normal running times (I'll detail that below). That may be a deal-breaker for some collector, but considering the fact that most of us grew up on the syndicated repeats of all the series' episodes - unless you remember watching them first-hand from 1961-1966 - there's too much of value to be found here in Mister Ed: The Complete First Season to reject it outright on grounds of incompleteness.
A synopsis here of Mister Ed's central story line seems absurd by this point - you mean you haven't even heard of the premise before? - but here goes. Young Southern Californian architect Wilbur Post (Alan Young) decides it's time to move out of the city and into the hills overlooking the San Fernando Valley. Buying a beautifully appointed country house with his sweet, charming wife Carol (Connie Hines) by his side, Wilbur is looking forward to converting the ramshackle barn out back into his drafting room and office. But on moving day, both he and Carol discover something in the barn that wasn't there when they first bought the house: an equally ramshackle palomino horse. Wilbur, remembering his childhood days growing up in a house similar to this one - but without the pony he always wanted - is all for recapturing his youth and keeping the horse, something his wife Carol is against...even after Wilbur cleans and brushes the beautiful palomino. But that act of kindness on Wilbur's part towards the horse convinces Mr. Ed to finally speak to a human, shocking Wilbur into wild-eyed incredulity (while convincing his bickering neighbors, Roger and Kay Addison, played by Larry Keating and Edna Skinner, that they sold their adjacent property to a certifiable head case). Wilbur wasn't hearing things - Mr. Ed the horse...can really talk. And to top off that miraculous feat, Mr. Ed is also a bit of a smart-ass and very probably more intelligent than the kind but fumbling Wilbur. And that context sets up the myriad number of gags and misunderstandings that will follow in Mister Ed, because Mr. Ed, out of a combination of stubbornness and laconic, needling perversity, will only speak to Wilbur - no one else. Let the farce begin.
I've never understood why Mister Ed, as well as other series from the later, so-called "fantasy period" of middle-60s network television programming, has garnered only grudging respect at times from critics and historians. Is it because the central plot element - a talking horse - is just too ridiculous to be taken seriously? Stretching that point a bit, I don't see why that should be, when logic-straining fantasies like Harry Potter and Lord of the Rings are regarded with almost Talmudic reverence today (if you're wondering whether or not I'm directly comparing Mister Ed to Harry Potter, I'm not...but I know which one I'd prefer to watch, too, ten times out of ten). Maybe it's because it's a sitcom - probably the least well-regarded genre on television (next to game shows), owing to that age-old prejudice here with American critics where comedy somehow is seen as intrinsically less "worthy" than drama. Maybe these critics and historians are suspicious of the experience itself. Mister Ed is a sweet, innocuous show, expertly crafted despite its lighter-than-air content, and it does make you laugh - even if you don't want to like the concept or you're embarrassed to like it. Maybe that bothers some critics (Pauline Kael would always go off the deep-end when she railed against a film that somehow "manipulated" her into a personal reaction she didn't feel was worthy of the film itself) That whole period of network programming from the mid-60s, when shows like The Flintstones, My Favorite Martian, The Munsters, Gilligan's Island, The Addams Family, Bewitched, and I Dream of Jeannie drew big numbers of viewers (and more importantly, still draw viewers almost fifty years later), is beloved by the fans who grew up watching those shows either first-hand or in reruns. Maybe that's the problem with critical reputations for series like Mister Ed: they're thought of as not "art," but popular "junk TV" of Newton Minow's "vast wasteland" - and thus, disposable (still a prejudice with some historians and critics who see an inverse ratio between a work's popularity and its intrinsic worth).
I happen to do think Mister Ed is artful in the way it combines a sweet, sunny overall tone with clever, sharp, funny writing, an unforgettable character in the laconic, smart-assed Mr. Ed, and a spookily-accurate special effect (or natural ability) of Mr. Ed's to interact with his talented human co-star, Alan Young, to create an absolutely believable scenario. You don't have to call that "art" if you don't want to (I believe it is), but obviously there's something appealing here, or the show wouldn't have garnered strong ratings when it originally aired, and it wouldn't have remained on televisions uninterrupted for the last fifty years. Mister Ed doesn't make one wrong move in this first season, incorporating not only elements of fantasy, obviously (the main focus is a talking horse, after all), but also romantic sitcom elements, mingled in with screwball farce conventions. The set-up is simplicity itself, both in design and execution. Deftly incorporating the tendency for sitcom dads and husbands at this time to hang around the house, doing seemingly nothing, Mister Ed's Wilbur Post actually works at home in his barn/office. Separated from the main house, this physical set-up only adds to the comedy. Ed and Wilbur are forced to be together (at this point in the series, sometimes-lonely Ed would like Wilbur to hang out with him a little bit more than Wilbur does); the privacy gives them room to talk with each other (while providing humorous moments whenever anyone else walks in), while also providing a base of operations for Mr. Ed himself, who can talk on the phone - or listen in on the party line - or watch TV, his favorite pastime.
Wilbur's pretty wife, Carol, isn't quite the center of jealousy she'll become in later episodes, when she feels she's competing with Wilbur's attention for Mr. Ed. She operates, along with the Addisons next door, as a more traditional romantic and screwball character this first season, and although she doesn't have a lot to do (the Addisons have at least as much screen time, if not more), her scenes with Wilbur are important counterpoints to Mr. Ed's antics. After all, who cares if Wilbur has a talking horse if he's single? He has to have a wife to hide that secret from, or there's no story. As to criticism about her character's one-note orientation (sitcom wife satisfying her husband while tending hearth and home), why can't Carol be a farcical fantasy figure just as surely as seemingly indolent Wilbur is of the successful 60s suburban career man? Even better are next door neighbors, the Addisons. Sophisticated, elegant, brittle, battling, acerbic in manner and tone, Roger and Kay remind me of William Powell and Myrna Loy in The Thin Man series...only without the good humor and the sex. Seemingly plucked out of some New York City social whirl and dropped down into the deserts of Southern California (the original Ed stories written by Walter Brooks, upon which Mister Ed was based, were set in New York, not California), Kay's glamorous, grasping, money-hungry wife who calls her husband by his last name, is a perfect fit for her older, monied grump-of-a-husband Roger, who's seen all of her tricks and then some...and isn't buying one of them. Trading waspish comments back and forth under withering stares, the Addisons harken back to that wonderfully caustic, prickly "supporting couple" element of American romantic and screwball comedy of the 30s and 40s, upping the laughs considerably when Mr. Ed isn't shooting his mouth off at Wilbur (I can't say enough about the talented Larry Keating and Edna Skinner here; they're one of my favorite sitcom couples). Most fans think first of Ed and his outrageous gee-gawing when recalling the series, but I found the Carol and the Addison scenes just as clever and witty, in their own way (when Kay, dressed to the nines, comes over to Carol's for a magazine photo shoot, Carol says, "You look beautiful, Loretta," spoofing the clothes horse TV star, Loretta Young. Kay snaps back, "Today, Home Beautiful, tomorrow Playboy, to which Carol brightly responds, "Middle page, of course.")
Leaving out the fantasy element, these segments with Wilbur and Carol and the Addisons might have made a conventionally successful sitcom all on their own. However, throwing talking horse Mr. Ed into the mix elevates the show to surrealistic heights, not merely on the strength of the concept (after all, My Mother the Car didn't work on concept alone), but through its successful execution. When discussing the success of the Mr. Ed character, you can't really separate the actual horse (and his trainer Lester Hilton, as well as creator/director Arthur Lubin, for that matter, in "blocking" Mr. Ed) from the voice work done by "Rocky" Lane; both elements combined to create one of television's most memorable - and hilarious - characters. In countless interviews, co-star Alan Young has given full credit to the actual horse, Bamboo Harvester (whose name was legally changed to Mr. Ed once the show started), for being a remarkably adept "actor" who seemingly interacted with Young as if he were truly "talking" with his human counterpart (and let's not forget Young, who pulls off an impossible role - potentially being upstaged by a horse in every scene - with effortless aplomb and skill). Regardless of what trick was employed to move Mr. Ed's mouth - at times, it was nylon string stuck under his gums; sometimes it was trainer Hilton tickling his feet on cue; and later, Young claims Ed miraculously "learned" to mime talking whenever he finished with a line, right on cue - the trick is so simple and yet so effective that to this day, it's almost seamlessly matched with Lane's equally accomplished vocals. That horse is acting; I don't care if someone was tickling his mouth with thread or not, his watchful stillness and his perfectly timed head movements make the effect absolutely convincing. Just like that dolphin in Flipper - you either have star quality or you don't. And Mr. Ed. had that certain something.
As for "Rocky" Lane's vocals, simply put: even with the expert marionette and other techniques used to make Mr. Ed talk, the show wouldn't have worked without that voice (as indeed Young said when he viewed the first unsuccessful pilot, shot back in 1952, and when they tried to audition a multitude of replacements for Lane when he proved balky at the prospect of not receiving screen credit for his work - a point he initially demanded). Luckily, Lane is given plenty of smart, sassy lines to spit out as the drawling Mr. Ed, but even the straight lines sound funny coming from the gravelly Lane. Trying to pinpoint exactly what makes Mr. Ed funny, the closest I could come to it was he's a mixture of smart-assed, cynical, even rebellious tomcat (Mr. Ed never hesitates to express his romantic urges), mixed with an oftentimes blubbering, whining, petulant child who wants loads of attention - all delivered in hilariously "with it," hipster dialogue and filtered through that seemingly incongruous, honeyed-rust Western rumble of Lane's. No wonder teenagers and kids loved Mr. Ed back in 1961 - he talked their jive and he found humans (adults) just as ripe for insouciant disdain and spoofing as they did. When Mr. Ed says, "I know I was a kooky kid," what hip kid back in 1961 didn't get all the levels of that joke? You can analyze it all you want, but in the end, funny is funny, and almost every well-written line "Rocky" Lane gets off, is a scream. Trying to pick a favorite is next-to-impossible, but runner-ups include Ed very seriously stating, "I also listen in at windows," when Wilbur catches him eavesdropping again (didn't lines like that make you think the writers had a whole other world - a much more mature world - imagined up for Mr. Ed during his off-screen time?). "This is brutal," is a great one when Ed sees a fumbling handyman continue to screw up at the Posts' home. But if I had to choose, it would have to be from Ed the Lover, when Wilbur asks Ed if he'd like to be a television star. Ed, incredulous, drawls back, "Television? Not me. I know Trigger - he's a very mixed-up horse." Classic on every level. Mister Ed may be damned with faint praise by some as a supremely silly show which still managed to be amusing at times, but for me at least - and for at least this first, fresh season - it's one of my favorite sitcoms: bright, clever, witty, and expertly staged and performed, by humans and animal alike.
Here are the 26 episodes of the four-disc set, Mister Ed: The Complete First Season, as described on its enclosed trivia and episode list pamphlet. Please note: as I wrote above, eight of the episodes included here have shortened running times. Busy Wife, Kiddy Park, Stable for Three, Ed the Lover, The Pageant Show, The Aunt, Little Boy, and The Contest all have runtimes of 22:00, give or take a second or two. The remaining episodes all time out at well over 25 minutes. One would assumed those 22:00 are then the syndicated versions of the series (if they're time compressed, I couldn't notice the effects); at times there are fade ups and downs which don't fit with the look of the original editing. If they've been edited, what's been cut out? I can't say; I'm not an expert on the show with a photographic memory of each and every episode; I grew up watching the syndicated reruns, which were all cut - so the longer ones are all "new" to me. There are no warnings or explanations anywhere on the DVD box, the slimcases, or the trivia pamphlet, discussing this potential issue.
DISC 1
The First Meeting (1/5/1961)
Wilbur Post and his wife Carol move into their new home and find that the barn out back is still being occupied by a horse. Carol wants to sell the horse, while Wilbur wants to keep him - but everyone, including his wife, thinks he's gone bonkers when he claims that "Mister Ed" can talk.
The Ventriloquist (1/12/1961)
When Mr. Addison overhears Wilbur and Mister Ed talking, Wilbur tells him he's a ventriloquist. Now Mr. Addison wants Wilbur to help him win a bet by using his "skill" of throwing his voice.
Busy Wife (1/19/1961)
Carol joins the Women's Committee for Civic Improvement, and Wilbur starts to feel neglected. To win back her attention and make her jealous, he decides to hire a beautiful model to stage a painting of Lady Godiva.
Kiddy Park (1/26/1961)
Mister Ed runs away on his birthday when Wilbur won't take him along on a fishing trip with Mr. Addison and the wives.
Stable For Three (2/2/1961)
Ed, Wilbur and Mr. Addison all end up in the dog house - actually the stable - when they get in trouble with Carol and Kay.
Sorority House (2/9/1961)
Mr. Addison asks Wilbur to loan Ed to his old fraternity Sigma Nu Delta, and while Ed is there he is horse-napped by a rival university.
Ed the Lover (2/16/1961)
Ed gets a job as an extra on a Western directed by one of Wilbur's clients. The film's star, a horse named Daphne, falls in love with Mister Ed.
The Pageant Show (2/23/1961)
Ed won't stop listening in on the phone extension in the office, so Wilbur takes it out. Ed decides to get back at him by not participating in a pageant.
DISC 2
The Aunt (3/2/1961)
Aunt Martha comes to visit with her parrot Tootsie - but can two talking animals coexist in one household?
The Missing Statue (3/9/1961)
Carol buys a statue for $50, which leads to a game of "musical statues" and a major headache for one shop owner.
Ed the Witness (3/16/1961)
When Wilbur, Carol, Ed and the Addisons get lost on a trip to Ensenada, they end up stuck in a small town. Wilbur gets put in jail when his car is involved in an accident, but Ed is the only witness.
Ed's Mother (3/23/1961)
When Wilbur and Ed find Ed's mother working as a plow horse on a local farm, Ed wants Wilbur to buy her out of servitude.
Ed the Tout (3/30/1961)
When Ed is able to predict eight winners at the horse races, Addison thinks Wilbur is the one who can pick the horses. He wants to use his ability as a way to get rich, and the wives want to use it to raise money for their charity...but Ed doesn't believe in betting for money.
Ed the Songwriter (4/6/1961)
When music producer Paul Fenton hears Wilbur humming a tune he heard Mister Ed hum, he wants to know the lyrics. Wilbur makes an attempt at writing lyrics on his own, but luckily Ed has already written them.
Ed the Stoolpigeon (4/13/1961)
Ed becomes jealous when Carol takes in a poodle as a new pet. Ed decides someone needs to go...and it won't be him.
Psychoanalyst Show (4/20/1961)
Wilbur hires a psychiatrist to get Ed over his acrophobia (the fear of heights), but the shrink thinks Wilbur is the one with the issues.
DISC 3
A Man for Velma (4/27/1961)
When Carol sprains her wrist, Wilbur hires a woman to move in and cook for them. She's such a great cook that no one, including Ed or the Addisons, wants her to leave.
Ed's New Shoes (5/4/1961)
Wilbur hires a handyman to fix up the house before Home Beautiful magazine comes to take photos, but it looks like he may do more damage than repairs.
Little Boy (5/11/1961)
When a new little boy in the neighborhood is getting picked on, Ed finds a way to make him look like a hero.
Ed Agrees to Talk (5/18/1961)
Wilbur won't buy Carol her own car, so she hitches Ed up to a surrey and takes him out on the town. Ed feels abused and calls the SPCA.
The Mustache (5/21/1961)
Addison encourages Wilbur to grow a mustache because he'll look more distinguished to prospective clients. Never has hair on one's upper lip caused more problems....
The Other Woman (6/4/1961)
Carol thinks Wilbur is having an affair when he starts mumbling the name "Bernadine" in his sleep - but "the other woman" is no woman.
Ed Cries Wolf (6/11/1961)
Wilbur buys Carol a pair of earrings for her birthday, but before he can give them to her, a thief shows up at the house. Wilbur gets a call from Ed about the intruder - is it "real" or is it just a case of the "horse who cried wolf?"
The Contest (6/18/1961)
When Ed answers a quiz show question correctly on the phone, he uses Wilbur's name. Now Wilbur must compete for the big prize of $5,000.
DISC 4
Pine Lake Lodge (6/25/1961)
This episode was a pilot for a spin-off show starring character actor William Bendix that was never sold to a network. The episode features Wilbur and Carol going to the Pine Lake Lodge, owned by their friend Bill Parker (Bendix). The episode is primarily focused on the cast of characters who work at the lodge, including Nancy Kulp portraying a version of her Mrs. Hathaway character a year before The Beverly Hillbillies.
Wilbur Sells Ed
Ed falls in love with Princess Helen, the horse of one of Wilbur's clients. Ed is so in love that he asks Wilbur to sell him to the client so he can be near Helen.
The DVDs
The Video
Aside from the possible editing as mentioned above in the episode listing, the full-screen, 1.33:1 black and white transfers for Mister Ed: The Complete First Season look quite good, with a mostly creamy gray scale, a bright, sharp picture, and minimal screen anomalies such as dirt and scratches. I didn't notice any distracting compression issues, and overall, I'd have to say these look as good as I've ever seen the show.
The Audio
The English mono audio track, however, has some up-and-down levels that did distract from time to time, but whether this was inherent in the original materials used for the transfers, or in the authoring of the disc itself, I couldn't say. Overall, though, the dialogue came through. Close-captions were available.
The Extras
There's a perky commentary track with Alan Young and Connie Hines on the premiere episode, The First Meeting, where the stars reminisce about what a happy show it was to produce. Actual background information is slim, but it is nice to hear both of the stars speak so fondly of the show. As a bonus, there's a 30 minute documentary/interview with Young and Hines, recorded this year, where the stars go into much more detail about the actual production of the series, answering about all the questions you might want to know about the show. Considering Young is 90 (he looks at least 20 years younger), and Hines looks decades younger still, it's terrific to see these stars still in action. Also, there's a many times-duped vintage TV commercial with Alan Young and Mr. Ed, hawking the show's early sponsor, Studebaker (in this case, the brand-new 1960 Lark).
Final Thoughts
Flat-out one of the funniest sitcoms of the 60s - and with no apologies for that ranking. Mister Ed: The Complete First Season introduces us to one of television's most charismatic, hilarious stars - the talking horse, Mr. Ed - an amalgamation of expert animal training, superb special effects trickery, and a one-of-a-kind voice interpretation by Allan "Rocky" Lane. Who wouldn't want that smart-assed hipster horse as their snickering best friend? Human co-starring is tops, too, with Alan Young effortlessly merging with his animal co-star's performance to create one of the most effective comedy teams of the 1960s. Connie Hines is sweet and delightful as his wife (and let's not forget gorgeous as all get out), and Larry Keating and Edna Skinner are sublime as the sophisticated, bickering next-door neighbors, the Addisons. It may sound stupid, but it's clever and light, and altogether charming - and most importantly, hilarious. Those eight edited episodes should be noted here, though. I highly, highly recommend Mister Ed: The Complete First Season.
---
Paul Mavis is an internationally published film and television historian, a member of the Online Film Critics Society, and the author of The Espionage Filmography.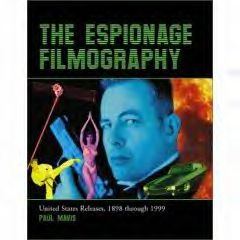 ---
C O N T E N T

---
V I D E O

---
A U D I O

---
E X T R A S

---
R E P L A Y

---
A D V I C E
Highly Recommended
---
E - M A I L
this review to a friend
Sponsored Links
Sponsored Links