Vega$: The First Season, Volume 1 (Vegas)
List Price: $36.98 [Buy now and save at Amazon]
---
Absolutely unbelievable on every conceivable level...thank god. The DVD world of TV wunderking Aaron Spelling expands with the release of Vega$: The First Season, Volume 1, a brief but pleasant diversion from the late 70s bubblegum era of ABC television. Vega$ (which I suppose should be pronounced "Vegadollarsign" if you want to be sniffy), starring easy-going, handsome Robert Urich as Las Vegas P.I. Dan Tanna, is pure Spelling fantasy - beautiful people, beautiful settings, beautiful clothes, ridiculous story lines - and what a welcome respite that is from the unrelenting gloom that is network television today ("Hmmm...my choices are Dancing With the Stars or Jay Leno five nights a week? Where's the rat poison?"). I dislike the split season approach here, as always, and there aren't any extras to speak of on the disc set, but Vega$ is recommended because it's a harmless reminder of that niche market - entertaining, mindless dreck - that network television used to consistently, expertly produce...a capability that seems to be a lost art form today for the dying networks.
Welcome to Las Vegas, Nevada, circa 1978, where breakfast will set you back .99 cents, gas is .58 cents a gallon, and the desert still comes right up to the Strip. And life is good there for Las Vegas' best-known private dick, Dan Tanna (Robert Urich). On retainer with Desert Inn Resort and Country Club owner Philip "Slick" Roth (Tony Curtis) to smooth over any problems that might arise at the Inn from assorted chiselers, sharpies, conmen, boosters, shake-down artists and more hard-core criminals, Dan is free to pursue other interests and cases as he tools around town in his vintage cherry-red '57 Ford T-Bird. When it's time to go home after a busy day of being handsome, Dan pulls right into his apartment, which just so happens to be a converted theatrical storage warehouse for the Desert Inn. His T-Bird safely tucked away, Dan hops out of his ride and strolls into his groovily-appointed bachelor pad where his staff awaits. This being Vegas, Dan's professional staff naturally consists of two chorus girls: Beatrice Travis (Phyllis Davis), his gorgeous, top-heavy secretary, and even more top-heavy fill-in receptionist and all around dingbat, Angie Turner (Judy Landers). Acting as an unofficial third member of the team, bottom-heavy Sergeant Bella Archer (Naomie Stevens) provides maternal clucking over naughty little boy Dan's escapades, along with hundreds of free hours of computer back-ground checks, cross-country phone calls, and every other conceivable form of detective work that Dan needs to solve his cases, provided gratis, of course, as long as Bella gets to smooth down Dan's hair while scolding him.
SPOILERS ALERT!
Listen, I'm not going to make a big case for Vega$ somehow being this great show you may not have realized before, a series finally being "re-discovered" on DVD. It's an entertaining show, to be sure, but it's also mindless and disposable; it's a good representation of the Spelling formula, but it's not in the top-tier of his productions (certainly above The San Pedro Beach Bums but falling short of true classics like Charlie's Angels, The Love Boat, and Dynasty). Even the public knew what Vega$ was all about, right from the start. Debuting at a healthy 23rd for the year in the Nielsen ratings, Vega$'s ratings only went south after that promising start and the show folded after a short, three-year run. Coming on at the 10:00pm slot after Charlie's Angels on Wednesday nights, Vega$ didn't have much competition this first season (movies over on CBS and NBC), but its fortunes were still tied directly to its lead-in series, and as Charlie's Angels fell in the ratings and was canceled in 1981, so, too, did Vega$ follow. It never built a following of its own that could sustain a longer run. Even as a kid I knew Vega$ was an example of what was then popularly referred to as "junk TV" - eye candy for when you wanted to shut your brain off and pass the time, but that didn't stop me from enjoying it, though, then or now.
<
Fans of big-time director Michael Mann might be surprised that he's credited with "creating" Vega$, since he wrote the pilot for the series (which is included, thankfully, on this disc collection), but watching the series, it's clear this is a Spelling production all the way, with little of anything in the show resembling the Michael Mann we know today (if anything, his pilot script is even more clichéd and silly than some subsequent episodes, with Dan Tanna shouting lines like, "I'm the ghost of Christmas Past, turkey! I'm the Lone Ranger and I'm gonna nail you!" as just an example). No, this is Aaron Spelling land, through and through. Distraction through glitz is the key to the Spelling formula. Fast action and short, to-the-point scenes, pretty people in glamorous situations, good clothes, plush settings, a parade of faded stars - glitz and glamour bordering on the tacky - all to distract us the viewer from our daily grind. And what's wrong with that, in the end? This kind of TV - Spelling TV - isn't interested in educating you, or challenging you (at least not in serious, meaningful ways). It wants to entertain you, to take you away to somewhere you've never been to before, and to show you a world that everyone is fully aware, doesn't exist.
Dan Tanna's occupation and lifestyle, and the city he lives in, bear almost no relationship to reality. Television, regardless of the supposed level of "realism" it tries to achieve in depicting people, their occupations, and their daily adventures, invariably romanticizes that "reality" just by the mere process of fictionalizing it. So when you get a show like Vega$ which isn't even bothering to attempt a true picture of Vegas and the life of a private eye, you're going to have to expect some liberties being taken with the truth. For a Spelling production, every ounce of the mundane is eliminated. We never see Dan just sitting around, waiting for a phone call, or scoping out a suspect for hours at a time, or getting a venereal disease from the showgirls he sleeps with, or paying a light bill, or standing in line at the DMV. His is a life of endless rides in his T-Bird, getting information from his network of hotel employee stoolies (no money is ever offered in exchange), fistfights with baddies (he's never seriously hurt), cute flirting with all attractive females (all of whom naturally respond in kind), and good-natured bantering with his boss and the cops (who appear to work for him and not us). As for his actual flat-foot antics, we hear about them more than we actually see them - particularly the ones that portray him as a tough customer (this makes Dan a "safe" rebel and tough guy to the audience: we know he can handle himself and break the rules...but he has the good taste not to do it in our living rooms). When he gets in trouble, he merely has Sergeant Bella call him "Bubula" and tell him what the damages are (this is perhaps the show's strangest element: are the cops like some kind of hotel managers, tallying up Dan's overages and sending him the bill? Yet they don't object to his using the police force as his personal legmen? Where are the criminal complaints for Dan's actions?). When he needs to flop, he does so at an apartment that is a young man's dream of unconventionality and loose responsibility: it's not really a "house," it's a garage/warehouse - no lawn to take care, no touch-up painting, no pesky neighbors that have to be engaged occasionally to keep the peace. And it's filled with fun toys a boy/man would like (barber chair, funky fireplace, pawnbroker light) and his beautiful, often half-clad staff. Dan charges $200 a day plus expenses, and that pays for the phone in his car and the $400 answering machine he has, but as often as not, he'll conduct a case on his own time and dime...for justice's sake (we never see a client hand over a wad of bills to Dan).
Vegas the city is even more unrealistic. In Vega$'s Las Vegas, there's no suggestion that the mob has anything to do with anything anymore in the city. Slick makes a statement about an employee being "terminated," but reassures Dan that just means "fired" today, not like the old days. Hookers and pimps operate, but the truly nasty side of this business is never shown. Conmen are portrayed as impish gremlins who respect Dan when he finally figures out their scams (none other than adorable Red Buttons in one episode, where he practically looks like he's going to kiss Dan and call him "Bubie" when Dan shuts him down). Even former madams who seem like a cross between Mrs. Olsen and Mama Goldberg have laughter-filled coffee klatches with their old stable of whores every month - imagine the conversations at that get-together if they actually happened ("Hey, remember the time that john tried to pour Drano down my throat? Ha, ha ha, ha, ha! Pass me a knish..."). And of course, we never see anyone lose their house, their kid's college fund, or their shirt at the crap tables. If Spelling wanted to continue to get the city of Las Vegas' cooperation in filming on location, he'd hardly be welcome to show the city's seamier side...which I doubt Spelling would have wanted to do, anyway.
Instead, Vega$ gives us the glitter, and about as much substance, as well. Situations are stock, characters are fairly one-dimensional, and the pace just fast enough to take us from one set-up to the next without questioning the logic of it all. If a group of bored Beverly Hills housewives, led by Shelley Fabares, want to become non-blackmailing sexual blackmailers to show their workaholic husbands they're still desirable, then so be it (I'm still not sure how that plan was supposed to work...if they didn't want their husbands to know what they were doing, then what was the point of the sexual game, to prove their desirability to those unknowing husbands?). If The Love Boat's Lauren Tewes tries to zap her estranged father, Strother Martin, by firing a .30 caliber rifle repeatedly at him from her Desert Inn balcony...with no resulting police presence or even the suggestion of unrest by the bored passerbys who continue to walk around as if nothing is happening, then by all means, fire away. And if, um...a gorilla is let loose in Dan's apartment to terrorize a client and poor bubblebrain Angie, then let the fur fly (truly a head-shaking moment when you see that same guy in the ape costume). None of it is going to matter in the end, inbetween the dog food and douche commercials, and besides, you're not supposed to be watching a documentary, for crissakes - it's Vegadollarsign with Robert Urich, not The Sorrow and the Pity.
As for Dan Tanna himself, he's not anymore fleshed-out and believable as the scripts. We're told at one point that Dan was a Vietnam vet, and we meet a couple of his vet buddies who help him on his cases as he lives the good life in an exotic locale, with little or no responsibilities and a cool car to drive...uh...I guess we know what the creators of Magnum, P.I. were watching back in 1978. But other than that, he's a good-looking cipher, enacting a pretty predictable set of TV detective ethics concerning loyalty to clients, refusal to judge anyone's actions (unless they're really out of line), and a rebellious nature towards authority (unless, of course, that "authority" is doing his legwork or providing his housing or paying his bills). Who is Dan Tanna and what does he truly believe about, about...anything? We don't know, and after watching a few episodes of Vega$, anyone interested in serious drama would be foolish to keep asking.
And the fault for that ghostly character doesn't lie with entirely with Robert Urich. I know it was easy for critics to dismiss a handsome, laid-back, genial TV actor like Urich who had a fairly substantial career on the tube laid out for him with seemingly little struggle (after all, that's what jealous little TV critic trolls do when, after scrabbling back underground, when they look for something to cobble together for their columns). I doubt there was "little struggle" in Urich's rise to headlining several series of his own, but more importantly, he does exactly what is called for him to do, and he does it with a bit of charm and ease. If that sounds dismissive, it's not. You try walking out onto a brightly-lit, hot set, in front of dozens and dozens of people who are waiting for you to perform a little magic (not for "art's sake" but because their jobs depend on it), and then you try and give a performance that's casual and light-handed and charming while you're trying to remember lines and hitting your marks. It's tougher than you think. As for Tony Curtis, he shows up fairly regularly here in these first 11 episodes, but he doesn't have nearly enough to do (maybe that's why he largely checked out of the series as it went on). This was a strange time in the career of the former superstar. Reduced to starring in grade Z fare like Casanova & Co., Sextette, and The Manitou, Curtis was no stranger to TV (his element of the much-respected NBC Sunday Mystery Movie, McCoy, had been an embarrassing flop for the headliner), his glorified cameo appearances on Vega$ certainly didn't stretch the talented actor. Often, he looks distracted or bored here; it's too bad more wasn't done with his interesting character. Bart Braverman gets in some funny little bits from time to time, but at least by this point, he's not a major player in the series. As for the women in the series - particularly poor, poor Landers - they're a pretty sorry example of what kind of women studio execs at that time thought American men wanted to see on TV (Landers is portrayed as little more than a mentally challenged blow-up sex doll).
Here are the 11 episodes of the 3-disc set, Vega$: The First Season - Volume 1, as described on the flip side of the cover artwork. Please note: as with most vintage Paramount television releases, there's the standard disclaimer stating these episodes may be edited from their original network showing, and that music has been changed. Is this true, or is the standard disclaimer Paramount has been putting out for awhile now, to cover all legal bases? I don't know. All the shows timed out at around 49 minutes (which would fall within acceptable run times for network shows at that time), except for the longer pilot episode, but I'll leave it up to Vega$ experts as to what seconds or songs may have been shorn.
DISC ONE
High Roller (April 25, 1978)
In the series' pilot episode, Las Vegas private eye Dan Tanna (Robert Urich) is hired by a couple from the Midwest to locate their runaway daughter, who has turned to prostitution to make ends meet. When the girl winds up murdered, Tanna must follow clues into her seedy underworld. Meanwhile, at the Desert Inn, resort owner "Slick" Roth (Tony Curtis) hopes Tanna can nail a cunning trickster who has been making a killing at the casino's slot machines.
Centerfold (September 20, 1978)
When world-famous supermodel Shawn Adams (Cristina Ferrare) decides not to renew her contract with her debt-ridden manager, the desperate showbiz agent concocts a scheme that will keep his high-paying client on board. Tanna and his associates investigate the model's shocking claim. Vic Tayback, Morey Amsterdam, Abe Vigoda, and Dane Clark guest star.
The Games Girls Play (September 27, 1978)
Tanna is hired by Senator William Mitchell (Don Porter) - a lawmaker who has championed an anti-pornography bill - after the senator claims some racy blackmail photos could derail both his legislation and his political career. During his probe, Tanna discovers that another private eye is also trailing the suspected perpetrators - but with an entirely different motive.
DISC TWO
Mother Mishkin (October 11, 1978)
Mother Mishkin (Molly Picon), a former Las Vegas madam, hires Dan Tanna after she starts receiving death threats. All of the evidence points to a real estate speculator who would love nothing better than to take possession of Mishkin's valuable property. Or does it? Sid Caesar, Anne Francis, Ross Martin, and Antonio Fargas guest star.
Love, Laugh and Die (October 18, 1978
Who murdered former call girl Lexy Gardener? When the local police don't show much interest in the case, the victim's mother hires Tanna to investigate three of Lexy's former lovers who might be possible suspects - a folk singer, a tennis pro, and a construction magnate. Dorothy Malone, Bobby Van, and Bill Dana guest star.
Yes, My Darling Daughter (October 25, 1978)
At her wedding, a young bride insists that she caught a glimpse of her father among the gathered guests - a popular country singer who vanished a decade ago, and is now presumed dead. Tanna's sleuthing uncovers many of the singer's old showbiz contacts, some of whom might be able to help unravel the mystery. Barbara McNair, Slim Pickens, Strother Martin, and Lauren Tewes guest star.
Lady Ice (November 1, 1978)
A glittering jewelry convention at the Desert Inn attracts many buyers and sellers to the dazzling array of pricey gems...as well as some cunning thieves who plan to rob a wealthy Sheikh of his collection of valuable rubies. When Tanna gets drawn into the case, he encounters a seductive woman who may be involved in the caper. Nehemiah Persoff, Richard Bakalyan, Cameron Mitchell, and Kim Basinger guest star.
DISC THREE
Milliken's Stash (November 8, 1978)
A former drug dealer, now living in retirement in Las Vegas, is forced by the mob to sell one last shipment of cocaine. But when the deal goes awry as the police attempt a bust, Tanna finds himself involved in the caper when the missing stash ends up being held for ransom. John Marley, Henry Jones, Isabel Sanford, Shelley Berman, and Pernell Roberts guest star.
The Pageant (November 15, 1978)
A serial rapist appears to be targeting contestants of the "Miss Casino" beauty pageant. A description of the suspect is of some help, but with the attacker still loose, Tanna reluctantly allows his assistant Bea (Phyllis Davis) to act as bait to try to nab the assailant. Michael Callan, Peter Brown, Maureen McCormick, and Robert Reed guest star.
Lost Women (November 22, 1978)
"Slick" Roth has Tanna shadow an unwelcome guest at the Desert Inn - infamous white-collar criminal Christopher Vincente (Cesar Romero). But when Tanna tails the suave criminal to his estate on Lake Mead, he discovers that Vincente appears to be the head of a notorious female slavery network that is based overseas in Europe.
Second Stanza (December 6, 1978)
Booze and pills have taken their toll on entertainer Ginny Gordon. But when several "accidents" appear to be disguised as suicide attempts, Tanna becomes convinced that Ginny's manager and several of her opportunistic band mates value her more dead than alive. Ronee Blakley, Joseph Campanella, Harvey Lembeck, and Doc Severinsen guest star.
The DVDs

The Video
The full-screen, 1.33:1 transfers for Vega$: The First Season, Volume 1 look acceptable, with strong color, a reasonable sharp picture, and no compression issues to speak of here. There are instances of scratches and dirt throughout the episodes (Lady Ice has a nasty scratch running through a long scene), but overall, these look better than I expected.
The Audio
The Dolby Digital English mono audio track is adequate for the job. Hiss is present, but overall, the dialogue is clean and clear. English close-captions are available.
The Extras
Except for the original episodic promos that you can watch ("Tonight...on Vega$!"), there are no extras for the Vega$: The First Season, Volume 1 set. The Dan Tanna/Charlie's Angels crossover episode that aired prior to the debut of the series, is not included here (I would assume it's on one of the Charlie's Angels sets).
Final Thoughts
Aaron Spelling junk: glamorous, glitzy, expertly produced, slick, fast-paced...with not a thought in its head other than to entertain you. Robert Urich is laid-back and genial, while Tony Curtis looks pinched and anxious. The stories are ludicrous approximations of real life -- they're retreads of countless other plots from countless other TV detective series. Still, Vega$ is entertaining: Aaron Spelling wouldn't have let it be anything less than that (and not much more, either). I recommend Vega$: The First Season, Volume 1.
---
Paul Mavis is an internationally published film and television historian, a member of the Online Film Critics Society, and the author of The Espionage Filmography.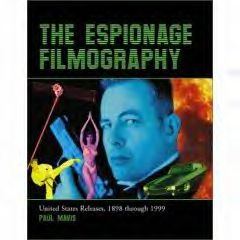 ---
C O N T E N T

---
V I D E O

---
A U D I O

---
E X T R A S

---
R E P L A Y

---
A D V I C E
Recommended
---
E - M A I L
this review to a friend
Sponsored Links
Sponsored Links