Mind to Kill: Series 1, A
List Price: $59.99 [Buy now and save at Amazon]
---
Cymru am byth
Another outstanding detective/mystery/police procedural series from the United Kingdom. Acorn Media (one of my favorite releasing companies - they snag all the best U.K. TV goodies) has released A Mind to Kill: Series 1, the Welsh detective series starring Philip Madoc as Detective Chief Inspector Noel Bain. Utilizing as background an unrelentingly grim portrait of a troubled Wales stripped of its once-mighty industries and its rapidly fragmenting close-knit communities, A Mind to Kill's equally troubling homicide cases present human frailty at its most base, and even more frightening, its most blank. No extras to speak of, but for those who are looking for a solid, thoughtful detective series with a less-than-familiar context, A Mind to Kill is a welcome surprise.
Working many years for the Mid-Wales Police Department, Detective Chief Inspector Noel Bain (Philip Madoc) has seen it all. As the department's senior investigator for homicides, Bain ceases to be surprised at the depths to which human beings will fall when money or pride or love or ego or sudden, inexplicable rage are involved...nor does he cease to be depressed by that knowledge, either. A widower for seven years now (he wife was killed by a drunk driver), Noel lives with his headstrong, emotionally damaged 17-year-old daughter, Hannah (Ffion Wilkins). It's a difficult relationship because Hannah wants things back the way they were when her mother was alive, and resents what she feels is Noel's controlling influence on her life. For his part, Noel is well-aware that his job's inconvenient time constraints are adversely affecting his relationship with his emotionally-needy daughter. Noel's work away from his troubled homelife offers little respite, either, for the world-weary detective. While he's acknowledged to be the area's best homicide detective, being successful at his job means he's privy to daily acts of barbarity and senseless cruelty that weigh heavily on his mind (and then effect the way he interacts with his daughter, for whom he fears, out in the world). His colleagues present challenges for the detective, as well, with divorced Detective Sergeant Alison Griffiths (Gillian Elisa) experiencing difficulties in her private life (including almost getting raped), and Detective Sergeant Carwyn Phillips (Geraint Lewis) often expressing narrow-minded viewpoints not unlike some of the citizens of the Welsh cities they patrol. Noel's superior, Superintendent Jack Bevan (Meic Povey), is ever-reminding Noel of the stealth politics that are involved with most cases (considerations that irritate Bain no end), when he isn't hurrying a careful Bain along to solve a case quickly and get it out of the papers. Pathologist Professor Margaret Edwards (Sharon Morgan), who banters knowingly with Noel on their cases together, presents a potentially rewarding emotional relationship with Noel - particularly after she separates from her husband - but both veterans are far too leery of elevating their professional rapport to a more intimate level.
MAJOR SPOILERS ALERT!
Based on a 1991 pilot created by Lyn Ebenezer and Sion Eirian (which is not included in this DVD set), A Mind to Kill debuted on Wales' S4C network in 1994, and ran irregularly until 2004 (U.K. television shows don't require strict, year-by-year schedules for produced and aired seasons or as they call them, "series"). I have no idea what Wales' state of the union is today; after all, these episodes are from 16 years ago. I don't know if A Mind to Kill's vision of Wales was limited by design to enhance the downbeat storylines, or if it was just a case of television making things look far worse than they really are (often the case with today's American TV, which never met a stereotype it didn't inflate to the point of cliché, turning city landscapes into lawless jungles, suburban homes into perverted, hedonistic hypocrisies, and the countryside peopled by narrow-minded, violent bumpkins). Whatever the story, the Wales of A Mind to Kill looks like no place I'd want to visit on my next trip to the U.K.. Putting aside the violent, grisly crimes used to propel each script, A Mind to Kill paints a dark, dark picture of a Wales crippled by underemployment, an increasingly impersonal, "modernized" and marginalized society, and centuries-old resentments. Striking miners, enraged by the loss of high-paying jobs, battle with hard-up scabs who have no choice but to take any job available...while their corrupt union bosses drive luxury Mercedes. Hopeless single mothers, living hand-to-mouth, feel compelled to engage in pornography to pay the bills. "Rent" boys in the city are used and abused and then discarded like so much waste material, and no one seems to care. Young city kids, with no job prospects and little education, riot in their own neighborhoods, setting cars on fire and assaulting the police with no fear, while old-age pensioners cower in their apartments. Choices and opportunities seem as bleak as the harshly beautiful landscape.
But to Detective Chief Inspector Noel Bain, no amount of complaining about societies' or one's own personal ills - no matter how "correct" - justifies taking someone else's life. And that's where the seemingly inevitable sadness of modern Welsh life takes hold of the dour, beaten-down detective: the inability of one of those elements to be absent from the other. In the opening episode, Black Silence, an older miner takes Bain to task (strictly because he's a cop) for aiding "Maggie [Thatcher] and her Blue Army" in their efforts to kill off the Welsh people to get the rights to their vast coal resources. Our own takes on Thatcher's actions may differ, but for his trouble, the old timer is horribly firebombed in the next scene by the young brother of a scab who was beaten up by thugs...with the young brother paid by a union boss (John Rhys-Davies) to stir up trouble. And what does the young boy eventually get for his trouble? Hideously tarred and feathered by the union boss. No one can be trusted in the world of A Mind to Kill, and suffering continues unabated, regardless of who thinks they're right, or least importantly, why they think they're right. The violence is all inexplicable to Noel Bain, and he can't stop it (there's a good scene in a later episode where Bain undercuts his own P.C.-spouting boss Bevan by wearily admitting on a television show that he has no idea how to stop the escalation of violent crime). Bain just knows what's right and wrong, and how the concept of "justice" is small potatoes next to the overwhelming sense of futility when faced with these horrendous crimes. The perpetrator may be caught in the end...but so what? How does that bring back a life? And more importantly, no matter how good Bain is at his job, it's going to happen again.
And when murder happens again in A Mind to Kill, it's often realistically grisly. In Black Silence, a young man is graphically beaten and stabbed; later, a man chokes to death on coal dust and rocks (in a hypnotic, sick sequence). In White Rocks, a young boy watches his mother brutally bludgeoned to death with a hammer, and a father, trying to escape the police, knocks down a garage door with his car, squashing his own daughter. In Gameboys, a young male prostitute chokes on his vomit after overdosing, and his body is thrown onto a fire pit used to burn swine flu-infected pigs. In Rest Not Secure, a naked man is forced to dig his own grave before he's shot and then bludgeoned with a shovel...only to survive this horrific assault before getting run over by a car as he later tries to escape. And in Rachel Hardcastle, a sophisticated, beautiful artist caves in the skull of her drunken husband when he lays a hand on her one too many times. And murder isn't the only degradation suffered by the innocent here in A Mind to Kill. In one instance, the body of a victim is assaulted by a necrophiliac (throwing off the case until Bain figures it out). In another episode, a mentally-challenged young girl is used by her father for pornographic movies and photos...with a seemingly kindly neighbor lady revealed as the procurer for the porn ring. And human beings are "owned" without conscience, where "rent" boys can be loaded up with drugs for sex and discarded when they die, or where a rich couple can "own" a young man for sexual pleasures as payment for advancing his career. To A Mind to Kill's credit, none of these story elements are handled in an exploitive way, but they sure don't make for an uplifting, life-affirming viewing experience.
So often with these kinds of detective shows, we're given a lead character who possesses either plenty of personal backstory, or little idiosyncrasies and "ticks," to set the character up with audience "identifiers." But A Mind to Kill and actor Philip Madoc resist that temptation - at least so far in this first season - by presenting the facts of the stories in as realistic manner as possible, and by keeping Noel Bain low-key and self-effacing, as well. We don't really learn a lot about personal life - outside the few scenes with his daughter - other than the fact that's a widower. His casework dominates his life, so the producers and writers stay focused on that (unless they deliberately combine the two, such as in Rest Not Secure, where Hannah and Bain are taken hostage by a hardcase convict). As for Bain, he certainly isn't presented as some kind of infallible hero, but rather a talented professional who can still get tripped up by circumstances (the excellent Rachel Hardcastle has Bain falling for a murderess who plays him like a Steinway, and convincingly sets him up, coming this close to having him take the rap for her crime - even his colleagues doubt his innocence because of his morose nature). His daughter can't take living with him, so she runs away, and by the end of this first series, he's been shot, his innocence questioned by his most loyal co-workers, his heart toyed with by a cleverly scheming murderess, and his confidence shaken in police procedures (Bain dislikes gung-ho displays of police force...although there sure are a lot of scenes of criminals escaping that wouldn't have happened if everybody carried a piece). This is far from an idealized or romanticized detective (even so-called "downbeat" portrayals of detectives can acquire a patina of romance if the filmmakers play to those notions of lonely nobility and knightly honor in a sick, criminal world). Bain is just a professional - nothing more or less - and he's subject to the whims of political expediency and emotional machinations just as everyone else is. It's a remarkably "straight" series, with an at-times docudrama feel, but moments of Celtic mysticism and moroseness creep in stylistically, as well (how else can you explain the unsettling scene in Rest Not Secure, where an odd, tall stranger appears to Noel and tells him "not to do it" as Noel stands before a waterfall, contemplating jumping in, before disappearing?), giving A Mind to Kill an agreeably realistic hard-edge, with a little bit something more in the characterizations and context.
Here are the 6 episodes of the three-disc set, A Mind to Kill: Series 1, as described on the back of its slimcases:
DISC 1
Episode 1: Black Silence
During a strike at the local coal mine, Bain investigates the murder of a 17-year-old prostitute. He suspects that the powerful, intimidating strike leader Roderick Tate is involved, but the evidence points to another man.
Episode 2: White Rocks
A young mother is beaten to death at a run-down holiday camp, and her 7-year-old son - who may have witnessed the crime - disappears. Racing against time to find the boy before the murderer does, Bain uncovers secrets worth killing for.
DISC 2
Episode 3: Gameboys
When the charred body of a young man is found in a peaceful farming community, Bain's investigation leads to a series of shocking discoveries: drugs, rent boys, and a town elder who's not as respectable as he seems.
Episode 4: Rest Not Secure
A gang war is brewing, but Bain is preoccupied with troubles at home: his teenage daughter, Hannah, has moved out, resentful of his job as a policeman. When Bain retreats to a remote cabin for some privacy, he is taken hostage by an escaped prisoner bent on revenge.
DISC 3
Episode 5: Son of His Works
A gruesome killing in the woods links a secretive religious cult to a troubled urban neighborhood and a heroin dealer to a prominent married judge and his lover. Bain must untangle a web of clues to learn the truth behind the murder and expose a fraud.
Episode 6: Rachel Hardcastle
Bain is flattered by the romantic attentions of Rachel Hardcastle, a successful concert pianist and sophisticated, attractive woman. Then her husband turns up dead, and Bain becomes the prime suspect in his murder.
The DVD:

The Video:
The full-screen, 1.33:1 transfers for A Mind to Kill: Set 1 obviously were taken from less-than-optimal original materials. Colors have muddied a bit, scenes are a bit dark, and scratches and other screen anomalies are present but not distracting. Interlacing is also a problem, but stepping down to a smaller monitor helps. Still, if you're used to the look of U.K. programming from this period, these transfers won't kill you.
The Audio:
The Dolby Digital English 2.0 stereo mix reflects the original materials used, including a bit of hiss and some variable recording levels. All dialogue is heard clearly enough, though. English subtitles are included, thankfully, for those thick Celtic accents (it might have been cool if Acorn had scored at least one episode of the Welsh-language prints that were shot simultaneously with these English ones, for original transmission in Wales).
The Extras:
Only some text pages with some production info, along with text filmographies, are included here.
Final Thoughts:
Graphic, depressing, hard-edged, and solid. The Welsh detective mystery series A Mind to Kill doesn't pull any punches in showing a sordid, hardscrabble Wales beset not only by murder but economic and societal challenges. Philip Madoc's Detective Chief Inspector Bain is admirably low-key yet consistently interesting, and the scripts are remarkably dense with sophisticated characterizations and plenty of background context. A winner for anyone looking for something tough and off-beat. I highly recommend A Mind to Kill: Set 1
---
Paul Mavis is an internationally published film and television historian, a member of the Online Film Critics Society, and the author of The Espionage Filmography.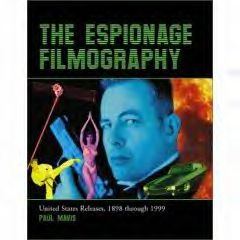 ---
C O N T E N T

---
V I D E O

---
A U D I O

---
E X T R A S

---
R E P L A Y

---
A D V I C E
Highly Recommended
---
E - M A I L
this review to a friend
Sponsored Links
Sponsored Links