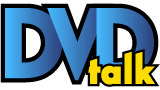 List Price: $24.98 [Buy now and save at Amazon]
---
The Movie:



In "Welcome To The Dollhouse", director Todd Solondz made a remarkable debut that focused on the life of one outcast girl - certainly many teen films have focused on outcasts, but this one was a particularly thought-provoking and painful exploration that was difficult to watch. Although I've never seen the director's sophmore effort, "Happiness", his third feature, "Storytelling", continues along the same lines of providing an uncomfortable examination of flawed characters.



The film has two parts (although there was reportedly a third part that has been deleted from the picture, which starred "Dawson's Creek"'s James Van Der Beek), "Fiction" and "Non-Fiction". "Fiction" stars Selma Blair as Vi, a writing student who is sleeping with Marcus (Leo Fitzpatrick of "Kids"), who is afflicted with cerebal palsy. Their relationship seems to be going along decently, but he suspects that his handicap was the main reason of her interest and that she's begun to lose interest.



After they sleep together, he wants her to read his latest story, when she refuses and it's torn apart by the teacher the next day, he's furious with her. Later that night, she sees the teacher again in a campus bar. She strolls over and strikes up a conversation that ends with the teacher essentially telling her that she has no potential whatsoever as a writer. Taking that statement without any hint of disapointment or realistic hurt, she thanks him for his honesty and decides to go back to his apartment, where things turn both physically and verbally rough. When Vi attempts to turn the situation into a story for the writing class, she's rejected by her peers and dismissed by the teacher, even when she states that it really happened.



I thought "Non Fiction" was at least a bit more entertaining at first. It focuses upon high school senior Scooby Livingston (Mark Webber), a do-nothing kid who enjoys music but has no other apparent ambitions. He thinks that documentary filmmaker Toby Oxman (Paul Giamatti) could get him some connections if he stars in the documentary that the filmmaker has in mind, but little does Scooby know (or maybe, understand) that Toby really doesn't have any sort of future in place. He's essentially Scooby later in life - while he's found something that he wants to do - which is at least some sort of progression - he still has little focus (honestly, much like this movie at times). Solondz tries to throw in a few little hits against filmmaking, as the director goes against the filmmaking documentary "American Movie" (the film seems to be against it and for it at the same time, even including one of its stars) and "American Beauty", as well. It's a little late in the game to be poking fun at "American Beauty", a film which has been goofed upon countless times - and much more hilariously - before. Some of "Storytelling" seems like a soapbox for Solondz to preach against those who've critized him - while he may be entertained by that, I didn't feel that made for particularly engaging viewing.



As much as I liked a few aspects of "Storytelling" - the performances are good, there are some sharply (if darkly) funny lines - there are aspects were the film fails. The characters have little depth - Solondz has still been unable to come up anything along the lines of the far more dark and complex characters that Neil Labute has provided for his films. Solondz doesn't seem to care much about the people that inhabit his films either, making it more difficult to see why we should be involved. Solondz seems to scold the audience at a few points for apparently feeling superior to the characters, but I found it difficult to feel anything but indifferent to the one-dimensional characters contained within.



Although the two relatively simple stories have a few sharp moments, I felt as if the sour "Storytelling" really wasn't telling anything new. Although I didn't strongly dislike sitting through the film's quick running time, I didn't find anything in the film left much impression - as the credits rolled, I'd already started to find the previous 84-or-so minutes forgettable.




The DVD



VIDEO: "Storytelling" is presented by New Line in four different ways - 1.85:1 anamorphic widescreen or full-frame R-rated; 1.85:1 anamorphic widescreen unrated or full-frame unrated. The picture quality is about as good as I'd think this production can appear. Sharpness and detail are generally pleasant, if not remarkable in any way. While "Non Fiction" appeared bright, crisp and well-defined, "Fiction" either appeared murky and lacking definition in dimly-lit moments or a little on the dark side elsewhere.



On a positive note, the picture was free of pixelation and any print flaws. Edge enhancement was noticed during a couple of brief scenes, but certainly did not pose any major concern. The film's low-key, subdued color palette seemed to be accurately rendered, with no smearing or any other faults.



SOUND: "Storytelling" is presented in Dolby Digital 5.1, but essentially could have been offered in 2.0 only. The film makes no use of the surrounds and does not put the front speakers to much use, either. Dialogue and the few touches of music in the film remained clear and crisp.



MENUS: Basic, non-animated main menus that simply use the cover art.



EXTRAS: The trailer.



Final Thoughts: While I didn't hate "Storytelling", I didn't find much compelling about it, either. The film's most serious flaw is its short running time, which Solondz doesn't seem to care about - rather than focusing on making his points and developing characters, Solondz often seems to find himself rambling in search of a point. New Line's DVD provides fine audio/video quality, but very little in the way of supplements, which is either a positive or a negative, depending on what viewer's opinions are/were of the picture. I'd recommend the DVD to fans of the film, but those interested in this dark comedy who haven't seen it yet should best rent first.

Sponsored Links
Sponsored Links