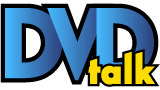 List Price: $27.98 [Buy now and save at Amazon]
---
"As an actress, I read a lot of horror films. Though when I saw House of the Devil, I didn't really know that it was going to be as smart and subtle as it was...it was different than a lot of the slasher films that I read."
-Jocelin Donahue

The Movie

Consider myself confused. Sure, Paranormal Activity had its moments, and it's great to see a low-budget horror film come out of nowhere and do so well. But after seeing The House of the Devil--another little genre pic that played a few festivals before a very limited theatrical run in 2009 (including a video-on-demand debut in October, the same month Activity was released)--I was left wondering how one-trick pony Paranormal was getting all the buzz. Both films utilize small casts and a slow-building, unsettling story capped by a nasty (and satisfying) conclusion. But House is--in virtually every way--an immensely better film, if for nothing else than the fact that the cast can actually, you know, act. (Sorry Katie and Micah...)

Yet House remains largely unseen and unknown, a shame because it's one of the most satisfying horror films I have seen in a long time--and this comes from someone who is extra picky with devil-themed entries. Who knew that writer/director Ti West--whose modest filmography includes The Roost and Trigger Man--had such greatness in him? Influenced by the works of Roman Polanski, Stanley Kubrick and the auteur style of horror filmmaking--and with an immense love of the early 1980s--West has crafted a remarkably atmospheric effort dripping with nostalgia, one that's actually scary (gasp!). House isn't just performed and executed perfectly, it also looks like it was filmed during the story's time period, adding to its allure.

A blend of Rosemary's Baby and When a Stranger Calls, House introduces us to down-on-her-luck college sophomore Samantha (Jocelin Donahue). As Christmas break approaches, she's found the perfect apartment in a quiet Northeast college town--the perfect opportunity to escape roommate hell and the dorm she calls home. But times are tight, and Sam isn't sure she can afford her new digs. When she sees a flyer for a babysitting job, she reluctantly makes the call--and soon finds herself on the doorstep of a big old house in the middle of nowhere.

That's when we meet mild-mannered Mr. Ulman (Tom Noonan), a nice yet strange man who lives with his eccentric wife (Mary Woronov). Already slightly off-put by the man's demeanor, Sam sees another red flag when the patriarch divulges a secret: The couple doesn't have a young child in the house. Sam's services are instead required to oversee Mrs. Ulman's mother: "Mama's asleep. She's old, but she's actually quite able-bodied...it's almost like you won't even see her, but you need to be alert--just on the off-chance that there's an emergency."

Spooked by the turn of events, Sam initially says no thanks. But when Mr. Ulman offers her $400 instead of $50 for just four hours of work, the student has a change of heart. That doesn't sit well with gal pal Megan (Greta Gerwig), who has given her friend a ride to the house and insists Sam is making a huge mistake. But she too relents after Sam pleads her case ("This one night changes everything for me!"), agreeing to pick her pal up at half-past midnight. Adding to the mystique of the evening is a lunar eclipse that has the while town in a tizzy, with the moon expected to completely disappear in Earth's shadow at--you guessed it--midnight.

It's into that eerie atmosphere that Sam--and the film--walks into. The sitter soon finds herself bored, biding her time by ordering a pizza, listening to her giant Walkman (The Fixx's "One Thing Leads to Another" is the biggest clue to the film's timeframe, placing us around 1983) and wandering the house. But due to common sense and a development I won't spoil, we viewers already know that something terrible is in store for the unsuspecting co-ed. And as she starts to wander the sizeable house, she starts to make some strange discoveries that unsettle her--and us--even more.

That's one of many strengths in House's arsenal--even though we know what's happening, the film still manages to get your heart beating right along with Sam's, and my heart doesn't usually fall for horror film shenanigans. (My only big gripe: I question whether the title, the marketing copy and the film's opening fact screen about Satanic cults all go too far, ruining what could have been a less obvious plot.) West is all about creating a mood and letting his story unfold with a slow burn--making the well-placed shocks (including one hell of a powerful ending) all the more effective. Ditto the music, which is masterfully constructed and timed, perfectly used to optimum spookage. House is more quiet than not, making the louder moments--also evocative of horror's heyday--even more powerful.

I imagine some people might find the film's pace boring, but I couldn't disagree more--it's refreshing to see a filmmaker refuse to succumb to the dollar-sign demands of a shock every five minutes. I've said it before and I'll say it again--the biggest asset a horror film can have is creating characters you care about (Rob Zombie, I'm looking at you). Donahue is superb in a very demanding role--she makes Sam a believable, likeable person you care about. Her situation is relatable, her actions are understandable and her fear is real--all thanks to the actress, who never resorts to unbelievably extreme behavior. She clearly cared about this film and her character, giving both the importance they deserve--and selling the film with the authenticity West has strived for.

Donahue is aided by the engaging Gerwig, whose Megan is the opposite of reserved, introverted Sam--she's a kooky yet caring friend. The two play off each other beautifully in a relationship critical to the film's success--it further grounds us in reality, preventing Sam from existing in her own solitary world (one that would probably cause us to question her sanity). The rest of the actors are equally solid in smaller roles, with no one hamming it up. West sure got good bang for his buck with the cast--not only do we get genre vets Noonan and Woronov (I'll take that special widescreen edition of Chopping Mall any day now, studios!), but Dee Wallace also shows up, too.

House pulls off an extremely rare combination--it makes you feel oddly at ease with its calm, careful build-up while still keeping you uncomfortable. We know something is coming, and part of the fun is trying to figure out when. West does an amazing job with the scares--one scene in particular pulled a trigger I wasn't expecting, and several moments (including two in the final few minutes of the highly entertaining ending) had me yelling, "Well done, West!"

The same can be said of the film's look, another huge asset. House not only has substance, it has style to spare--you'll be surprised at how successfully it pulls off looking like it was filmed 30 years ago. From the opening credits to the sets to the costumes to the film quality and colors, it takes you back to a different era when being scared was so much simpler and far more fun. (You might argue that the film also looks modern, but I attribute that more to certain fashion styles cycling "in" again.) The entire crew--notably production designer Jade Healy, art director Chris Trujillo, costume designer Robin Fitzgerald and the makeup department--is to be commended for keeping the film looking so authentic. Like West and his cast, they never over-do it.

And that brings me to cinematographer Eliot Rockett, who along with West (who also served as editor) crafts so many beautiful shots that add to the film's aura. The spooky house gives them a bounty to keep viewers' eyes affixed to the screen, with darkness and shadows frequently employed to maximum effect. There are many lingering shots of hallways, staircases and doorways, but the filmmakers have clearly chosen to prevent the camera from staying static. Shots are often low or high, looking at its characters as if it's hiding. In addition to some intentionally uncomfortable close-ups, the camera is frequently place behind Donahue--almost as if it's stalking her, daring you to look away from a seemingly innocuous moment. (The two men also teamed up for the upcoming Cabin Fever 2, a film the director has sadly disassociated himself from after heavy producer interference.)

West has done everything right here. The director is perfectly in tune with his scope, and accomplishes exactly what he wants to. The film knows when to pull back and when (and more importantly how) to amp things up. West isn't falling into excess or trying too hard to get our attention. House is satisfyingly serene for the bulk of its running time, leaving us shaken when it finally breaks free from its subtle shell--resulting in a viewing experience I won't soon forget. Well done, West!

The DVD

Video:

I have no doubt that this anamorphic 1.78:1 transfer looks exactly as the director wanted it to: dark, crawling with grain and bathed in brown tones. Ti West wanted this movie to look like it was filmed in the early '80s, and it does. So while technically this isn't going to impress you with sharpness and bold colors, it isn't supposed to--and that's part of the film's fun and charm. I wouldn't want it any other way.

Audio:

Equally effective is the film's 5.1 track (also available in a 2.0 option). From an audio perspective, House may seem like a relatively quiet track for much of its running time, but the vital music is balanced beautifully--and creeps up on you when you may not even realize it. When things get loud--in the form of a few effects and the score--it works perfectly, rocking you out of the lull. Subtitles are offered in English and Spanish.

Extras:

The biggest draw here is the two audio commentaries, both led by director/writer/editor Ti West. He's joined in the first track by actress Jocelin Donahue (who--in addition to hating the skinny jeans she had to wear--grew up in Connecticut and was familiar with Central Connecticut State University, where some of this was shot) and in the second by sound designer Graham Reznick and producers Larry Fessenden and Peter Phok. There's a little overlap in them, but not much, and both make for great listens if you like the film. West--who shot the film in 18 days for less than a million--frequently discusses how he was walking a fine line with all aspects of production design as well as the music--he didn't want something cheesy, and he didn't want something empty: "I really wanted to be very authentic '80s, but I didn't want it to seem like we were doing some sort of SNL skit."

The director also makes frequent reference to the score--one of the most difficult tasks he faced--and the music, which limited his budget (especially The Fixx song which limited his other options; a desire to use a Ramones song fell through, although Thomas Dolby came through with a great deal at the last second). He also talks about the choice to film on Super 16, the locations, "girling" up the script (which he wrote right out of college), a few of the personal touches he injected (like an annoying answering machine message and his relationship with germs), some of his influences (The Changling is mentioned more than once), working with the cast (Dee Wallace's new age vibe is discussed on both tracks), giving a shout-out to the Patrick Dempsey film Loverboy, his realization that they were making something special ("Dude, this is like so art!" he recalls saying to cinematographer Eliot Rockett after one shot), a funny story with the newscast scene, his propensity for zoom shots, his intent to not cast too many extras [it was "tonally important (Sam) be by herself"] and how e-bay was his best friend in helping with props (including some Coke cups and a Volvo). "I like to think of it more as a period piece than a homage," he notes, adding that he strove for a TV-movie vibe with much of the set-up: "There's something charming about the way they're shot."

Two behind-the-scenes featurettes are also included. In The House of the Devil (13:34) is raw footage of the cast and crew and work--outside of a few comments to us from script supervisor Dustin Bricker, we're left on our own. It's a tad disappointing--I'd love to hear from more people involved--but it still provides a few cool glimpses, especially of some of the key effects sequences.
Up next is Behind The House of the Devil (4:40), a more polished and produced effort that talks to the cast and crew. Actor AJ Bowen notes how crucial the '80s setting was ("It was the last period of time where you could still have a communication breakdown"), while West shares his hopes for the project: "I hope that people see it as something different, and I do hope it gives people the creeps. I hope it's a movie that if you're watching in a theater, if you're watching it at home, it makes you lock the doors or it makes you double-check the closets, because that's something I remember growing up and feeling really passionate about, that a movie was able to make me actually physically have to do things to make myself more comfortable."
I wish this segment was longer--but you still get a few solid sound bytes, and given the wealth of information in the audio commentaries I can't complain too much. You also get three deleted scenes (totaling 6:36, in non-anamorphic, time-stamped video), none of which are necessary (two of them present different sides of the same phone conversation, and a mix of the two might have helped introduce the Megan character a little better than the film does, but that's minor). The film's theatrical trailer and trailers for other Dark Sky releases are also included.

Final Thoughts:

If you find The House of the Devil boring, I shudder to think what fright films entertain you. This is exactly what I want from my horror. In a genre drowning in Saws and slashers, it's refreshing that someone cares enough to craft a chiller that doesn't go for a requisite bloody shock every five minutes. This House is built on a solid foundation, a slow-burn film that gives us a likeable character thrust into a situation that slowly gets out of hand--making the payoff all the more powerful. This film is drowning in mood and atmosphere, resulting in a truly unnerving experience--something all the more impressive considering we know where it's going. With great performances and style to spare--including a look and feel that takes us back to the early '80s--this pulse-pounder comes very Highly Recommended.
---
C O N T E N T

---
V I D E O

---
A U D I O

---
E X T R A S

---
R E P L A Y

---
A D V I C E
Highly Recommended
---
E - M A I L
this review to a friend
Sponsored Links
Sponsored Links