SpongeBob SquarePants: Truth or Square
List Price: $16.99 [Buy now and save at Amazon]
---
Nickelodeon and Paramount have released SpongeBob SquarePants: Truth or Square, headlining the recent one-hour special that was commissioned for the toon's 10th anniversary. Having already reviewed the Season Six Volume 1 set that included the "uncut" Truth or Square, I'll port over my thoughts from that review, along with new material on the four additional shorts that are included as bonuses here. A purchase for SpongeBob SquarePants: Truth or Square is really going to depend on your dedication to growing your SpongeBob DVD library.
Anchoring this short disc collection is the Truth or Square special, with its celebrity cut-aways and Patchy the Pirate links left intact (apparently, when Truth or Square is shown on television, that live-action material is left out). Split into two subplots, the animated portions of Truth or Square detail SpongeBob's efforts to help Mr. Krabs celebrate the "Eleventy Seventh" year of The Krusty Krab restaurant. Remembering back to all the special moments SpongeBob had at the Krab, SpongeBob decorates the joint as only he can (with pink toilet paper and ketchup and mustard), all the while unaware that Plankton plans on using the confusion of the ceremony to steal the Krabby Patty formula. Disaster strikes, though, when SpongeBob and the gang become locked in the cold storage room, and have to make their way through the labyrinth of tunnels that lie below The Krusty Krab (I smell a video game set-up). The live-action portion of the show, starring Doug Kenny (the voice of SpongeBob) as Patchy the Pirate, centers around his efforts to finally meet his idol: SpongeBob. Showing up at the Nickelodeon Studios in Burbank, Patchy is shuffled off to the Casting Office, where, since no one is around, he starts flipping through an available Rolodex, calling up celebrities and inviting them to his chintzy SpongeBob TV special. He manages to snag a few in the basement Green Room, but eventually, once it becomes clear that SpongeBob is going to be a no-show, Patchy sets out to find him once again.
Truth or Square is a strange mix of some truly memorable animated SpongeBob moments interrupted unfortunately by the largely unfunny Patchy the Pirate segments. I've written before that I've always enjoyed Patchy, but the "spot the celebrity" nature of his bits here, along with a scarcity of funny lines (not nearly enough of his parrot, who usually had the best lines in these live-action links), makes his appearance here a bit of an annoyance, particularly when the animated SpongeBob segments are so strong. Only one of the "celebrities" actually made me laugh (naturally, Triumph, the Insult Comic Dog, who says the script will be fine...to poop on), while the rest offered little reason for being there...although a hearty "amen" was in order when Patchy incredulously asks, "Who?" when genetically unfunny Tina Fey i.d.s herself (Robin Williams allows himself to be embarrassed even more when he states to the camera, "This is where careers come to die!" Exactly, Robin). Luckily, the toon itself is great, with priceless looks at SpongeBob as a fetus (complete with umbilical cord) enjoying his first Krabby Patty; SpongeBob choosing from an array of snap-on faces in his medicine cabinet; Patrick the security guard aggressively knocking out Squidward's teeth; a beautifully-designed vintage black-and-white TV commercial parody with Mr. Krabs enthusiastically telling the viewing audience to "get yourself a case of Krabby Patties," and a very funny, very sweet take-off on old black-and-white cartoons, with SpongeBob and everyone else bouncing on their legs for no reason. All of those amusing moments in Truth or Square, along with the Charlie Brown Christmas ending, make one forget the patchy Patchy segments in Truth or Square.
The remaining four Season Six toons - Porous Pockets, Choir Boys, Krusty Krushers, and The Card - are amusing but not top-flight SpongeBobs, an element that makes a purchase of SpongeBob SquarePants: Truth or Square further problematic. Porous Pockets finds SpongeBob and Patrick discovering a huge pearl (they hear the giant clam shrieking as it tries to cough it out)...which naturally they think is a volleyball. A pawnbroker pays SpongeBob truck-loads of money for it, but with SpongeBob's questionable intelligence, his capricious spending lands him with a mansion and no friends. I was hoping that Porous Pockets would provide some good gags about SpongeBob spending like a drunken sailor, but outside of the hilarious caricature they draw of SpongeBob-as-millionaire (he looks like one of those effete, rich snobs from 1930s Hollywood films, with an Adolphe Menjou mustache and pursed, bee-stung lips above his cravat and sartorial finery), Porous Pockets can't seem to summon up too much energy for what should have been a natural set-up. Choir Boys is a little stronger. Squidward, ready for his try-out as the lead soloist for the Bikini Bottom Men's Choir, is waylaid throughout his journey by who else, SpongeBob. Constructed similarly to a typical Looney Tunes short (some of the visuals reminded me of The Roadrunner and Coyote), Choir Boys simplistic plot - Squidward needs to get somewhere, SpongeBob is tying him up, and then the twist: SpongeBob beats him at his own game by snagging the lead soloist position - allows the toon to stay trim and focused, with plenty of good gags (I particularly liked the beatific SpongeBob, carried aloft by supplicant jellyfish and then dropped down like a porous Jesus, hitting a perfect high note in front of the adoring choir). Krusty Krushers finds Patrick and SpongeBob being tricked into wrestling two huge monsters so Mr. Krabs can pocket the one million dollar prize money. Reminiscent of countless wrestling toons (Bugs Bunny still owns the subgenre), some funny sight gags (SpongeBob and Patrick turned into a paddle ball), and the boys general air of enjoying their sadistic punishment, counter the absence of any story or build. And finally, The Card takes its time getting going, setting up Patrick as the owner of a rare, valuable Mermaid Man and Barnacle Boy trading card that SpongeBob desperately wants. Once Patrick promises SpongeBob the card...but only after he's kept it for the day...does the toon start to work, with Patrick's various abuses to the card quite funny (scraping his dirty grill was probably the best).
The DVD:

The Video:
As usual with these SpongeBob SquarePants DVDs, the full screen, 1.33:1 video transfers for the shorts look terrific, with incredibly bright colors and a super-sharp picture. There were no big compression issues to speak of (although interlacing is noticeable from time to time). Edge enhancement is acceptable. One big exception, though - and it's a noticeable, avoidable mistake. Truth or Square, the first SpongeBob short to be presented in 1.78:1 widescreen...features a non-anamorphic transfer here. Kids won't care, but adults will see how noticeably softer the image is, and how the colors tend to wash out a bit. Bad form there.
The Audio:
The Dolby Digital English 2.0 stereo audio track is perfectly acceptable here, with appropriately loud recording levels and some discreet directionality. All dialogue is cleanly and crisply rendered. Close-captions are available.
The Extras:
There's a short Behind the Scenes of the SpongeBob Opening featurette that looks at the creation of the new stop-motion opening credits that accompany Truth or Square. Paul Tibbett and other crew members discuss the thinking behind designing this new opening (which...will or won't be used in the future? Nobody says). It's an interesting feature, but a little short. Also included are some karaoke-mode songs: F.U.N., Campfire Song, and We've Got Scurvy.
Final Thoughts:
I can't see much point in recommending a purchase for SpongeBob SquarePants: Truth or Square when the "uncut" version of Truth or Square has already been released on the first volume of the Sixth Season release (and those live-action bits that are left out of the regular cable airings aren't worth a separate purchase anyway), and when you know the four bonus cartoons here will show up on the Sixth Series' second volume release. A rental, therefore, for SpongeBob SquarePants: Truth or Square...only if you really need to see a few minutes Robin Williams and Tina Fey (and god help you if you do).
---
Paul Mavis is an internationally published film and television historian, a member of the Online Film Critics Society, and the author of The Espionage Filmography.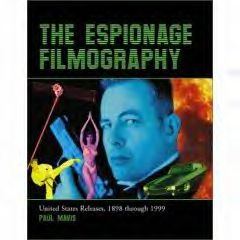 Sponsored Links
Sponsored Links