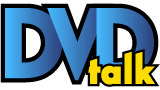 Image // R // March 9, 2010
List Price: $27.98 [Buy now and save at Amazon]
---
There are a lot of problems with the Saw franchise, but even if you've hated all of them, you've got to admit that the original's got a solid hook: two guys wake up, chained to pipes on opposite ends of the room, tasked with escape or death. Lots of people drew comparisons between Saw and David Fincher's Seven, another psychological serial killer game with several gruesome deaths and a shocking twist ending. Nine Dead is a third thriller cut from extremely similar cloth, but it continues the decline in quality. If Saw was a B-movie version of Seven, then Nine Dead is the C-grade version of Saw.



The game: nine people wake up in a room, each handcuffed to a pole a few feet apart, arranged in a half-circle. A masked man with a deep voice enters the room, and informs them that their goal is to figure out what connects them and why they're being held captive. If they get it right before everyone's dead, the man will let them go and turn himself in, but until then, there's a timer on the wall counting down in 10 minute increments, and every time the clock reaches zero, the man will return to the room and kill one person if they haven't figured out the answer. The captives include a panicked District Attorney's office lawyer (Melissa Joan Hart), a strip club owner (Chip Bent), a police officer (William Lee Scott), an insurance claims officer (James C. Victor), a priest (Marc Macaulay), a thief (Edrick Browne), a pedophile (Lawrence Turner), a bartender (John Cates), and an older Asian woman who doesn't speak any English (Lucille Soong), all of whom almost immediately get at each other's throats.



Personally, I enjoy the Saw series. I've always thought it was the modern Friday the 13th, with the filmmakers adding some extra effort to try and pull a fast one on the audience. The sequels are less meticulous, but the original Saw paces itself, carefully doling out flashbacks and new ideas at a steady rate in order to keep the audience engaged. Thanks to the uncooperative attitude of its characters, Nine Dead is not nearly as effective, with arguments that run themselves in circles and poorly-motivated decisions to keep things secret from the other prisoners, although the central mystery is always kind of interesting. The original Saw also cost in the neighborhood of a million dollars. IMDb says that Nine Dead cost three times as much, but it doesn't use the money as effectively, rarely venturing outside of the room, which becomes visually boring after awhile.



Most people probably know Hart from "Clarissa Explains It All" and "Sabrina the Teenage Witch", myself included. I was interested to see her in a horror movie -- scratch that, interested to see her in a movie at all, since she's been out of the public eye for a few years. Sadly, Nine Dead reveals her limitations. If her goal was to shake her tween-friendly image, then Nine Dead succeeds (blood and profanity are only the tip of the iceberg; by the end, it's weirdly funny that Hart's mother produced this movie. I imagine her sending it to Hart with a note that said "Read this and thought of you!"), but she's strictly mediocre in the role, as is pretty much everyone in the room. Other than Hart, the most notable performances are Scott, Bent, and Victor. Scott's delivery of all of his lines is a combination of annoyed and whiny, which gets old fast. Bent is actually the most charismatic and entertaining of the group, but his line delivery is a bit stilted. Thus, Victor probably turns in the best performance in the movie, but it's more competent than special.



Unlike Saw, Nine Dead's ending doesn't pack much of a punch. It's nice that the film doesn't lean particularly hard on the big reveal, but it tries to add in an open-ended little turn at the last second that's more unintentionally hilarious and confusing than satisfying. Clearly the producers aren't just gunning for Saw's demographic, they're also gunning for the same kind of franchise potential. My love of sequels is well-documented, and to pick up where this film leaves off would be mighty bizarre, but all things considered, I don't think I see a Ten Dead just around the corner.



The DVD

I might have had some faint praise for Nine Dead's cover art, which depicts nine dead bodies lying in the shape of the number nine, except the bodies are all unidentified strangers. Skinny guy with glasses? Two young women? No priest? Nine white people? Nope, these are definitely not the movie's victims. I wonder who they are -- could this art have been prepared for some other movie? The back cover is bland and filled with empty space, and the disc is the same story. No insert is included.



The Video and Audio

Nine Dead's 2.35:1 anamorphic widescreen presentation starts out looking really great, with a ton of fine detail, but upon closer inspection, I saw light posterization and artifacts hiding in the movie's persistent blacks, and some of the movie doesn't look nearly as sharp as the opening. Better than some of the other transfers I've seen lately, but still far from perfect.



As for the Dolby Digital 5.1 audio, there really isn't enough going on in Nine Dead to say much about it. The dialogue is clear, and 70% of Nine Dead is characters standing around, yelling at each other. In particular, the score should've added a little something, but Danny Lux's music is pretty underwhelming. English and Spanish subtitles are included, and there are two mistakes. I forget what the second one was, but the first one is pretty hilarious: at one point, when a gun is fired, the subtitles just say "bang!".



The Extras

The film's original theatrical trailer, which really amps up the Saw look, is the only extra.



Conclusion

Aside from the reasonably intriguing premise and the gawk factor of Hart in the lead role, there's really nothing interesting about Nine Dead. It's far from the worst direct-to-video horror movie I've seen, but I promise, if you skip it, you won't be missing out.
---
Please check out my other DVDTalk DVD, Blu-ray and theatrical reviews and/or follow me on Twitter.
Sponsored Links
Sponsored Links