Barbara Stanwyck Show: Volume Two, The
List Price: $29.98 [Buy now and save at Amazon]
---
A real treat for fans of vintage television and especially Barbara Stanwyck, and a welcome commitment to the buyers of the first volume of episodes. That fabulous organization, The Archive of American Television, in association with E1 Entertainment, has released The Barbara Stanwyck Show: Volume Two, which features the final 12 episodes of her single-season NBC anthology series from 1960. As usual with these slick Archive releases, the set is beautifully designed with a few nice extras to sweeten the deal (although one extra they advertised wasn't included on my set...). Keep this kind of "long-lost" vintage TV coming, Archive!
I didn't review the first volume of episodes from The Barbara Stanwyck Show (colleague Jamie S. Rich's review can be accessed here), but I've reviewed two other Archive of American Television releases (you can read my Studio One Anthology review here, and my What Makes Sammy Run? review here), and I recently wrote about a terrific boxed set of lesser-known Stanwyck films (please click here for those reviews), so I was more than primed for this group of shows. As anyone who has read a few of my vintage TV reviews can tell you, I can't get enough of these forgotten, finely-crafted shows, written, produced, directed and performed by decades-long professionals who passionately worked at their crafts (something that just can't be said for today's television, sadly), and certainly my estimation for legendary Stanwyck continues to grow the more I see her. Having only the last 12 episodes to evaluate the entire series is at best, guesswork, but judging just these offerings, it seems a shame that The Barbara Stanwyck Show couldn't have continued for at least another season or two; most of the episodes here are quite entertaining little 25-minute "B" movies, covering a wide range of genres, from thrillers (particularly well-represented here), to melodrama, to the supernatural, and even westerns, and they hold up quite well next to similar drama anthologies from that time period. The talent behind the cameras is first-rate, the look of the show is expensive and glossy for the time, while Miss Stanwyck seems unusually relaxed and skilled here, due no doubt to not only her famed professionalism but also for her desire to get her first starring television gig "right."
Unfortunately by 1960, the morphing of the traditional drama anthology format into the more popular Western genre (something Stanwyck probably recognized when years earlier, she requested--but didn't get--a Western series for her first lead TV outing), and a poor time-slot on the NBC 1960 schedule, probably doomed the series right off the bat. Coming on too late at 10:30pm, Miss Stanwyck's lead-ins were weak, including Riverboat, Tales of Wells Fargo (finally beat into submission the previous two seasons by CBS' Father Knows Best), and two minor one-offs, Klondike and Dante, while her lead-out was downright insulting considering her stature within the industry: Jackpot Bowling with Milton Berle (who had been forced into this demeaning turn by contract-holder NBC). The Barbara Stanwyck Show may not have had formidable direct competition at 10:30pm (the last half-hour of Adventures in Paradise on ABC, and CBS' mildly popular Hennessey with Jackie Cooper), but ABC still opened and closed the night with hits Cheyenne and Peter Gunn, while CBS had monster sitcom successes The Danny Thomas Show (12th for the year in the Nielsen's) and newcomer The Andy Griffith Show (a whopping 4th in its debut) on right before The Barbara Stanwyck Show, so viewers were reluctant to switch over to NBC to catch another drama anthology, regardless of who was headlining it. Even an Emmy win in March, 1961 for Miss Stanwyck for Outstanding Performance by an Actress in a Series (Lead) couldn't save this expensive-to-produce show, nor did anything come of the proposed series starring Stanwyck as reoccurring character Josephine Little, the Hong Kong importer/exporter, nor the four unsuccessful pilots not starring Miss Stanwyck that were trotted out during The Barbara Stanwyck Show's run. Producer Louis Edelman and star Barbara Stanwyck would fair much better four years later with the iconic Western, The Big Valley (please read my review here). Let's look very briefly at the episodes featured here in The Barbara Stanwyck Show: Volume Two.
DISC ONE
The Golden Acres
Just a short word about those celebrated intros and closing comments by Miss Stanwyck. Apparently from what I've read, Miss Stanwyck wasn't exactly pleased with having to perform them--particularly in full evening clothes and gloves (or props, like an umbrella)--but did them because of the obvious nature of anthology format: the series was sold on her name, so she would have to intro the show and prep the viewer for what was to come in some way. I know reviewer Jamie S. Rich found her stiff and awkward during these opening and closing moments, as have other writers, but I must say I found her quite dishy and charming. I suppose some might call her dramatic, posed silhouette and steady gaze before she speaks "camp" (a word always used incorrectly), but she does rather well with the light, witty end remarks after the show, coming off like a female Alfred Hitchcock joshing his own show (no doubt the inspiration for her sometimes cutting, ironic comments on the episodes we've just watched). If you're a star of Miss Stanwyck's stature, there's nothing wrong with flaunting it a little, even in her reserved manner (Stanwyck was the genetic opposite of a diva on the set), so I found the intros and end comments classy and fun.

As for The Golden Acres, it's a beautifully drawn melodrama...until they blow the finish for the customary happy ending. Stanwyck plays a 1905 gal from the "wrong side of the tracks" whose ruthless ambition includes cowing her two doltish brothers (marvelous John McGiver and Robert Emhardt in some inspired casting), swindling a farmer out of some valuable land, and blackmailing an attorney (Jason Robards, Sr.) to forge her father's non-existent will. Written by Jerome Gruskin and directed by frequent The Barbara Stanwyck Show director, Jacques Tourneur (who could excel in any genre, as evidenced by I Walked With a Zombie, Berlin Express, Out of the Past, The Flame and the Arrow, Night of the Demon), The Golden Acres plays like a nasty little Douglas Sirk melodrama, complete with heroines with troubled pasts and current sins, and small town double-dealings, until "the happy ending" required by most network series kicks in and Miss Stanwyck sees the errors of her ways. If you stop the episode just before this happens, when Kent Smith destroys her façade and walks out on her for the last time, you have a minor chamber piece classic. Miss Stanwyck was born to play this kind of hard schemer, and she's terrific, as always: nasty, outwardly cold...and terribly hurt inside.

Adventure on Happiness Street
An interesting failure...but only interesting because this particular version of the episode has been edited. Miss Stanwyck continues with her portrayal of Hong Kong importer/exporter Josephine Little, who becomes involved with American doctor Lew Ayres. Ayres runs a badly-underfunded clinic at Macao, and when he borrows money from a wealthy businessman to buy some black-market American drugs, Stanwyck's efforts to facilitate the deal lead them to shady gambler Robert Culp. Adventure on Happiness Street certainly wouldn't win any awards for originality with its overly-familiar storyline about smugglers and drug-running, but at least it gets its then-current Chi-Com criticism right. Where this version of Adventure on Happiness Street becomes interesting is when it ends: right when good-guy idealist Lew Ayres shuts his clinic doors and refuses any more free medical treatment for the old, sick Chinese refugees who see the American as symbolic of his land--a land of hope. As Stanwyck looks hopelessly out the door of the closed, defeated clinic, with the American flag hanging limply behind her, Adventure on Happiness Street just...ends. No resolution. No hope. American idealism is crushed by the realities of pitiless Communist ideology. Unfortunately, that atypical ending, I suspect, is not how the episode probably ended. Three full minutes are missing from this episode (with a run time of 22 minutes and change, as opposed to all the other ones here that run over 25 minutes), and considering how all the stories wind up with happy endings in The Barbara Stanwyck Show, I can't imagine this one didn't resolve itself along similar lines, as well. Too bad. Culp is perfect as the shifty gambler (I love his dying words: "Oh, boy," in deadpan hispster-ese), but I can't see how this premise would have made a successful regular series for Miss Stanwyck.

High Tension
A remarkable little suspenser. Directed by Robert Florey from a script by Michael Plant, High Tension finds Miss Stanwyck traveling by local bus with her son...who appears to be drugged. Raising the suspicions of passenger Moll Seabright (Nora Marlowe) as to the condition of the child, Miss Stanwyck reveals how she really feels about her adoptive son when the bus careens off the road during a thunderstorm, with a high tension wire sparking on the top of the bus, turning it into a deadly trap. This is solid, clean suspense, believably built and firmly executed, with some rather notable action scenes, including the horrific electrocution deaths of two passengers (pretty wild for 1961). Richard Hale has a terrific turn as an old codger trying to get those wires off the bus, while Harry Jackson meets a nasty end when he just won't stop flirting with Miss Stanwyck. Twists all through the story, which is one of the best in this collection.

Sign of the Zodiac
Another intense little thriller/mystery, with flashes of inspiration by director Jacques Tourneur and scripter A. I. Bezzerides. Sister-in-law Helene Terry (Joan Blondell) cajoles Miss Stanwyck into seeing a boardwalk fortune teller, Dan Duryea. At first skeptical of his craft and then downright frightened, she bolts from the reading...but why is she so frightened of him? Or of what he has to say about her husband's death? Duryea, one of my all-time favorite supporting players, is his usual smooth self here, while Miss Stanwyck gets a work-out going from suspicious, to eerily calm, to total psychosis. If this had been expanded to feature length, with some judicious additions of shocking violence, it could have ranked up there with all those Whatever Happened to Baby Jane? inspirations. Director Tourneur, no stranger to creating a menacing, palpable supernatural atmosphere, has one unsettling moment-perhaps Mr. Hitchcock saw this teleplay?-where Miss Stanwyck looks up at a night sky filled with screaming sea gulls and asks, "Ssh! Ssh! They're saying something. What? What are they saying?" Brilliant.

The Choice
We're on a roll here with intriguing chillers. Miss Stanwyck is the owner of the remote Highway Inn, a bar located up the California coast. Arriving from her other place of business, she dismisses the bartender for the night, even though a stranger still remains, finishing his last drink. While going over the books, she hears on the radio that a homicidal maniac has escaped from the prison hospital, and that he's distinguishable by a tatoo on his wrist. Guess who has a tatoo? That's right, stranger Robert Horton does...and he's acting very odd towards Miss Stanwyck. But just when she thinks she's in control of the situation, another night traveler arrives, James Best...and he has a scar as well.... Director Jacques Tourneur effortlessly turns up the suspense in this beautifully clean, linear nail-biter (from Marian and Francis Cockrell's script), keeping the action confined to the bar and the back rooms as Miss Stanwyck becomes trapped by her own indecision as to who is the killer. Effective twist-ending. And I'm just asking, but did director Stanley Kubrick (and maybe Stephen King, as well) perchance see this teleplay way back in 1961, storing away that scene where Miss Stanwyck is locked in a room as someone flails away at the door with an axe? Just asking....

Frightened Doll
Hard-edged bar chippie Stanwyck dyes her hair black, slaps on the makeup and goes to Wallace Ford's bar every night, hoping to find something new in her life-which is exactly what happens when gangster Harold J. Stone picks her up one night and takes her back to his hotel room. A startling event puts Miss Stanwyck in possession of the gangster's $100,000, and soon she's dreaming of returning home to show her family that she didn't turn out too bad in life. A sticky melodrama written by A. I. Bezzerides, far too familiar and predictable to be of much use, with Miss Stanwyck uncharacteristically broad in the beginning as the gilt-edged Madge. Ford walks away with the acting honors here, going from dispassionate bartender to a committed friend with some good advice for Miss Stanwyck. A disappointment.

DISC TWO

Yanqui Go Home
Mining engineer Dana Andrews perilously leaves his wife, Miss Stanwyck, in danger as he waits until the last moment to leave a revolution-torn Latin American country. As they flee the rebels, a group of militants take their car and kidnap them, but they soon learn that the leader, Rudolph Acosta, has other motives for their trip. Fluid direction by David Lowell Rich helps smooth over some of the creakiness of A. I. Bezzerides' script. We get Andrews' and Stanwyck's backstories in herky-jerky drips and drabs, inbetween the tepid action scenes, creating a lackluster feel to this backlot adventure. Not very convincing once we know Andrews' secret.

Little Big Mouth
Miss Stanwyck plays Nellie Bly, American girl reporter, who finds a story in "acting" Indian agent, Buddy Ebsen. Dr. Mark Caroll wants to set up a hospital for the Kiowa-Arapaho reservation, but he's besieged by crooked tradesmen and hostile Indians who mistrust the Whites. Grating episode in the series, not helped by Judy Strangis' character, Little Big Mouth (it's not her fault; it's the writing). Saccharine and faux-topical, this supposed examination of scandal involving the treatment of Indians on their reservations quickly degenerates into a standard misunderstood father/courageous little daughter drama that leaves Miss Stanwyck with very little to do. A misfire.

Assassin
Perhaps a bit too broad. A. I. Bezzerides has crafted a black comedy about embezzler Stanwyck who, when caught, is forced by her boss, Leon Ames, to sell her cabin to reimburse the company. Deciding to end it all, right before she jumps off a ravine, the hit man hired to kill her, Peter Falk, interrupts her, and thus begins the farce of everyone admitting that they all had a stake in seeing Miss Stanwyck die. Directed by David Lowell Rich, Assassins is played far too literally for it to be amusing, particularly since everyone involved seems to think (incorrectly) that black comedy should be played with maximum mugging (Falk, of course, is the worst one for that). Miss Stanwyck seems uncomfortable with the role, while Leon Ames does well with his fast talking patter. Interesting, but not entirely successful.

The Hitch-Hiker
Creaky melodrama saved by can't-miss courtroom antics. Attorney Stanwyck has a bantering relationship with her husband Joseph Cotton. But their marriage is strained when Stanwyck agrees to represent Elana Eden in her custody battle against town bigwig Amy Douglas. Scripter Margaret Fitts' storyline about a tug-of-war over a baby between a rich grandmother and a poor servant girl is as old as the hills, but there's no denying that once Stanwyck gets into the judge's chambers and makes like Perry Mason, the courtroom drama structure works (as it always does). Not at all memorable (particularly the preaching about blind justice, which sounds ridiculously naive), but passable.

Big Jake
A potential pilot for a television series featuring Andy Devine as Detective Sergeant Big Jake Sloan, Big Jake doesn't feature Miss Stanwyck, but it is a competent, entertaining policer with Devine tracking down the truth about a reformed safecracker who confesses to a crime he didn't commit. It's always a guess as to why a network passes on a pilot, but I found Big Jake interesting (sort of an early Cannon, with an atypical detective), and Devine good, as always, in the role. Solid, if uninspired, direction by Stuart Rosenberg, with some intriguing (but isolated) location work.

A Man's Game
Very amusing Western spoof. Written by David Harmon and Albert Beich, with smart direction by Lewis Allen, Miss Stanwyck narrates this Western goof, telling her story of how she became the West's first female sheriff. The narration is ironic and lively (I love Stanwyck pointing out the cliches of the genre as director Allen helpfully freeze-frames the action as an additional gag), and Stanwyck looks good in her black gunfighter outfit. But of course, the ending blows it by undercutting its proto-feminist storyline by having Stanwyck brought to heel by her boyfriend Charles Drake. Still, a fun, knowing comment on the TV cowboy craze that was still dominating the Big Three's schedules in 1961.

The DVDs:

The Video:
The original materials for The Barbara Stanwyck Show: Volume Two transfer vary from episode to episode, but even the best examples here show signs of wear and tear, including lots of scratches and dirt and print damage. Apparently, Adventures on Happiness Street was originally thought lost, so this VHS-quality print is understandable. Not at the level of say, a Paramount vintage TV release, but acceptable to collectors who understand how rare these recordings truly are.

The Audio:
The Dolby Digital English mono audio release approximates the original network broadcast, and it's adequate for the job, with hiss noticeable but not at all distracting and a strong recording level. English subtitles are available.

The Extras:
As an "extra" bonus feature, the unaired episode, Hong Kong and Little Joe is included here. It appears to be the introductory pilot for the proposed Stanwyck series where she plays Hong Kong importer/exporter adventuress Josephine Little, and while it moves well enough, like an unpretentious little potboiler, Miss Stanwyck still doesn't seem comfortable in the role. There is a 16-page glossy reference guide included that details the episodes here, as well as featuring articles on Stanwyck and producer Edelman, but nowhere could I find a clip of Stanwyck's Emmy acceptance speech, as was advertised on the disc holder-bad form, that.

Final Thoughts:
Solid vintage TV drama anthology, and a big plus for Barbara Stanwyck fans who want to see their favorite in some forgotten, unseen roles. Buyers who ponied up for the first volume of The Barbara Stanwyck Show will no doubt want to complete their collection of this one-season series. The episodes vary in quality, no doubt, but enough of them are winners (particularly the suspensers High Tension, Sign of the Zodiac, The Choice, and melodrama The Golden Acres) to recommend this Archive of American Television release of The Barbara Stanwyck Show: Volume Two.
---
Paul Mavis is an internationally published film and television historian, a member of the Online Film Critics Society, and the author of The Espionage Filmography.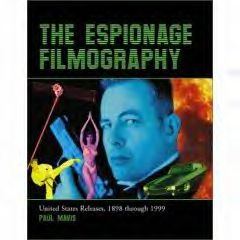 ---
C O N T E N T

---
V I D E O

---
A U D I O

---
E X T R A S

---
R E P L A Y

---
A D V I C E
Recommended
---
E - M A I L
this review to a friend
Sponsored Links
Sponsored Links