American Pickers: The Complete Season One
Other // PG // June 1, 2010
List Price: $29.95 [Buy now and save at Amazon]
---
"We'll buy anything we think we can make a buck on."
No subsidies. No bailouts. And no IRS (if they do it right). Huckstering capitalism merged with patriotic road trip, History's American Pickers: The Complete Season One comes to DVD on a bare-bones three-disc, 12-episode set for fans of the new hit cable reality series. Mixing The Antiques Roadshow with equal parts Easy Rider and Used Cars, American Pickers features antiquity alchemists Mike Wolfe and Frank Fritz who turn rust into gold by digging through junk-crammed barns, basements, and out-buildings found on forgotten byways of rapidly disappearing rural America, finding buried treasure in what most people would consider flukey trash. A solid piece of Americana television with some surprisingly heartfelt--and heartbreaking--central themes.
LeClaire, Iowa--quintessential small-town America. At "picker" Mike Wolfe's shop, Antique Archeology, the gregarious, enthusiastic Wolfe is running down the last few promising leads on his chalkboard before his phlegmatic, slightly acerbic partner, Frank Fritz, joins him for another road trip in search of muddy, rusty, rotten riches. Clued into potential new leads by their office worker, Danielle, who scours the internet and works the phones finding out-of-the-way places that might yield some junk-for-cash, Mike and Frank head out in their van and start combing the two-lane blacktops, gravel roads and mud ruts to find farms and houses that exhibit the tell-tale signs of a hoarder or a collector: unpainted houses, rotted-out junkers parked in front, and dilapidated buildings out back (preferably with a door bursting open from the piles of debris inside), and no signs of upper-middle-class lifestyles, like new cars or satellite dishes. The funkier, the more run-down, the more care-worn, the better, because that's where Frank and Mike are going to uncover someone with a collection--dear to them, it's always important to remember--of old cans, or motorcycles, or porcelain signs, or movie posters (I'm going to faint) that are gathering dust and just waiting to see the light of day again, when Mike and Frank can clean them up and quickly turn them over to an antique dealer or set designer or private collector, for a tidy, fast-buck profit.
I've been a steady viewer of American Pickers since it debuted last January, and re-watching these twelve episodes in a row (the best way to let a TV series sink in), I was struck again at how poignant it can be at times, even though it's designed to be faux-rowdy and spunky with its cheery hosts, its fast editing, and its sometimes obviously calculated moments (that whole "Danielle is getting chewed out for screwing up" bit in episode 3 was fairly lame). An excellent example of how the reality genre of television can morph to include unexpected bits of dramatic narrative within its boundaries, American Pickers gets out of the fusty halls and auditoriums of The Antiques Roadshow, away from the crude simplicity of that brilliant show (people line up with their junk and the antiques evaluators either make or break their day with a judgment), and goes right to the source of all that debris: the hoarder's lair. There's something undeniably exciting about American Pickers when Mike and Frank spot a potential "honey hole," as they call it, and cajole a reluctant collector to pry open those big barn doors so they can crawl over treacherous piles of debris in search of something valued and forgotten. That appeal of American Pickers is basic and highly entertaining. These hustlers are on a quest (and on their own dime), and their adventures will either make or break their bank account that week.
Episode by episode, we're let into the secrets and practices of "picking," which of course utilizes a language all its own, from "windshield time" (literally staring out the van window, trying to discern the tell-tale signs of a hoarder or collector from the look of their house or property), to "NFS" ("not for sale," usually from a collector not ready to part with his memories), to my favorite, "freestyling" (literally hitting the road with no direction or leads, trying to scrounge up a cold call sale). And we learn the tricks of the trade (always let the seller throw out the first price; bundle items together for a higher final price to break down a reluctant seller). As to the series' excitement level (after all, we're talking old bottles and cans and lamps and motorcycle parts), both Mike and Frank obviously have a deep appreciation for the items they find (they love old, original stuff, made with real craftsmanship and a sense of intrinsic worth, as opposed to today's anonymous reproduction knockoffs), so that sense of exhilaration when they find a cool old bicycle or funky advertising sign, is palpable to the audience. Importantly, however, American Pickers is always careful to stress that these aren't dilettantes in search of expanding their personal collections. As Frank puts it succinctly in the third episode, "We don't want to open a museum--this stuff is inventory to us." They love this stuff; it's art to them. But they need the dough. And that directness of purpose gives American Pickers a bracing bit of honesty to it.
All of that surface appeal is fine, and it's worked out well in the speedy, stripped-down production here. But I find American Pickers' underlying concerns about the nature of collecting (and hoarding), and issues of personal freedom (versus government intervention and the changing social landscape) as expressed through the collecting and buying and selling of these items, much more fascinating. As the opening narration of the intro says each week, the people that Mike and Frank meet are a different breed; you just wouldn't meet them out on an average city street unless you physically went to where they live and basically barge in on them (as Mike and Frank do with great respect and tact). But unlike traveling salesmen tied to a franchise or satellite branch of a big corporation, Mike and Frank are free, man. They're "freestyling," as they say. They go where they want, when they want, in search of a buck they hustled up themselves. And they ain't beholden to nobody for it, either. You can't get more American in spirit and deed than that: two entrepreneurs roaming the wide-open countryside on their own nickel, looking to make two more nickels, by doing something they love.
And in their own quirky ways, the old farmers and motorcycle riders and attorneys and WWII vets and widows and truck drivers Mike and Frank meet in their travels are just as defiantly individual--or "genetically American," if you will--as the two scroungers who come to meet them. These are American citizens who occupy their own spaces, their own worlds, without most of the accoutrements that a media-driven approximation of a society deems necessary for them to have to been "successful." They don't live in a city; they live in the empty sticks (have you noticed most TV commercials take place in urban settings now? No more rural depictions, or even suburbs). They're isolated. Their manner of dress is working class and unpretentious. They may have made some money at some time, but their vast collections of items were usually acquired bit by bit over decades with whatever spending money that might have been left over--only a few of them seem "rich," and the boys, with some trepidation, point those collectors out right away. And most importantly, they're the kind of reticent, modest Americans--the fastest declining subgroup in my Census--that wouldn't be caught dead on Oprah spilling their guts and whining about their problems, let alone allowing themselves to quite rightfully crow about their collections to someone holding a camera. In this first season, so many of the people caught here seem so sweet and shy about what they've accomplished (it's amazing how many times Frank and Mike meet someone who hasn't let anybody see their stuff in decades). These are the silent, anonymous Americans who fought our wars and put food on our tables for generations (lots of farmers and vets here), and who are now pretty much ignored at the bottom of the national tower of Babel that focuses on the few who complain the most. What's marvelous about American Pickers is that we get to see these forgotten dreamers and doers in their own worlds as seen through their collections, and that vision can be sometimes funny, or poignant, or inspirational, or heartbreaking. Certainly Leland, from the first episode, Big Bear, is a memorable cold call, an American veteran of WWII who's physically frail but still sharp as a tack when it comes to what his stuff is worth (Paul in episode four, Invisible Pump, is equally sharp for an old codger), as is Dean from the same episode, who embodies that once-treasured, now-dead American stereotype of the smart-assed, wise farmer loaded with enough horse sense for ten city slickers, who admits collecting can start off as a hobby and quickly become a "disease" (I love his amused hoot at Mike's piddling offer for one item).
There's a tenderness to the way these obsessive hoarders view their collectibles--especially when they're at the breaking point of finally parting with them--that's not sentimental as much as it is almost elemental: their collections are themselves. In the appropriately named Pickaway County in Central Ohio, there's a man who collects entire buildings from his childhood, including the old-fashioned general store he used to frequent as a boy, and his delight is obvious as he tells the stories of each of them to Mike and Frank. In the opening episode, we meet "Bear," a big sonofagun who used to ride motorcycles and drive around with a 6-foot grizzly in his truck, who laughs about his adventures while proving reluctant to part with the torn-up bike parts that litter his property. Bobby Twig in West Maryland tells a touching story of how he wanted to keep his auto parts yard for muscle cars a going concern to run with his brother...the one who never came back from Vietnam. Further down the road a piece is his friend Galen, who presents a rather intimidating presence, until he speaks with such respect for his deceased father who collected the cars that are jammed down in his basement. And perhaps most interesting of them all is Ronald and his underground lair in Pennsylvania. Wearing a gnomish purple hooded sweatshirt and a bright smile, Ronald leads the boys through his elaborate system of rickety tunnels, warning them not to take a wrong turn at the occasional bottomless pit, before he leads them into his absolutely charming little living space, reminiscent of Pee Wee's playhouse with its bold, primary colors and strings of intricately woven Christmas lights, where we discover that there's a lot more to Ronald than meets the eye: an intriguingly off-center artist with a good eye for design and color in his collecting and building (including his one room made out of 6,000 intricately-stacked 2 x 4s, all boldly colored). All of these collectors and hoarders present a first impression that fits in with all our preconceived notions about eccentrics and loners and oddballs, but once we get to hear them talk, and see how they become like enthusiastic little boys with their treasures, their quirkiness becomes quite endearing.
Some of the dynamics behind American Pickers can initially appear problematic, particularly if one looks at them through the veil of the looney quasi-socialist group-think that seems to be infecting America's soul today. I would imagine some viewers might get upset at seeing Mike and Frank score a potential (and that's key) 5 large for Leland's $75 saddle, or selling Judy's (in episode 3) $75 advertising sign from her fabulous warehouse/home for a profit of $1175. However, Mike and Frank aren't good Samaritans looking to make money for their sellers out of the goodness of their hearts (even though we often see them insisting on paying more for an item than what is named by a seller); they're businessmen. They need to make a buck just like anyone else. And they're dealing with adults who aren't naïve about what they have in their collections. Just as importantly, they don't always come out on top, either, such as when crafty Lyle in episode 4 takes them for a rusty, worthless "parts" motorcycle, and Frank's romanticized enthusiasm over one of Galen's cars prompts him to overbid its worth. It shouldn't be a crime--legally or morally--for Frank and Mike to make a profit on what they do; that used to be a given in the common American psyche, a goal and a way of doing business that was celebrated and venerated in this culture (and one that helped make this country exceptional), but one that now seems perilously close to being "fundamentally changed," as the saying goes now, for the worse.
Indeed, I found that strain of "America changing for the worse" quite strong throughout American Pickers, with the theme of government encroachment on not only small businesses but individual's private property and possessions, a direct link to encroaching on personal freedoms. The way these collectors live just doesn't fit in with the Muzak of today's fidgety, picky, buttinski local governments who every day resemble more and more the all-seeing, all-doing, all-crushing federal government. In episode six, John in Pennsylvania decided to close his fascinating curio museum rather than jump through the ridiculous hoops set up by his local government (his barbed wire collection was amazing--who knew?). In Florida, Jeff the attorney just skates by the local ordinances concerning property standards only because he, as a lawyer, can fight back. Vic in Louisiana (episode 8) isn't so lucky; he's been told that the local government will forcibly trespass on his property and remove his possessions if he doesn't build a fence to block the view (he lives out in the middle of nowhere). Same, too, for big Galen, whose property is festooned with anti-government signs made into a makeshift fence as per his local government's intrusive laws. All throughout the various episodes of American Pickers, we're presented with Americans who just want to live their lives in peace while collecting whatever it is that makes them happy, even if they have to do so out in the middle of the sticks. Sadly, that fierce sense of American independence coupled with the desire to be left the hell alone to do your own thing seems in danger today no matter how far back into the woods you go.
The DVDs:
The Video:
One step backwards. I thought History was starting to get with it, releasing widescreen stuff with 16 x 9 enhancement. Not for American Pickers; it's a flat 1.78:1 letterboxed image, and although it's fairly sharp and nicely valued, it doesn't have the clarity of an enhanced release.
The Audio:
The Dolby Digital English 2.0 stereo mix for American Pickers is adequate for the job, with reasonable directional effects and a solid recording level. Close-captions work for a change on this History release.
The Extras:
No extras for American Pickers: too bad, some behind-the-scenes glimpses of the crew in action would have been cool.
Final Thoughts:
American Pickers, the terrific new reality series from History, is particularly good family viewing, giving young adults an understanding for hard work, self-reliant hustling, an appreciation for the old and the used and the forgotten things in this world, as well as for the quirky, independent citizen-individuals that populate this great land of ours, and most importantly, a hankering for some good old-fashioned American capitalism, in its purest form. I highly recommend American Pickers.
---
Paul Mavis is an internationally published film and television historian, a member of the Online Film Critics Society, and the author of The Espionage Filmography.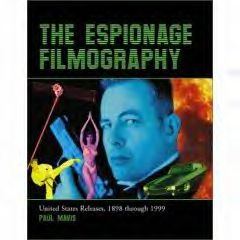 ---
C O N T E N T

---
V I D E O

---
A U D I O

---
E X T R A S

---
R E P L A Y

---
A D V I C E
Highly Recommended
---
E - M A I L
this review to a friend
Sponsored Links
Sponsored Links