Three Stooges Collection - Volume Eight: 1955-1959, The
List Price: $24.96 [Buy now and save at Amazon]
---
Hey, you have to give Sony credit: conventional wisdom would suggest not too many people - not even some devout Stooge fans - would be interested in these final compromised shorts featuring sick Shemp, "fake" Shemp...and Joe Besser (oy vey). But Sony went the distance with The Three Stooges Collection - Volume Eight: 1955-1959, featuring the final 32 theatrically-released short subjects from the team's last hurried, cut-rate years at Columbia. Owners of the previous Stooges discs will see a lot that looks mighty familiar here, what with the endless recycling of old footage and the endlessly reworked plotlines and gags, but there's no denying that for Stooge devotees, these last shorts are historically important in understanding the team...even if they aren't particularly funny (at least in comparison to earlier efforts). All the shorts are presented in their correct matted widescreen ratios, enhanced for 16 x 9 (kudos to Sony for that move, too), and I only noticed one possibly suspicious edit (I wrote "possibly," so see below). But don't expect any extras.
I've written a couple of times before about the Stooges, so I won't get into another defense of their art (as if they need another one). Stooge fans have heard this all before, but newcomers might be interested in a little background on the team during this last stage of their theatrical short subject career. Although most Stooge enthusiasts would probably peg the Curly Howard shorts from the 1930s as the team at their most horrifically violent, surrealistic best, the return of original Stooge Shemp Howard in 1946 (after hard-living, unhappy Curly had suffered a serious decline in his health, eventually leading to a debilitating stroke) saw the comedy team initially leap back into fine form (even though it's considered sacrilege in some circles to admit it, I always preferred Shemp to Curly). There's something so...hideously ugly about Shemp's face, that it becomes this beautiful comedic tool of its own, preternaturally fitting in with the team's aesthetic: violent ugliness is funny. Still, it was a tenure marked by a reluctance to return on Shemp's part (he had been doing well as a solo act in short subjects and supporting turns in major studio films), as well as increasingly debilitating production cut-backs by Columbia, so by the time the first short in our DVD collection came along, 1955's Fling in the Ring, these factors, along with an obviously aging, slower tempo to the performers' antics, were indications that the team's best years were clearly behind them. According to the sources I've read, Columbia began to downsize their short subject division in 1952 (the explosion of television was crippling the studios' bottom line), so Stooges shorts were cheapened to keep costs in line with the diminishing returns. Production schedules were hacked to the bone (eventually down to two days for a completely original short, and only one day for new pick-up material for the recycled shorts), and the increased use of stock footage from earlier Stooges shorts necessarily compromised their art (please read DVDTalk reviewer Stuart Galbraith IV's excellent reviews on the previous Stooges sets for some fascinating background on this time period, including the artistic consequences of director/producer Jules White taking over for producer Hugh McCollum and director Edward Bernds). From 1955 to 1958, the average Stooge fan walking into a theater had a better-than-average chance of seeing a short that was either a reworking of a previous title, or one that consisted largely of footage from earlier (and funnier) Stooge material.
When Shemp died unexpectedly of a sudden heart attack at the end of 1955, the team was thrown for another loop, but hard-working, practical Moe Howard (the brains and business leader behind the team) refused to give in to the inevitable and hired a new Stooge: Joe Besser, a veteran of vaudeville and burlesque who had developed a unique comic persona of "the little sissy," showcased famously on The Abbott & Costello Show television series where he played comedic foil Stinky, the snotty little sissy, to utter perfection (Moe had originally wanted veteran performer - and soon-to-be Stooge - Joe DeRita, who was unavailable at this time). Besser appeared in the last sixteen shorts of the Stooges 190 short subject career, before Columbia pulled the plug on their short subject unit in 1958. Besser, devoted to his ill wife, declined to join the Stooges on their subsequent road trips, and missed out on the Stooges' massive revival in the late 1950s due to endless television re-runs (they became, with Joe DeRita filling in as the third Stooge, one of the highest paid live acts of the 1960s, while scoring with kiddie matinee audiences with their feature-length films). Opinions about Besser's stint with the Stooges have always been sharply divided, with his supporters vastly outnumbered by his detractors (I can remember kind of liking him...but if it was between a Joe Besser Stooges and Gilligan, I switched the channel). I haven't seen these Besser shorts since probably the 70s, when the Stooges were a staple of afternoon syndication. Watching him now, he's undeniably funny when he's actually doing his "sissy" fits of frustration and silly violence, and I can see how very little children might find him amusing since that's who his character embodies: a willful little boy who cowers and slaps his hands at the bullies that torment him. But as an adult, watching Besser in these Stooges shorts, his act quickly becomes one-note, and worse, he isn't particularly funny when he's not playing the sissy (maybe that's why he worked brilliantly on the old Abbott & Costello Show: he's on, does his short bit, and he's off). When either standing still or reacting to Moe and Larry, or when he's delivering dialogue, he's leaden and inherently unfunny, even with that constant, unconvincing smile pasted to his face (Curly and Shemp could be hysterical just standing there, doing nothing). You can hear him trying to fill in dead air with unconvincing ad libs, but watch his eyes when he's not slapping Moe with his wrists and whining, "Not so haaaaaaaard!": they're lifeless. He just isn't the natural comedian that his predecessors were, and as such, combined with Moe and Larry's inevitable slowing down, as well as the heavy déjà vu feel of these rehashed shorts (not helped by director Jules White's at-times straight-ahead, unimaginative, cheap staging), Besser adds very little during his short tenure with the Stooges, and fails to halt the decline of the team. Let's look very briefly at each of the shorts offered here in The Three Stooges Collection - Volume Eight: 1955-1959 set (I've included the plot synopses found on the disc's slimcases, along with my thoughts on the shorts).
DISC ONE

Fling in the Ring

"In this remake of Fright Night, the Stooges find themselves at odds with gangster Big Mike and his henchmen, but Shemp manages to save Moe and Larry with mothballs and an axe." There's only a couple of minutes of new material setting up this stock rehash...none of it particularly funny. The exploding cigars bit at the beginning, the only new major gag, is pretty juvenile and unconnected, and the short just...ends, without resolution (which happens quite often with these stock footage shorts). Worse, the masking for widescreen of the old Academy ratio film cuts off some sight gags, like Shemp's head when he's upside down in the boxing corner, and in the water bucket.

Of Cash and Hash

"Lefty Loomis and Angel wreak mayhem on the Stooges in this remake of 1948's Shivering Sherlocks. After being caught in the middle of a shootout, Larry, Moe and Shemp wind up at Lefty's hideout." I would imagine Of Cash and Hash is of interest to Stooge fans primarily because it features the last new footage of longtime Stooge beauty, Christine McIntyre (she gets a nice final shot, laughing uncertainly at Shemp who gets to nibble and kiss her one last time). Otherwise, the best material is the stuff taken from the earlier short...and that's most of the running time here. Always great to see the Stooges in the kitchen, wreaking havoc, although the hot-water-through-the-chicken gag was as old as the hills by this point.

Gypped in the Penthouse

"When spurned lovers Larry and Shemp run into each other at the Woman Haters Club 87, they trade sob stories and find that their romantic woes have one thing in common: Moe." One of the better original Shemp shorts from this later period (even though they're not working as a team within the story), with some solid gags (I love Shemp imitating Liberace and then destroying the piano), some funny one-offs ("Old Panther...distilled yesterday"), and some heated violence, with Larry scoring some particularly good shots at Moe before donkey-kicking him in the ass. The final sequence with Shemp getting his clothes wet and changing into P.J.s in a married woman's room, is straight out of burlesque, and it will be used again and again in this set's shorts. Shemp has a good moment breaking the 4th wall, wondering how he can get around the censors by digging out his ring from pretty Jean Wiles' décolletage, and watch Moe clunk his head for real on the night table when he's spectacularly flipped over off a bed.
Bedlam in Paradise

"A remake of 1948's Heavenly Daze, in which Shemp must reform Moe and Larry in order to get into heaven. As if that task isn't hard enough, Satan's now tempting Shemp to switch sides!" Not much new is added that tops all the old footage added to the running time (how can anything top that pen sticking right in Larry's forehead...for real?). That's probably the most frustrating thing about watching these old recycled shorts: they only serve to make you want to watch the original ones. Grotesque sound effect when Shemp swallows the broken thermometer with Larry palpitating the glass in his stomach, and remember: the train departing Cloud 49 stops at the Big Dipper, Mars, Venus, Earth, and Cucamonga.

Stone Age Romeos

"Explorers Larry, Moe and Shemp are enlisted by a museum curator to document the existence of cavemen in this remake of 1948's I'm a Monkey's Uncle." Some decent gags in the opening linking material, including Shemp pulling a big string out of Larry's ear ("Hey, your brains came out!"), and Moe trying to cut off Larry's tongue with huge scissors. Larry does one of his best, "I can't see! I can't see!...I got my eyes closed!" line readings, but the linkage to the old footage is feebly constructed (they're filming the cavemen...wouldn't the cavemen see them there with their cameras?). Still, some of that stuff from I'm a Monkey's Uncle is priceless - I adore that hilarious duck.
Wham-Bam-Slam!

"Larry's friend Claude A. Quacker is enlisted to help Shemp overcome his bad case of nerves in this remake of 1948's Pardon My Clutch." It is apparent that Shemp looks quite ill here, with a puffy, enlarged face and a listless manner...which is fascinating (and a little morbid) to watch against the older footage in Pardon My Clutch, where he acts sick and looks fine. The new footage adds nothing to the earlier fun. Remember: Larry likes his short stack with syrup, ketchup, mustard, and one pound of butter.

Hot Ice

"The Stooges get into a gem of a predicament with the infamous jewel thief Dapper Dan in this remake of 1948's Crime On Their Hands, which also incorporates stock footage from Hot Scots (1948)." One of my favorite Shemp shorts is cut up to little effect, with an strange-looking older Shemp throwing off the earlier footage (there's a remarkably sloppy and utterly fascinating straight jump cut between the young and old Shemp that is painfully noticeable). Watching that gorilla breathe on Shemp and then throw around the dummies just made me want to watch the original short. Of course, this recycled remake just...ends, without a satisfying wrap-up.
Blunder Boys

"This spoof of the Dragnet television series finds detectives Larry, Moe and Shemp cross-dressing to catch The Eel, a cigar-smoking burglar who dresses in women's clothes." This is the last Shemp short that contains all-original footage, as well as being the last one Shemp saw released prior to his sudden death. And thankfully, it's one of the best of his later efforts. A particular favorite of mine when I was a kid, it plays very well today, from the silly Dragnet cut-ins ("I'm Halliday. "I'm Terriday. I'm St. Patrick's Day!" - watch how impish Shemp looks), to the almost surreal construction of the loose plot. It's also a treat for me to see this properly masked for widescreen (those Dragnet shots are beautifully spare and linear in widescreen, with the trio perfectly matched for widescreen). Shemp's double-talk is a highlight: "A jerk with a quirk may do the work. Or a turk with a dirk may stick a clerk. Good descoc?" "Very periphrastic." "Viva! Viva! Viva!), with Larry's final, "Vi-va!" never failing to slay me. And speaking of Larry, how the hell did they get around the censors with Larry shooting us the bird? Wonderfully strange; too bad the later Jules White shorts weren't more loose and weird like this one.

Husbands Beware

"As in 1947's Brideless Groom, voice teacher Shemp once again finds himself fending off gold digging women who want to marry him for his money, and Moe and Larry marry Shemp's sisters." As with many of these composite shorts, the new material plays weakly against the older, stronger stock footage (although I did like Larry's ad-lib, "Do I look like Davy Crockett?" as he holds a turkey on his head), while the "join" between the old and the new is built on the slightest of plot points. Here, Moe merely says, "We've got to give a music lesson," and that's the excuse to intro the stock material - it doesn't flow together at all. But I suppose it's still worthwhile to hear Emil Sitka say, "Hold hands, you lovebirds."

Creeps

"1949's The Ghost Talks has an afterlife in this remake, in which Sir Peeping Tom returns to spar with Larry, Moe and Shemp, who are triplets intent on hearing a scary bedtime story." There's no doubt that the boys dressed like bratty babies is good for a solid laugh (Moe screams, "Killings and murders I want!" for the subject of his bedtime story). But as baby Larry prophetically says at the end, "That's not a good story...we want a better one!" he's right on the money. All Creeps does is make The Ghost Talks look even better. And Red the Skeleton is my favorite talking skeleton in movie history: "Catch!"
Flagpole Jitters

"A variation of 1949's Hokus Pokus. This time Larry, Moe and Shemp inadvertently foil a bank robber involving The Great Svengarlic while Mary attempts an insurance scam." Clearly whoever wrote that synopsis didn't watch Hokus Pokus: Mary's actually is paralyzed in this remake. A great Shemp short is illogically cut up for this incomprehensible entry, but at least we get Shemp doing his single finest fancy footwork tough-guy routine: "I'll shoot one that way! Whoa, boy!"

DISC TWO

For Crimin' Out Loud

"Detectives Moe, Larry and Shemp attempt to solve a crime involving The Phantom Gang and Nikko in this remake of 1949's Who Done It? This was the last short Shemp made before he dies in November 1955." Sad to watch. This is the last footage shot of Shemp Howard, who would die 19 days later after the one day of production for For Crimin' Out Loud. Unfortunately, it's apparent that something is off with Shemp, whose timing is terrible during his one or two gags here. Watch him wait for Moe to grab him (he's clearly unfocused), his face a blank as he tries to get Moe's hand on his head. It's a heartbreaking final shot for such a gifted comedian. You'd be better off watching the original.

Rumpus in the Harem

"This remake of 1949's Malice in the Palace was the first of four films shot after Shemp's death. A double was used in the new footage, in which the Stooges once again encounter the Emire of Shmow." I've often wondered if theatergoers back in 1956 were aware of the trickery going on to disguise Shemp's disappearance. Watching it knowing the background, Rumpus in the Harem's new footage has an empty feel to it that's rather remarkable. Of course the doubling by Joe Palma looks crude to us today. As for the older footage, it's great to see Shemp and Moe getting extended screen time focused just on their faces for comedic effect during the infamous cat/dog café scene. They're terrific together.
Hot Stuff

"The Stooges return to Anemia in the second short shot after Shemp's death, a remake of 1949's Fuelin' Around which features Shemp in previously shot footage." Other than a good new bit with Moe hitting on a WAC and getting his hand stapled for his trouble (he pulls them out with his teeth), the linking material here is weak, with Moe having to deliver lines like, "We've got to find Shemp," to cover the bad doubling (Joe Palma is clearly visible in one scene).

Scheming Schemers

"The pie's the limit when plumbers Moe, Larry and Shemp try to thwart art thieves in this remake of 1949's Vagabond Loafers. Things go from bad to worse when they try to retrieve a valuable ring from a drain." This short is three times removed from original material, considering Vagabond Loafers was already a remake of A Plumbing We Will Go, and the final pie fight here is lifted from Half-Wits Holiday. What's even the point of watching this hodgepodge of footage, except to see, briefly, Dudley Dickerson, one of Hollywood's funniest supporting players from this period, bulge his eyes and exclaim, "This house has sure gone crazy!" (something we still repeat around my house)?

Commotion on the Ocean

"This remake of 1949's Dunked in the Deep also features stock footage from 1948's Crime On Their Hands along with new footage of Larry and Moe - and of course, Bortch - on the high seas." Borrowing footage from two older shorts, this last Shemp-less short has a final, fitting shot of Shemp, his face splattered in mud. Other than that, you have the standard, "What happened to Shemp?" lines, as well as a pretty good version of the "eating a fake fish" bit that was done umpteenth times, with all sorts of variations, in past shorts. Joe's coming up....
Hoofs and Goofs

"Straight from the horse's mouth: the Stooges' sister Birdie has been dead for over a year but when Larry, Moe and Joe hear her voice coming out of a horse, they bring her home, of course!" Watch Moe during the new opening that has the Stooges singing, "Hello!" to the audience. He's uncharacteristically not ready, looking off camera and clearing his throat while Joe and Larry bat. It's a remarkably real, humanizing moment for an actor we always associate with some of the cruelest acts ever committed to film. Was he thinking and wondering how this new team would work out? As for Joe Besser's debut, it's an inauspicious one; frankly the horse upstages him, with simplistic gags that seem straight out of a Francis the Talking Mule film. As for his sissy bit, it's funny...for a minute or two. But it gets old fast (as opposed to Curly and Shemp, who still kill today). A pretty stiff work from Jules White. Sloppy doubling (you can see "fake" Moe clear as day) and worse overdubbing for everyone, not just the horse.

Muscle Up a Little Closer

"When Joe's fiancé Tiny discovers her engagement ring has been stolen, the Stooges' number one suspect is jewel thief Elmo Drake. They're no match for tough-guy Drake until Tiny throws her weight around." Explain to me what's the point of Moe's and Larry's new sophisticated haircuts (supposedly recommended to them by Besser)? How can Moe be a troglodyte if he doesn't look like one? How can Larry be "Porcupine" if his frizzy hair is slicked back? Those haircuts were part of their iconic look; why would anyone think it was more funny to eliminate them? Why don't we just shave off the Little Tramp's moustache, and take in his pants? Besser gets off a couple of funny lines ("Good for you! Good for you, gum stealer!"), but when he tries to do Curly, throwing himself on the floor, it's terrible to watch.

A Merry Mix-Up

"Triplets Moe, Larry and Joe have three long-lost brothers who just happen to live in the same town and who just happen to show up where their wives are supposed to be meeting them." A lot of effort for very few laughs. The set-ups for the double and triple exposures are complicated for this kind of cheap short, but someone forgot that it's not just inherently funny to see the Stooges as triplets unless there are some jokes involved. Frank Sully actually walks away with the short with some priceless mugs when he's whomped over the head. It's a pity that the writers and Besser didn't take Joe out of his sissy 5-year-old character and made him more bitchy and snotty (Besser can sound that way with his rejoinders, but then he reverts back to that stupid smile) - it would have helped to modernize the team.
Space Ship Sappy

"Desperate for work, Larry, Moe and Joe joyfully answer an ad to work on a cruise. Unfortunately, the captain of the ship is heading for planet Sunev, which is inhabited by shapely women with bizarre mating habits." Lots of problems here. Joe simply can't do Curly; when imitating Curly's "human calculator" bit, he flubs it (he can't get the receipt out of his mouth smoothly). And his ad-libs actually work against the comedy: when Moe comes up with a horrible joke, "Grease your pan," which Joe naturally takes to mean put grease on his face, he responds, "I think this is silly." Oh, that helps make it funny! And what's with Larry's gross, insulting 4th wall-breaking plug for Columbia's upcoming The Eddie Duchin Story? The Stooges now function as shills for upcoming Columbia releases? Pretty sad fall for a team that used to embody outright hatred for authority. The cannibals girls are nice, though (women in Stooges shorts look like stacked Amazons next to the tiny Stooges).

Guns A Poppin!

"In this remake of 1945's Idiots Deluxe, Moe tries to get a little rest and relaxation at his cabin to calm his nerves, but he gets interrupted by a very noisy escaped bandit named Mad Bill Hookup." Joe's first recycled short...and infinitely the poorer one compared to the hilarious original. The widescreen masking blocks that amazing shot of the bear getting his tongue all the way down into that honey jar. The new material can't match up to the old.

Horsing Around

"In this sequel to 1957's Hoofs and Goofs, Birdie and her baby now live with the Stooges while she searches for Schnapps, her long-lost love. When the Stooges discover Schnapps is about to be destroyed, they try to rescue him." Whose bright idea was it to make a sequel to the horrible Hoofs and Goofs? Why are the Stooges reduced to second bananas to an unfunny talking horse? Hell, Larry and Moe's pantomime horse is funnier than Birdie. And I thought the whole "Birdie was a horse" story was a dream in the first film? And what kid wants to hear all that love mush talk at the end...from one horse to another? Truly an awful short.

DISC THREE
Rusty Romeos

"Larry's machine gun goes rat-a-tat-tack when he uses it to tack fabric to a couch in this outrageous remake of 1952's Corny Casanovas, which finds Moe, Larry and Joe all bewitched by a three-timing gold digger." Joe's "income tax" joke falls flat, but Larry's hair is done up in ribbons, so everything balances out. Some agreeably violent gags take our mind off the bad matching of old and new footage (Connie Cezon is noticeably heavier in the newer footage). Larry's pretty good with his fast footwork, while Moe gets to show his gross feet and toes. And nothing tops the flying tacks as Larry and Joe cat's-paw them out of Moe's rear.

Outer Space Jitters

"Earthlings Moe, Larry and Joe face off against a celestial leader, the Grand Zilch of Sunev, who will allow nothing to stand in his way of creating an army of zombie killers." Jesus, another shill for a Columbia feature film? Larry really had to plug Pal Joey? Kids will like this one with the scary-looking Dan Blocker (who looks like one of those "normal" pig people in that Twilight Zone episode) menacing the boys. Joe does well with his physical gags here, including stuffing his pants with gold bars.

Quiz Whizz

"When Joe wins a jackpot of $15,000, he decides to invest his money in smog bags and gets swindled out of his winnings. Moe is onto the crooks but they make every attempt to outsmart the Stooges one last time." That's Consolidated Fujiyama Smog Bags...filled with smog. Larry gets an almost-dirty joke by the censors when, dressed as a little kid, he gets killer babe Greta Thyssen to first kiss his cheek, and then his other cheek...and then he reaches into his back pocket as Moe almost faints. Larry's great in this one, screaming as a bratty kid, "I don't like toys! I like money! Yeah, folding money!" Fairly spiffy new entry with the Stooges always funny acting like little monsters.
Fifi Blows Her Top

"Joe may always have Paris, but he may not always have his love Fifi. At least not until she moves next door to the Stooges. She's now married to a jealous bully, but when Joe's at the door of opportunity, he knocks it down!" The slimcase notes don't mention that Fifi utilizes some scenes from Love At First Bite. The old "wet-clothes-and-P.J.s" burlesque story again, with Moe looking genuinely panicked with that gum in his ear and nose. Slow-moving and too familiar.

Pies and Guys

"In this remake of 1947's Half-Wits Holiday, Joe's attempts at becoming a gentleman are thwarted when he succumbs to the temptations surrounding him at a party filled with high society guests." Another second-generation short, because Half-Wits Holiday was reworked from Hoi Polloi. It's pretty sad to watch Joe trying to do Curly's classic bits and coming up woefully short in the laughs department. Hasn't the pie fight been shortened, too?

Sweet and Hot

"This one ain't over 'til the fat lady sings. Zatfig singer Tiny Landers is immensely talented but her stage fright is keeping success at bay. Hoping to cash in on her potential, talent agent Larry sends her to psychiatrist Moe to be cured." Is this the worst Stooges short ever? The one short from the team that rated an automatic channel switch when I was growing up: a musical with that disturbing woman, Muriel Landers. When she sings, Let's Fall in Love, what kid didn't feel oogy all over? And even worse is her torch song rendition of The Heat is On (No thanks, puberty - I'll pass). But even that could be forgiven had Landers' little-girl rendition of Three Blind Mice been eliminated: a more hateful piece of Stooge footage I can't think of. She's just...awful, and the Stooges look sheepish next to her, as if they knew.
Flying Saucer Daffy

"When Moe and Larry think Joe's photo of a paper plate is a flying saucer they enter it into a photo contest. After they land in jail for fraud, Joe sets out to find a real flying saucer, and has a close encounter of the alien kind." A fun idea that tapped into the then-current craze for all things saurcerish, writers Archie Gottler, Jerome S. Gottler, and Jack White blow it by making Joe a pathetic schmoe - Joe, or for that matter any Stooge, should never be the object of pity. The phone number the two alien babes give to Joe is pretty funny ("Bleep-Bluep-Blop"). That premise should have yielded more jokes and gags.

Oil's Well That Ends Well

"This partial retooling of 1939's Oily To Bed, Oily To Rise finds Joe taking over the role played by Curly in the previous incarnation. Miners Joe, Larry and Moe must dig up enough valuable metal to pay for their pa's operation - or else." Some familiar but okay gags involving milking a cow, and getting into a bunk bed make this acceptable but entirely unoriginal fare for Stooge fans. Joe just can't do Curly, and plugging him into former roles that we remember so well just makes us wish we were watching the original shorts. Notable only for being the very last Stooge short subject shot for Columbia; the Stooges were fired days later when the studio shut the doors on their short subject unit (they were the last studios producing them at the time).
Triple Crossed

"In this remake, Joe takes over the dual role of jealous lover and underwear salesman portrayed by Shemp in 1952's He Cooked His Goose. Larry reprises his role as the home wrecking pet shop owner." Other than the reprise of the great visual gag of Moe ingesting a string of Christmas tree lights, there's not much to recommend here...other than catching the original short. Joe has a funny moment when he admits how he bagged his turkey...he hit it with his car.

Sappy Bull Fighters

"The last Three Stooges short [to be released - come on, Sony copy writer] is a hilarious remake of 1942's What's the Matador? Joe has more to worry about than being charged by a bull - he's got his eye on a gorgeous blonde with a husband who will take no bull." How many different ways can you type, "Watch the original short"? Notable only for Greta Thyssen stripping down to her lingerie. And again, how many times can I type, "Joe's no Curly"?
The DVDs:
The Video:
All of the shorts included here on The Three Stooges Collection - Volume Eight: 1955-1959 are presented in their proper 1.85:1 matted widescreen format, with 16 x 9 enhancement. Grain is noticeable in most shorts, particularly when the older Academy ratio material shows up. The image is sharpish on the single-sided discs, while I spotted no compression issues. Contrast is valued correctly, while the gray scale, though varied from short to short, is pleasing. However...I did notice in Commotion on the Ocean, at 2:19, a fade-out to black, and fade-up, that seemed out of character with the editing of the rest of the shorts here. It looked new. Is footage missing there? I don't know; I'll leave that to the experts out there on the Stooges.
The Audio:
The split Dolby Digital English 2.0 English mono audio track is nicely balanced with a strong recording level, with hiss noticeable not at all distracting. Close-captions are available.
The Extras:
There are no extras for The Three Stooges Collection - Volume Eight: 1955-1959.
Final Thoughts:
A tough call. Of course, die-hard Stooge fans will buy this, no questions asked (and realistically, they're the majority of buyers here). Casual Stooge fans may decide against it because so many of the Shemps are recycled, while Joe Besser makes up the rest of the offerings here. But in the end, regardless of the jumbled footage and the lesser talents of Besser, there's enough here that's genuinely funny to rate The Three Stooges Collection - Volume Eight: 1955-1959 recommended.
---
Paul Mavis is an internationally published film and television historian, a member of the Online Film Critics Society, and the author of The Espionage Filmography.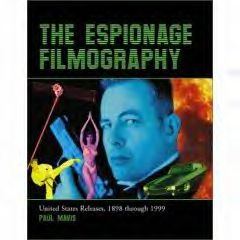 ---
C O N T E N T

---
V I D E O

---
A U D I O

---
E X T R A S

---
R E P L A Y

---
A D V I C E
Recommended
---
E - M A I L
this review to a friend
Sponsored Links
Sponsored Links