A big block of sometimes engaging, sometimes dodgy, mysteries. Acorn Media has gathered together four previously released volumes of episodes from the British ITV series, The Ruth Rendell Mysteries under the title (no mystery here): The Ruth Rendell Mysteries Collection, an 11-disc, 17 episode set that should prove interesting to followers of British mystery TV. Fans and collectors who already own the individually released volumes won't need to double-dip here; these are the exact same discs, right down to the artwork, as the earlier releases, with no additional extras. Newcomers to the series, however, may want to take a look at some of these unsettling psychological exercises. And just a small note: I'm in no way an expert on Ruth Rendell's work (I read a couple of her Wexford mysteries years and years ago), so I can't pass judgment on the fidelity of these adaptations to her actual works. I'll leave that to the Rendell scholars. I can only give you opinions on how the movies themselves work. Let's look very briefly at the films included here. I'll include the synopsis written on the back of the slimcases for purposes of brevity, but after that, beware the plot spoilers I may include in my discussions. You have been warned, you know....
SET 1, VOLUME 1

Master of the Moor

As a boy, Stephen Whalby took to his beloved moor to escape trouble at home. Trouble follows him there as an adult, however, when women's bodies begin turning up among the rocks, heather and bogs. Stephen finds no refuge when D.I. Manciple - a rude outsider, unwelcome in the village of Vangmoor - targets him as the prime suspect.

Adapted by Trevor Preston and directed by Marc Evans, 1994's Master of the Moor (from the series' seventh season) is a suitably off-putting Rendell exercise in her familiar preoccupations with haunted memories of old hates and loves and angers that rule our present. Giving the viewer an unsentimental look at a "picturesque" village in the rural moors of Britain (quite the opposite view of that cinematic, wholly unrealistic fantasy of Britain we Anglophiles have taken to heart from all the Ealing comedies and Midsomer Murders episodes we've obsessed over), Rendell's view of country life is stiflingly narrow. As Stephen, well played by Colin Firth, says, the moors are "very unforgiving," and nothing but pain, misunderstandings, frustrations, suspicions, and ultimately, serial death, permeate the little village. The outlook for finding happiness here is as bleak as the wind-swept, damp, colorless, cold moors. Relief from the harsh conditions outside can't be found indoors, because as Stephen's father "Dada" Whalby (the excellent Robert Urquhart) mournfully, angrily states, we all have the potential for "great violence" in us. We can't even find protection in the police: outsider Detective Inspector Manciple (George Costigan, in an effective performance), is strangely in-tune with the rage and isolation he knows lives in the serial killer; it seems it would take very little to turn Manciple into precisely what he is hunting. Painful memories of betrayal and rejection eat at people, until, as Dada states, "nothing good is left." And when someone like Stephen's wife, Lyn (the gorgeous Emma Croft) does try and find a little happiness outside of a loveless, sexless marriage, she discovers there's no escape from the murderous psychosis of a thoroughly damaged human being. It's a bleak world view, to be sure, well-brought out by director Evan's creepy pacing and the subdued performances in this longer, three-part mystery.
---
SET 1, VOLUME 2

Vanity Dies Hard

In the town of Salstead, the lives of two friends seem to take different trajectories. Wealthy, aging Alice Fielding finally finds happiness with a much-younger husband, while widowed Nesta Drage plunges near poverty when her business fails. After Nesta mysteriously disappears, Alice vows to find her - and discovers a tangled web of secrets among those she trusted most.

I wasn't nearly as impressed with season eight's Vanity Dies Hard, adapted by Julian Bond and directed by Alan Grint, as I was with the first offering in this set. It's not a particularly engaging mystery - for that matter, it's not much of a mystery, period. It's fairly easy to spot the killer here, and while normally I don't chalk up the ability to solve the crime as a yardstick for whether or not a mystery is successful (Columbo for one proved that unnecessary), Vanity Dies Hard is all too obvious. That may not have hindered the overall impact of the movie, had the dramatics and the expected Rendell "whydunit" (sexual jealousy between friends, predictable English class distinctions, a lover scorned) not been so familiar, as well. And frankly, the performances weren't up to snuff, either, for this too-long mystery, with Eleanor David wan and annoying (as usual), and Jane Gurnett abrasive and coarse. Thank god for comic legend Leslie Phillips...even though he's not given the chance to do one-tenth of what he could do here.
---
SET 1, VOLUME 3

The Secret House of Death

Susan Townsend, a newly divorced single mother, wants to remain aloof from the gossip so relished by the other women in her suburban neighborhood. But when she happens upon the bodies of two adulterous lovers, her quiet life vanishes, along with her safety.

A relatively straight-forward thriller from season nine of The Ruth Rendell Mysteries, directed by Jim Goddard from John Harvey's adaptation. Again, as with Vanity Dies Hard, the "why" of The Secret House of Death (a slightly ridiculous title that sounds like a Hammer film) isn't particularly novel - the "innocent" Susan is misdirected in her search for the killers, who are right in front of her - but this particular suspenser is at least tight and well-crafted (a pity we didn't get more insight into her life alone prior to meeting the killer). It may not be a particularly convincing outing - how many times have we seen that twist where a murder victim pays for what she might know about an illicit affair that involves her own spouse - nor very subtle, but it's executed to jolt the audience from time to time, which it succeeds in doing. Amanda Redman is quietly good as the standoffish author who finds herself falling for the murder victim's suffering husband, while the always good Owen Teale is believably straight/creepy as the suspicious husband. Good framing by director Goodard keeps the tension mounting, along with Walter McGill's increasingly claustrophobic cinematography.

The Double

Peter Milton becomes involved with Zoe, the apparent "double" of his girlfriend Lisa. Can Lisa survive the superstition predicting her death? And is Zoe really what she seems?

A rather silly exercise that I would hope came off better on the printed page. Directed by Mary McMurray from Piers Haggard's adaptation, The Double offers absolutely nothing new in the "evil twin" suspense department, while the quasi-supernatural aspects of the story (virgin Lisa experiencing the wild sex Peter is enjoying with her double, Zoe) are unconvincing and even laughable at times (the finale involving tree climbing and a séance is good for a titter). Character motivation is scant (why does Peter all-of-the-sudden become a masochist, with dominatrix Zoe grabbing a handful of his hair and shoving him around in the best Russ Meyer fashion?), while the denouement is utterly predictable. Jason Flemyng does the best he can with his inexplicable character, but while Camilla Power is sexy as the domineering, wild Zoe, she makes a hash out of virgin Lisa with an overplayed swipe at frigidity. Easily one of the lesser offerings in this set.
---
SET 2, VOLUME 1

Bribery & Corruption

Nicholas Hawthorne has always had a schoolboy crush on Emma, the lovely, free-spirited wife of the shipyard owner who employed his father. But after her murder, he learns that Emma's life was far more complicated - and troubled - than he had ever suspected.

A routine murder mystery entry here, this 1997 episode (from season ten), directed by Mike Vardy and adapted by Guy Meredith, runs twice as long as it should (we're way ahead of the story right from the beginning), but there are some strong performances that help smooth over the familiar ground. James D'Arcy is excellent as the questioning, conflicted youth Nicholas who remembers his love for the enticing Emma (Fiona Mollison), and who now pays for the lies the adults in his life have told (a reoccurring theme in Rendell's fiction, if these episodes stick close to her work). Paul Freeman has that familiar devilish glint in his eye, which works well for his character, but Tim Woodward as Nicholas' dad fails to register the proper amount of romantic angst and torment necessary to make the romantic triangle believable. Unfortunately, as with several of the adaptations here in The Ruth Rendell Mysteries Collection, what may have felt more layered and weighty in prose (or at least I hope they did), comes off as superficial and familiar in these abbreviated filmed versions.

Front Seat

Hugh Branksome never expected to return to the seaside town where his wife Cecily grew up. Retirement holds even more surprises, though, when Cecily enlists an old flame in a quixotic quest to solve a decades-old murder.

Annoying as hell, but strangely watchable, none-the-less. Directed by Sandy Johnson and adapted by Alex Ferguson, Front Seat is the first episode in this set that prompted me to get online and order up the story from my local library - not because the film was particularly good, but because I couldn't for the life of me figure out what it was all about. Is it a mystery? A marital drama? A knockabout farce? Who knows; maybe the answer is in the original short story. As it stands, Front Seat the episode can't seem to decide what tone to settle on, beginning in familiar Rendell territory with a character obsessed about the past (Cecily Branksome returns to her childhood home by the seaside, where she becomes involved in old memories, an old love, and an unsolved old murder). The atmosphere at first is playful with the old married couple bickering back and forth (Cecily orders her husband Hugh around like a chauffer), before it switches back to sad, sometimes strange melodrama (they reminisce about their young daughter dying as they debate the wisdom of returning to their past), before it turns comedic again (the delightful appearance of wily Richard Johnson as the thoroughly repugnant former suitor of Cecily's, Arnold Cottle), before it turns inexplicable bizarre (Cecily and Arnold viciously assaulting a cowed Hugh in the toilet before dancing around a burning seaside bench). What is this all in service of? Hell if I know, particularly since the so-called "mystery" at the center of the story turns out to be a shaggy dog story. Luckily, the performances are so broad and funny and grotesque that we can keep coming back to them. The strangest entry here in the collection, to be sure, and inexplicably entertaining.
---
SET 2, VOLUME 2

A Case of Coincidence

In the autumn of 1954, a surgeon's wife seems to have become the fifth victim of a serial killer who has stalked the Fenland region since spring. The police remain confounded, however, because they had their prime suspect under surveillance all the while.

Pitch-perfect police procedural/mystery, with convincing period detail and excellent performances. A season nine entry in The Ruth Rendell Mysteries series from 1996, A Case of Coincidence, directed by the always dependable Gavin Millar (Brideshead Revisited), A Case of Coincidence at first plays almost like a pastiche of Christie motifs and frameworks (certainly the period detail accentuates that feeling), but quickly the film moves into a more modern police procedural feel with a central character - Keith Barron as Inspector Masters - who has an intriguingly intelligent hard-edge to him that I found quite interesting (I wonder if he's a reoccurring Rendell character). As serial killers have long since become tiresome clichés and stereotypes in movies and TV, it's always gratifying to see an example like A Case of Coincidence which doesn't become over-broad by focusing on the surface ticks and perversions of the central villain. Here, story and character motivation dominate (in Geoffrey Case's adaptation), with Rendell's continued preoccupation with the destructive forces of memory and past events intruding on our present lives, front and center. One of the better entries here in The Ruth Rendell Mysteries Collection.

A Dark Blue Perfume

Through the charms of her new neighbor, newly widowed Liz rediscovers love. But could his mysterious past conceal a murder?

Another obvious but well-crafted little suspenser, A Dark Blue Perfume at least sports a nice turn by underrated Susannah York as Liz, a repressed housewife who comes alive when her stuffy, crotchety husband dies and she welcomes a new man into her life. Of course this new man has severe emotional problems, including serving an 8-year stint in jail for his wife's attempted murder, and that aspect of this mystery is fairly familiar. Despite director Sandy Johnson's attempts to manipulate us into possibly believing there's a supernatural element to the story (lots of ghostly, dreamy sequences where Mark thinks he's seeing the youthful ghost of his wife), most savvy viewers will have guessed what's up with Mark right off the bat (actor John Castle, whom I've always enjoyed, seems uninterested here). The twist ending should have packed more punch, but the director (working from Peter Ransley's adaptation), telegraphs it way too soon. Watchable, but disappointingly familiar.
---
SET 2, VOLUME 3

May & June

May Thrace's resentment of her sister June runs deep. Will the death of June's husband - and May's former beau - put it to rest? Or does May have a darker plot in mind?

First-rate psychological chiller which keeps you guessing until the end. Directed by James Cellan Jones from Ken Blakeson's adaptation, this 1997 episode from season 10 may trod familiar ground, but it does so expertly. A murderous sister involved in a love triangle with her kindly sister is certainly nothing new, but May and June is quite adept at keeping us on edge as to whether or not the supposedly disturbed May (well-played by Phoebe Nicholls in a deliberately unsympathetic turn) is disturbed enough to plot an elaborate revenge against her fiancé-stealing goody two-shoes sibling June. The direction by Jones is metronome-precise, and the film builds confidently to a satisfying conclusion - one which again shows a Rendell character acting out violently against a painful memory that simply will not go away or resolve itself.

The Orchard Walls

Sent by her mother to live in the country during the London blitz, 16-year-old Jenny senses unspoken secrets among her taciturn relatives - secrets that could turn deadly.

A beautifully elegiac memory mystery, directed by Gwennan Sage from Jacqueline Holborough's adaptation. A period piece set during the Blitz, The Orchid Walls gives us a decidedly different perspective on that oft-told story of a young child being sent off to the relative peace and quiet of rural England during WWII. Far from being welcomed into the house of her barely-known aunts and uncles, Jenny (Honeysuckle Weeks, a favorite of mine from Foyle's War, who's simply marvelous here) is treated with open hostility. She's not wanted there in a houseful of adults who are dealing with secretive, deadly passions exacerbated by the war. The screenplay is sensitive to include not just the murder mystery (which becomes secondary to Jenny's story, in the end), but also Jenny's perceptions of her surroundings and the strangers who now care for her, filtered through her own dreamy, awakening adolescence. Weeks perfectly gets this across (she's giggly one minute, quite naturally, and then pensive the next), never resorting to stock dramatics or overplaying the child. Beautifully shot and played, fitting perfectly within its running time and saying exactly what it wants to say with no waste, The Orchard Walls might be the best entry here in the collection.
---
SET 3, VOLUME 1

Going Wrong

As wild teenagers, Guy Curran and Leonora Chisholm believed that they were soulmates. When they meet again eight years later, Guy aims to reclaim her, no matter who stands in his way.

Stretched, perhaps, beyond the limits that the screenplay can hold, Going Wrong, none-the-less, is quite entertaining. Stylishly directed by Matthew Evans (from Julian Bond's adaptation), Going Wrong looks at a serious case of l'amour fou between a one-time drug dealer and now "art pimp" (he owns a "factory" that churns out kitschy paintings executed by young, starving art students), and an upper-class lovely who liked running in a wild crowd. Eight years later, she's shed her rebellious façade and is quickly settling into respectability (she's engaged to a university man), but Guy (amusingly played by James Callis) has never forgotten Leonora (sexy Josephine Butler), and he'll stop at nothing to get her back into his life. Nothing. Evans' direction keeps the visuals interesting, even though ultimately, the film is too long. It makes its point early on, and then expands on it (again, another meditation on the obsessiveness of memory, and an individual's inability to move forward, for Rendell), but it would have been equally effective as a one or two-parter; 2 and ½ hours is pushing it.
---
SET 3, VOLUME 2

Harm Done

Detective Chief Inspector Wexford faces growing public unrest over the release of a pedophile, an odd series of abductions, and the disappearance of a wealthy couple's daughter from her bedroom.

Fascinating in its separate elements, but somehow less a satisfying whole. If, like me, you watch the collection in the order the episodes are gathered and numbered, Harm Done is the first episode featuring Rendell's most famous creation, D.C.I. Wexford (although it's actually the last of the filmed Wexford adaptations). It's certainly arresting at times in its juggling of seeming unconnected story lines, but ultimately, it was difficult for me to connect with the Wexford character because I've never seen any of the other previous adaptations starring the usually entertaining George Baker. Normally, this wouldn't be a problem; the film should be able to stand on its own without prior exposure to the series. However, Harm Done shows Wexford undergoing a sea change in attitude towards his own behavior as a cop (and the implications of his duties as they affect others), so it's difficult to feel anything much more than a superficial involvement with that subplot if one hasn't seen the previous outings (particularly since it seems to be such a momentous realization on the character's part). Viewing order, then, would seem to be a factor. Other than that, individual scenes work quite well, here (except for the burn victim/kidnapper subplot that seems overly melodramatic at the end), with Rendell making some interesting comments on class distinctions (what else in England?). Baker has a few moments as Wexford, but he doesn't match up with the mental image I had of the detective when I read a few of the stories (too light on his feet, and too handsome, frankly), but there are times when he's showing off with those stagey blusters.

The Fallen Curtain

Abducted briefly as a boy, Richard Clayton cannot remember what happened during those few fateful hours. The mystery dogs him until he reaches the verge of manhood himself.

Riveting psychological suspenser, with a "mystery" that remains properly elusive. Ostensibly concerned with the aftereffects of child molestation, The Fallen Curtain may or may not be about that specific act itself. Its subject may be the most abstract treatment of Rendell's most reoccurring motif: the process of memories - bad memories - and how they can negatively affect our lives, without resolution. Directed by Matthew Evans (who helmed the stylish Going Wrong), from Douglas Livingstone's adaptation, The Fallen Curtain quite arrestingly moves back and forth between flashback and present day, as Richard (played equally well by brothers Max, aged 8, and Ben, aged 18), physically re-creates his own abduction as a little boy, slipping in an out of therapeutic role playing, and active kidnapper/abuser. While the climax would seem to indicate Richard suffered no actual molestation (thus setting up the neat little twist ending that makes us think Richard will suffer for his rash, foolhardy abduction of the boy), one wonders if his sudden realization at the end of the story is false, too. After all, the little boy he abducted remembered everything they did together - and he wasn't molested. Why didn't Richard remember his "innocent" trip with a stranger, if he wasn't molested, as well? Perhaps that's Richard's final denial of memory. A painfully sad little story, brilliantly executed and performed. Right up there with The Orchard Walls.
---
SET 3, VOLUME 3

The Lake of Darkness

When Martin Urban wins nearly £2 million in the lottery, he plans to give away some of it to people in need. His plans also include the lovely, mysterious Francesca, with whom he begins an affair. But neither philanthropy nor love comes easy.

Overplayed, and underdeveloped. It doesn't matter that the story, directed by Bruce MacDonald and adapted by Peter J. Hammond, owes more than a little to Patricia Highsmith's Strangers on a Train; we've had umpteen cinematic and television variations on that plot. But what does matter is that the two central characters are so poorly drawn out here. Martin (flatly played by Jerome Flynn), wants to give his money away, and wants to fall in love with Francesca (sexy Sadie Frost), but we never really know why. We can guess, because there seems to be tantalizing but vague clues all over the place pointing to his motivations, but most are just left there without elaboration. As for serial killer whacko Finn (unintentionally hilarious Cal Macaninch), he's so ridiculously overplayed that humor, not dread or suspense or fear, is dredged up by his turn. Predictable from the start, and entirely unconvincing - one of the worst entries here in the collection.

You Can't Be Too Careful

As a single woman, Della Galway values double-locked doors and a bolted gate. Security measures don't fit the lifestyle of her new flat mate, however, so Della takes extra precautions.

Nicely-turned suspenser, directed by one of the best directors for the series, Matthew Evans, and adapted by Ted Whitehead. The lead performance is key here: overplay and you have people laughing (as in The Lake of Darkness); underplay it and the story disappears. Luckily, Serena Evans is excellent as the paranoid, delusional Della, building her character believably to knife-wielding psychotic. Jane Hazlegrove as flat mate Rosamund is amusing as the fun-loving co-worker who has no idea what she's getting into when she bunks with Della. Director Evans has a knack for ratcheting up the suspense through claustrophobic framing and tight editing. A solid entry.
---
SET 4, VOLUME 1

Simisola

Dr. Raymond Akande, Wexford's Nigerian-born physician, asks the detective chief inspector to find his 22-year-old daughter, Melanie, who has mysteriously disappeared. During the investigation, Wexford and D.I. Burden discover the body of Annette Bystock strangled in her apartment. She was an advisor at the local job center and apparently the last person to have seen Melanie alive. Is there a connection between Melanie's disappearance and Annette's death?

I just can't seem to get into these D.C.I. Wexford films. Watching this second installment in the collection (out of air date order, but in collection order), I tried to put my finger on what it was that was bothering me about the adaptations. Perhaps it's the "whydunit" element of these Rendell adaptations that seem to overwhelm the Wexford films. In the bonus feature included on this disc, several experts on Rendell, as well as other mystery writers, mention that oftentimes in Rendell's plots, the mystery elements are secondary to the psychological profiling in the characters' development. And that's fine...in literary form. In fact, it's fine in cinematic form, as well, but not when the adaptations become overly talky and static, and when the political and sociological messages - oftentimes facile and one-sided - become overbearing. Unfortunately, that's how Simisola comes off (it's even worse in the final entry here, Road Rage). Directed by Jim Goddard and adapted by Alan Plater, Simisola looks at racism between white and blacks, as well as the exploitation of illegal immigrants - along with some weary asides from Wexford about the rich and poor - all of which would be fine if these little sociology lessons were wrapped up in a compelling, exciting storyline...which they're most decidedly not. This is dull, dreary filmmaking, more interested in lecturing its audience than entertaining them (and those lessons lack any sense of even-handedness, to boot).
---
SET 4, VOLUME 2

Road Rage

A young German tourist goes missing against the backdrop of protests by environmental activists over a highway bypass. Her body turns up in the woods, just as the turmoil between protestors and developers intensifies. With police resources stretched to the breaking point, the crisis becomes personal for Inspector Wexford. Terrorists intending to halt the highway construction take hostages - including Wexford's wife, Dora - to leverage their demands.

Ridiculous. Count me in the smallest minority, I would assume (apparently, these D.C.I. Wexford films were quite popular in England), but I don't see the appeal. More lecturing, more hand-wringing, a silly plot about tree-huggers and fascist loggers, a comic-book villain named "King of the Woods" (I kid you not), D.C.I. Wexford thrashing back and forth in bed, sweating and crying over his kidnapped wife....and none of it is believable. I'm not even sure Baker - a favorite of mine from films and shows like The Dam Busters and The Prisoner - is all that good as Wexford; if he's not standing there with a glum face, he's overacting by barking out complaints and political asides in merely an approximation of ornery, authoritative gruffness (and don't bother emailing - I know I'm alone on this one...). The story, adapted by Baker, no less, never jells between the missing German tourist and the tree-huggers protesting a highway overpass (the hippies got to the forest site by van...did they fly it over the tree-tops or did they drive on roads?), but I didn't expect it to come together, considering how the story always seems secondary to the psychological navel-gazing in these Wexford films. As for its messages, Road Rage is one of those films where it wants you to sympathize with environmental terrorists who almost cut off a logger's leg with hidden tree spikes, but then puts the real blame on rich people who covertly use and pervert environmental organizations so that they can keep their pretty views outside their mansions (the film never makes a comment on both the poor tree-huggers and the idle rich having exactly the same goal). There's an edge to the movie, a nervousness, an anxiety of purpose, that reeks of "message lecturing." For instance, there's an unintentionally funny scene with Detective Inspector Burden (that's not obvious), played with blinking peevishness by Christopher Ravenscroft, where he's given a tip about the eco-crimes by his wife, who used to be a teacher and who may have known one of the terrorists as a pupil. She begins the conversation by denigrating her husband's police duties and authority, then she stands there mooning over the teen schoolboy she remembers as sweet and intelligent and misunderstood, and then she attacks her husband again by telling him she never mentioned this boy before because she knew he wouldn't be interested...and all the while, Burden just stands there and takes this unwarranted abuse while pleading for her understanding (welcome to P.C. Britain, where men keep their places...if they know what's good for them). The whole film has that tone of everyone being on edge, testy, and snappish, and yet it never feels organic to the story - it's just an attitude fueled by the desire to squash anything that might smack of being actually entertaining in the service of teaching us all a liberal lesson. As for the kidnapping of Wexford's wife, and his almost-psychological breakdown over her disappearance, it's distressingly melodramatic, and pitched way too high against the sleepy, somnambulant tone of the rest of this silly, boring, interminably preachy mystery.
The DVDs

The Video
The transfers - all full-screen, 1.33:1 with the exception of Harm Done, which is presented in an anamorphically enhanced, 1.78:1 widescreen transfers - are the exact same transfers as the previous individual releases. As most of the other DVDTalk reviewers noted in their reviews of the individual releases, there does seem to be cropping and telecining for many of the episodes (you can tell most noticeably in two-shots such as in Going Wrong, that are obviously squeezed). Thus, framing can be off, and the zooming-in of the transfers accentuates grain and screen anomalies. Colors are for the most part adequate, although somewhat muddy, while the images could have been sharper. If you're used to the inferior television prints/transfers of British TV shows from this time period, you won't see anything new here.

The Audio
I disagree, though, with the other reviewers who found the Dolby Digital English 2.0 stereo audio tracks to be adequate. Separation effects are noticeable from time to time, but recording levels are all over the map - and mostly lowered than they should be - with dialogue often muddied out at times by the music track. None of the episodes include subtitles or close-captions - a big hindrance with the often-low recording levels and the sometimes impenetrable English accents.

The Extras

Text filmographies of the actors and the same text bio of Rendell are on most of the discs (pretty useless), while the Set 4, Volume 1 disc, Simisola, includes the 47-minute Super Sleuths: Inspector Wexford, a documentary looking at the creation of the filmed Wexford series. It's a fairly interesting doc, light on details, but don't listen too closely to some of the opinions expressed here (for example, liberal Wexford is described as wonderfully human, while conservative Burden is likened to "rightwing fascists." Welcome to nitwit P.C. England).

Final Thoughts

Hit-and-miss mysteries. There are quite a few Ruth Rendell adaptations here (Master of the Moor, Front Seat, A Case of Coincidence, May & June, The Orchard Walls, Going Wrong, You Can't Be Too Careful, and The Fallen Curtain) that are tight, entertaining, evocative mysteries, and well worth your time. However, there are others (The Double, The Lake of Darkness, the Wexford adaptations, unfortunately) that you can safely avoid. Therefore, I'm going to suggest you rent individual titles you might be interested in, and go from there as to whether or not you'll want to buy this pricey set. Fans of the series and the author, though, are assured of a solid buy, here.
---
Paul Mavis is an internationally published film and television historian, a member of the Online Film Critics Society, and the author of The Espionage Filmography.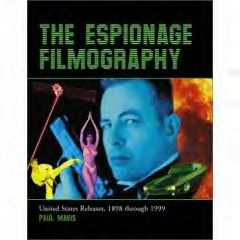 ---